The new coronavirus outbreak is not only infecting the people at large scale but also affecting the economy of China and its trading partners like India. As per the credit agency CRISIL, that novel coronavirus is going to hit the Indian economy impacted due to export-import trade from China if it continues to the first quarter of next fiscal.
Coronavirus Economic Impact on India: Graphics
India is one of the largest importers of goods in the world and imports 18% of India's total goods imported from China to meet its requiremnets.
And owing to large number of infected people in China, the manufacturing process became slow or few units shut down to avoid further spread of coronavirus infection among the workforce that can badly impact Chinese economy.
How Cronavirus Effect Indian Economy?  
This kind of precautionary measures in China will not able to meet the requirements of India that imports different types of goods from China. India imports electronics, consumer durables and auto components and pharma bulk drugs.
How Much India-China Trade in CY2019?
India imports around 18% merchandise from China and also highly dependent to import electronics components and consumer durables. About 67% of electronic components and 45% consumer durables are imported from China.
Shutdown of factories in China due to n-CoV is expected to negatively impact the electronics industry in India, as Indian players currently do not have the capability to manufacture such semiconductors and components in the short term.
Though, some parts are sourced from Japan, South Korea, Taiwan, and Germany, among others," rating agency CRISIL said in latest assessment report on coronavirus. And as per WHO coronavirus myths among people further likely to discourage people go for work and manufacturing production likely to get delayed for the next few more months.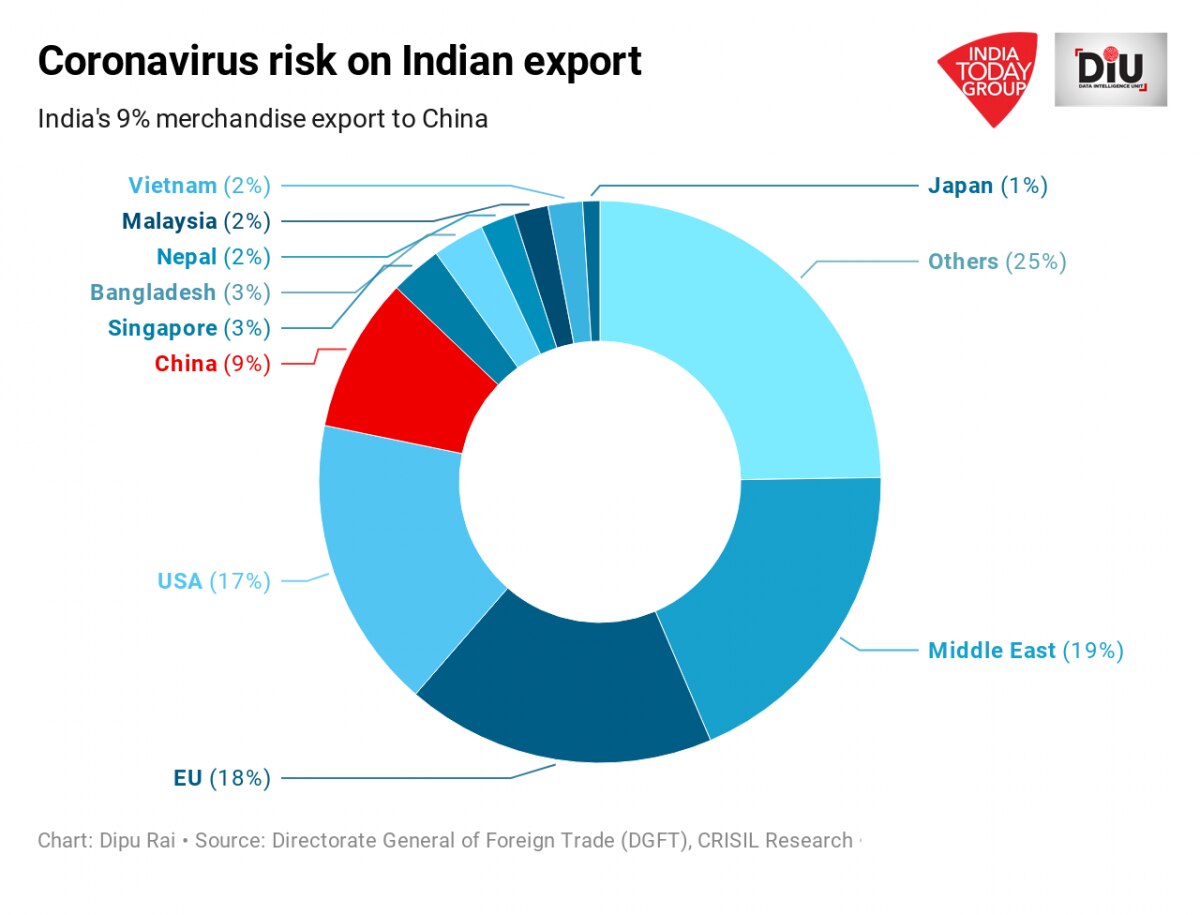 High dependence on imports for some critical components being produced in China is expected to have a significant impact, on the companies using such components to produce the various types of other products sold in India.  
While on the other side, India exports 34% of its total petrochemicals to China. If the virus epidemic continues for a more extended period, Indian export to China would also get hit, especially in the area like petrochemicals.
The coronavirus impact on economy could be larger than expected as considering the current situation in China, it is very difficult to estimate the actual impact. The impact is also determined by how fast China can control this epidemic.
Though, scientist and medical experts globally are researching to develop the drugs and vaccination to control this epidemic and bring its economic activities on the right track. And with the help of advance technology like AI in healthcare researchers will able to control such disease and also make sure such epidemic cannot hit the economy again.    
Also Read: How AI Can Predict Coronavirus like Epidemic Before it Outbreaks?