Coronavirus Economic Impact on India-China Export-Import Trade
The new coronavirus outbreak is not only infecting the people at large scale but also affecting the economy of China and its trading partners like India. As per the credit agency CRISIL, that novel coronavirus is going to hit the Indian economy impacted due to export-import trade from China if it continues to the first quarter of next fiscal.
Coronavirus Economic Impact on India: Graphics
India is one of the largest importers of goods in the world and imports 18% of India's total goods imported from China to meet its requiremnets.
And owing to large number of infected people in China, the manufacturing process became slow or few units shut down to avoid further spread of coronavirus infection among the workforce that can badly impact Chinese economy.
How Cronavirus Effect Indian Economy?  
This kind of precautionary measures in China will not able to meet the requirements of India that imports different types of goods from China. India imports electronics, consumer durables and auto components and pharma bulk drugs.
How Much India-China Trade in CY2019?
India imports around 18% merchandise from China and also highly dependent to import electronics components and consumer durables. About 67% of electronic components and 45% consumer durables are imported from China.
Shutdown of factories in China due to n-CoV is expected to negatively impact the electronics industry in India, as Indian players currently do not have the capability to manufacture such semiconductors and components in the short term.
Though, some parts are sourced from Japan, South Korea, Taiwan, and Germany, among others," rating agency CRISIL said in latest assessment report on coronavirus. And as per WHO coronavirus myths among people further likely to discourage people go for work and manufacturing production likely to get delayed for the next few more months.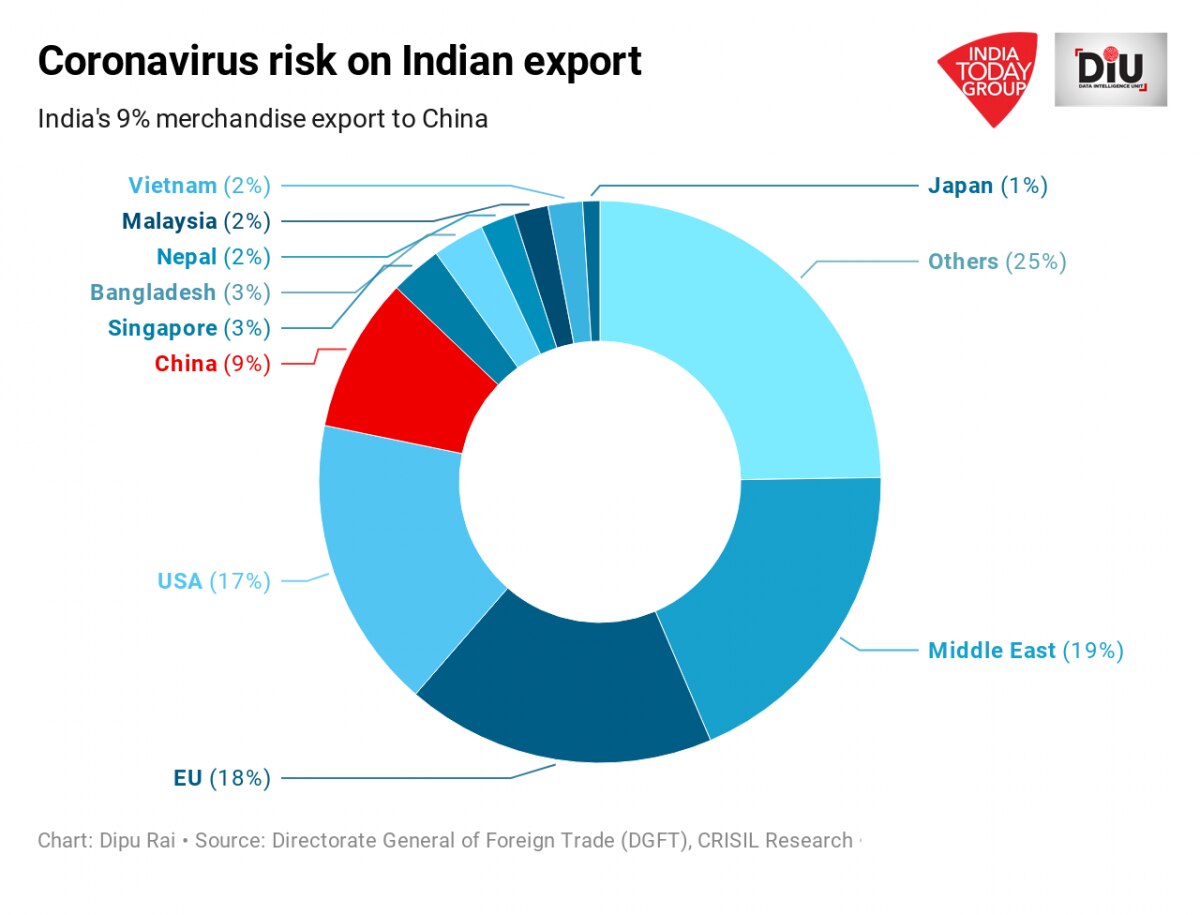 High dependence on imports for some critical components being produced in China is expected to have a significant impact, on the companies using such components to produce the various types of other products sold in India.  
While on the other side, India exports 34% of its total petrochemicals to China. If the virus epidemic continues for a more extended period, Indian export to China would also get hit, especially in the area like petrochemicals.
The coronavirus impact on economy could be larger than expected as considering the current situation in China, it is very difficult to estimate the actual impact. The impact is also determined by how fast China can control this epidemic.
Though, scientist and medical experts globally are researching to develop the drugs and vaccination to control this epidemic and bring its economic activities on the right track. And with the help of advance technology like AI in healthcare researchers will able to control such disease and also make sure such epidemic cannot hit the economy again.    
Also Read: How AI Can Predict Coronavirus like Epidemic Before it Outbreaks?
How Much India-China Export and Import from Each Other Annually?
Amid the tension rising between India and China at the border, Indian folks are demanding to boycott the Chinese products imported and sold in the Indian economy. This kind of movement can start the economic war between these two countries if central governments also start taking strong actions and stop imports from China.
Do, you think it is so easy, as the trade between India and China is around US$ 90 Billion or around 6.65 Lakh Crore. And more than 70% of market share in the smartphone segment is captured by Chinese brands like Oppo, Vivo, Xiaomi and One Plus. So let's find out trade relations between India and China, how much and what products they trade with each other.
Trade Between India And China: In Graphics
How Much India Export to China?
How Much India Import from China?
Items India Import from China
Items India Export to China
Share of Total Import of India from other Nations
And as per the March 2020 report, 'Following the Money: China Inc's Growing Stake in India-China Relations,' by Brookings India, Chinese investments have crossed $26 billion in current and planned investments. "In greenfield investments and capital invested in acquiring or expanding existing facilities in India, Chinese companies have invested at least $4.4 billion.
Also Read: Coronavirus Economic Impact on India-China Export-Import Trade
Chinese companies have also invested in acquiring stakes in Indian companies, mostly in the pharmaceutical and technology sectors, and participated in numerous funding rounds of Indian startups in the tech space. Another $15 billion approximately is pledged by Chinese companies in investment plans or in bids for major infrastructure projects that are as yet unapproved.
The trade relationship with China is severely skewed in China's favour and to completely boycott Chinese companies comes at a human cost. According to a January 2020 press release by Xiaomi, the company says it has generated employment for 50,000 people in India. Clearly, the #BoycottChina sentiment may have peaked, but across-the-board implementation may well be a pipe dream.
Source: Forbes India
Lockdown Extended in India with Some Ease of Restrictions: 10 Points of Extension Guidelines
Owing to a steady rise in coronavirus cases in India, the central government has extended the lockdown for the next two weeks. But this time, envisaging the economic situation and essential needs of people, Govt. has given some ease in restrictions.
Though, the restrictions differ for red, orange, and green zone areas. And Govt. has considered green zones with either zero cases or no confirmed cases in the past 21 days. So right here we brought in briefly 10 points clarifying what restrictions are eased and what are the services or commercial activities will not be allowed or permitted with limitations.      
Lockdown Extension Guidelines India: 10 Points
The new guidelines say "for the well-being and safety" of people, the movement will be banned between 7 pm and 7 am except for essential reasons. Those above 65, persons with co-morbidities, pregnant women and children below 10 will stay at home, except necessary.
Travel by air, rail, metro and inter-state movement by road will remain banned. Schools, colleges, hotels, restaurants; cinemas, malls, shopping centers, gyms and sports complexes will also stay shut. Gatherings — social, political, cultural and religious — will also not resume for now. All goods traffic will be allowed between states, without passes. Air, rail or road travel will be allowed with special permission only.
In red zones, cars with two persons besides the driver and two-wheelers with a single rider will be allowed. Single shops can open in urban areas, whether for essential or non-essential goods. e-Commerce will be allowed for essential goods.
Private offices can operate with up to 33% strength, with the rest on Work-From-Home.
Banks, public utilities like power, water, sanitation, waste management, telecommunications and the internet will remain open, and courier and postal services will be allowed to operate.
Media, IT and IT-enabled services, data and call centres, cold storage and warehousing services, private security, plumbers and electricians will be allowed (not barbers).
Shops selling liquor, paan, gutka and tobacco will be allowed in green and orange zones but they have to ensure "do gaz doori (six-feet distance)" and not more than five people at a time.
In the orange zones, taxis and cab aggregators will be allowed to operate with one passenger. Cars can have two passengers besides the driver and pillion riding will be allowed on two-wheelers.
In the Green Zones, all activities will reopen except those banned across the country. But in these areas, buses can operate only with half the seating capacity.
Meanwhile, people don't want to personally go outside the house and looking to buy products can order products from Amazon or Flipkart can order non-essential items in areas that have no or a few coronavirus infections.
While, for essential items, E-commerce can deliveries products only for the red zones areas, as it extended the nationwide lockdown by another two weeks to May 17. And for a detail list of lockdown extension guidelines India pdf you can click here.
Source: NDTV.com & Moneycontrol
Hydroxychloroquine: Why Used for COVID-19 & Demand by Other Countries from India?
Amid COVID-19 outbreak globally, the demand for Hhydroxychloroquine (HCQ) tablets became the news headlines in the media. And recently it became the global newscast when India strictly banned this drug for the coronavirus infected patients treatment and US is demanding this drug strictly to save the lives of people suffering from COVID-19.
Actually, out of 210 affected countries, US is the one of the most highly infected countries in the world, where more than half-million people are diseased with COVID-19 infection and tens of thousands of people died because of this deadly virus. 
COVID-19 is a deadly infection, as there no vaccine or specific medicine yet developed, and it very contagious disease, spreading among people worldwide. But as per the recent studies and experiments, Hydroxychloroquine is becoming very helpful in curing the patients with encouraging results to become a ray of hope for the doctors.
Also Read: Why Vaccine Development Process for New Diseases Like Coronavirus Takes 12 to 18 Months
So, let's find what exactly this drug is used for, why US is demanding this medicine and why India banned to expert and later lifted the ban or other stories like the role of Hydroxychloroquine in Indian pharma companies.
What is Hydroxychloroquine Drug and Use in Medication?
Hydroxychloroquine is a prescription drug available for an oral tablet in the brand-name drug Plaquenil. It's also available in a generic version. Generic drugs usually cost less than the brand-name version. In some cases, they may not be available in every strength or form as the brand-name drug.
Basically, Hydroxychloroquine is used to treat lupus erythematosus and rheumatoid arthritis. As, Hydroxychloroquine is very similar to chloroquine, one of the oldest and best-known anti-malarial drugs, but with lesser side effects.
Why Hydroxychloroquine is Used for Covid 19?
Hydroxychloroquine is very similar to chloroquine, one of the oldest and best-known anti-malarial drugs, but with lesser side effects. It can be bought over the counter in India and is fairly inexpensive. But its purchase and use was severely restricted as hydroxychloroquine for coronavirus treatment is used due to its antiviral properties.
Indian Council of Medical Research has recommended hydroxychloroquine, or HCQ, to be used as a preventive medication for COVID-19 patients in the high-risk group. It has also recommended the use of the drug for healthcare workers involved in the treatment of the disease and for asymptomatic household contacts of laboratory-confirmed patients.
Each COVID-19 patient reportedly needs 14 tablet course and so the 10 crore pills ordered by the government can potentially treat over 71 lakh people.
Watch Video: 3 Ways Chloroquine and Hydroxychloroquine May Help Fight COVID-19
Why Hydroxychloroquine is Made in India?
In India, due to seasonal effect – post monsoon malaria rises mainly due to mesquite bite. And because of this drug is highly in demand in India, while it is not manufactured in developed nations like U.S. because malaria is virtually non-existent there.
India manufactures 70% of the world's supply of hydroxychloroquine. Ipca Laboratories, Zydus Cadila and Wallace Pharmaceuticals are top hydroxychloroquine manufacturer companies in India.
India gets the active pharmaceutical ingredient (API) that is used to manufacture HCQ from China and supplies so far has been steady. As much as 70 percent of all the APIs needed by India to manufacture drugs come from China.
All these companies can produce 40 tonnes, or 20 crore hydroxychloroquine tablets of 200 mg each, which is sufficient to meet the current demand. And within months they planned to increase five to six times to over 70 metric tonnes.
Peak capacity would produce 35 crores (350 million) tablets of 200 mg dosage every month. India's own requirement is unlikely to exceed 10 crore tablets for which the government has already placed an order with leading domestic manufacturers Zydus Cadila and Ipca Laboratories.
Industry experts say 10 crore tablets are good enough to treat seven crore people, if required. In India, HCQ costs less than Rs 3 per tablet.
Why hydroxychloroquine is banned by India to Export?
Actually, Hydroxychloroquine is an inexpensive and easily available drug. However, its demand has risen dramatically ever since it was named as a possible treatment for COVID-19. India hydroxychloroquine manufacturer companies can produce it at large scale.
Few days back the government banned the export of the drug "without any exception". The order came even as the number of positive cases of COVID-19 spiked in the country. However, due to overseas demand, the government partially lifted the ban, paving the way for its supply to the US and several other countries hit hard by the coronavirus pandemic.
The unexpected demand for such drugs from India providing an opportunity for the HCQ to make pharma companies to produce and export the medicine at large scale to add their topline growth. At the same dependency of other nations on India will improve its global presence helping them in such need and play a key role in fighting with this pandemic.
Watch Video: What Is Hydroxychloroquine & Why is it in Demand for COVID-19