Coronavirus Economic Impact on India-China Export-Import Trade
The new coronavirus outbreak is not only infecting the people at large scale but also affecting the economy of China and its trading partners like India. As per the credit agency CRISIL, that novel coronavirus is going to hit the Indian economy impacted due to export-import trade from China if it continues to the first quarter of next fiscal.
Coronavirus Economic Impact on India: Graphics
India is one of the largest importers of goods in the world and imports 18% of India's total goods imported from China to meet its requiremnets.
And owing to large number of infected people in China, the manufacturing process became slow or few units shut down to avoid further spread of coronavirus infection among the workforce that can badly impact Chinese economy.
How Cronavirus Effect Indian Economy?  
This kind of precautionary measures in China will not able to meet the requirements of India that imports different types of goods from China. India imports electronics, consumer durables and auto components and pharma bulk drugs.
How Much India-China Trade in CY2019?
India imports around 18% merchandise from China and also highly dependent to import electronics components and consumer durables. About 67% of electronic components and 45% consumer durables are imported from China.
Shutdown of factories in China due to n-CoV is expected to negatively impact the electronics industry in India, as Indian players currently do not have the capability to manufacture such semiconductors and components in the short term.
Though, some parts are sourced from Japan, South Korea, Taiwan, and Germany, among others," rating agency CRISIL said in latest assessment report on coronavirus. And as per WHO coronavirus myths among people further likely to discourage people go for work and manufacturing production likely to get delayed for the next few more months.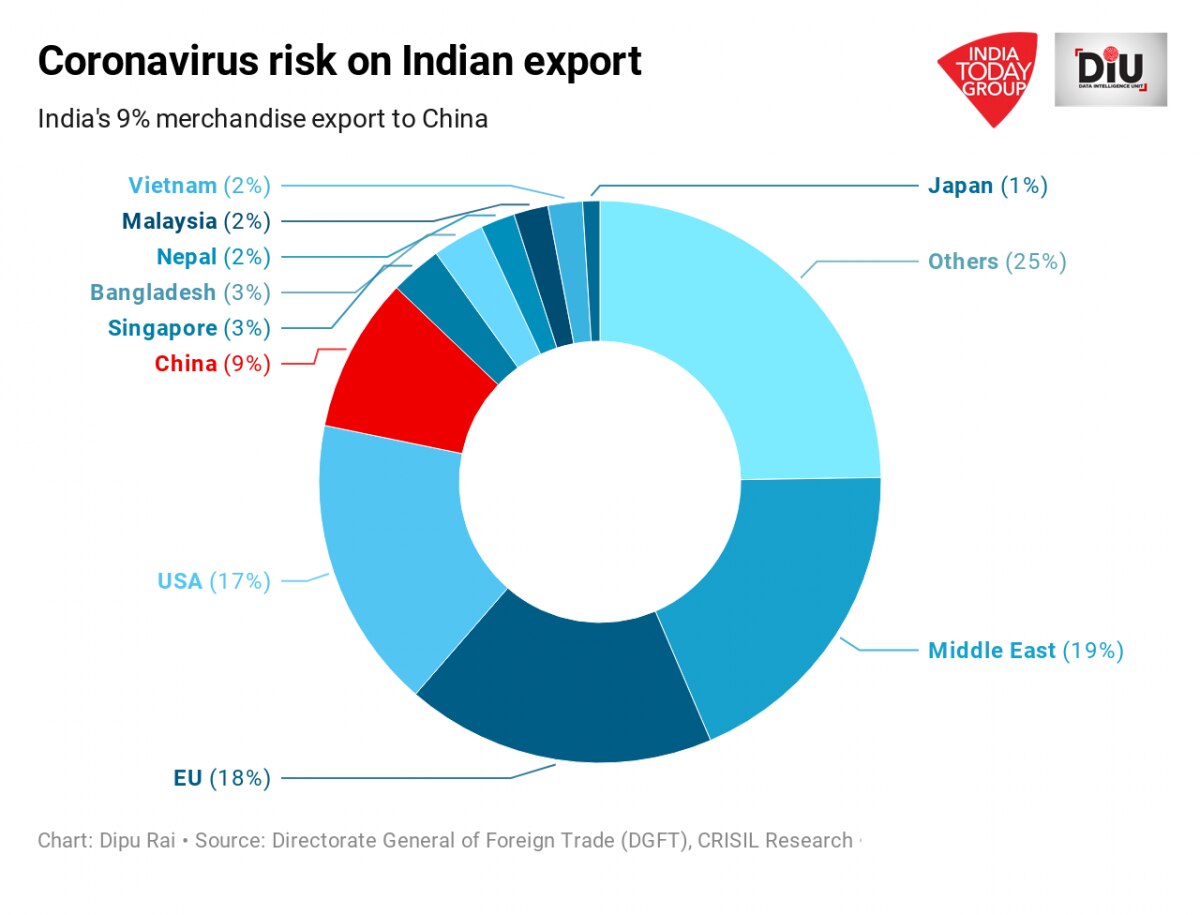 High dependence on imports for some critical components being produced in China is expected to have a significant impact, on the companies using such components to produce the various types of other products sold in India.  
While on the other side, India exports 34% of its total petrochemicals to China. If the virus epidemic continues for a more extended period, Indian export to China would also get hit, especially in the area like petrochemicals.
The coronavirus impact on economy could be larger than expected as considering the current situation in China, it is very difficult to estimate the actual impact. The impact is also determined by how fast China can control this epidemic.
Though, scientist and medical experts globally are researching to develop the drugs and vaccination to control this epidemic and bring its economic activities on the right track. And with the help of advance technology like AI in healthcare researchers will able to control such disease and also make sure such epidemic cannot hit the economy again.    
Also Read: How AI Can Predict Coronavirus like Epidemic Before it Outbreaks?
List of Lockdown Cities & Districts In India Due To Coronavirus
Amid coronavirus outbreak worldwide, including India, the Govt and regularity authorities have ordered complete lockdown in all major cities and districts in India following the steps taken by other nations to control this deadly disease.
This is one of the most effective preventive measures to stop the COVID19 virus spread further due to community transfer, as there is no medicine or vaccine has been developed yet and it is infecting people at very fast speed.
Initially, the government has taken this decision for cities and districts having a larger population where there is high chances of COVID-19 transmission. And the government has also suspended all the passenger transportation systems, including international & domestic flights, railways & locomotive, and other public transports movements in country.
Further, depending on the situation Indian Govt can lockdown more cities or impose curfew in states. Right now you can check the list of cities & districts locked in India and the list will be further updated as soon as more cities will be locked.
Lockdown Cities & Districts in India List
Read Here More Useful Articles on Coronavirus:
Source: Forbes India
How Corporate Tax Cuts Help The Economy And Boost Stock Markets?
Under BJP Governance, cabinet ministers are taking bold decisions to secure the economy and its growth through corrective measures. To review the consumer demand, finance minister, has eased the corporate tax policy benefiting directly to consumer durable products manufacturing, supplying and financing companies.
As per the government's new tax regime, the corporate tax rate for domestic firms and new manufacturing units reduced by 10 to 12 percentage points, effectively bringing India's tax rates on par with its competing Asian peers. Finance minister, Nirmala Sitharaman slashed corporate tax rate – to 22% from 30% for domestic companies – and proposed a competitive 15% rate for new investment in manufacturing".
The effective tax rate for domestic corporates, inclusive of surcharges, will fall from 34.94% to 25.17% and if they stop availing any other tax sops. While for the new manufacturing firms set up after October 1, 2019, and commencing operations by March 31, 2023, the effective tax rate will fall from 29.1% to 17%.
What is Corporate Tax?
Corporate tax is a kind of direct tax paid by the companies to the government (central or state). The tax rates may vary depending on the policy of the nation and types of business operations. And this tax collection is one of the largest sources of income for the government to spend on infrastructure and development.
Hence, reducing the corporate tax rates also directly impacts the income of government. And this tax cut will lead to a revenue loss of Rs 1.45 lakh crore to the central government that will also increase the fiscal deficit of the country. Even India's spending already increased due to more military spending to acquire more advanced weapons and artilleries making country capable to combat with neighboring countries like China or PAK.
Also Read: India or Pakistan Which is Powerful? Military & Nuclear Warheads Comparison
Why is the Government Cutting Taxes?
The GDP growth rate of Indian economy slowdown in the last quarter and dropped for five consecutive quarters to 5% in the June quarter. And this kind of favorable fiscal deficit policy by the government will boost the consumer sentiments.
The main motive to reduce the corporate tax is to attract more investments into the country and help revive the domestic manufacturing sector which has seen lackluster growth. Meanwhile, existing companies will also operate with better profit margins and if they pass the margins to consumers their revenue will also boost.
The new corporate income tax rates in India will be lower than other developed and developing nations like USA (27%), Japan (30.62%), Brazil (34%), Germany (30%) and is similar to China (25%) and Korea (25%). New companies in India with an effective tax rate of 17% is equivalent to Singapore where corporate tax is 17%.
How Do Tax Cuts Help The Economy?
Not immediately visible but lowering the tax rates will sooner or later help the economy to bring on the growth track. And this move will modify the profitability dynamic of the Indian corporate ecosystem. Lowering the taxes should, ideally, the result is higher profit margins which they will also pass to their consumers.
The present cut in taxes can make India more competitive on the global stage by making Indian corporate tax rates comparable to that of rates in East Asia. And this move will attract more investment by overseas MNCs globally.
Though, the exchequer will bear loss due to this move but, if it manages to sufficiently revive the economy, the present tax cut can help boost tax collections and compensate for the loss of revenue in the mid to long-term. And the benefits of the present tax cut will be effective if the government sticks to its promises in the long run.
How it Affects Consumer Sentiments and Stock Market?
Though, the corporate tax cut is not going to impact immediately, but the stock market has welcomed and shown the overwhelming response to Govt's this decision. On Friday, 20th Sept 2019, India's leading index Sensex and Nifty both surged more than 5% which one of the highest single-day gain in the last decade.
These top indices of the stock market contain the weightage of India's top companies (blue chip) from different sector accounting the major supply of products or services in the economy and having the high market capitalization in the market.
Most of the stock in these indexes surged at least 10% and if you have missed the opportunity to invest in blue-chip companies you can invest stock market in mid-cap or small-cap companies having good potential to move upside due to this decision of the government and earn some amount of capital gain in the short-term.
India or Pakistan Which is Powerful? Military & Nuclear Warheads Comparison
Owing to an unprecedented terrorist attack in Pulwama that martyred 40 Indian soldiers the tension between India and Pakistan reached at new level and the next day Indian Air force has done an airstrike to destroy the terror camps in Pakistan which as a counter action next morning did the air strike of few missiles near the military camps of Indian army.
Meanwhile, during the air encounter, one of the air force pilot fell into the PAK's territory due aircraft crash and captured by their army. However, abiding to a Geneva Conventions, Pakistan has released the Air commandant safely but in the meantime, India is putting the international pressure on PAK to stop supporting such terrorists in their home ground and take action against them as if any further attacks happen again India will act in the same way.
And, due to such situations and interference of other countries with United Nation Security Council, the tension is rising among both the nations, also raising curiosity among the people of both the countries and other nations that which country is more powerful India or Pakistan in terms of military weapons, armed forces and other combating equipment.
Economy Size and Military Budget of India and Pakistan
The economy size of India is much bigger than Pakistan. As, the GDP of India is around US$ 2088 billion which is world's sixth largest economy when you see the list of countries by GDP. India accounts for 2.7% of world economy, whereas Pakistan's GDP stands merely at US$ 273 billion accounts only 0.44% of the world economy. And meanwhile, India has foreign exchange reserve of US$ 400 billion and Pakistan has US$ 6.9 billion.
India spends four trillion rupees ($58 billion) or more than 2.5% of its GDP to its defence sector. While on the other hand, in the same period Pakistan allocated only 1.26 trillion Pakistani rupees ($11 billion) about 4 percent of its GDP and PAK also begged to receive $100 million in foreign military assistance in 2018 to support its troops.
ARMY & LAND FORCES – Indian Army is Two Times Bigger than PAK Troops
Currently, India has more than 1.2 million army man ready for anytime combat with enemies. While, Pakistan's army has only 560,000 troops much smaller than India. However, the total manpower available for military is around 320 million and PAK has only 48 million which is also much bigger than India thanks to larger population in the country.
If you compare India vs Pakistan war equipment along with land forces and fighting vehicles like rockets etc., then India has 4426 tanks compare to 2735 owned by Pakistan. India possessed 5067 total artillery guns and PAK holds 3745, but India has 5681 Armoured Fighting Vehicles compare to 3066 controlled by Pakistan.
When you compare India with rocket artillery it has 292 and PAK has 134 which also kept 325 self-propelled artilleries more than India that holds only 290. If you compare India Pakistan military strength as whole including armed forces and military equipment, you will find India is much mightier than Pakistan and other nations across the world.
AIR FORCES – India is Equipped with Rafale Jet like Multirole Fighter Aircraft
If you compare India and Pakistan air force, along with 127,200 personnel, India has almost twice helicopters around 725 comparing to Pakistan that can fly only 323. While on the other hand comparing aircraft, India has total 2216 while PAK has only 1143 aircrafts. Out of which India has 323 fighter aircraft and PAK holds only 186.
Similarly, comparing multirole aircraft, India possessed 329 and PAK has only 225. When comes to attacking aircraft PAK holds only 90 whereas, India stands with 220 and further will also include multirole fighter aircraft like Rafale to strengthen its air force attack that can be also used for in-depth strikes and nuclear deterrence missions.
NAVY FORCES – India is Guarded with Destroyers and Advanced Submarines
The comparison between India and Pakistan navy is quite interesting, as India has total 214 naval aircraft and carrier that consists 15 Submarines, 24 Corvettes, 14 Frigates, 11 Destroyers and Aircraft Carriers along with 67,700 personnel, including marines and naval aviation staff capable enough to cover entire coastline of India.
On the contrary, Pakistan has only 5 Submarines, 9 Frigates and don't have any Destroyers, Corvettes or aircraft carriers to battle with India. The reason behind the smaller naval forces is also due to the much smaller coastline in the Pakistan territory compare to India.
MISSILES & NUCLEAR WEAPONS – Both are Equipped with Nuclear Weapons of Mass Destruction
It is apparently known that both countries are equipped with ballistic missiles that can also carry nuclear weapons to hit the targets. As per the sources, if you compare India and Pakistan nuclear weapons India has 110–120 and Pakistan has 120–130 nuclear warheads.
When you compare India and Pakistan missile, as per the Center for Strategic and International Studies (CSIS) in Washington, India has nine types of operational missiles that consist Agni-V having the range of 5,500 km to 5,800 kms, enough to destroy the enemies.
Whereas, PAK has Chinese assistance built mobile short-and medium-range weapons that can reach any part of India. Pakistan has Shaheen-2 to target the range of up to 2,000 km with the capacity to carry One-ton nuclear or conventional loads. If compare India's ballistic nuclear missile like Agni with Pakistan and China you will find world of difference.
Whatever weapons or nuclear warheads both neighboring countries are equipped but once the war is officially declared it is unknown how long it will go and how much weapon of mass destruction will be used during the entire war phase.
And the use of any kind of nuclear bombs is not favorable for the environment, as it can also destroy humanity and will also raise global warming on the earth with cascading effects up to many generations. So, we hope and pray nothing like situation arises and both nations should talk peacefully to come at the favorable decisions and save both country's economy.
Data Sources: Armedforces.eu & The Economic Times

Also Read: Watch here video how Global warming is melting ice sheets in Arctic