10 Lesser Known Interesting Facts About Actor Legend Rishi Kapoor
Maybe you know many things about the Bollywood actor Rishi Kapoor, but there are few things many people don't know about this actor.
We all know he belongs to the renowned Kapoor dynasty and one of the most successful actors in his family with a popular actress wife, Neetu Singh, and well-known actor son, Ranbir Kapoor. So, let's find out more interesting facts about this acting legend.  
10 Unknown Interesting Facts About Rishi Kapoor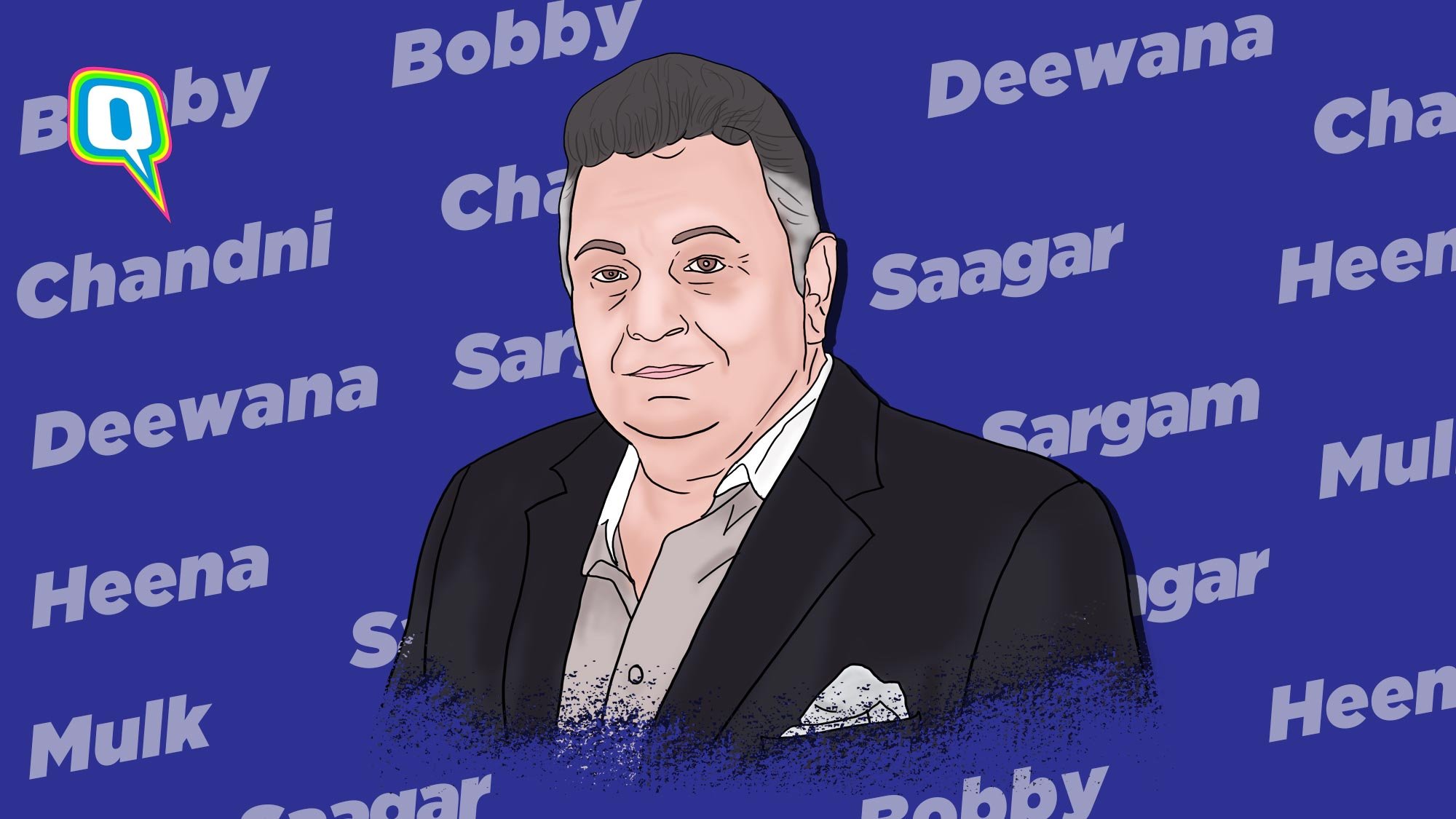 1. Born on 4th Sep 1954, he was the second son of actor and director Raj Kapoor.
2. His first appearance in a film was in the song 'Pyaar Hua' from Shree 420, released in 1955.
In this movie, Nargis had to convince Rishi by giving him lots of chocolate for the shoot. The 3 yr old boy, Rishi is seen walking with brothers Randhir Kapoor and Reema in the film song "Pyaar Hua Ikrar" Hua. Watch the video clip of Shree 420.
3. Rishi Kapoor has played the role of a younger version of his father Raj Kapoor in Mera Naam Joker.
4. He won the National Award for Best Child Artist for his work in Mera Naam Joker.
5. Rishi Kapoor was just 21 when he made his Bollywood debut with Bobby in 1973 opposite Dimple Kapadia.
6. After the tremendous success of 'Bobby', Rishi appeared in romantic roles in more than 90 films.
7. Rishi also played the role of villain in the 2012 film Agneepath and a negative character in the "Khoj" movie.
8. Rishi Kapoor has also directed a movie – "Aa Ab Laut Chalen" with Aishwarya Rai and Akshaye Khanna.
9. Rishi Kapoor married actress Neetu Singh on 22 January 1980.
10. Rishi-Neetu Kapoor has two children – Ranbir Kapoor and Riddhima Kapoor.
Besides a part of Kapoor family, he was a very entertaining actor in the Bollywood industry. Now, his son Ranbir and future daughter-in-law, a well-known actress Alia Bhatt will continue entertaining the audience with their inherited acting skills.
Watch Video: All Superhit Hit Songs of Rishi Kapoor
Kalank Official Trailer Video: A Retro Drama with Breathtaking Visuals & Cinematography
Kalank – the upcoming movie directed by Abhishek Varman and produced by Karan Johar, Sajid Nadiadwala and Fox Star Studios is the story about a high-profile royal family during that era, and how their complex relationships and mysteries that threaten to blow up during a time of communal tension during the era of the Partition.
Kalank Official Trailer Video
Kalank StarCast
The movie has celebrated actors of Bollywood like Sanjay Dutt, Madhuri Dixit, Varun Dhawan, Alia Bhatt, Sonakshi Sinha and Aditya Roy Kapur in lead roles. The music is composed by Pritam and songs sung by Arijit Singh, Harshdeep Kaur, Darshan Raval and Mohit Chauhan.
Varun Dhawan as Zafar
Sanjay Dutt as Balraj Chaudhry
Madhuri Dixit as Bahaar Begum
Alia Bhatt as Roop
Aditya Roy Kapur as Dev Chaudhry
Sonakshi Sinha as Satya Chaudhry
As per the teaser, the characters are dressed in magnificent Indian attire, and the visuals of the movie seems a well-plotted story and background strums perfectly look every bit lavish glimpses of old mansions.
And, like Baahubali there's a bullfighting scene with Varun Dhawan that we already have great expectations from to look visually dynamic making the fans eagerly waiting for the film to get released that will hit theaters on 17 April 2019.
Also Watch: Hellboy Movie Trailer 2019 Video
Total Dhamaal Movie Review: Simply a comic entertaining film
Produced by Fox Star Studios with Ajay Devgn FFilms and directed by Indra Kumar "Total Dhamaal" is completely like an animated film showing the characters falling on the ground from the skyscrapers, having narrow escape from collapsing the bridge and surviving even after falling from waterfalls without any scratch on the body.
This is much more like cartoon episode where comic characters are playing the roles with unrealistic animations making the movie little low-cost budget but comedy punches are hilarious and laughing for anyone till the end of the last scene.
Total Dhamaal MovieTrailer
Total Dhamaal Star Cast and Snapshot
The movie is featured with star casting like Ajay Devgn, Riteish Deshmukh, Arshad Warsi, Javed Jaffrey, Madhuri Dixit, Esha Gupta and Anil Kapoor. The level of humor in the film is like a carton series but like slapstick cartoons you will get enough laugh punches. That is at least better than biopic stories or sexiest and double meaning jokes.
About the Story Line and Characters
In the movie, Boman Irani plays the role of a corrupted police commissioner who was taking advantage of demonetization by exchanging the older currency with new notes. But Guddu (Ajay Devgn) and his associate Johnny (Sanjay Mishra) steal the money from under the commissioner's nose which was later cheated by another partner Mr. Pintu played by Manoj Pahwa who hide the bags of Rs 500 Million money in a zoo but died in a plane crash accident while chased by the Guddu and Boman Irani.
The real story starts when this hidden secret of money is known by the other characters like an infighting husband Anil Kapoor and his wife Madhuri Dixit, two friends Riteish Deshmukh and Pitobash Tripathy, and a pair of brothers (Arshad Warsi and Jaaved Jaaferi) battle all manner of calamities – including cars falls into the waterfalls, falling from helicopter, stuck into desert, vehicle catching fire, rampaging wild animals and other accident scenes.
In 126 minutes of movie time, the punch of jokes will come out in every scene enough to make you laugh. As it has few best comic actors like Ritesh Desmukh, Arshad Warsi and Johnny Lever who elevates the movie more than it script allows. Total Dhamaal release date was 22nd February 2019 in most of the cinema halls and theaters in the entire country.
While on the other hand, the popular pair of Bollywood, Anil Kapoor and Maduri Dixit is also quite interesting, especially when they fight like other married couples and always tries to blame each other or point out the mistakes or make responsible for misfortunes in life.
No Romance Except Comedy and Item Song
Ajay Devgn was ok with his role, as he has already done many such movies in the past and proved himself as one of the best actors in comic roles. However, in the entire film, you will not find any romantic scene, as Isha Gupta paired against the Devgn comes almost at the end of the scene who played the role of a caretaker of that zoo where she falls in love with Ajay.
Meanwhile, you will also enjoy a sizzling item song "Mungda" performed by Sonakshi Sinha and there is no any other song except at the starting and ending of the movie.
Total Dhamaal SonakshiSinha Item Song
Another hit song "Speaker Phat Jaaye" become popular on the music tracks comes at the end of the movie that will definitely stimulate you to watch the full song before leaving the theater and move your legs on few music beats while humming the song on your lips.
TotalDhamaal Speaker Phat Jaye Song
In the nutshell, Total Dhamaal full movie is like a comedy film you can watch with your entire family of any generation. I'm sure you will enjoy till the end but it will not impact you so much that after leaving the theatre you can remember the dialogues and jokes. So, click here to book tickets online and enjoy the latest edition of dhamaal series.
Priyanka-Nick or Deepika-Ranveer: Which Couple is Richer?
Wedding cards of many popular Bollywood celebrities are right on the table with few of them successfully tied the knot recently while preparations for few of them are in full swing. Here, we are mainly talking about Deepika Padukone and Ranveer Singh – the couple recently got married in Italy and hosted post-marriage reception and parties in Mumbai and Bengaluru.
While desi girl Priyanka Chopra and her boyfriend, American singer and songwriter Nick Jonas are preparing to get married this weekend. The grand wedding celebrations at Umaid Bhawan Palace in Jodhpur will start on November 29 and will end on 2nd December 2018.
Both couples Deepika-Ranveer and Priyanka-Nick are very popular in the entertainment industry, and, there is no comparison between them, as they all have their own fame and fan following across the world but there are other grounds we can discuss while comparing them.
Both pairs have earned well from the entertainment industry and built a net worth of millions of dollars. Let's see what is their net worth and which couple has a higher wealth.
Priyanka, one of the most powerful women in the world representing India, has an estimated net worth of around $28 million, which is almost Rs. 200 crore in Indian currency. A major portion of her earnings comes from the films that she does. Though in the past few years she proved her acting skills in Hollywood from there she also earned lots of money. Moreover, she has also endorsed various popular brands that are adding substantially to her wealth.
While on the other hand, Nick Jonas' net worth is around $25 million i.e. valued almost Rs 175 crore in Indian currency. Nick is an actor, and record producer but he mainly earns through his musical career which is also his main source of income throughout the year.
"The combined net worth of Priyanka-Nick stands around $53 million which is valuing around Rs 375 crore in Indian currency"
Similarly, Deepika and Ranveer both also have done lots of movies and endorsed various brands taken away a hefty amount of fees in the past years. But Deepika's and Ranveer's both have net worth is around $11 million each which is far lesser than that of Priyanka-Nick. Though Deepika and Ranveer are one of the highest paid stars in the Bollywood industry still they are far behind those international celebrates.
"The collective net worth of both Deepika-Ranveer is valued at only $21 million, which amounts to Rs 147 crore in Indian rupees"
Priyanka has also earned a lot from Bollywood movies and brand endorsement and she has also tried her acting skills in Hollywood in the meantime also keeping herself away from Bollywood projects, but her popularity in India is not gone down that is the reasons she is still getting highly paid endorsements.
Similarly, Nicholas Jerry Jonas, an American singer, songwriter, actor, and record producer, is an international star and having multiple sources of income in dollars adding to his wealth with higher valuation due to currency value. Currently, both are busy in organizing their wedding at Jodhpur in Rajasthan and to know the list of guest arriving there and other activities updates watch the video below and enjoy the Priyanka-Nick wedding