How to Dress Hourglass Figure Casually: Six Clothing Fashion Tips
Having an hourglass figure would be lucky for you. With this curved body shape, you could have the best body figure compared to any other bodily shaped woman in the world. Every woman has wished to have the hourglass-shaped body.
Marilyn Monroe, Beyonce, Jennifer Lopez, Shakira, Scarlett Johansson and Kim Kardashian are the leading celebrities having the hourglass body shape makes these curvaceous icons look amazingly attractive, bootylicious and dangerously beautiful.
What Does Hourglass Figure Mean?
A woman with an hourglass body has the curves that are the very essence of what makes a woman womanly. The boobs are large, a small and short waist, big hips and generous thighs giving the body a well-defined curve shape. A woman with an hourglass figure can wear the multiple types of costumes with a matchless fashion statement.
How to Dress an Hourglass Figure?
If you have an hourglass figure you need to be very careful to choose the right dress that suits your body to maintain attractiveness. Right here we brought the fashion tips for hourglass body shape, so that you can pick right dress for your body shape.
Six Clothing Tips for Hourglass Body Shape
#1 Show Your Curves with Bodycon Dress
A bodycon dress can accentuate your hourglass-shaped body. Bodycon dress paired with a thin belt at the waistline makes your figure perfect and look beautiful on your hourglass figure.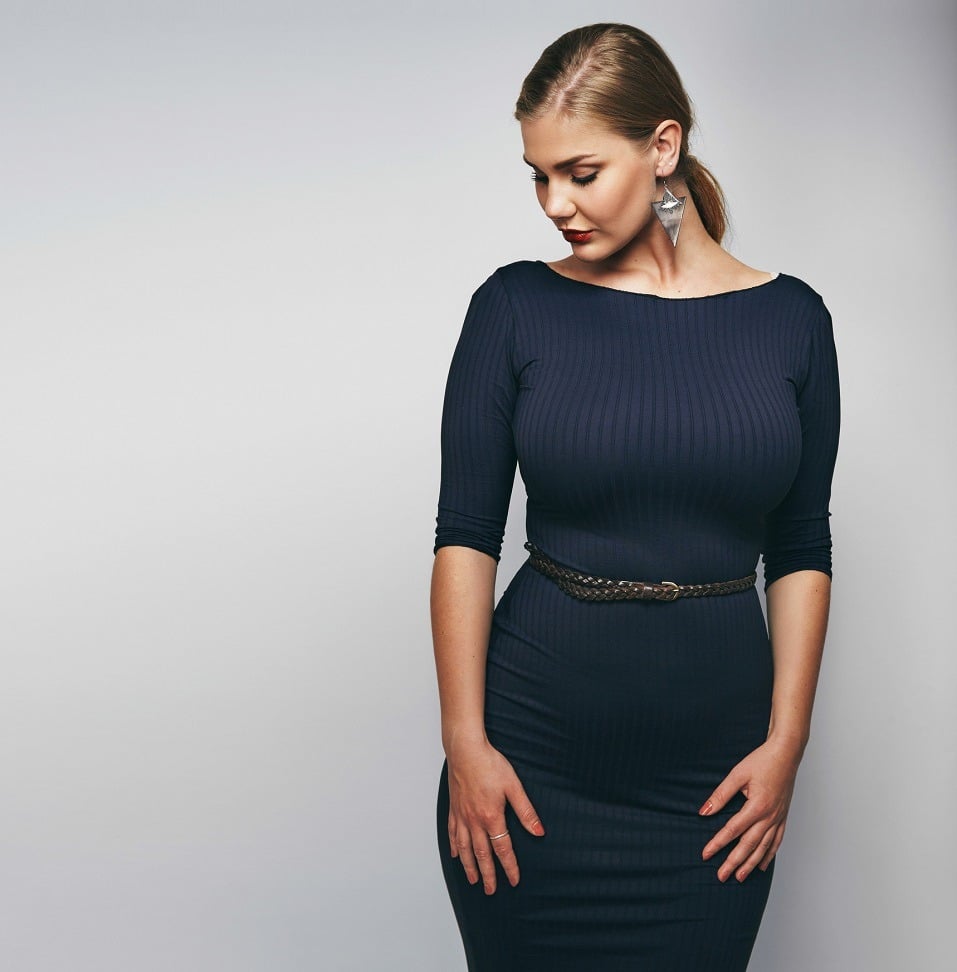 Also Read: How To Wear A Mini Skirt Modestly: Short Skirt Outfit Ideas
Make sure to pick the right dress that completely sticks to your body like a second skin and hug your curves at both the bust and waist areas; giving you an elongated appearance. And choose the dark shade with colors and textures, just so long as you don't go too bulky.
#2 Pick Pencil Skirts for Multiple Occasions
Though, pencil skirts are suitable for all types of body shape, but for an hourglass figure, it can give a decent look with formal dressing sense. It can easily show off the curves of your lower half, and look marvelous with a fluid, tucked-in top. And the best thing, is pencil skirts are versatile you can wear on multiple occasions with the same appeal.
Also Read: How to Wear Pencil Skirts Casually With a Tummy: Six Styling Tips
You can pick a-line skirts to add volume in the bottom half which complements your bust, and are great with fitted untucked sweaters and tucked blouses. While on the other hand, full skirts work best if they have a yoke or pleats that start a few inches below the waistband but make sure your stomach is not visible if you have a tummy.
#3 Wrap Dresses to Have a Sensuous Look
Wrap dresses are the one the best outfits, bring extraordinary attention to your body without adding extra volume to your bust area. And with your hourglass body wrapped in such attire if you step out in high heels, you would be stunning.
Also Read: Learn from Russian Women How to Walk in High Heels without Falling
You can wear a wrap blouse, that suits well for hourglass figures as it can keep the fabric stretched at the skinniest part of your waist making you appear carnal at the same time appear slim. But make sure don't pick the tops having lots of ruffles or bows, at the neck of the bust area, as make your top look heavy.
#4 Go with Crop Tops to Show your Midriff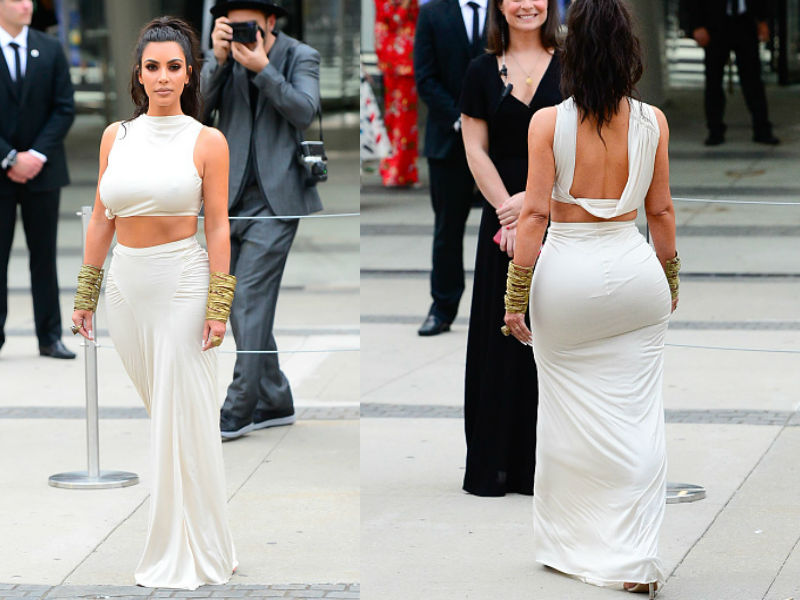 Crops tops could be another best dress you can wear with skirts, pants and multiple other lower outfits. The best part of wearing the crop tops on the hourglass body is when you pair it with a high-waist skirt or pant, you get the chance to show the thinnest part of your body.
Also Read: How To Wear Crop Tops Without Showing Stomach: Six Outfit Ideas
You can try a cropped, stretch-knit, or decorative top worn with a high-waist skirt or pant exposes just a sliver of midriff and it's incredibly flattering for it. But make sure choose the right combination of lower and upper crop top outfit not showing your belly.
#5 Dress Up with High Waisted Jeans or Pants
If you love to wear jeans, grab the high-waisted pair of jeans with the right upper outfit. You can also wear low-rise hip-hugging styles that look amazing with a slightly cropped or much-fitted top especially if you have a flat stomach. If you are looking to buy jeans, it will create a shape as per your body figure and looks great if skinny on an hourglass body.
Also Read: How To Pick Jeans For Your Body Type: Women's Jeans Buying Guide
Similarly, stretchy skinny jeans and leggings are perfect for showing off the curves of your hip and the taper of your leg, and work best when the inseam is a regular length. On your body fitted jumpsuits can also look incredible but go with waist flattering styles. Because your shape is so balanced, remember that you won't need any extra details to accentuate your hips.
#6 Don't Forget to Wear Supportive Undergarments
If you carry an hourglass shape body, you must have a curvy figure from thighs to the waistline to the upper body, so you need to wear a well-supportive bra that fits your breasts thrust your bust forwards and up. But make sure bra straps and back should not dig into your skin.
While at the lower end, you can pick the underwear with the design for full coverage that also helps to reduce the visibility of lines of underwear when you wear tight pants, trousers or jeans. And for that best option is you can also put on thong underwear, you will feel more comfortable and there will be no lines visible under your clothes.
Also Read: How To Pick Dress For Your Body Shape: Tips for Women Body Types
How To Wear A Mini Skirt Modestly: Short Skirt Outfit Ideas
Wearing short skirts not only makes a lady more gorgeous but also makes her feel a little more special especially if she is fashion cautious person. And they also dress up with minis to expose their body to look more beautiful and attractive.
If you also love to try this or wish to wear miniskirts but avoiding due to being exposed or face any kind of wardrobe malfunction, you need to read this article to know how to wear a mini skirt modestly without looking trashy or being overexposed.
How to Wear a Mini Skirt without Looking Trashy?
Wearing miniskirts in the wrong way not only will make you look cheap but also make you uncomfortable especially in public places. Hence, from choosing the right size of the mini skirt to matching color combination as per your skin complexion and body shape – all are the important factors, you need to consider while dressing with such short skirts.
Also Read: How To Pick Dress For Your Body Shape: Tips for Women Body Types
We have brought here a few tips that will help you choose the right miniskirts and how to wear or what else more you should wear to avoid being exposed and look modestly anywhere, either its party time or workplace you will feel comfortable.
7 Tips to Wear Mini Skirts Without Being Overexposed
#1 Choose the Right Length of Mini Skirt
Short skirt doesn't mean it should be too much short that your thighs become overexposed. Go for a little extra length in a fitted skirt that hugs your body, it will still feel short, but a little extra length accommodates for any riding up the material will do.
Compare to miniskirts, if you think wearing long skirts are old-fashioned, it's now right, as wearing any dress with the right combination of dressing sense can make you good-looking.
Also Read: How To Wear Long Skirts Without Looking Frumpy: Five Outfit Ideas
#2 Wear Modest Underwear Underneath
Wearing mini skirt without a modest underwear is not a sensible decision. Especially if there is windy outside and your skirt can flow away exposing your thong can make you feel uncomfortable or embrace if you are at public places.
Hence, always wear skort that is the name that was originally used for a garment that had a skirt flap in the front but with shorts showing in the back, while a "scooter" had skirt panels covering shorts entirely. It also stops you from being exposed when you sit down on the chair, table or not in the situation to be seated with your cross-legged.
Also Read: Top Five Best Skirts Women Love To Wear During Spring Summer
#3 Avoid Skinny Tight Stretch Mini Skirt
If your below the waistline body is quite heavy with extraordinary bums and weighty thighs like an hourglass figure you should avoid wearing the miniskirts fitted to your body. It will expose the size of your lower waistline looking you fat and oversized.
Also Read: How to Dress Hourglass Figure Casually: Six Clothing Fashion Tips
Go with loose and free-flowing skirts that will not only cover up the extra fat on your lower body but also make you good-looking and feel comfortable. And don't forget to wear the underwear underneath to avoid being exposed at windy places.
#4 Dress-up Mini Skirt with Skinny Leggings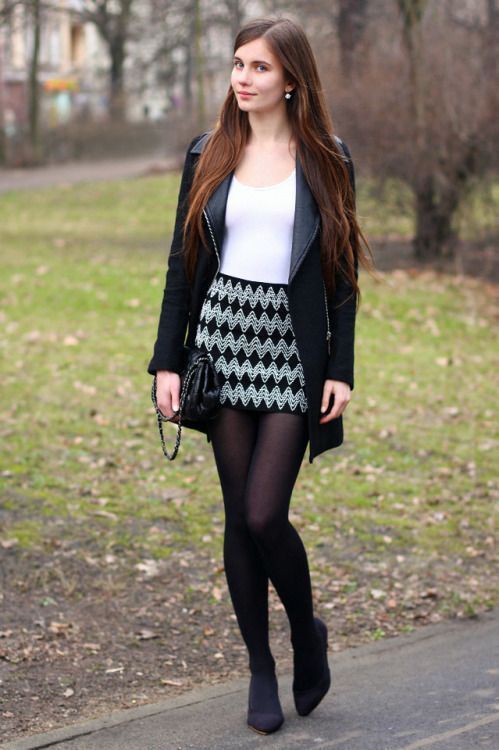 If you still feel shy despite wearing skort or underwear underneath, you have another best option leggings. Yes, it will not fully cover your leg but will also give a sneak peek of your attractive legs.
Go with skinny leggings in light shades matching to your skin tone or you can try the black shade leggings that will give you absolutely a stunning look with more confidence while enjoying wearing the mini skirt without risk of being exposed.
#5 Drape Mini Skirts with Crop Tops
Women love to wear minis in summers to avoid heat and sweating in their lower body. But if you are shy about being exposed wearing miniskirts, you can go with short skirts with upper outfits like crop tops that will allow being felt less hot due to the gap between the top and skirt.
It is again suggested for ladies who don't feel shy while showing their stomach. Otherwise, buy the top that can cover your stomach and also matching to your mini skirt.
Also Read: How To Wear Crop Tops Without Showing Stomach: Six Outfit Ideas
#6 Try Bodycon Mini Skirt for Modesty
If you are not comfortable showing your abdomen in crop tops you can pick Bodycon Mini Skirt that will cover your upper body. The bodycon mini skirts can cover your body up to the navel and give a more elegant look to a woman.
But make sure again, Bodycon mini skirt is suggest if you have a perfect figure, means you are neither too healthy nor too thin body type person. It is like Pencil skirt fits your waistline shows the curve line of your middle body.
Also Read: How to Wear Pencil Skirts Casually With a Tummy: Six Styling Tips
#7 Pair Mini Skirt with Flat Shoes
Putting your foot into high heels with miniskirts is not a good idea, as, in heels, you will look taller showing your legs longer that seems like you are showing your skin intentionally. And while walking in high heels you also need to very careful to avoid falling down.
Also Read: Learn from Russian Women How to Walk in High Heels without Falling
Choose the sneakers or buy the pair of casual flat shoes that will downplay the length of your skirt and if you want to wear heels, try the cowboy boot, or even a thigh-high boot to cover up more skin at the same time showing off your short skirt.
How To Wear Long Skirts Without Looking Frumpy: Five Outfit Ideas
Women love to wear skirts since their childhood, which keeps them feel comfy and look stylish if they are young or middle-aged. But after attaining mature age few of them feel uncomfortable wearing short skirts or avoid as they don't know how to wear mini without being overexposed.
Also Read:
So, you can choose the long skirts, that will make you feel comfortable. However, dressing up in a long skirts sometimes makes you feel conservative or out of fashion. But if you wear this costume with the correct style you will look stylish and trendy. Hence, we brought top ideas for long skirts without looking frumpy.
Top Five Fashion Ideas For Long Style Skirts Outfit
#1 Crop Tops with Ethnic Maxi Skirts
Crop tops with long maxi skirts can give you a decent look with game-changing effects. You can go with solid round neck or tops with long skirts having floral or patterned. And if you buy chiffon made long maxis it will keep your look fashionable.
Select the high waisted maxi skirts, that will make you look fabulous. But choose the right ways to wear crop tops as if there is too much gap between your mid-rift it will expose your skin due to short length. And on the bottom, pick the high heels with added style to your personality to walk confidently without risk of falling.
Also Read: Learn from Russian Women How to Walk in High Heels without Falling
#2 Spruce Up With Plaid Shirt
Plaid shirts are another best attire for women to wear casually with long skirts and enjoy their day out anywhere. Plaid shirts usually come in checks and dark shades, and paring long sleeves with long skirts will make a voguish outfit.
A right blended plaid shirt will give your old-fashioned long skirt a refreshing style sense to your whole outfit. However, you can choose from bright colors or patterns in detail which will completely complement your skirt with a glamorous look.
#3 Pair With Turtleneck Sweater
Winter brings chilliness, and long woman's clothing, especially maxi skirts will help you to stay stylish and warm. So, here you can buy turtleneck sweater online that will give your personality an elegant dressing sense with a covered body.
Also Read: How to Dress Hourglass Figure Casually: Six Clothing Fashion Tips
This beautiful outfit will not only keep you warm but create a new sense of dressing while enjoying your day in full-dress. If you carry a heavy figure or physique it will hide your tummy in a long skirt which is not possible in short dresses.
Also Read: How to Wear Pencil Skirts Casually With a Tummy: Six Styling Tips
#4 Overdress with Black or White Tops
You can find various fashion ideas for long skirts wearing plain single tops in a black or white shade that could be the best combination to look classy. A black fitted crop top paired with a metallic skirt always looks stellar to anyone.
While if you choose white tops with a floral, printed or striped long skirt or with solid pastel maxi skirt it would be a great combination. However, if you want to go with a black skirt or other classic colors suitable for every shape and size of the body.
Also Read: How To Pick Dress For Your Body Shape: Tips for Women Body Types
#5 Deck Out with Off The Shoulder Tops
To make long skirts not look dowdy, pairing this dress with off the shoulder tops is another best option you can wear when you are in the semi-formal or eventful mood. You can also pick either loose or off the shoulder knot sleeve tops.
However, V-neck and short sleeve off shoulder tops are also in trend you can pair with long skirts while maintaining your style. But if you have a skinny body make sure your collar bone is not embossed too much and the neckline looks beautiful. And to complement your neckline wear the right necklace made for off-shoulder dress.
AI in Fashion: Applications with Use Cases & Role in the Industry
Wearing clothes is not only a necessity of humans, instead, they get the chance to show off their style, beauty, personality, and lavish lifestyle. The fashion industry is one of the biggest in the world with market size of US$ 3 trillion as of 2018.
Artificial Intelligence (AI) in fashion is changing this industry by playing a crucial role in the various key divisions. From design to manufacturing, logistic supply chain and marketing, AI in fashion is playing a big role in transforming this industry.
Actually, in the age of digitalization, AI and machine learning based technologies in the fashion industry are providing an automated solution to manufacturers helping them to leverage the intelligence of AI into fashion and exhaust the best possibilities into their field.
So, right here we brought a great discussion, how artificial intelligence is changing fashion with use cases, role and impact of AI on this industry.
How AI is Changing Fashion: Role & Impact on the Industry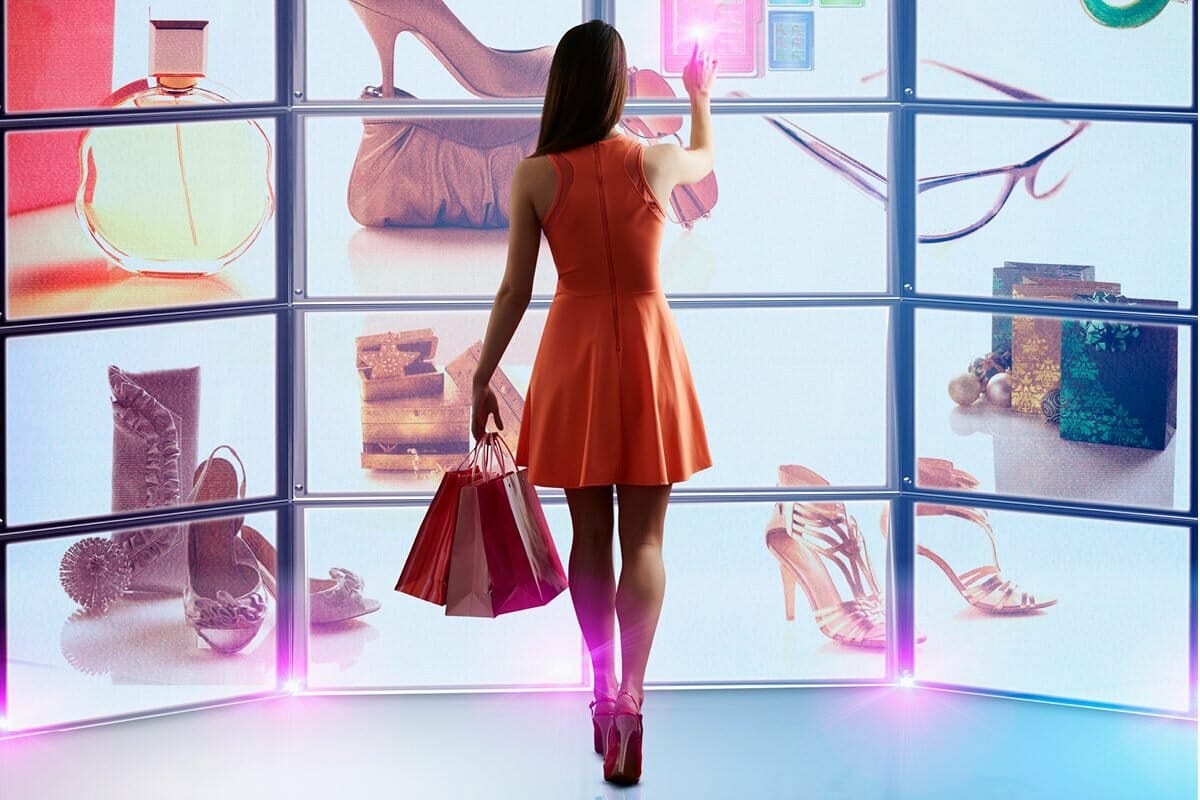 AI in Fashion Design – A Clothing Designer
The design and patterns with the right color combination are the key points to design a costume to make it attractive for the customers. AI can detect the new trends with demand in projecting the new trend reducing the forecasting error.
Trends in the fashion industry change very fast with new designs or patterns come every day in the market. Designers need to keep pacing with new styles. And AI algorithms can analyze designs through images to copying popular styles.
And after analyzing the data set of designer clothes and AI uses such data to see what does and does not sell well in the markets and create or recommend designers to build and launch a completely new design in the market.
Retailers giants like Amazon and Walmart now have their own clothing brands and are using the machine learning systems that can identify the spot and, in the not-too-distant future, design fashion trends that customers also prefer to buy.
AI in Fashion Manufacturing, Supply Chain & Fashion Store
In fashion, apparel manufacturing is the labor-intensive industry. From sewing to sorting or dresses, there are mundane tasks now AI can perform with a better level of accuracy at faster speed reducing the extra cost spent on workers.
AI robots and computer-enabled machines can easily stitch the fabrics with perfection while at the same time it can also detect faults in fabric and offer quality assurance to ensure that the actual design shades will suit the new colors.
Video: AI Robots in Fashion & Sewing
Also Read: How AI Is Creating New Job Opportunities For Low-Skilled Workers?
AI in inventory and supply chain management is facilitating to speed-up by improving routes, cutting the logistic supply and shipping cost.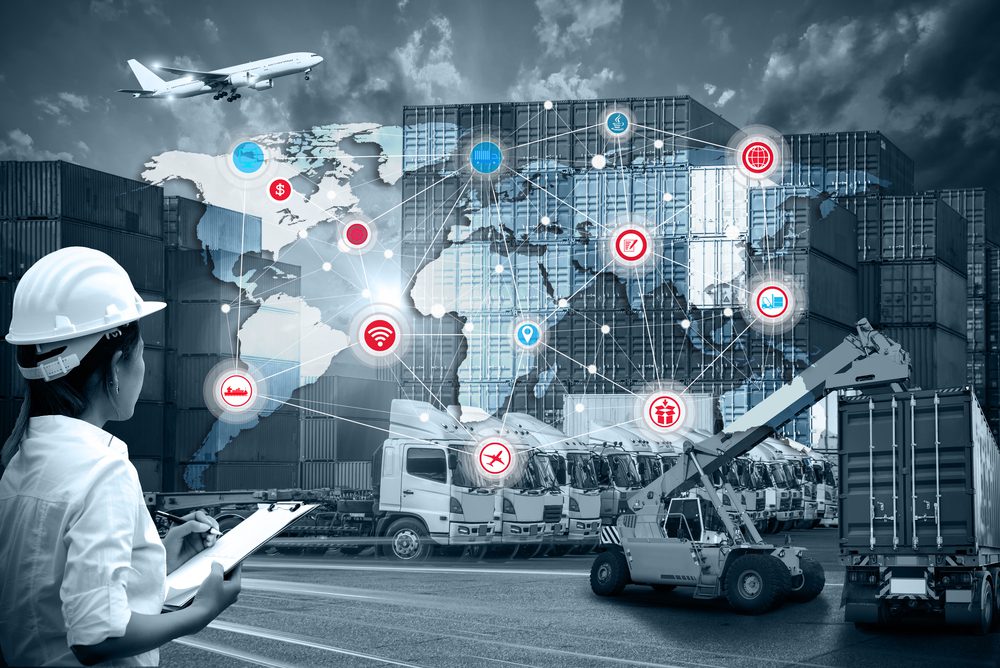 Using the AI companies automate logistics and supply chain processes for faster delivery or find alternate routes for vehicles derailed by unforeseen circumstances such as bad weather or road construction.
While, AI in fashion store also uses algorithms with humans-in-the-loop as virtual personal stylists. This AI-based system recommends the best items for them a human stylist picks the final suggested products as per the body types.
AI in Fashion Retail
AI and machine learning in retail are also providing an automated solution to monitor the customer's activities while shopping and visualize their sentiments to know what kind of products they prefer to buy and what they ignore.
AI can also track footfalls in retail shops or record the shopping experience of the customers with option to get feedback on how was their experience while shopping at the retail shops with an opportunity to improve their services.
And visual perception based AI models also helps store owners to keep the records of the inventory in their store and also categorize items in-store helping store owners to manage their inventory with AI-backed automated solution.
AI Fashion Stylist – Styling the Fashion Accessories
Moreover, the use of AI in fashion is also allowing each one of us to find those elusive perfect outfits that suit our body type and fashion preferences.
Such AI-enabled clothes and outfits are not only tailored for different occasions and weather, but also to the user's style, body type, colours, and the latest fashion trends.
iLUK is an AI-based personal stylist, using the Computer Vision-based and 3D Reconstruction technology at its heart to make personal styling based on technology possible. It is designed as a pod that will be placed at a retail outlet.
In AI fashion stylist computer vision and 3D reconstruction based technology are used to develop a 3D avatar of the customers.
The measurement data are then fed into the AI software to analyze your body-shape, with an identical body mass, shape, size and colour, while suing your face to show the outfits.
Also Read: How To Pick Dress For Your Body Shape: Tips for Women Body Types
Van Heusen created a retail environment complete with a "Virtual Trial" mirror which lets users see how outfits would look on them by simply scanning the item's barcode and standing in front of the mirror as virtual garments are projected onto their reflection.
Video: Van Heusen Style Studio for AI Fashion Stylist
The fitting rooms house interactive mirrors as well, letting shoppers try and compare different outfits by snapping pictures of them in each outfit for them to then compare them side by side to help them make a decision quickly without wearing it.
AI in Fast Fashion with Smart Mirror
Similarly, AI powered smart mirror is used by the retailer store simplifying the shopping experience of the customers with virtual visualization of clothes how they look on you even without putting the clothes actually on your body.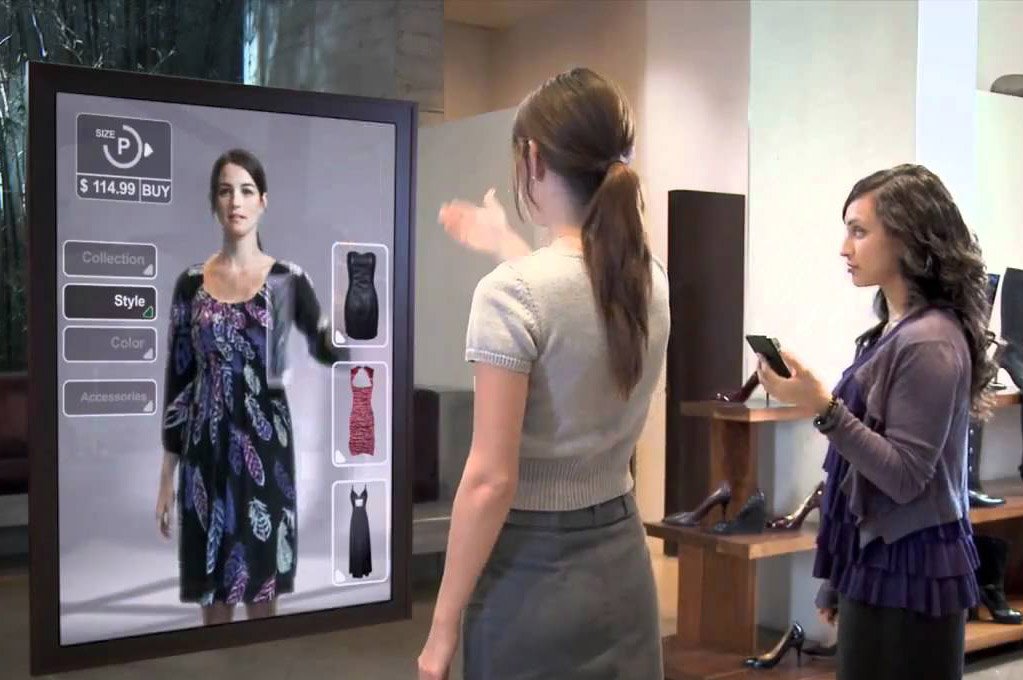 The AI smart mirror is installed in the changing room of retail stores with touch screen glasses that relay information on whether or not a person is inside, they will also help to get information about the item the customer has brought into the store.
For such smart mirrors, clothing racks are RFID enabled and use gyro-sensors and Bluetooth low-energy chips allowing the articles selected by shoppers automatically show up in the Smart Mirror.
See how windows virtual mirror works, showing a shopper "trying on" outfits, superimposing it on the image of her body in the mirror, following her movements, and even changing the color of items at her voice command
Video: How Windows Virtual Mirror Works?
And using this mirror customer can look at different sizes and colour options and also receive personalized mix-and-match options to complete the look.
Rebecca Minkoff's flagship New York City connected store features a large, interactive mirror that shows off the latest Rebecca Minkoff brand content. The shopper can use the mirror to browse various looks and add them to their fitting room to try on.
Video: AI Interactive Smart Mirrors
The interactive mirrors in each fitting room give the user the option to contact a stylist, change the lighting, and attach the items she has tried on during the visit to a personal profile so they can be accessed during future visits to the store.
And be able to receive intelligent recommendations based on the clothing saved. Items can be sent directly from the fitting room to checkout to finish the shopping.
AI in Online Fashion with Recommendation in Ecommerce
Similarly, just like retail fashion stores, AI is playing a game-changer role in online shopping and Ecommerce business. While browsing or searching the fashion items on e-commerce sites, AI recommends the other similar items, as per your color preference, budget and other attributes.
Actually, machine learning technology is used here to analyze your filtering behavior and what kind of products you are looking for. Analyzing your search history data it recommends the other suitable items probably you should check.
AI in Visual Search – To Find the Products Using Camera
Nowadays E-commerce stores AI-based visual search technology used to understand the content and context of these images and return a list of related results. You can use your camera to capture an object and search the same online.
AI-based visual search technology allows retailers to suggest thematically or stylistically related items to shoppers in a way they would struggle to do using a text query alone.
Actually, the AI visual search model is trained with huge amount of data sets that contain the annotated images making the clothing items recognizable to machines.
And with the help of ML algorithms machines can recognize separate objects within a picture. This enables additional shop-the-look use cases that create cross-sell opportunities for the sellers.
While on the other hand, for media companies visual search is an opportunity to transform fashion sites into a personalize shopping experience.
Role of Artificial Intelligence and its Impact on the Fashion Industry
Nowadays, AI is playing a crucial in the fashion industry with huge potential to make this AI integrated into various other subfields. It is powering the manufacturers to redefine how fashion businesses engage and interact with their customers.
AI-enabled applications and system are enhancing the customer's experience that goes beyond personalized ads, notification alerts on price drops, or chatbot assistance.
With this kind of technology, fashion brands strive to put customization at the forefront for customers during their buying journey.
Moreover, AI will not only help designers to predict the upcoming trends, visualized by the current fast-changing-environment, but also examine and minimize the impacts on the environment while producing the fashion garments and accessories.
Further, 3D printing technology is also going to be used with the help of AI. 3D printing will enable professionals to transcend any boundaries of design, as it gives them a chance to turn the most improbable projects into reality.
Artificial Intelligence Impact on Fashion
Customers now becoming aware to use the AI-enabled features while searching or buying clothing or fashion accessories online. Customers can take a photo and match the accessories and clothes over brands to get the same design.
Apart from that, it is also reducing the errors and making the product delivery process fast through automated warehousing management.
Companies or brands can now ask for feedback and suggestions through AI featured applications.
Artificial intelligence impact on fashion will make this industry more smart and intelligent in understanding the sentiments and fashion taste of customers.
In the long-term, it will have a constructive impact on the entire industry empowering the manufacturers to introduce the most demanding clothing lines timely with more precision.
Whereas, at the customer end, it will facilitate them to explore more products as per their choice, personality and affordability with the personalized shopping experience.
Customers will easily find the right costumes and fashion accessories with the option to visualize wearing the same accessories virtually to get the best one at one click.