A woman looks beautiful with the right dressing sense as per her body shape. But every woman on this planet doesn't have the same body type and few ladies don't have a perfect figure making difficult for them find the right dress.
If you are one of them, have bulky thighs or excess weight on your abdominal area or carrying a flat chest or extra fat on your bum, you need to be very careful while choosing the right dress according to your body type.
Fashion Styling Tips & Clothes for 5 Popular Body Shapes
To help you in deciding the right clothes for your figure we brought here the best dresses with fashion tips to know how to dress up according to your body shape.
#1 Apple Body Shape
If you have heavier upper body compared to your lower body or your shoulders are broader than your hips, you have apple shaped body type.
Generally, people with this body type have a bigger bustling, they don't have a well-defined waistline and their most weight gathers around the midriff.
Best Dress Style for Apple Shape
As your most weight is concentrated above the hips and mid-riff also appears heavier, its lowering down your waistline. The best outfits for an apple-shaped body is, flaunt your legs or wear the dress with V shape or deep V necklines.
V-neck dresses create an elongated illusion of the torso. You can also choose the wrap dresses and A-line dresses will do wonders for you. Make sure to pick the tops that cover the entire belly area and extend just below your hips.
Also Read: How To Wear Crop Tops Without Showing Stomach: Six Outfit Ideas
#2 Pear or Triangle Body Shape
If your waist is wider than your bust or hips are wider than your shoulder and fat is accumulated on your thighs and on buttocks you carry a pear shape body. Choose the outfits than can balance your shoulders, bust, waist, and wider hips.
Pear Shaped Body Dress Tips
At the lower end, wear darker or solid in color and slimming on the bottom, like dark jeans or slacks, or a dark knee-length pencil or mini skirt or A-line skirt.
Also Read: How To Wear A Mini Skirt Modestly: Short Skirt Outfit Ideas
While at the upper end, make sure to pick the tops or the outfit in bold colors and big prints that will attract the people around you at your top, making your shoulders and chest look a bit broader than they actually are in broader shape.
#3 Rectangle Body Shape
The rectangle body shape is characterized if your shoulders, bust, and hip measurements are fairly uniform and waist is more straight than curvy. It means your waist, hip and shoulder widths that are almost similar to each other.
Fashion Tips for Rectangle Body Shape
Women with rectangular body shape generally won't have many curves, so you'll need to use a few style secrets to look attractive. However, some women have petite rectangle body shape and they can wear well-structured clothes.
Also Read: How To Wear Long Skirts Without Looking Frumpy: Five Outfit Ideas
How To Dress A Rectangle Body Shape?
While picking the rectangle body shape outfits as per your body shape, you should choose the outfit defining your waist and creating curves on the bottom or top, that will create more curves and a pleasing silhouette to your body.
At the top of your body, you can wear long jackets to create a lean look and emphasize your narrow rectangle body shape. At the bottom, you can wear most pants styles like wide-leg pants, flared hemline, high-waisted or straight jeans.
Also Read: How To Pick Jeans For Your Body Type: Women's Jeans Buying Guide
#4 Hourglass Body Shape
Getting a natural hourglass figure is like a dream to many women who are more cautious about their figure and obsessed to get a perfect shaped body. A perfect hourglass figure has glorious curves with a well-defined waistline.
If you have around the same measurements at the bust and hip area with a particularly narrow waist you are holding a beautiful hourglass type body. However, few hourglass figures have also a roughly even bust and hips measurements.
Fashion Tips for Hourglass Body Shape
Actually, an hourglass-shaped body is already a perfect figure, so you have to be very careful to show-off your curves with the right dressing sense. Pair a slim-fitting scoop-neck top tucked with high-waisted pants or a skirt to emphasize your waist.
Make sure you get a good supportive bra that will thrust your bust forwards. As a fitting bra is essential for this body type that also fits you well in your bust.
Best Dresses for Hourglass Shape
If you're wearing flowy dresses like top or jacket, don't forget to add extra emphasis on your waist by adding a belt. Because flowy frocks could be the best dresses for hourglass figure, but without belt, your waistline will not look curvy.
Also Read: How to Dress Hourglass Figure Casually: Six Clothing Fashion Tips
Dresses for Hourglass Figure Plus Size
If you carry a plus size hourglass figure and don't know how to dress hourglass figure plus size you go for a strapless top of the dress plays up her full breast and the fitted knee-length bottom of the dress shows off her curvy hips.
#5 Inverted Triangle Body Shape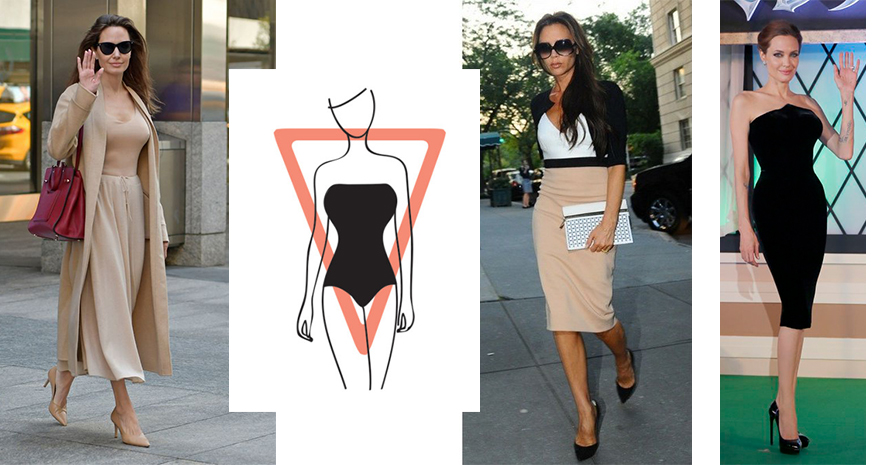 Most women don't like this type of figure, but if you have a narrow waist, with straight or square shoulders and your bust are much wider than hips with straight ribcage with great legs then your body is carrying an inverted triangle body shape.
How to Dress Inverted Triangle Body Shape?
Choosing the right top is one of the most important inverted triangle body shape outfits. As, your body shape requires that, there is ample room in a top in the upper body and stretchy material, as well as a raglan sleeve, it can give you the best look.
Inverted Triangle Body Shape Outfits
A v-neck, low round, cross over, cowl, square neck in a stretchy material are the best suitable styles that will look great on your inverted triangle body. You can also pick straight or slight a-line skirts that look great best for a wider waist area.
There are many clothes for inverted triangle body shape, but while choosing the skirts, you can go with fitted bodices with flared skirts, high waisted puff, pleats, patterns and pencil skirts that drop straight from the waist not showing your tummy.
Also Read: How to Wear Pencil Skirts Casually With a Tummy: Six Styling Tips
While choosing the right dresses for inverted triangle body shape make sure not pick the skirts like frill sleeve or puff sleeve and dress sleeved that finish next to the bust or skirts very fitted, as it will make you look too heavy.
Merely choosing the most suitable costume is not enough to make your body look perfect and attractive, you have to change your lifestyle and daily activities.
Hence, do some workout or regular exercise to keep your body in shape and get an attractive figure. As with a perfect figure you can easily find the varied types of outfits for your body.
Also Read: How To Check Your Fitness Level And Health At Home?