How To Pick Jeans For Your Body Type: Women's Jeans Buying Guide
Denim made attire will never go out of fashion across the world, as the fabric is durable, rough to wear and makes you look smart and trendy. Not only men but women also love to wear denim made clothing showing their curves in skinny jeans.
Men usually go with casual wear and choose the slim or regular fit jeans while women are more cautious and opt for a skinny tight or slim fit that not only makes them look fit but also allows to wear top dresses casually.
But many of them not find the right jeans as per their body type, resultant either get alter the trouser that makes them look unappealing in jeans. Hence, here we brought few tips for you to pick the right jeans for your body type.
Five Tips for Buying Women's Jeans as per the Body Shape
1. Choose High Rise for Heavy Lower Body Types
If your upper thinner body is carrying heavier hips or thighs, go with high-rise jeans that will punctuate your waistline. Make sure choose the jeans that taper towards the ankle lean to look more flattering on you compare to flared ones that can make your figure look bigger.
High-rise jeans are also perfect for women with upper body as they can comfortably fit on hips makes your figure look fit and more attractive.
2. Go with Mid-rise for Heavy Upper Physique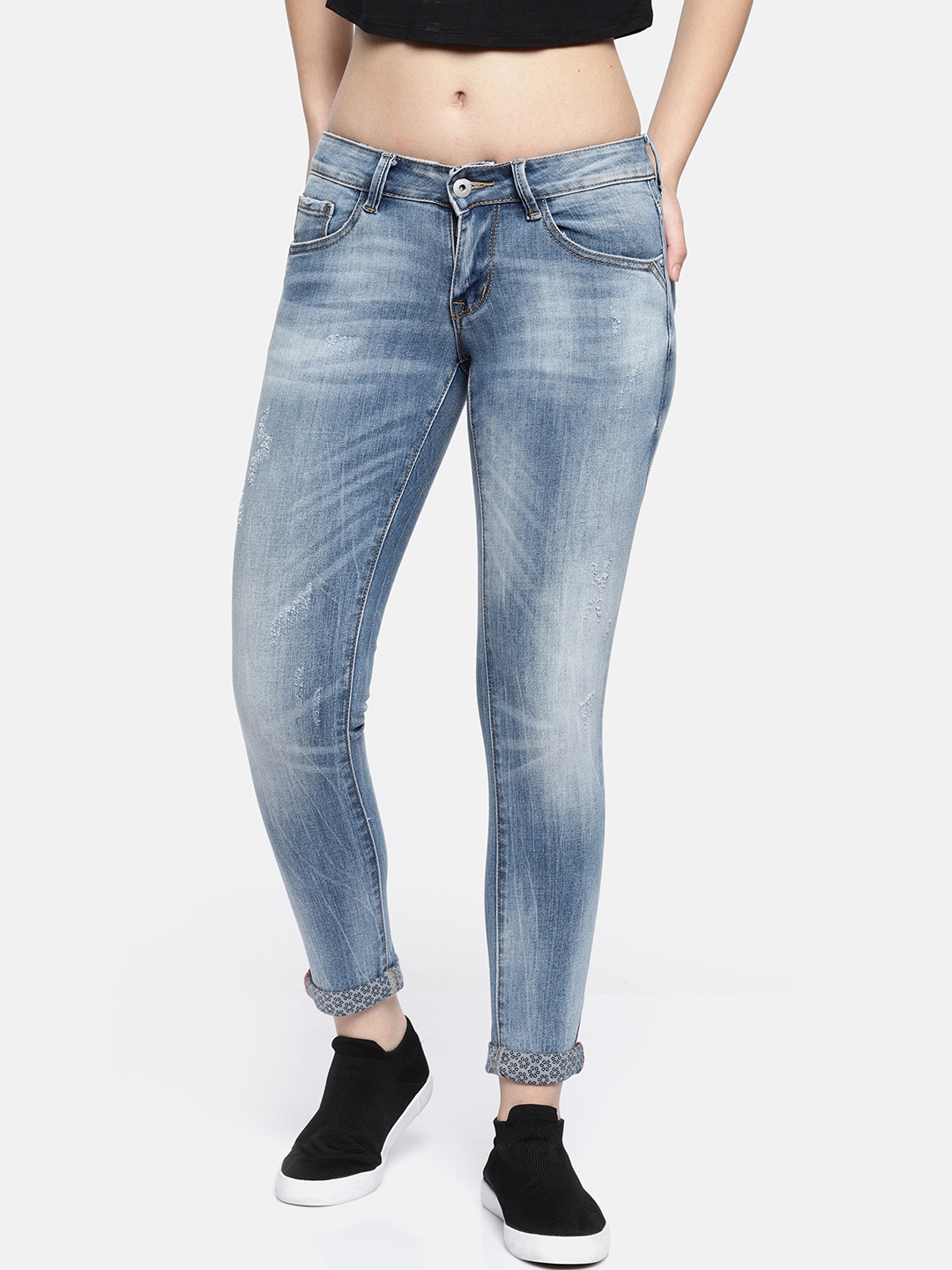 If your upper physical structure is heavier than lower, choose the mid-rise jeans that will suit you best. Though, you can also choose the high-rise but wide legged, or boot-cut or flared to appear fit and stylish. But make sure not to buy extremely tight or skinny fit jeans, instead pick slightly loose, otherwise, it will show you extraordinary v-shaped body.
3. Mid/High-rise for Plus Size with Broad Curvy Frame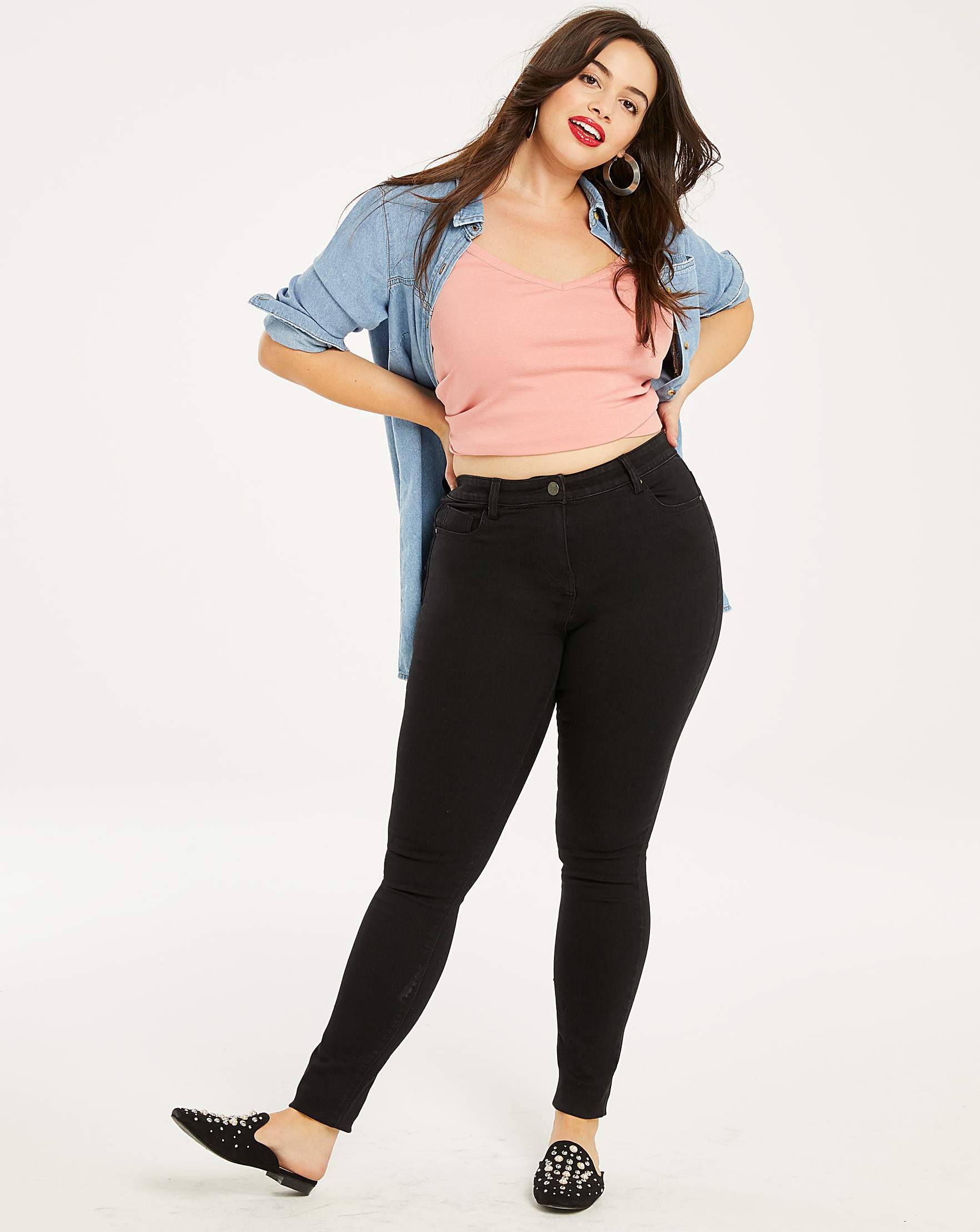 If you are a plus size or having a wide or curvy frame, you need mid or high-rise jeans mainly in black or navy blue shade, that will give you a well-structured figure. Pick out the fitting jeans with a stretchable fabric that will also help your leg look longer.
It doesn't matter what's your height, wearing such jeans will help you appear good-looking but make sure choose the right crop top to cover your upper body without showing your belly.
Also Read: How To Wear Crop Tops Without Showing Stomach: Six Outfit Ideas
4. Low and Mid-rise Works for Tall and Skinny Women
If you are tall and carrying a skinny body, then mid and low-rise will work best for you. If you choose flared jeans the outlined will give your physique an elongated frame. You can also try boyfriend and mom jeans tapered at the end that will add some tonnage to your frame as wearing such style give a completely relaxed fit from hips to thighs.
5. Try Ankle-cropped or High-rise for Petite Body Type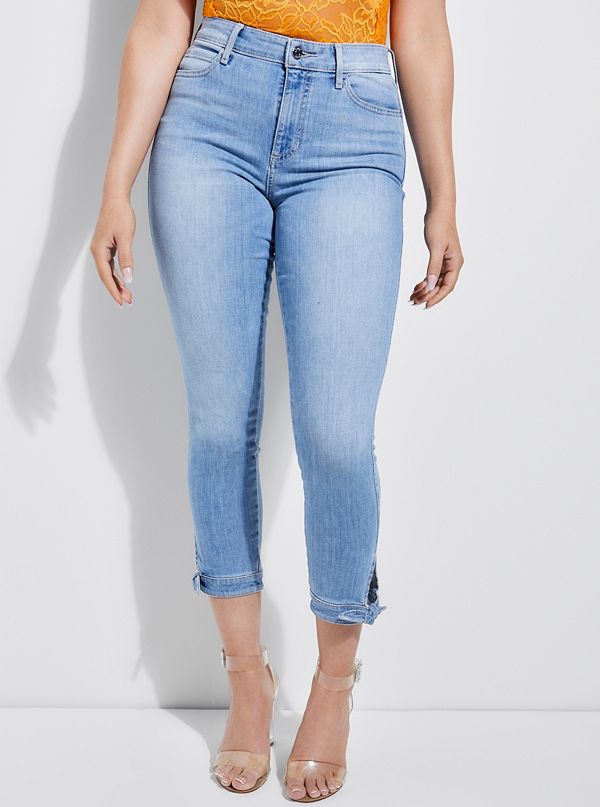 If your body carries a petite frame it doesn't mean you are skinny, instead, it indicates you are shorter, thin and can buy the kid's size jeans for you. Though, it would be difficult to find the right length but the best part is that all types of silhouettes will appear flattered on you.
Whereas, if you want to look taller, go with ankle-cropped or high-rise jeans with 3/4th lengths that you can wear on high heels to walk in style and stay fashionable.
Also Read: Learn from Russian Women How to Walk in High Heels without Falling
However, the aforesaid women's jeans buying guide can help you to find the best one as per your body type. But always keep in the mind that when you buy women's jeans online, stretchy fabrics are universally flattering, high-rises work for curvy women.
While on the other hand, low-rises and baggy silhouettes best suitable for skinny women and flared silhouettes help to add length helpful for short and apple body sized women.
Top Five Best Skirts Women Love To Wear During Spring Summer
Summers also bring for women a good chance to wear the skirts that they usually avoid during winters due to cool sensation into their legs. Teenage girls or matured women and young ladies all love to wear skirts with trendy tops at various occasions.
Though, there are many women's summer skirts are already in fashion in the market, but this time we brought the list of skirts for summer collection that women will love to wear with different combinations of dresses to keep looking stylish and trendy.
5 Trendy Long and Short Women's Cute Summer Skirts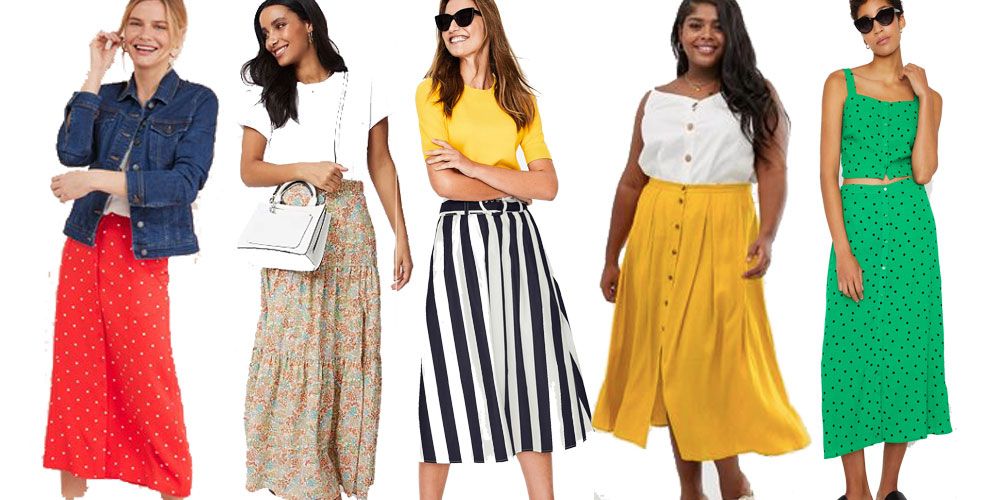 #1 Pleated Skirts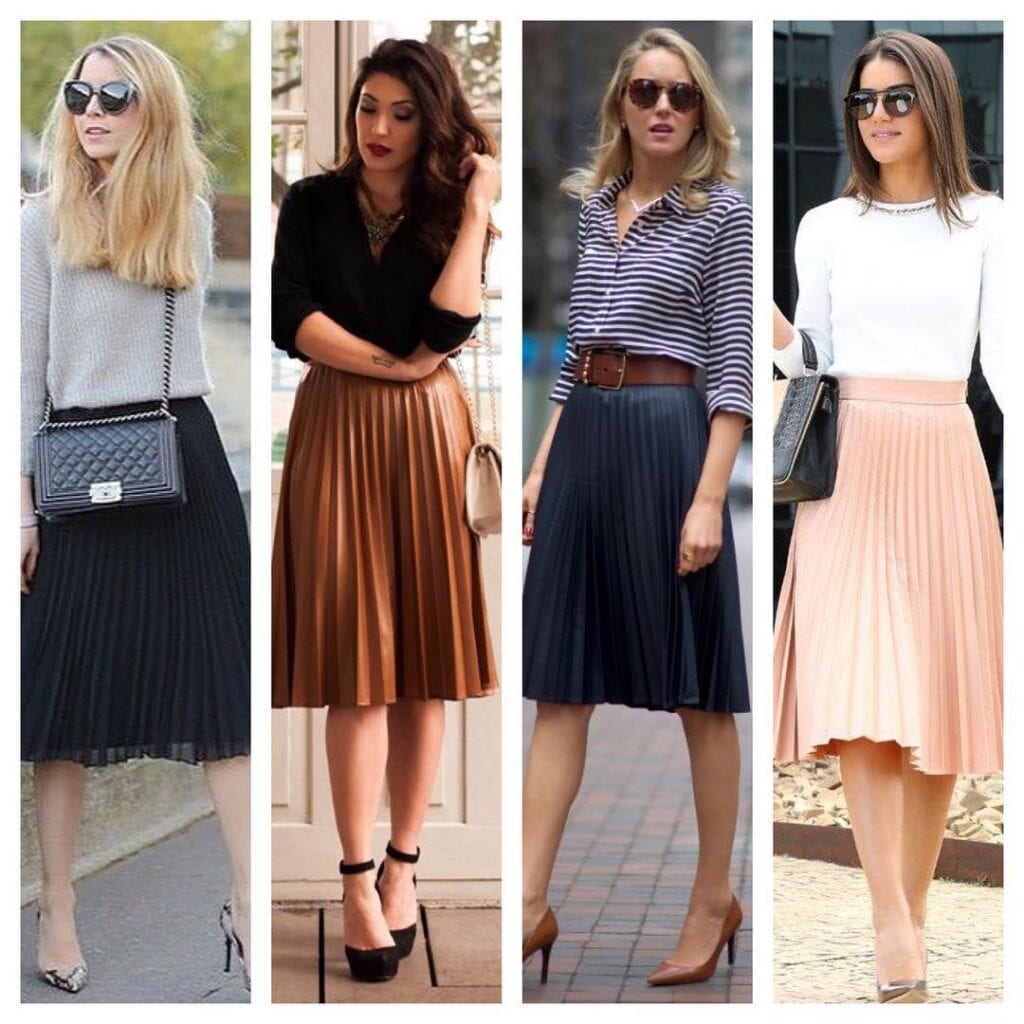 Pleated Skirts look not only elegant but also gives a stylish look that ladies can wear casually at workplaces. This spring summers women are likely to choose the pleated skirts that come in different styles and lengths giving the best option for all age of ladies to try these skirts while staying relaxed during the summers with pleats in their beautiful skirts.
#2 Midi Skirts
Midi skirt is one of the most loved dresses among the women have in their wardrobe. Actually, it is a perfect work-appropriate skirt style for summers give an elegant look to every woman. Ladies looking summer midi skirts can have this as they can get longer options that still you can wear while traveling anywhere in summers.
#3 Slip Skirts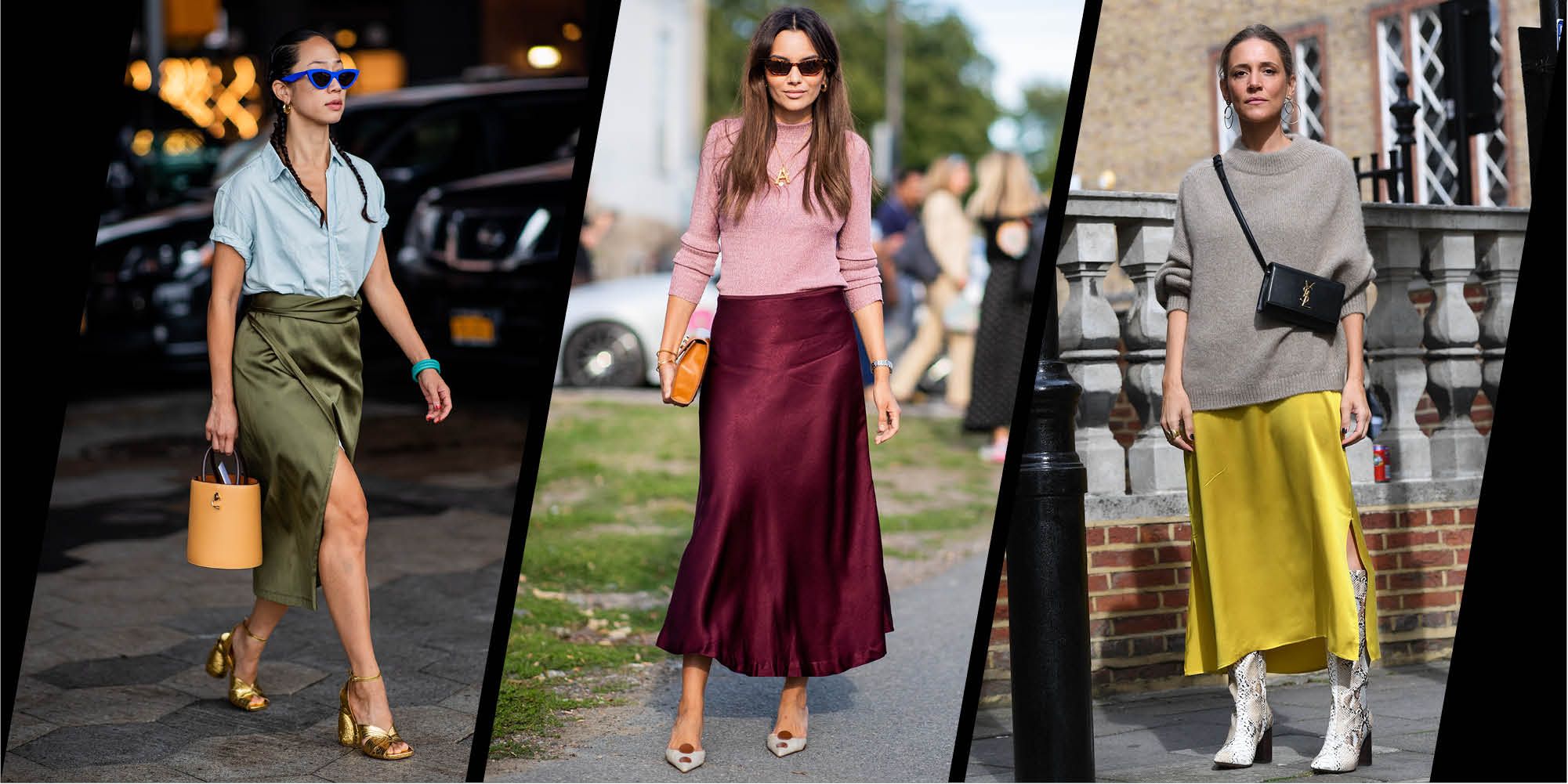 Slip skirts give a smooth dressing sense with a stylish fabric look. Women going to dress up with slip skirts this summer as it also gives a flattering look to the ladies having a slim body. And it gives a graceful dressing style if worn with a t-shirt and boots or women wish to look graceful can pair with plain bandeau and heels in their feet.
Also Read: Learn from Russian Women How to Walk in High Heels without Falling
#4 Asymmetrical Skirts
As names represent, these types of skirts come with crosscuts and lengths that give women a stylish and more attractive look. This could be the best option for women prefer to wear long skirts for summers can go with asymmetrical skirts.
Young ladies looking to buy summer skirts online can have Asymmetrical Skirts in their attire collection wear that can have fun cut to them. Women choose these types of skirts as office attire to night outfits with a pretty look. And women what to wear with long skirts in summer can pair with crop tops for a snazzy look.
Also Read: How To Wear Crop Tops Without Showing Stomach: Six Outfit Ideas
#5 Front Button Skirts
This is one of the oldest yet popular skirt style comes with a button on the front side gives a unique look. If you are looking for summers front button skirts in innovative designs than woman can choose as per their color choice and fittings.
Also Read: How to Wear Pencil Skirts Casually With a Tummy: Six Styling Tips
Front-button blue denim mini skirt or high-rise white denim skirt with white sleeveless top or T-shirt tucked lace-up with black sandals can be the best combination for ladies want to look extra stylish while enjoying the comforts in summers.
How To Wear Crop Tops Without Showing Stomach: Six Outfit Ideas
Crop tops, the best upper dress option for ladies especially for girls to wear in summers and stay away from soggy dresses. But wearing crop tops can expose your skin mainly your tummy that can embarrass you if you are not habitual of showing off your stomach.
However, if you still want to wear a crop top and don't want to show your belly, you have to be little cautious while choosing the right crop top and other combinations of dresses. Here we brought the tips to know how to use crop tops without showing stomach at the same time look good keeping yourself trendy and fashionable among your friends.
Six Cute Ways To Wear Crop Tops Without Showing Belly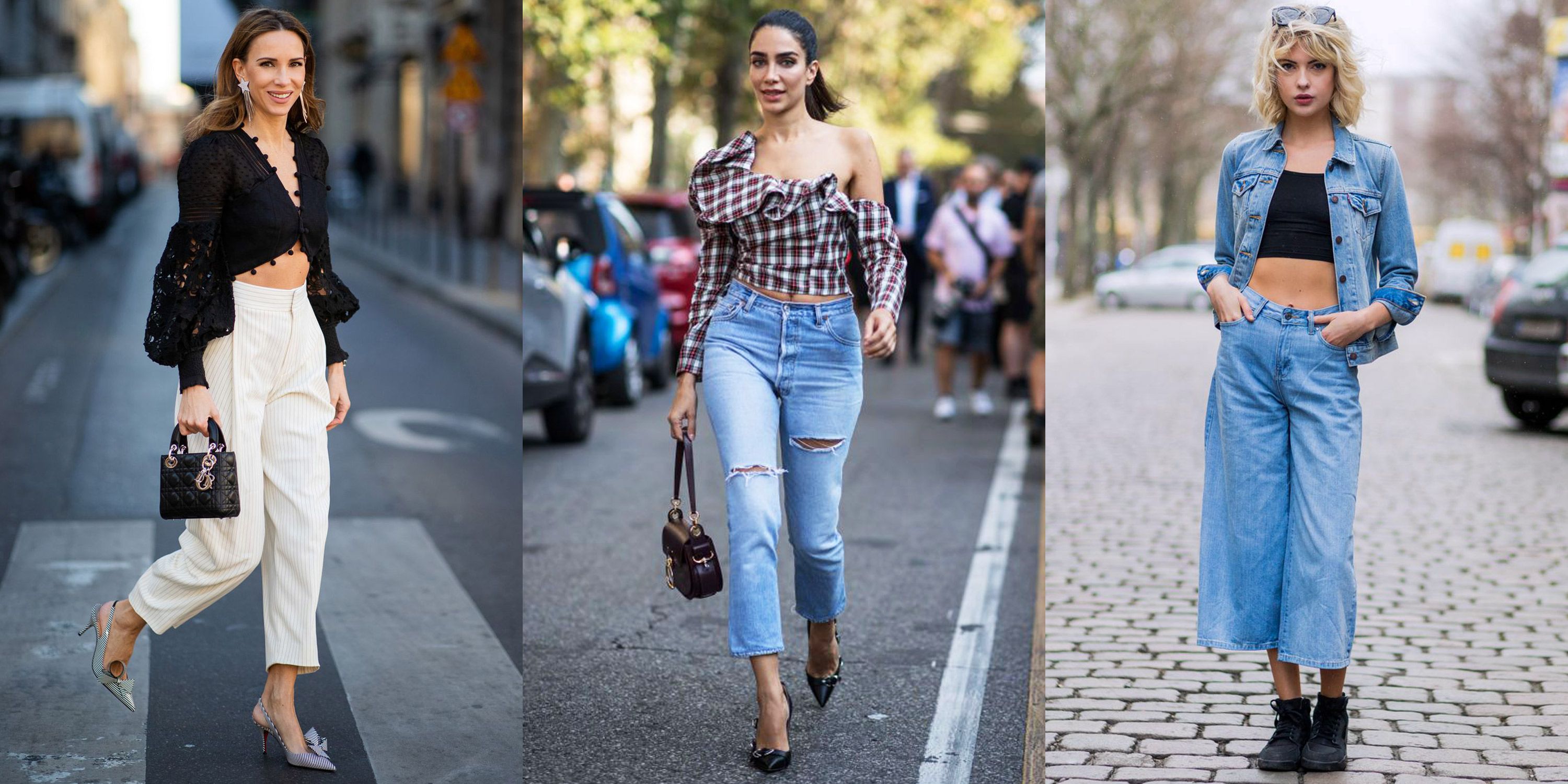 #1 Choose the Right Crop Top Perfect for You
The first and foremost important thing to wear crop tops without showing stomach is to choose the right size and shape crop top that suits your figure. The best option to hide your midriff is choose the longer style that ends below the bust hiding your skin.
You can also pick crop top in boxy shape to keep your outfit balanced. If you feel comfortable wearing fitting pants you can choose the boxy crop but make sure put cami on underneath to cover your tummy and avoid embarrassing moments of showing your skin.
#2 Wear High-Waisted Pants or Skirts for Casual Look
If you are nervous showing your stomach choose high-rise pants that will cover-up your mid-rise area giving you a fashionable look. With a long-sleeved crop top, you can pick high-waist jeans or trouser in a luxe fabric will also give the best option for any occasion.
Also Read: How To Pick Jeans For Your Body Type: Women's Jeans Buying Guide
You can also choose high rise but wide-legged jeans that will also look great if you wear with crop top supported with heels. Make sure you are comfortable walking with high heels otherwise you can also choose sandals for an easy and lively outfit.
Also Read: Learn from Russian women how to walk in high heels without falling
#3 Pick Longer Style or Flowy Crop Styled Top Hide your Midriff
Other interesting ways to wear crop tops without showing stomach is buying longer style or flowy crop style top to hide your tummy and enjoy the style of western wear with all comforts and style following your culture or tradition of not showing skin publicly.
A Flowy crop top is also another best option for the ladies who don't like skin tight dresses. Here no matter what kind of bottom dress you are wearing but make sure to pick the right top that has extra fabric can flow away from the body covering your tummy.
#4 Drape Crop Top with Boxy Shape with Fitting Pants
You can also choose boxy crop top with fitting pants that will make your entire outfit neither too loose nor too tight while covering tummy at the middle. You can also wear a crop top on skirts that will give you great comfort and relaxation during summers.
But make sure put a cami on underneath that will cover tummy and if you are a weekend holiday outing, choose striped crop top with fitted trousers and stud earrings boots on your heels with a stylish handbag to look great among the other people.
#5 Dress-up with Long Black Skirts or Pencil Skirts
Long black colored skirts with a crop top will give you an elevated look and if you wear this with a collar necklace it will give you a great pop of color. Ladies apparel manufacturers in India produce such crop tops suitable on any lower dress like pencil skirts or pants.
Similarly, pairing crop tops with pencil skirts along with tee and other light accessories will really give you a clean and polished look. If you wear with a pencil skirt it will only hide your belly but also give your body a slim look to live with a highly fashionable lifestyle.
Also Read: How to Wear Pencil Skirts Casually With a Tummy: Six Styling Tips
#6 Pair with Printed or Light Shades Palazzo Pants
If you want to wear crop tops without showing stomach the best option is dress-up crop top with palazzo pants that are always in trend and can give a decent look. You can buy crop top online India that can be worn with any type of Palazzo pant and similar dresses.
You can choose between pink or tribal printed palazzo pants with a plain white top that will give you a bohemian-chic look. With printed palazzo, you can choose any shade of crop top and cover neck by printed scarf making the best combination while covering your midriff.
How to Wear Pencil Skirts Casually With a Tummy: Six Styling Tips
Skirts are always been one of the most fashionable dress women love to wear in different styles. Pencil skirts are one of them gives classic and well-dressed casual look that a women can wear with confidence and feel more powerful at workplaces.
If you also love this dress but avoid due to tummy or heavy thighs or matured body you can read here few useful tips to dress up with pencil skirt casual outfit in a decent style at the same time feeling comfortable while carrying your weight gracefully all the time.
Six Tips for Wearing A Pencil Skirt With A Tummy
#1 Choose High Waisted Pencil Skirt
First of all you need to be very carefully while choosing pencil skirt dress. Stick to the high-waisted skirts that will help you to flatten your tummy and make you look fit.
If you have belly you should avoid low waists, drawstring waists or tight waists pencil skirts that squeeze your midsection of body instead of flattering making you look weird.
Also Read: Top Five Best Skirts Women Love To Wear During Spring Summer
#2 Don't Choose Short Pencil Skirts
Short pencil skirt outfit ideas will not work for you, as it will highlight your thicker thighs and also the midsection area in general making you completely look fatty and unattractive.
Don't go with short or plus size pencil skirt that size on you shorter than just above your knees. As a long knee-length fitted skirt create a slimming effect on your entire body and also the longer size skirts will deemphasize the larger thighs structuring you look fit.
Also Read: How To Pick Jeans For Your Body Type: Women's Jeans Buying Guide
#3 Avoid Patterned and Bright Pencil Skirts
While buying pencil skirts you need to be carefully choosing the right pattern and designs that are in fashion. Stay away from patterned designs and also avoid bright shades fabrics that will not only highlight the extra fats on your body but will also make you look unfit.
Go with darker shades like solids black or browns or navies and other dark but rich colors. And while making the combination with upper dress you can choose the bright colors or light shaded tops or other accessories that will attract people to see other parts of your body.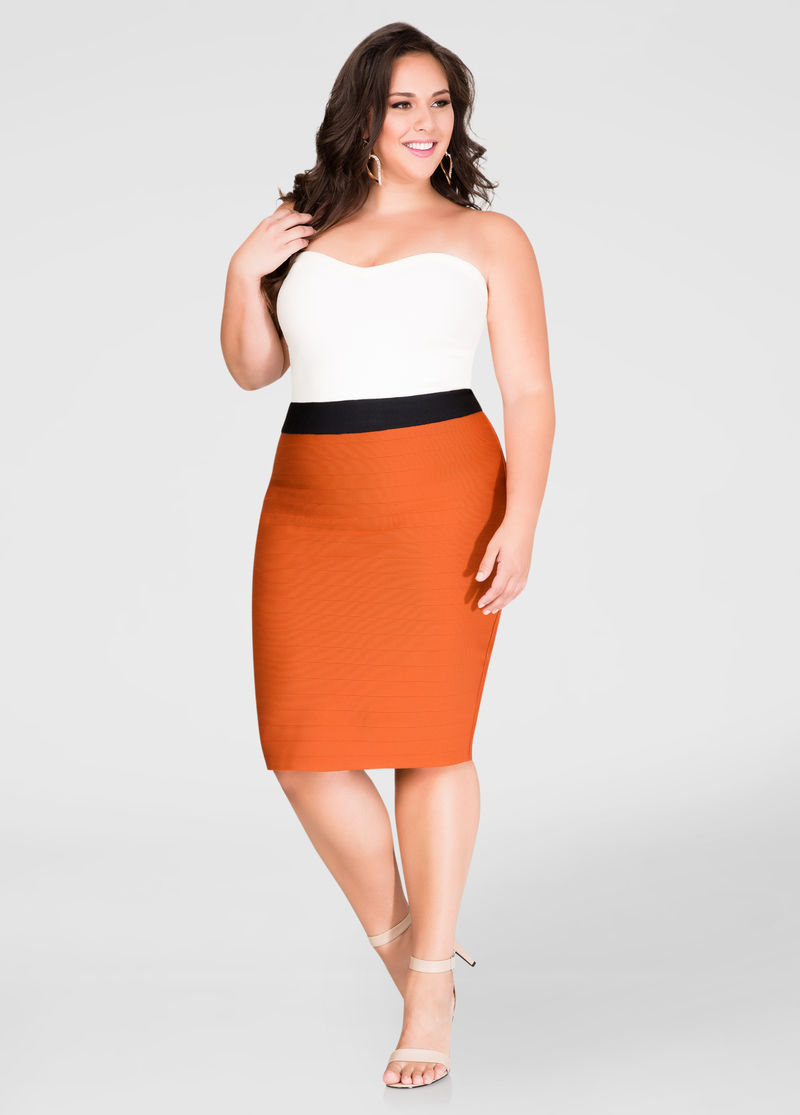 #4 Go with Vertical Lines and Plain Designs
If you choose Pencil skirts with vertical lines like stripes, a slit or with longer zipper it will create attentive and more attractive look as it will make you look long and lean. Pencil skirt casual look can come on your body when you go with right combination of designs.
If have rounder or matured body always try to buy the plain skirts and avoid pencil skirts with detail like pockets, buttons, trim and gatherings etc. If you are matured women with jelly belly body lifestyle it will work for you dress in your favorite pencil skirt and look fit.
#5 Try A Wrap Top with Cute Jacket to Look Fit
Besides choosing the right pencil skirt outfits you also need to pick the right combination of upper dress and other accessories that will make you look slim and fit in pencil skirts. If you have a top-heavy in the chest and tummy and confused what top to wear with pencil skirt? Go with cute jacket for best look and pick sweater in winters with big scarf.
Also Read: How To Wear Crop Tops Without Showing Stomach: Six Outfit Ideas
Or you can try a wrap top or a fitted top with some stretch and ruching that will work well for you to cover-up your tummy. However, if your height is short want to show your legs look longer you can choose couple of inches above your knees, as most pencil skirts end at the knee and it will also make you look little taller with more stunning look from top-to-bottom.
#6 Wear Pencil Skirts on Formal Event or Offices
While on the bottom side in your foot, you also need to be very careful while choosing the sandals or boots with pencil skirts. You can wear heels to elongate your frame and will suit your body, as pencil skirts with high heels will make your physique look slim.
But if you are not comfortable with heels, opt for flat shoes to match your skirt but if you are going to walk in a formal event or at offices, heels are best looking. Similarly, for other occasions make sure how many hours you'll be standing or is it possible for you to walk on high heels confidently without risk of falling at different surface area.
Actually, wearing heels with pencil skirts means many factors come into play and you need to decide as per your comfort and preferences. And there are always options to choose heels or flat sandals or combination of both with option to replace them as per your ease.
Also Read: Learn from Russian Women How to Walk in High Heels without Falling
Ladies wear manufacturer make different types and style of ladies skirts for different seasons as per the demand. But for tummy control pencil skirt you also need to be careful while wearing other complementary dresses with such skirts.
You need to wear fitted undergarments that would be great idea for slimming your figure. And on the upper side you can also wear control-top slip skirts, underwear and body suits will also help you to hide any bulges under your dress making you not only fit but will also make your heavy figure look slim and pretty everywhere. Hence, be careful when you buy pencil skirts online so that you look fit and smart in such outfits.
Watch Video of Pencil Skirt Outfits Ideas for Curvy Women