How To Pick Jeans For Your Body Type: Women's Jeans Buying Guide
Denim made attire will never go out of fashion across the world, as the fabric is durable, rough to wear and makes you look smart and trendy. Not only men but women also love to wear denim made clothing showing their curves in skinny jeans.
Men usually go with casual wear and choose slim or regular fit jeans while women are more cautious and opt for a skinny tight or slim fit that not only makes them look fit but also allows them to wear top dresses casually.
But many of them not find the right jeans as per their body type, resultant either get alter the trouser that makes them look unappealing in jeans. Hence, here we brought few tips for you to pick the right jeans for your body type.
Five Tips for Buying Women's Jeans as per the Body Shape
1. Choose High Rise for Heavy Lower Body Types
If your upper thinner body is carrying heavier hips or thighs, go with high-rise jeans that will punctuate your waistline. Make sure to choose the jeans that taper towards the ankle lean to look more flattering on you compare to flared ones that can make your figure look bigger.
Also Read: How to Dress Hourglass Figure Casually: Six Clothing Fashion Tips
High-rise jeans are also perfect for women with upper body as they can comfortably fit on hips makes your figure look fit and more attractive.
2. Go with Mid-rise for Heavy Upper Physique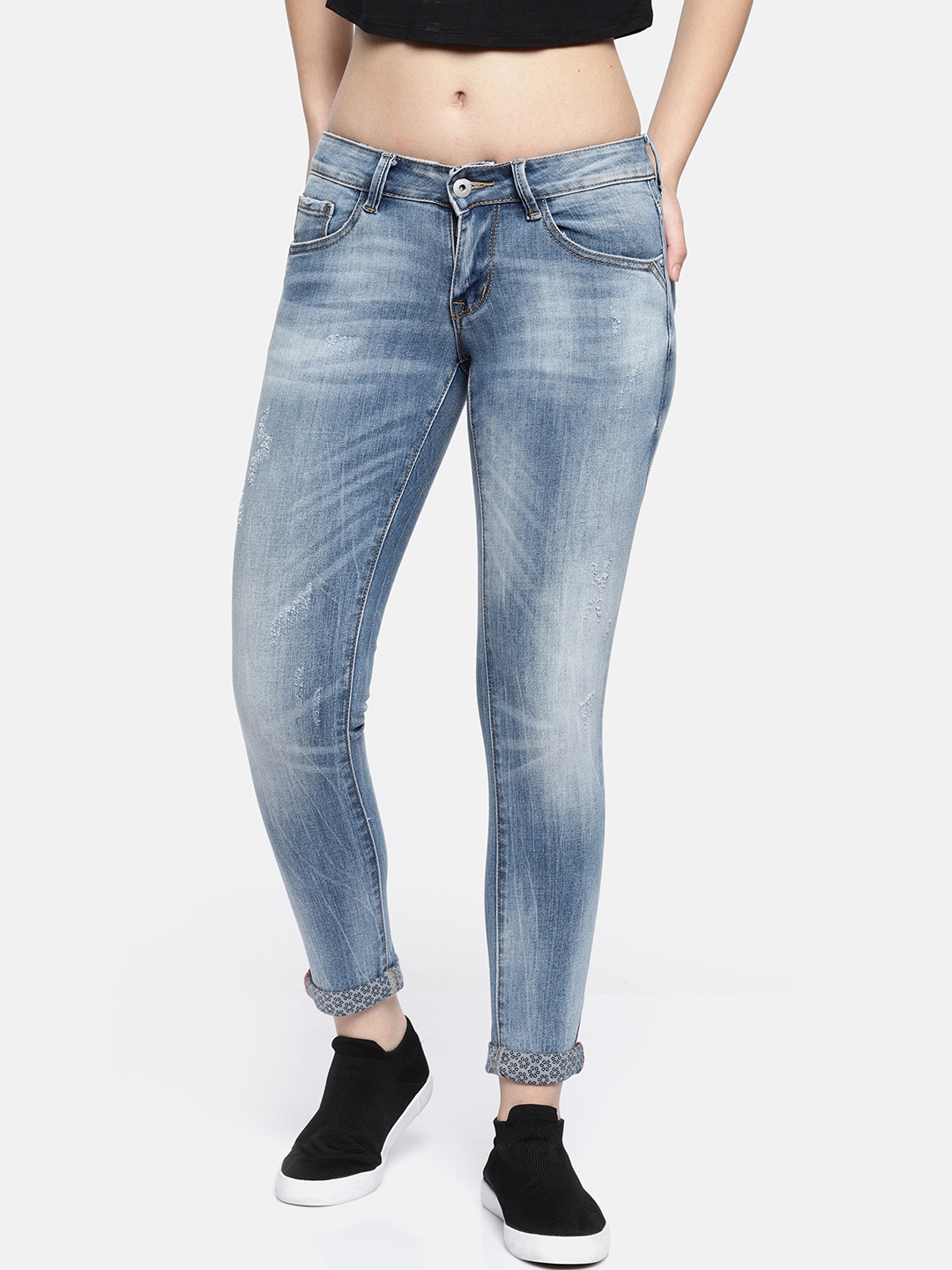 If your upper physical structure is heavier than lower, choose the mid-rise jeans that will suit you best. Though, you can also choose the high-rise but wide-legged, or boot-cut or flared to appear fit and stylish. But make sure not to buy extremely tight or skinny fit jeans, instead pick slightly loose, otherwise, it will show you an extraordinary v-shaped body.
3. Mid/High-rise for Plus Size with Broad Curvy Frame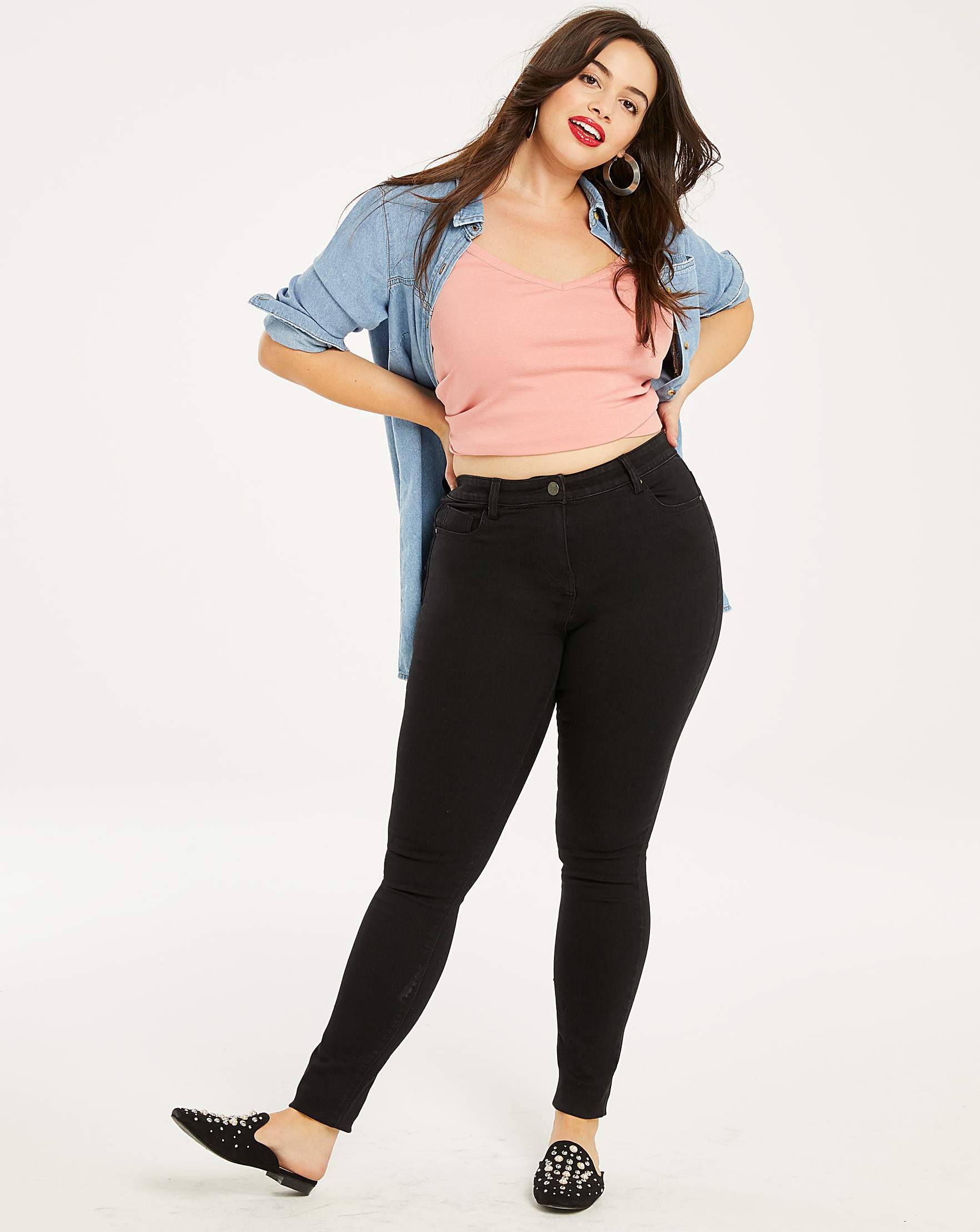 If you are a plus size or having a wide or curvy frame, you need mid or high-rise jeans mainly in black or navy blue shade, that will give you a well-structured figure. Pick out the fitting jeans with a stretchable fabric that will also help your leg look longer.
It doesn't matter what's your height, wearing such jeans will help you appear good-looking but make sure choose the right crop top to cover your upper body without showing your belly.
Also Read: How To Wear Crop Tops Without Showing Stomach: Six Outfit Ideas
4. Low and Mid-rise Works for Tall and Skinny Women
If you are tall and carrying a skinny body, then mid and low-rise will work best for you. If you choose flared jeans the outlined will give your physique an elongated frame. You can also try boyfriend and mom jeans tapered at the end that will add some tonnage to your frame as wearing such style give a completely relaxed fit from hips to thighs.
5. Try Ankle-cropped or High-rise for Petite Body Type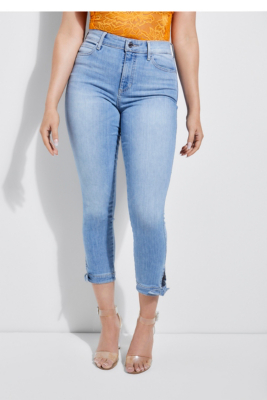 If your body carries a petite frame it doesn't mean you are skinny, instead, it indicates you are shorter, thin and can buy the kid's size jeans for you. Though, it would be difficult to find the right length but the best part is that all types of silhouettes will appear flattered on you.
Also Read: How To Pick Dress For Your Body Shape: Tips for Women Body Types
Whereas, if you want to look taller, go with ankle-cropped or high-rise jeans with 3/4th lengths that you can wear on high heels to walk in style and stay fashionable.
Also Read: Learn from Russian Women How to Walk in High Heels without Falling
However, the aforesaid women's jeans buying guide can help you to find the best one as per your body type. But always keep in the mind that when you buy women's jeans online, stretchy fabrics are universally flattering, high-rises work for curvy women.
While on the other hand, low-rises and baggy silhouettes best suitable for skinny women and flared silhouettes help to add length helpful for short and apple body-sized women.
How To Wear A Mini Skirt Modestly: Short Skirt Outfit Ideas
Wearing short skirts not only makes a lady more gorgeous but also makes her feel a little more special especially if she is fashion cautious person. And they also dress up with minis to expose their body to look more beautiful and attractive.
If you also love to try this or wish to wear miniskirts but avoiding due to being exposed or face any kind of wardrobe malfunction, you need to read this article to know how to wear a mini skirt modestly without looking trashy or being overexposed.
How to Wear a Mini Skirt without Looking Trashy?
Wearing miniskirts in the wrong way not only will make you look cheap but also make you uncomfortable especially in public places. Hence, from choosing the right size of the mini skirt to matching color combination as per your skin complexion and body shape – all are the important factors, you need to consider while dressing with such short skirts.
Also Read: How To Pick Dress For Your Body Shape: Tips for Women Body Types
We have brought here a few tips that will help you choose the right miniskirts and how to wear or what else more you should wear to avoid being exposed and look modestly anywhere, either its party time or workplace you will feel comfortable.
7 Tips to Wear Mini Skirts Without Being Overexposed
#1 Choose the Right Length of Mini Skirt
Short skirt doesn't mean it should be too much short that your thighs become overexposed. Go for a little extra length in a fitted skirt that hugs your body, it will still feel short, but a little extra length accommodates for any riding up the material will do.
Compare to miniskirts, if you think wearing long skirts are old-fashioned, it's now right, as wearing any dress with the right combination of dressing sense can make you good-looking.
Also Read: How To Wear Long Skirts Without Looking Frumpy: Five Outfit Ideas
#2 Wear Modest Underwear Underneath
Wearing mini skirt without a modest underwear is not a sensible decision. Especially if there is windy outside and your skirt can flow away exposing your thong can make you feel uncomfortable or embrace if you are at public places.
Hence, always wear skort that is the name that was originally used for a garment that had a skirt flap in the front but with shorts showing in the back, while a "scooter" had skirt panels covering shorts entirely. It also stops you from being exposed when you sit down on the chair, table or not in the situation to be seated with your cross-legged.
Also Read: Top Five Best Skirts Women Love To Wear During Spring Summer
#3 Avoid Skinny Tight Stretch Mini Skirt
If your below the waistline body is quite heavy with extraordinary bums and weighty thighs like an hourglass figure you should avoid wearing the miniskirts fitted to your body. It will expose the size of your lower waistline looking you fat and oversized.
Also Read: How to Dress Hourglass Figure Casually: Six Clothing Fashion Tips
Go with loose and free-flowing skirts that will not only cover up the extra fat on your lower body but also make you good-looking and feel comfortable. And don't forget to wear the underwear underneath to avoid being exposed at windy places.
#4 Dress-up Mini Skirt with Skinny Leggings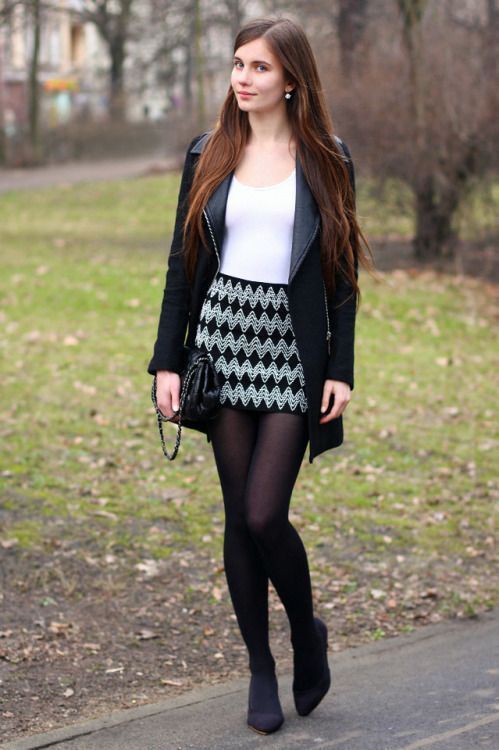 If you still feel shy despite wearing skort or underwear underneath, you have another best option leggings. Yes, it will not fully cover your leg but will also give a sneak peek of your attractive legs.
Go with skinny leggings in light shades matching to your skin tone or you can try the black shade leggings that will give you absolutely a stunning look with more confidence while enjoying wearing the mini skirt without risk of being exposed.
#5 Drape Mini Skirts with Crop Tops
Women love to wear minis in summers to avoid heat and sweating in their lower body. But if you are shy about being exposed wearing miniskirts, you can go with short skirts with upper outfits like crop tops that will allow being felt less hot due to the gap between the top and skirt.
It is again suggested for ladies who don't feel shy while showing their stomach. Otherwise, buy the top that can cover your stomach and also matching to your mini skirt.
Also Read: How To Wear Crop Tops Without Showing Stomach: Six Outfit Ideas
#6 Try Bodycon Mini Skirt for Modesty
If you are not comfortable showing your abdomen in crop tops you can pick Bodycon Mini Skirt that will cover your upper body. The bodycon mini skirts can cover your body up to the navel and give a more elegant look to a woman.
But make sure again, Bodycon mini skirt is suggest if you have a perfect figure, means you are neither too healthy nor too thin body type person. It is like Pencil skirt fits your waistline shows the curve line of your middle body.
Also Read: How to Wear Pencil Skirts Casually With a Tummy: Six Styling Tips
#7 Pair Mini Skirt with Flat Shoes
Putting your foot into high heels with miniskirts is not a good idea, as, in heels, you will look taller showing your legs longer that seems like you are showing your skin intentionally. And while walking in high heels you also need to very careful to avoid falling down.
Also Read: Learn from Russian Women How to Walk in High Heels without Falling
Choose the sneakers or buy the pair of casual flat shoes that will downplay the length of your skirt and if you want to wear heels, try the cowboy boot, or even a thigh-high boot to cover up more skin at the same time showing off your short skirt.
How To Wear Long Skirts Without Looking Frumpy: Five Outfit Ideas
Women love to wear skirts since their childhood, which keeps them feel comfy and look stylish if they are young or middle-aged. But after attaining mature age few of them feel uncomfortable wearing short skirts or avoid as they don't know how to wear mini without being overexposed.
Also Read:
So, you can choose the long skirts, that will make you feel comfortable. However, dressing up in a long skirts sometimes makes you feel conservative or out of fashion. But if you wear this costume with the correct style you will look stylish and trendy. Hence, we brought top ideas for long skirts without looking frumpy.
Top Five Fashion Ideas For Long Style Skirts Outfit
#1 Crop Tops with Ethnic Maxi Skirts
Crop tops with long maxi skirts can give you a decent look with game-changing effects. You can go with solid round neck or tops with long skirts having floral or patterned. And if you buy chiffon made long maxis it will keep your look fashionable.
Select the high waisted maxi skirts, that will make you look fabulous. But choose the right ways to wear crop tops as if there is too much gap between your mid-rift it will expose your skin due to short length. And on the bottom, pick the high heels with added style to your personality to walk confidently without risk of falling.
Also Read: Learn from Russian Women How to Walk in High Heels without Falling
#2 Spruce Up With Plaid Shirt
Plaid shirts are another best attire for women to wear casually with long skirts and enjoy their day out anywhere. Plaid shirts usually come in checks and dark shades, and paring long sleeves with long skirts will make a voguish outfit.
A right blended plaid shirt will give your old-fashioned long skirt a refreshing style sense to your whole outfit. However, you can choose from bright colors or patterns in detail which will completely complement your skirt with a glamorous look.
#3 Pair With Turtleneck Sweater
Winter brings chilliness, and long woman's clothing, especially maxi skirts will help you to stay stylish and warm. So, here you can buy turtleneck sweater online that will give your personality an elegant dressing sense with a covered body.
Also Read: How to Dress Hourglass Figure Casually: Six Clothing Fashion Tips
This beautiful outfit will not only keep you warm but create a new sense of dressing while enjoying your day in full-dress. If you carry a heavy figure or physique it will hide your tummy in a long skirt which is not possible in short dresses.
Also Read: How to Wear Pencil Skirts Casually With a Tummy: Six Styling Tips
#4 Overdress with Black or White Tops
You can find various fashion ideas for long skirts wearing plain single tops in a black or white shade that could be the best combination to look classy. A black fitted crop top paired with a metallic skirt always looks stellar to anyone.
While if you choose white tops with a floral, printed or striped long skirt or with solid pastel maxi skirt it would be a great combination. However, if you want to go with a black skirt or other classic colors suitable for every shape and size of the body.
Also Read: How To Pick Dress For Your Body Shape: Tips for Women Body Types
#5 Deck Out with Off The Shoulder Tops
To make long skirts not look dowdy, pairing this dress with off the shoulder tops is another best option you can wear when you are in the semi-formal or eventful mood. You can also pick either loose or off the shoulder knot sleeve tops.
However, V-neck and short sleeve off shoulder tops are also in trend you can pair with long skirts while maintaining your style. But if you have a skinny body make sure your collar bone is not embossed too much and the neckline looks beautiful. And to complement your neckline wear the right necklace made for off-shoulder dress.
How to Dress Hourglass Figure Casually: Six Clothing Fashion Tips
Having an hourglass figure would be lucky for you. With this curved body shape, you could have the best body figure compared to any other bodily shaped woman in the world. Every woman has wished to have the hourglass-shaped body.
Marilyn Monroe, Beyonce, Jennifer Lopez, Shakira, Scarlett Johansson and Kim Kardashian are the leading celebrities having the hourglass body shape makes these curvaceous icons look amazingly attractive, bootylicious and dangerously beautiful.
What Does Hourglass Figure Mean?
A woman with an hourglass body has the curves that are the very essence of what makes a woman womanly. The boobs are large, a small and short waist, big hips and generous thighs giving the body a well-defined curve shape. A woman with an hourglass figure can wear the multiple types of costumes with a matchless fashion statement.
How to Dress an Hourglass Figure?
If you have an hourglass figure you need to be very careful to choose the right dress that suits your body to maintain attractiveness. Right here we brought the fashion tips for hourglass body shape, so that you can pick right dress for your body shape.
Six Clothing Tips for Hourglass Body Shape
#1 Show Your Curves with Bodycon Dress
A bodycon dress can accentuate your hourglass-shaped body. Bodycon dress paired with a thin belt at the waistline makes your figure perfect and look beautiful on your hourglass figure.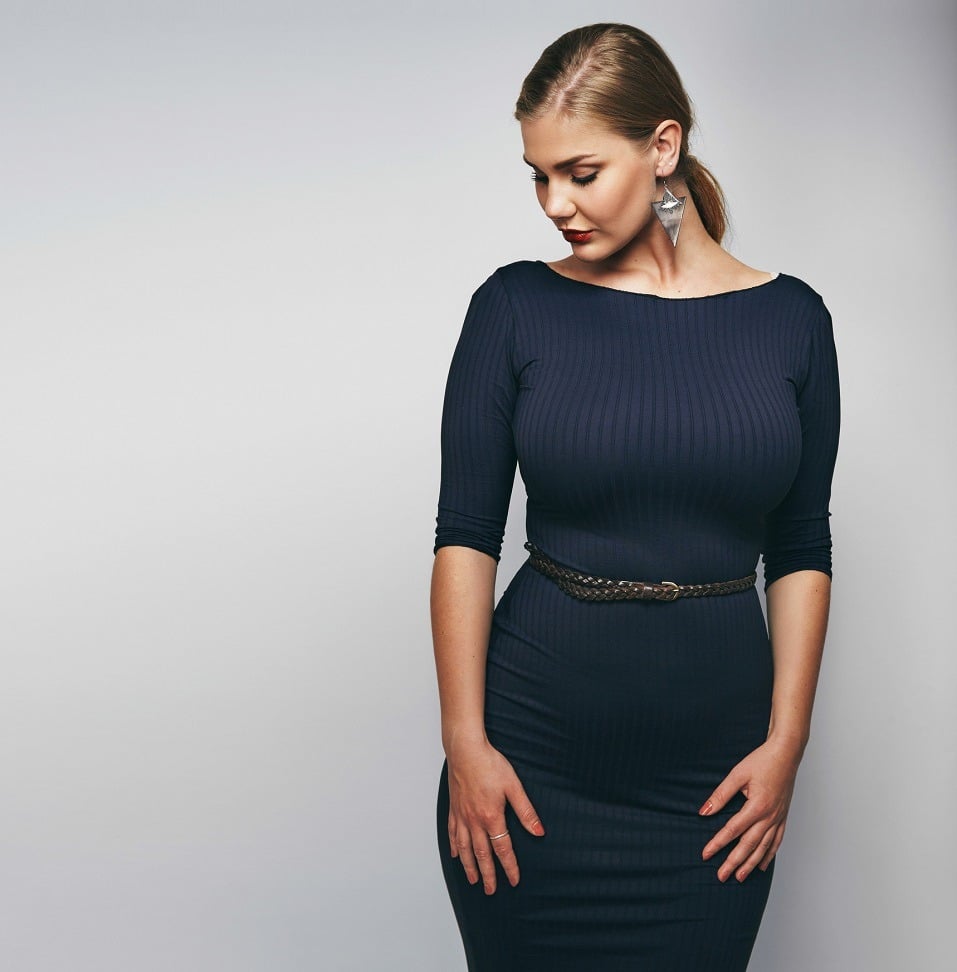 Also Read: How To Wear A Mini Skirt Modestly: Short Skirt Outfit Ideas
Make sure to pick the right dress that completely sticks to your body like a second skin and hug your curves at both the bust and waist areas; giving you an elongated appearance. And choose the dark shade with colors and textures, just so long as you don't go too bulky.
#2 Pick Pencil Skirts for Multiple Occasions
Though, pencil skirts are suitable for all types of body shape, but for an hourglass figure, it can give a decent look with formal dressing sense. It can easily show off the curves of your lower half, and look marvelous with a fluid, tucked-in top. And the best thing, is pencil skirts are versatile you can wear on multiple occasions with the same appeal.
Also Read: How to Wear Pencil Skirts Casually With a Tummy: Six Styling Tips
You can pick a-line skirts to add volume in the bottom half which complements your bust, and are great with fitted untucked sweaters and tucked blouses. While on the other hand, full skirts work best if they have a yoke or pleats that start a few inches below the waistband but make sure your stomach is not visible if you have a tummy.
#3 Wrap Dresses to Have a Sensuous Look
Wrap dresses are the one the best outfits, bring extraordinary attention to your body without adding extra volume to your bust area. And with your hourglass body wrapped in such attire if you step out in high heels, you would be stunning.
Also Read: Learn from Russian Women How to Walk in High Heels without Falling
You can wear a wrap blouse, that suits well for hourglass figures as it can keep the fabric stretched at the skinniest part of your waist making you appear carnal at the same time appear slim. But make sure don't pick the tops having lots of ruffles or bows, at the neck of the bust area, as make your top look heavy.
#4 Go with Crop Tops to Show your Midriff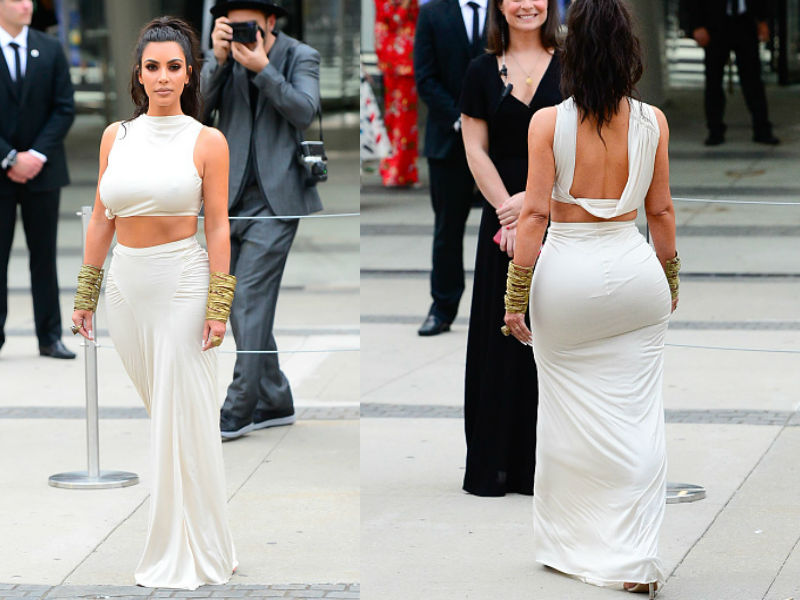 Crops tops could be another best dress you can wear with skirts, pants and multiple other lower outfits. The best part of wearing the crop tops on the hourglass body is when you pair it with a high-waist skirt or pant, you get the chance to show the thinnest part of your body.
Also Read: How To Wear Crop Tops Without Showing Stomach: Six Outfit Ideas
You can try a cropped, stretch-knit, or decorative top worn with a high-waist skirt or pant exposes just a sliver of midriff and it's incredibly flattering for it. But make sure choose the right combination of lower and upper crop top outfit not showing your belly.
#5 Dress Up with High Waisted Jeans or Pants
If you love to wear jeans, grab the high-waisted pair of jeans with the right upper outfit. You can also wear low-rise hip-hugging styles that look amazing with a slightly cropped or much-fitted top especially if you have a flat stomach. If you are looking to buy jeans, it will create a shape as per your body figure and looks great if skinny on an hourglass body.
Also Read: How To Pick Jeans For Your Body Type: Women's Jeans Buying Guide
Similarly, stretchy skinny jeans and leggings are perfect for showing off the curves of your hip and the taper of your leg, and work best when the inseam is a regular length. On your body fitted jumpsuits can also look incredible but go with waist flattering styles. Because your shape is so balanced, remember that you won't need any extra details to accentuate your hips.
#6 Don't Forget to Wear Supportive Undergarments
If you carry an hourglass shape body, you must have a curvy figure from thighs to the waistline to the upper body, so you need to wear a well-supportive bra that fits your breasts thrust your bust forwards and up. But make sure bra straps and back should not dig into your skin.
While at the lower end, you can pick the underwear with the design for full coverage that also helps to reduce the visibility of lines of underwear when you wear tight pants, trousers or jeans. And for that best option is you can also put on thong underwear, you will feel more comfortable and there will be no lines visible under your clothes.
Also Read: How To Pick Dress For Your Body Shape: Tips for Women Body Types