Wearing short skirts not only makes a lady more gorgeous but also makes her feel a little more special especially if she is fashion cautious person. And they also dress up with minis to expose their body to look more beautiful and attractive.
If you also love to try this or wish to wear miniskirts but avoiding due to being exposed or face any kind of wardrobe malfunction, you need to read this article to know how to wear a mini skirt modestly without looking trashy or being overexposed.
How to Wear a Mini Skirt without Looking Trashy?
Wearing miniskirts in the wrong way not only will make you look cheap but also make you uncomfortable especially in public places. Hence, from choosing the right size of the mini skirt to matching color combination as per your skin complexion and body shape – all are the important factors, you need to consider while dressing with such short skirts.
Also Read: How To Pick Dress For Your Body Shape: Tips for Women Body Types
We have brought here a few tips that will help you choose the right miniskirts and how to wear or what else more you should wear to avoid being exposed and look modestly anywhere, either its party time or workplace you will feel comfortable.
7 Tips to Wear Mini Skirts Without Being Overexposed
#1 Choose the Right Length of Mini Skirt
Short skirt doesn't mean it should be too much short that your thighs become overexposed. Go for a little extra length in a fitted skirt that hugs your body, it will still feel short, but a little extra length accommodates for any riding up the material will do.
Compare to miniskirts, if you think wearing long skirts are old-fashioned, it's now right, as wearing any dress with the right combination of dressing sense can make you good-looking.
Also Read: How To Wear Long Skirts Without Looking Frumpy: Five Outfit Ideas
#2 Wear Modest Underwear Underneath
Wearing mini skirt without a modest underwear is not a sensible decision. Especially if there is windy outside and your skirt can flow away exposing your thong can make you feel uncomfortable or embrace if you are at public places.
Hence, always wear skort that is the name that was originally used for a garment that had a skirt flap in the front but with shorts showing in the back, while a "scooter" had skirt panels covering shorts entirely. It also stops you from being exposed when you sit down on the chair, table or not in the situation to be seated with your cross-legged.
Also Read: Top Five Best Skirts Women Love To Wear During Spring Summer
#3 Avoid Skinny Tight Stretch Mini Skirt
If your below the waistline body is quite heavy with extraordinary bums and weighty thighs like an hourglass figure you should avoid wearing the miniskirts fitted to your body. It will expose the size of your lower waistline looking you fat and oversized.
Also Read: How to Dress Hourglass Figure Casually: Six Clothing Fashion Tips
Go with loose and free-flowing skirts that will not only cover up the extra fat on your lower body but also make you good-looking and feel comfortable. And don't forget to wear the underwear underneath to avoid being exposed at windy places.
#4 Dress-up Mini Skirt with Skinny Leggings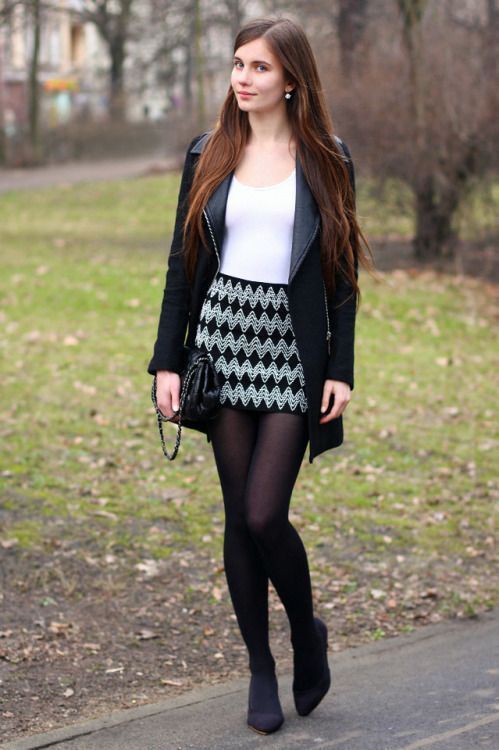 If you still feel shy despite wearing skort or underwear underneath, you have another best option leggings. Yes, it will not fully cover your leg but will also give a sneak peek of your attractive legs.
Go with skinny leggings in light shades matching to your skin tone or you can try the black shade leggings that will give you absolutely a stunning look with more confidence while enjoying wearing the mini skirt without risk of being exposed.
#5 Drape Mini Skirts with Crop Tops
Women love to wear minis in summers to avoid heat and sweating in their lower body. But if you are shy about being exposed wearing miniskirts, you can go with short skirts with upper outfits like crop tops that will allow being felt less hot due to the gap between the top and skirt.
It is again suggested for ladies who don't feel shy while showing their stomach. Otherwise, buy the top that can cover your stomach and also matching to your mini skirt.
Also Read: How To Wear Crop Tops Without Showing Stomach: Six Outfit Ideas
#6 Try Bodycon Mini Skirt for Modesty
If you are not comfortable showing your abdomen in crop tops you can pick Bodycon Mini Skirt that will cover your upper body. The bodycon mini skirts can cover your body up to the navel and give a more elegant look to a woman.
But make sure again, Bodycon mini skirt is suggest if you have a perfect figure, means you are neither too healthy nor too thin body type person. It is like Pencil skirt fits your waistline shows the curve line of your middle body.
Also Read: How to Wear Pencil Skirts Casually With a Tummy: Six Styling Tips
#7 Pair Mini Skirt with Flat Shoes
Putting your foot into high heels with miniskirts is not a good idea, as, in heels, you will look taller showing your legs longer that seems like you are showing your skin intentionally. And while walking in high heels you also need to very careful to avoid falling down.
Also Read: Learn from Russian Women How to Walk in High Heels without Falling
Choose the sneakers or buy the pair of casual flat shoes that will downplay the length of your skirt and if you want to wear heels, try the cowboy boot, or even a thigh-high boot to cover up more skin at the same time showing off your short skirt.