How Much Screen Time is Too Much for Adults or Bad for Your Eyes?
People in the US spend around 11 hours on digital devices while listening to music, watching videos or reading contents or interacting with other activities like checking mails or contents on social media platforms and chatting on messengers.
Actually, such digital devices that includes desktop PCs, laptops, tablets, smartphones, gaming console and TVs, are becoming the part of our daily life. And most of us ingest our information through various Internet-connected devices like phones, resulting we spend nearly half of every day while interacting on digital screen.
Apart from kids, adults spend lots of time which is more harmful to them as their eyes are aging and can face health issues. Kids eyes are young time spend on the screen will not cause any immediate effect, but can create problem later on. Here we will discuss how much screen time is too much for adults or bad for eyes.
How Much Screen Time is Too Much?
Though, any scientist has not yet defined any specific time how much is too much of for your eyes. But as per the recent studies and research, nearly 40 percent of 18-to-29 year olds are online all the time, while most of us spend nearly 5 hours looking at our mobile phones.
They also spend more hours on other screens and depending upon the types of devices, screen formats or screen lighting conditions and health of your eyes it get affected while watching contents on such devices.
How Much Screen Time Can Damage Your Eyes?
When you spend too much time on a digital screen, eyes are the most affected part of your body. If you have healthy eyes, watching contents for long-hours on digital devices will not affect you immediately.
But if you wear eyeglasses or having vision problem cut your screen time otherwise you will face more serious issues. However, no such studies or research has shown that too much screen time can damage your eyes.
Other Side Effects of Too Much Screen Time
Medical experts say adults spending too much time on the screen poses health risks. And ignorance while walking or driving on the roads, taking selfies or indulging on screen at unusual places create accidents and other problems for people globally.
Other health issues and negative effects of screen time for adults are like eyes strain due to continuous glaring on a digital screen or neck pain owing to looking down at your phone for long hours and poor posture also leads to spine pain or spondylitis problems.
Moreover, you can face health problems like computer vision syndrome, back pain, poor sleeping patterns, impaired cognitive function and migraine with prolong effects that can also lower your cardiovascular health and increases your mortality risk.
And in a recent study a new side effect is highlighted, that, using the smartphones excessively growing skull horns. It became the news sensation on the Internet within few hours but it was not scientifically proven.
How To Limit Screen Time for Adults on Digital Devices?
Spending too much time on digital screen is not only the reason behind the health issues, but, a bad posture sedentary is the main reason. Actually, sitting for long hours in the same posture or holding the device in a constant position affects the muscles resulting health issues. Here below we have listed a few points to cut your screen time.
Tips To Reduce Screen Time:
Adjust the brightness and contrast level or enable the night mode on such devices.
While working on PCs or laptops take regular breaks, stretch and stand-up.
Always sit with right posture and keep changing your position at short intervals.
Avoid using such devices while doing daily routine works like eating or sleeping.
If possible keep such devices or screens out of your reach or away from the bedroom.
You can also use such devices to set alarm or reminder to alert you leave the device.
Apart from above tips to reduce screen time, if your profession obligates you to spend extraordinary time on a digital screen, make sure use such devices or wear anti-glare lenses for the digital screen that have an anti-reflective coating on the surface of lenses to reduce reflection while working in front of a computer monitor or laptops.
Moreover, increase the intake of green vegetables like spinach, fish and high vitamins fruits to improve your eyesight and if there is any major problem visit at your nearest eye-care medical center for a checkup.
Also Read: 5 Health Benefits of Eating Spinach Leaves or Palak
Summing-up
Adults use digital devices mostly for official works compare to kids who spend time mainly for entertainment like playing games or watching cartoon videos etc. However, for both generations, long hours screen-on-time affect eyes. It's not our fault, instead our lifestyle made us highly depended on such devices making us obsessed.
Technology is meant for making your life more convenient but it doesn't mean you excessively use such resources and get affected or suffer from serious health problems. Not only adults, but you also need to limit screen time of your kids to avoid health issues, below watch the video how much screen time is too much for kids.
Video: How Much Screen Time is Too Much for Kids?
How to Make Simple Rangoli Designs for Diwali: Videos
Diwali, or auspiciously said Deepavali is one the highly notable festivals in India celebrated with full of happiness and entertainment by all levels of people in society across India.
After cleaning their houses people usually light up their houses with bulbs, diyas electric lightings, fresh flowers, and attractive decorative items to make their house look more good-looking and sacred.
Why we make Rangoli on Diwali?
Rangoli is popular folk art and one of the parts of decoration that is traditionally made by women or ladies of the house with Diwali rangoli designs on the day of Diwali to welcome goddess Lakshmi who visits every house on that data and at the same time make their house's entrance gate look more beautiful and colourful.
As per the different culture and lifestyle, it is known with different names in a different part of our country. In the south, it is known as Kolam, while in West Bengal it is famous as Alpona.
How to Make Rangoli Designs?
Rangoli is made with rice powder, colours, candles, diyas other decorative materials to make it look more beautiful and colourful. If you are looking for the latest rangoli design for Diwali 2021 that can be simply made without too much time and effort you can find below videos of such beautiful simple rangoli design for Diwali and create the same with a few simple steps.
15 Best Rangoli Designs for Diwali 2021: Videos
#1 Simple Rangoli Designs for Diwali
#2 Easy Rangoli Designs for Diwali: Making Peacock  
#3 New Rangoli Designs for Diwali
#4 Small Design of Rangoli for Diwali
#5 Beautiful Rangoli Designs for Diwali: Diya Design  
#6 Latest Rangoli Designs for Diwali
#7 Rangoli Designs Tricks for Diwali
#8 Best Rangoli Designs for Diwali
#9 Big Rangoli Designs for Diwali
#10 Small and Quick Rangoli for Beginners
#11 Beautiful & Unique Rangoli Design for Diwali
#12 Innovative and Creative Rangoli Designs
#13 Attractive Deepawali Rangoli for Diwali
#14 Diwali Beautiful Rangoli Designs
#15 Unique Rangoli Design Using Chalni
How To Wear A Mini Skirt Modestly: Short Skirt Outfit Ideas
Wearing short skirts not only makes a lady more gorgeous but also makes her feel a little more special especially if she is fashion cautious person. And they also dress up with minis to expose their body to look more beautiful and attractive.
If you also love to try this or wish to wear miniskirts but avoiding due to being exposed or face any kind of wardrobe malfunction, you need to read this article to know how to wear a mini skirt modestly without looking trashy or being overexposed.
How to Wear a Mini Skirt without Looking Trashy?
Wearing miniskirts in the wrong way not only will make you look cheap but also make you uncomfortable especially in public places. Hence, from choosing the right size of the mini skirt to matching color combination as per your skin complexion and body shape – all are the important factors, you need to consider while dressing with such short skirts.
Also Read: How To Pick Dress For Your Body Shape: Tips for Women Body Types
We have brought here a few tips that will help you choose the right miniskirts and how to wear or what else more you should wear to avoid being exposed and look modestly anywhere, either its party time or workplace you will feel comfortable.
7 Tips to Wear Mini Skirts Without Being Overexposed
#1 Choose the Right Length of Mini Skirt
Short skirt doesn't mean it should be too much short that your thighs become overexposed. Go for a little extra length in a fitted skirt that hugs your body, it will still feel short, but a little extra length accommodates for any riding up the material will do.
Compare to miniskirts, if you think wearing long skirts are old-fashioned, it's now right, as wearing any dress with the right combination of dressing sense can make you good-looking.
Also Read: How To Wear Long Skirts Without Looking Frumpy: Five Outfit Ideas
#2 Wear Modest Underwear Underneath
Wearing mini skirt without a modest underwear is not a sensible decision. Especially if there is windy outside and your skirt can flow away exposing your thong can make you feel uncomfortable or embrace if you are at public places.
Hence, always wear skort that is the name that was originally used for a garment that had a skirt flap in the front but with shorts showing in the back, while a "scooter" had skirt panels covering shorts entirely. It also stops you from being exposed when you sit down on the chair, table or not in the situation to be seated with your cross-legged.
Also Read: Top Five Best Skirts Women Love To Wear During Spring Summer
#3 Avoid Skinny Tight Stretch Mini Skirt
If your below the waistline body is quite heavy with extraordinary bums and weighty thighs like an hourglass figure you should avoid wearing the miniskirts fitted to your body. It will expose the size of your lower waistline looking you fat and oversized.
Also Read: How to Dress Hourglass Figure Casually: Six Clothing Fashion Tips
Go with loose and free-flowing skirts that will not only cover up the extra fat on your lower body but also make you good-looking and feel comfortable. And don't forget to wear the underwear underneath to avoid being exposed at windy places.
#4 Dress-up Mini Skirt with Skinny Leggings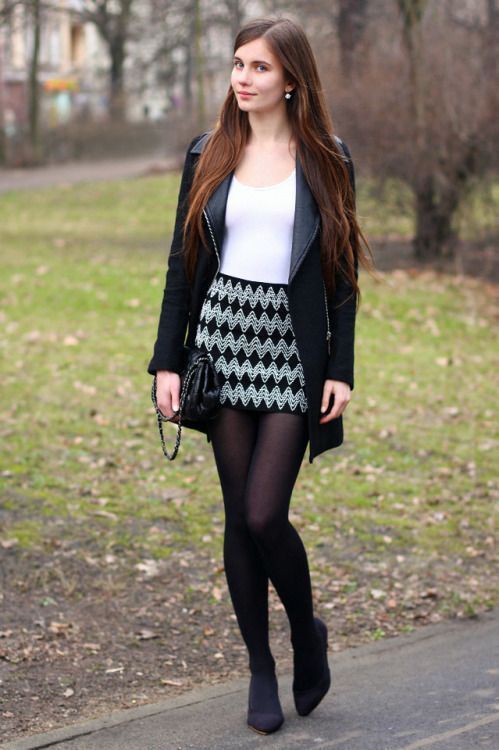 If you still feel shy despite wearing skort or underwear underneath, you have another best option leggings. Yes, it will not fully cover your leg but will also give a sneak peek of your attractive legs.
Go with skinny leggings in light shades matching to your skin tone or you can try the black shade leggings that will give you absolutely a stunning look with more confidence while enjoying wearing the mini skirt without risk of being exposed.
#5 Drape Mini Skirts with Crop Tops
Women love to wear minis in summers to avoid heat and sweating in their lower body. But if you are shy about being exposed wearing miniskirts, you can go with short skirts with upper outfits like crop tops that will allow being felt less hot due to the gap between the top and skirt.
It is again suggested for ladies who don't feel shy while showing their stomach. Otherwise, buy the top that can cover your stomach and also matching to your mini skirt.
Also Read: How To Wear Crop Tops Without Showing Stomach: Six Outfit Ideas
#6 Try Bodycon Mini Skirt for Modesty
If you are not comfortable showing your abdomen in crop tops you can pick Bodycon Mini Skirt that will cover your upper body. The bodycon mini skirts can cover your body up to the navel and give a more elegant look to a woman.
But make sure again, Bodycon mini skirt is suggest if you have a perfect figure, means you are neither too healthy nor too thin body type person. It is like Pencil skirt fits your waistline shows the curve line of your middle body.
Also Read: How to Wear Pencil Skirts Casually With a Tummy: Six Styling Tips
#7 Pair Mini Skirt with Flat Shoes
Putting your foot into high heels with miniskirts is not a good idea, as, in heels, you will look taller showing your legs longer that seems like you are showing your skin intentionally. And while walking in high heels you also need to very careful to avoid falling down.
Also Read: Learn from Russian Women How to Walk in High Heels without Falling
Choose the sneakers or buy the pair of casual flat shoes that will downplay the length of your skirt and if you want to wear heels, try the cowboy boot, or even a thigh-high boot to cover up more skin at the same time showing off your short skirt.
How To Wear Long Skirts Without Looking Frumpy: Five Outfit Ideas
Women love to wear skirts since their childhood, which keeps them feel comfy and look stylish if they are young or middle-aged. But after attaining mature age few of them feel uncomfortable wearing short skirts or avoid as they don't know how to wear mini without being overexposed.
Also Read:
So, you can choose the long skirts, that will make you feel comfortable. However, dressing up in a long skirts sometimes makes you feel conservative or out of fashion. But if you wear this costume with the correct style you will look stylish and trendy. Hence, we brought top ideas for long skirts without looking frumpy.
Top Five Fashion Ideas For Long Style Skirts Outfit
#1 Crop Tops with Ethnic Maxi Skirts
Crop tops with long maxi skirts can give you a decent look with game-changing effects. You can go with solid round neck or tops with long skirts having floral or patterned. And if you buy chiffon made long maxis it will keep your look fashionable.
Select the high waisted maxi skirts, that will make you look fabulous. But choose the right ways to wear crop tops as if there is too much gap between your mid-rift it will expose your skin due to short length. And on the bottom, pick the high heels with added style to your personality to walk confidently without risk of falling.
Also Read: Learn from Russian Women How to Walk in High Heels without Falling
#2 Spruce Up With Plaid Shirt
Plaid shirts are another best attire for women to wear casually with long skirts and enjoy their day out anywhere. Plaid shirts usually come in checks and dark shades, and paring long sleeves with long skirts will make a voguish outfit.
A right blended plaid shirt will give your old-fashioned long skirt a refreshing style sense to your whole outfit. However, you can choose from bright colors or patterns in detail which will completely complement your skirt with a glamorous look.
#3 Pair With Turtleneck Sweater
Winter brings chilliness, and long woman's clothing, especially maxi skirts will help you to stay stylish and warm. So, here you can buy turtleneck sweater online that will give your personality an elegant dressing sense with a covered body.
Also Read: How to Dress Hourglass Figure Casually: Six Clothing Fashion Tips
This beautiful outfit will not only keep you warm but create a new sense of dressing while enjoying your day in full-dress. If you carry a heavy figure or physique it will hide your tummy in a long skirt which is not possible in short dresses.
Also Read: How to Wear Pencil Skirts Casually With a Tummy: Six Styling Tips
#4 Overdress with Black or White Tops
You can find various fashion ideas for long skirts wearing plain single tops in a black or white shade that could be the best combination to look classy. A black fitted crop top paired with a metallic skirt always looks stellar to anyone.
While if you choose white tops with a floral, printed or striped long skirt or with solid pastel maxi skirt it would be a great combination. However, if you want to go with a black skirt or other classic colors suitable for every shape and size of the body.
Also Read: How To Pick Dress For Your Body Shape: Tips for Women Body Types
#5 Deck Out with Off The Shoulder Tops
To make long skirts not look dowdy, pairing this dress with off the shoulder tops is another best option you can wear when you are in the semi-formal or eventful mood. You can also pick either loose or off the shoulder knot sleeve tops.
However, V-neck and short sleeve off shoulder tops are also in trend you can pair with long skirts while maintaining your style. But if you have a skinny body make sure your collar bone is not embossed too much and the neckline looks beautiful. And to complement your neckline wear the right necklace made for off-shoulder dress.