Wearing clothes is not only a necessity of humans, instead, they get the chance to show off their style, beauty, personality, and lavish lifestyle. The fashion industry is one of the biggest in the world with market size of US$ 3 trillion as of 2018.
Artificial Intelligence (AI) in fashion is changing this industry by playing a crucial role in the various key divisions. From design to manufacturing, logistic supply chain and marketing, AI in fashion is playing a big role in transforming this industry.
Actually, in the age of digitalization, AI and machine learning based technologies in the fashion industry are providing an automated solution to manufacturers helping them to leverage the intelligence of AI into fashion and exhaust the best possibilities into their field.
So, right here we brought a great discussion, how artificial intelligence is changing fashion with use cases, role and impact of AI on this industry.
How AI is Changing Fashion: Role & Impact on the Industry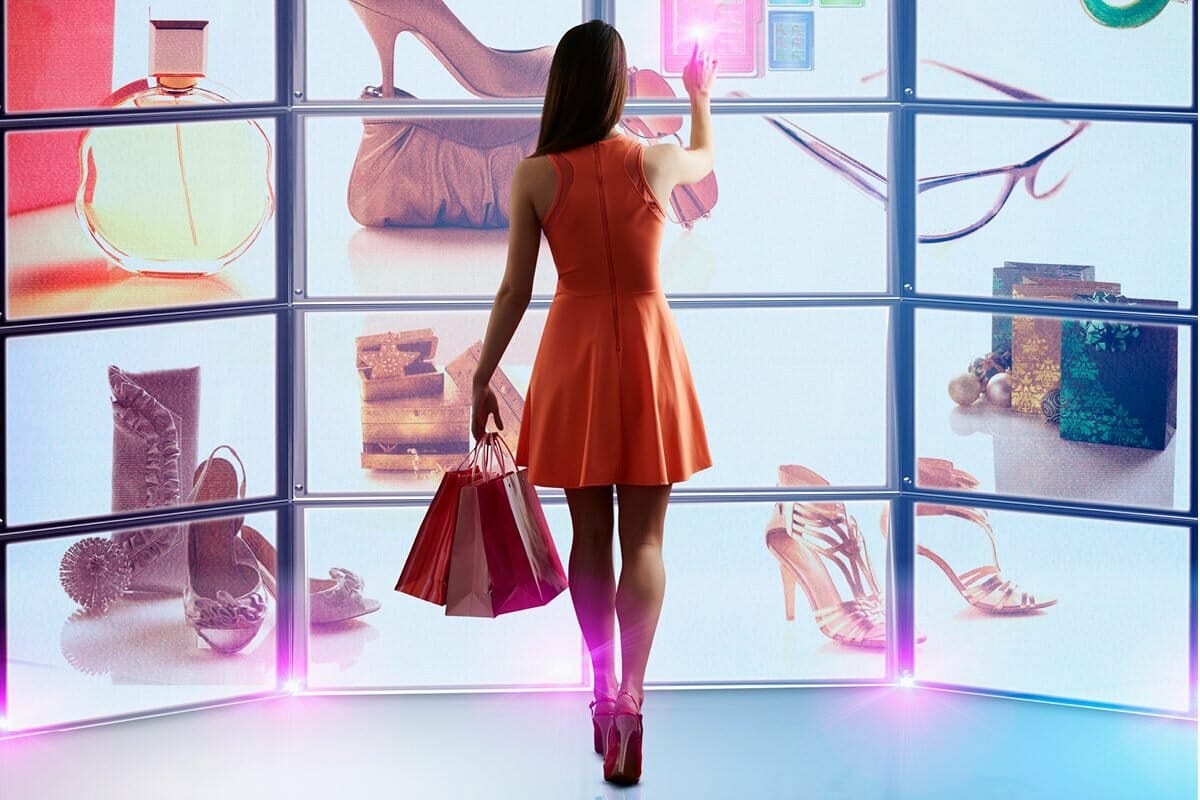 AI in Fashion Design – A Clothing Designer
The design and patterns with the right color combination are the key points to design a costume to make it attractive for the customers. AI can detect the new trends with demand in projecting the new trend reducing the forecasting error.
Trends in the fashion industry change very fast with new designs or patterns come every day in the market. Designers need to keep pacing with new styles. And AI algorithms can analyze designs through images to copying popular styles.
And after analyzing the data set of designer clothes and AI uses such data to see what does and does not sell well in the markets and create or recommend designers to build and launch a completely new design in the market.
Retailers giants like Amazon and Walmart now have their own clothing brands and are using the machine learning systems that can identify the spot and, in the not-too-distant future, design fashion trends that customers also prefer to buy.
AI in Fashion Manufacturing, Supply Chain & Fashion Store
In fashion, apparel manufacturing is the labor-intensive industry. From sewing to sorting or dresses, there are mundane tasks now AI can perform with a better level of accuracy at faster speed reducing the extra cost spent on workers.
AI robots and computer-enabled machines can easily stitch the fabrics with perfection while at the same time it can also detect faults in fabric and offer quality assurance to ensure that the actual design shades will suit the new colors.
Video: AI Robots in Fashion & Sewing
Also Read: How AI Is Creating New Job Opportunities For Low-Skilled Workers?
AI in inventory and supply chain management is facilitating to speed-up by improving routes, cutting the logistic supply and shipping cost.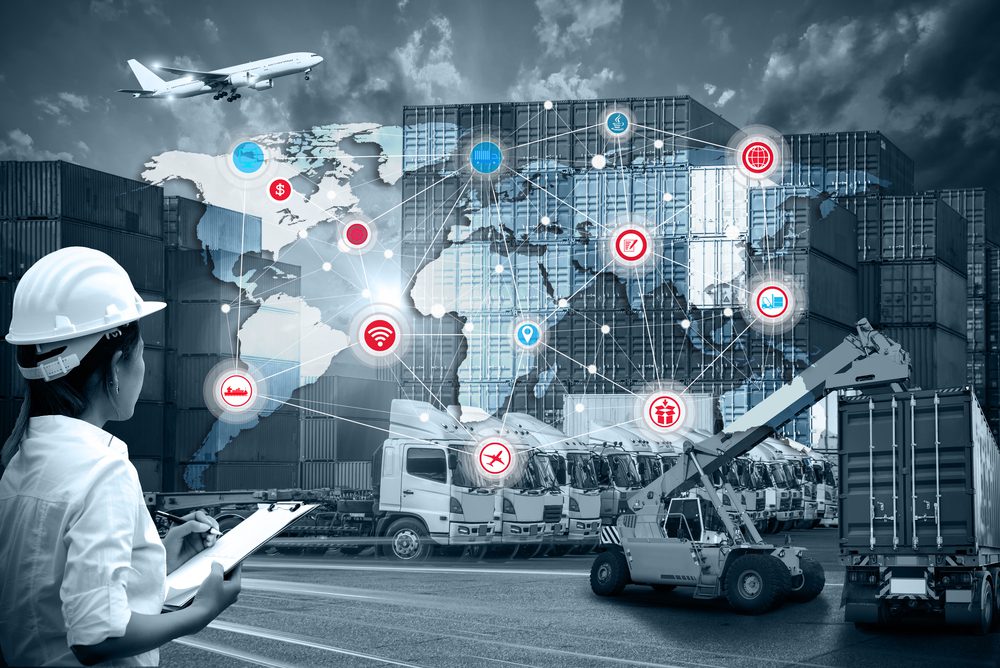 Using the AI companies automate logistics and supply chain processes for faster delivery or find alternate routes for vehicles derailed by unforeseen circumstances such as bad weather or road construction.
While, AI in fashion store also uses algorithms with humans-in-the-loop as virtual personal stylists. This AI-based system recommends the best items for them a human stylist picks the final suggested products as per the body types.
AI in Fashion Retail
AI and machine learning in retail are also providing an automated solution to monitor the customer's activities while shopping and visualize their sentiments to know what kind of products they prefer to buy and what they ignore.
AI can also track footfalls in retail shops or record the shopping experience of the customers with option to get feedback on how was their experience while shopping at the retail shops with an opportunity to improve their services.
And visual perception based AI models also helps store owners to keep the records of the inventory in their store and also categorize items in-store helping store owners to manage their inventory with AI-backed automated solution.
AI Fashion Stylist – Styling the Fashion Accessories
Moreover, the use of AI in fashion is also allowing each one of us to find those elusive perfect outfits that suit our body type and fashion preferences.
Such AI-enabled clothes and outfits are not only tailored for different occasions and weather, but also to the user's style, body type, colours, and the latest fashion trends.
iLUK is an AI-based personal stylist, using the Computer Vision-based and 3D Reconstruction technology at its heart to make personal styling based on technology possible. It is designed as a pod that will be placed at a retail outlet.
In AI fashion stylist computer vision and 3D reconstruction based technology are used to develop a 3D avatar of the customers.
The measurement data are then fed into the AI software to analyze your body-shape, with an identical body mass, shape, size and colour, while suing your face to show the outfits.
Also Read: How To Pick Dress For Your Body Shape: Tips for Women Body Types
Van Heusen created a retail environment complete with a "Virtual Trial" mirror which lets users see how outfits would look on them by simply scanning the item's barcode and standing in front of the mirror as virtual garments are projected onto their reflection.
Video: Van Heusen Style Studio for AI Fashion Stylist
The fitting rooms house interactive mirrors as well, letting shoppers try and compare different outfits by snapping pictures of them in each outfit for them to then compare them side by side to help them make a decision quickly without wearing it.
AI in Fast Fashion with Smart Mirror
Similarly, AI powered smart mirror is used by the retailer store simplifying the shopping experience of the customers with virtual visualization of clothes how they look on you even without putting the clothes actually on your body.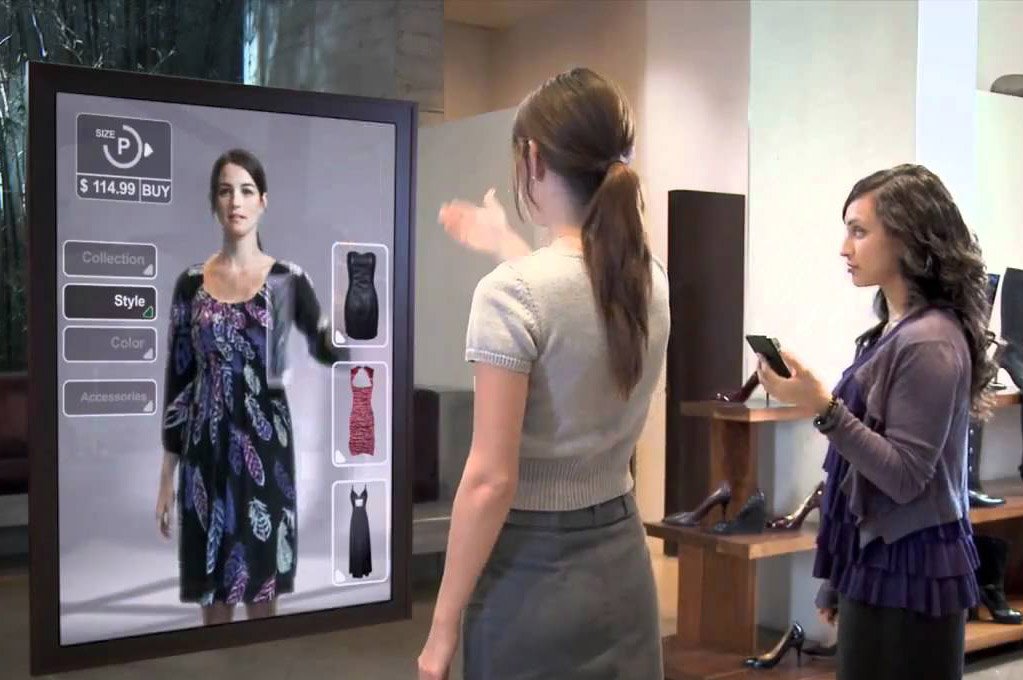 The AI smart mirror is installed in the changing room of retail stores with touch screen glasses that relay information on whether or not a person is inside, they will also help to get information about the item the customer has brought into the store.
For such smart mirrors, clothing racks are RFID enabled and use gyro-sensors and Bluetooth low-energy chips allowing the articles selected by shoppers automatically show up in the Smart Mirror.
See how windows virtual mirror works, showing a shopper "trying on" outfits, superimposing it on the image of her body in the mirror, following her movements, and even changing the color of items at her voice command
Video: How Windows Virtual Mirror Works?
And using this mirror customer can look at different sizes and colour options and also receive personalized mix-and-match options to complete the look.
Rebecca Minkoff's flagship New York City connected store features a large, interactive mirror that shows off the latest Rebecca Minkoff brand content. The shopper can use the mirror to browse various looks and add them to their fitting room to try on.
Video: AI Interactive Smart Mirrors
The interactive mirrors in each fitting room give the user the option to contact a stylist, change the lighting, and attach the items she has tried on during the visit to a personal profile so they can be accessed during future visits to the store.
And be able to receive intelligent recommendations based on the clothing saved. Items can be sent directly from the fitting room to checkout to finish the shopping.
AI in Online Fashion with Recommendation in Ecommerce
Similarly, just like retail fashion stores, AI is playing a game-changer role in online shopping and Ecommerce business. While browsing or searching the fashion items on e-commerce sites, AI recommends the other similar items, as per your color preference, budget and other attributes.
Actually, machine learning technology is used here to analyze your filtering behavior and what kind of products you are looking for. Analyzing your search history data it recommends the other suitable items probably you should check.
AI in Visual Search – To Find the Products Using Camera
Nowadays E-commerce stores AI-based visual search technology used to understand the content and context of these images and return a list of related results. You can use your camera to capture an object and search the same online.
AI-based visual search technology allows retailers to suggest thematically or stylistically related items to shoppers in a way they would struggle to do using a text query alone.
Actually, the AI visual search model is trained with huge amount of data sets that contain the annotated images making the clothing items recognizable to machines.
And with the help of ML algorithms machines can recognize separate objects within a picture. This enables additional shop-the-look use cases that create cross-sell opportunities for the sellers.
While on the other hand, for media companies visual search is an opportunity to transform fashion sites into a personalize shopping experience.
Role of Artificial Intelligence and its Impact on the Fashion Industry
Nowadays, AI is playing a crucial in the fashion industry with huge potential to make this AI integrated into various other subfields. It is powering the manufacturers to redefine how fashion businesses engage and interact with their customers.
AI-enabled applications and system are enhancing the customer's experience that goes beyond personalized ads, notification alerts on price drops, or chatbot assistance.
With this kind of technology, fashion brands strive to put customization at the forefront for customers during their buying journey.
Moreover, AI will not only help designers to predict the upcoming trends, visualized by the current fast-changing-environment, but also examine and minimize the impacts on the environment while producing the fashion garments and accessories.
Further, 3D printing technology is also going to be used with the help of AI. 3D printing will enable professionals to transcend any boundaries of design, as it gives them a chance to turn the most improbable projects into reality.
Artificial Intelligence Impact on Fashion
Customers now becoming aware to use the AI-enabled features while searching or buying clothing or fashion accessories online. Customers can take a photo and match the accessories and clothes over brands to get the same design.
Apart from that, it is also reducing the errors and making the product delivery process fast through automated warehousing management.
Companies or brands can now ask for feedback and suggestions through AI featured applications.
Artificial intelligence impact on fashion will make this industry more smart and intelligent in understanding the sentiments and fashion taste of customers.
In the long-term, it will have a constructive impact on the entire industry empowering the manufacturers to introduce the most demanding clothing lines timely with more precision.
Whereas, at the customer end, it will facilitate them to explore more products as per their choice, personality and affordability with the personalized shopping experience.
Customers will easily find the right costumes and fashion accessories with the option to visualize wearing the same accessories virtually to get the best one at one click.