AI in Fashion: Applications with Use Cases & Role in the Industry
Wearing clothes is not only a necessity of humans, instead, they get the chance to show off their style, beauty, personality, and lavish lifestyle. The fashion industry is one of the biggest in the world with market size of US$ 3 trillion as of 2018.
Artificial Intelligence (AI) in fashion is changing this industry by playing a crucial role in the various key divisions. From design to manufacturing, logistic supply chain and marketing, AI in fashion is playing a big role in transforming this industry.
Actually, in the age of digitalization, AI and machine learning based technologies in the fashion industry are providing an automated solution to manufacturers helping them to leverage the intelligence of AI into fashion and exhaust the best possibilities into their field.
So, right here we brought a great discussion, how artificial intelligence is changing fashion with use cases, role and impact of AI on this industry.
How AI is Changing Fashion: Role & Impact on the Industry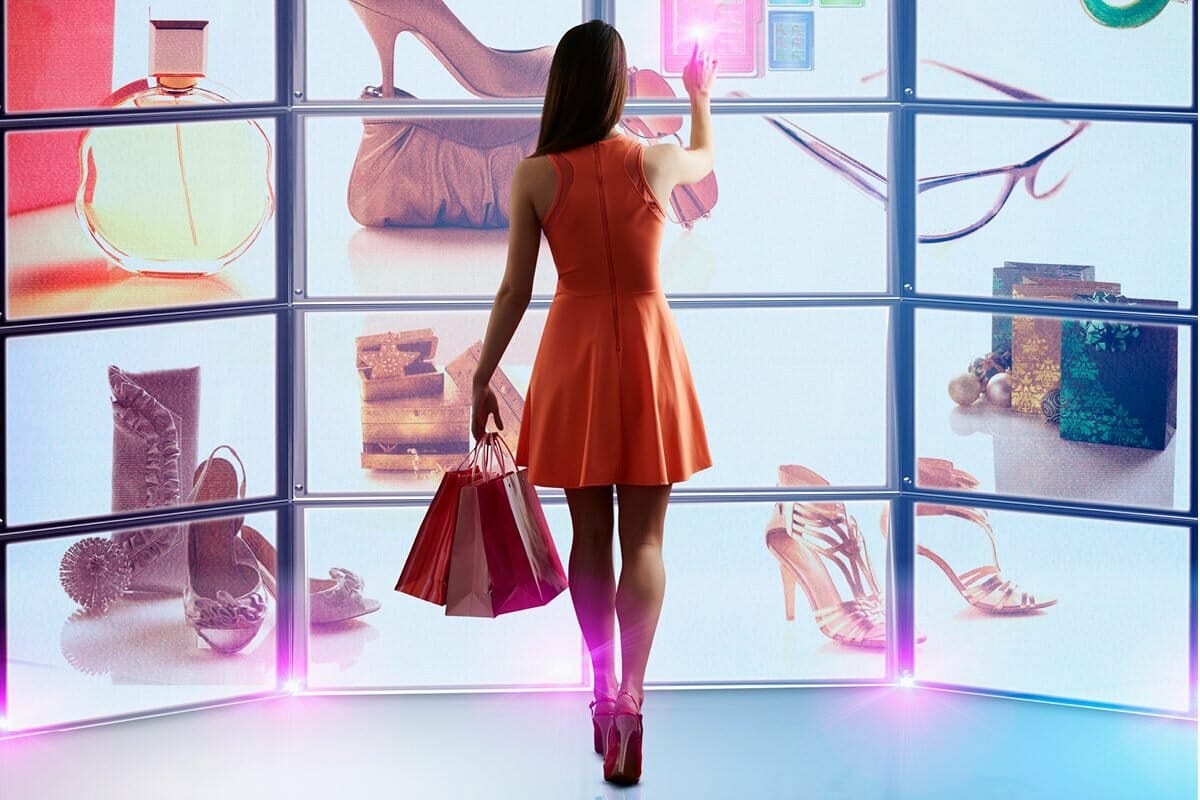 AI in Fashion Design – A Clothing Designer
The design and patterns with the right color combination are the key points to design a costume to make it attractive for the customers. AI can detect the new trends with demand in projecting the new trend reducing the forecasting error.
Trends in the fashion industry change very fast with new designs or patterns come every day in the market. Designers need to keep pacing with new styles. And AI algorithms can analyze designs through images to copying popular styles.
And after analyzing the data set of designer clothes and AI uses such data to see what does and does not sell well in the markets and create or recommend designers to build and launch a completely new design in the market.
Retailers giants like Amazon and Walmart now have their own clothing brands and are using the machine learning systems that can identify the spot and, in the not-too-distant future, design fashion trends that customers also prefer to buy.
AI in Fashion Manufacturing, Supply Chain & Fashion Store
In fashion, apparel manufacturing is the labor-intensive industry. From sewing to sorting or dresses, there are mundane tasks now AI can perform with a better level of accuracy at faster speed reducing the extra cost spent on workers.
AI robots and computer-enabled machines can easily stitch the fabrics with perfection while at the same time it can also detect faults in fabric and offer quality assurance to ensure that the actual design shades will suit the new colors.
Video: AI Robots in Fashion & Sewing
Also Read: How AI Is Creating New Job Opportunities For Low-Skilled Workers?
AI in inventory and supply chain management is facilitating to speed-up by improving routes, cutting the logistic supply and shipping cost.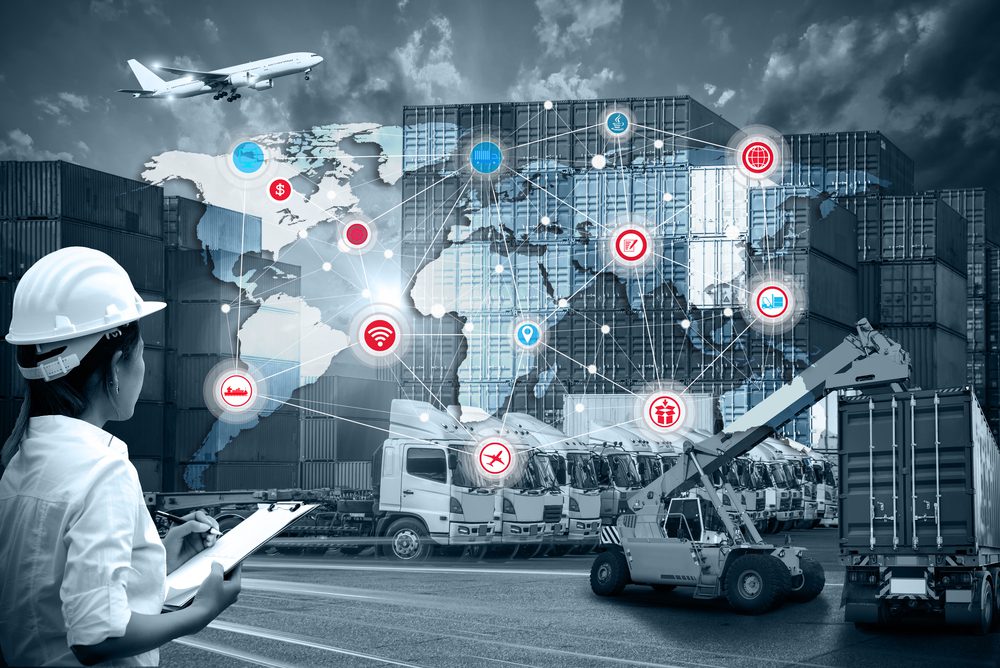 Using the AI companies automate logistics and supply chain processes for faster delivery or find alternate routes for vehicles derailed by unforeseen circumstances such as bad weather or road construction.
While, AI in fashion store also uses algorithms with humans-in-the-loop as virtual personal stylists. This AI-based system recommends the best items for them a human stylist picks the final suggested products as per the body types.
AI in Fashion Retail
AI and machine learning in retail are also providing an automated solution to monitor the customer's activities while shopping and visualize their sentiments to know what kind of products they prefer to buy and what they ignore.
AI can also track footfalls in retail shops or record the shopping experience of the customers with option to get feedback on how was their experience while shopping at the retail shops with an opportunity to improve their services.
And visual perception based AI models also helps store owners to keep the records of the inventory in their store and also categorize items in-store helping store owners to manage their inventory with AI-backed automated solution.
AI Fashion Stylist – Styling the Fashion Accessories
Moreover, the use of AI in fashion is also allowing each one of us to find those elusive perfect outfits that suit our body type and fashion preferences.
Such AI-enabled clothes and outfits are not only tailored for different occasions and weather, but also to the user's style, body type, colours, and the latest fashion trends.
iLUK is an AI-based personal stylist, using the Computer Vision-based and 3D Reconstruction technology at its heart to make personal styling based on technology possible. It is designed as a pod that will be placed at a retail outlet.
In AI fashion stylist computer vision and 3D reconstruction based technology are used to develop a 3D avatar of the customers.
The measurement data are then fed into the AI software to analyze your body-shape, with an identical body mass, shape, size and colour, while suing your face to show the outfits.
Also Read: How To Pick Dress For Your Body Shape: Tips for Women Body Types
Van Heusen created a retail environment complete with a "Virtual Trial" mirror which lets users see how outfits would look on them by simply scanning the item's barcode and standing in front of the mirror as virtual garments are projected onto their reflection.
Video: Van Heusen Style Studio for AI Fashion Stylist
The fitting rooms house interactive mirrors as well, letting shoppers try and compare different outfits by snapping pictures of them in each outfit for them to then compare them side by side to help them make a decision quickly without wearing it.
AI in Fast Fashion with Smart Mirror
Similarly, AI powered smart mirror is used by the retailer store simplifying the shopping experience of the customers with virtual visualization of clothes how they look on you even without putting the clothes actually on your body.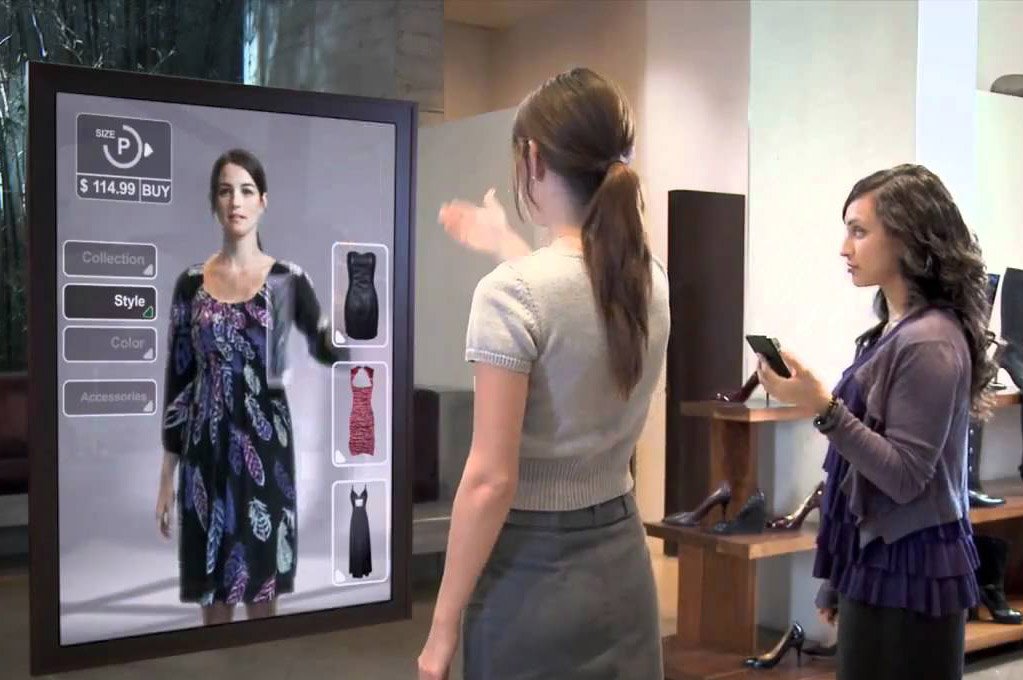 The AI smart mirror is installed in the changing room of retail stores with touch screen glasses that relay information on whether or not a person is inside, they will also help to get information about the item the customer has brought into the store.
For such smart mirrors, clothing racks are RFID enabled and use gyro-sensors and Bluetooth low-energy chips allowing the articles selected by shoppers automatically show up in the Smart Mirror.
See how windows virtual mirror works, showing a shopper"trying on" outfits, superimposing it on the image of her body in the mirror,following her movements, and even changing the color of items at her voicecommand
Video: How Windows Virtual Mirror Works?
And using this mirror customer can look at different sizes and colour options and also receive personalized mix-and-match options to complete the look.
Rebecca Minkoff's flagship New York City connected store features a large, interactive mirror that shows off the latest Rebecca Minkoff brand content. The shopper can use the mirror to browse various looks and add them to their fitting room to try on.
Video: AI Interactive Smart Mirrors
The interactive mirrors in each fitting room give the user the option to contact a stylist, change the lighting, and attach the items she has tried on during the visit to a personal profile so they can be accessed during future visits to the store.
And be able to receive intelligent recommendations based on the clothing saved. Items can be sent directly from the fitting room to checkout to finish the shopping.
AI in Online Fashion with Recommendation in Ecommerce
Similarly, just like retail fashion stores, AI is playing a game-changer role in online shopping and Ecommerce business. While browsing or searching the fashion items on e-commerce sites, AI recommends the other similar items, as per your color preference, budget and other attributes.
Actually, machine learning technology is used here to analyze your filtering behavior and what kind of products you are looking for. Analyzing your search history data it recommends the other suitable items probably you should check.
AI in Visual Search – To Find the Products Using Camera
Nowadays E-commerce stores AI-based visual search technology used to understand the content and context of these images and return a list of related results. You can use your camera to capture an object and search the same online.
AI-based visual search technology allows retailers to suggest thematically or stylistically related items to shoppers in a way they would struggle to do using a text query alone.
Actually, the AI visual search model is trained with huge amount of data sets that contain the annotated images making the clothing items recognizable to machines.
And with the help of ML algorithms machines can recognize separate objects within a picture. This enables additional shop-the-look use cases that create cross-sell opportunities for the sellers.
While on the other hand, for media companies visual search is an opportunity to transform fashion sites into a personalize shopping experience.
Role of Artificial Intelligence and its Impacton the Fashion Industry
Nowadays, AI is playing a crucial in the fashion industry with huge potential to make this AI integrated into various other subfields. It is powering the manufacturers to redefine how fashion businesses engage and interact with their customers.
AI-enabled applications and system are enhancing the customer's experience that goes beyond personalized ads, notification alerts on price drops, or chatbot assistance.
With this kind of technology, fashion brands strive to put customization at the forefront for customers during their buying journey.
Moreover, AI will not only help designers to predict the upcoming trends, visualized by the current fast-changing-environment, but also examine and minimize the impacts on the environment while producing the fashion garments and accessories.
Further, 3D printing technology is also going to be used with the help of AI. 3D printing will enable professionals to transcend any boundaries of design, as it gives them a chance to turn the most improbable projects into reality.
Artificial Intelligence Impact on Fashion
Customers now becoming aware to use the AI-enabled features while searching or buying clothing or fashion accessories online. Customers can take a photo and match the accessories and clothes over brands to get the same design.
Apart from that, it is also reducing the errors and making the product delivery process fast through automated warehousing management.
Companies or brands can now ask for feedback and suggestions through AI featured applications.
Artificial intelligence impact on fashion will make this industry more smart and intelligent in understanding the sentiments and fashion taste of customers.
In the long-term, it will have a constructive impact on the entire industry empowering the manufacturers to introduce the most demanding clothing lines timely with more precision.
Whereas, at the customer end, it will facilitate them to explore more products as per their choice, personality and affordability with the personalized shopping experience.
Customers will easily find the right costumes and fashion accessories with the option to visualize wearing the same accessories virtually to get the best one at one click.
Artificial Intelligence in Robotics: How AI is Used in Robotics?
Robots were the first-known automated type machines people got to know. There was a time when robots were developed for performing specific tasks, yes such machines were earlier developed without any artificial intelligence (AI) to perform only repetitive tasks.
But now the scenarios are different, AI in getting integrated into robots to develop the advanced level of robotics that can perform multiple tasks, and also learn new things with a better perception of the environment. AI in robotics helps robots perform the crucial tasks with a human-like vision to detect or recognize the various objects.
Nowadays, robots are developed through machine learning training. A huge amount of datasets is used to train the computer vision model, so that robotics can recognize the various objects and carry out the actions accordingly with right results.
And, further, day-by-day, with more quality and precise machine learning processes, robotics performance is getting improved. So, right here we are discussing the machine learning in robotics and types of datasets used to train the AI model developed for robots.
How AI is Used in Robotics?
The AI in robotics not only helps to learn the model to perform certain tasks but also makes machines more intelligent to act in different scenarios. There are various functions integrated into robots like computer vision, motion control, grasping the objects, and training data to understand physical and logistical data patterns and act accordingly.
And to understand the scenarios or recognize the various objects, labeled training data is used to train the AI model through machine learning algorithms. Here, image annotation plays a key role in creating a huge amount of datasets helping the robotics to recognize and grasp different types of objects or perform the desired action in the right manner making AI successful in the robotics.
Application of Sensors in Robotics
The sensor helps the robots to sense the surroundings or perceive the visuals of the environment. Just like five key sensors of human beings, combinations of various sensing technologies are used in the robotics. From motion sensors to computer vision for object detection, there are multiple sensors providing a sensing technology into changing and uncontrolled environments making the AI possible in the robotics.
Uses of Types of Sensors in Robotics:
Time-of-flight (ToF) Optical Sensors
Temperature and Humidity Sensors
Ultrasonic Sensors
Vibration Sensors
Millimeter-wave Sensors
Nowadays a wide range of increasingly more sophisticated and accurate similar sensors, combined with systems that can fuse all of this sensor data together is empowering robots to have increasingly good perception and awareness for the right actions in real-life.
Application of Machine Learning in Robotics
Basically, machine learning is the process of training an AI model to make it intelligent enough to perform specific tasks or some varied actions. And to feed the ML algorithms, a set of data is used at a large scale to make sure AI models like robotics can perform precisely. As much as training data will be used to train the model, the accuracy would be at the best level.
In robotics, it is trained to recognize the objects, with the capability to grasp or hold the same object and ability to move from one location to another location. Machine learning mainly helps to recognize the wide-ranging objects visible in different shapes, sizes and various scenarios.
Also Read: Where Is Artificial Intelligence Used: Areas Where AI Can Be Used
And the machine learning process keeping running if robots detect new objects, it can make the new category to detect such objects if visible again in the near future. However, there are different disciplines of teaching a robot through machine learning. And deep learning is also used to train such models with high-quality training data for a more precise machine learning process.
APPLICATION OF AI IN ROBOTICS
AI in robotics makes such machines more efficient with self-learning ability to recognize the new objects. However, currently, robotics are used at the industrial purpose and in various other fields to perform the various actions with the desired accuracy at higher efficiency, and better than humans.
Video: Most Advance AI Robots
From handling the carton boxes at warehouses, robotics is performing the unbelievable actions making certain tasks easier. Right here we will discuss the application of AI robotics in various fields with types of training data used to train such AI models.
Robotics in Healthcare
Robotics in healthcare are now playing a big role in providing an automated solution to medicine and other divisions in the industry. AI companies are now using big data and other useful data from the healthcare industry to train robots for different purposes.
Also Read: How AI Robotics is Used in Healthcare: Types of Medical Robotics
From medical supplies, to sanitization, disinfection and performing the remote surgeries, AI in robotics making such machines become more intelligent learned from the data and performs various crucial tasks without the help of humans.
Robotics in Agriculture
In the agriculture sector, automation is helping farmers to improve crop yield and boost productivity. And robotics is playing a big role in the cultivation and harvesting the crops with precise detection of plants, vegetables, fruits, and other unwanted floras. In agriculture AI robots can perform the fruits or vegetable plucking, spraying the pesticides, and monitor the health conditions of plants.
Also Read: HowAI Can Help In Agriculture: Five Applications and Use Cases
Robotics in Automotive
The automobile industry moved to the automation that leads to fully-automated assembly lines to assemble the vehicles. Except for a few important tasks, there are many processes performed by robotics to develop cars reducing the cost of manufacturing. Usually, robotics is specially trained to perform certain actions with better accuracy and efficiency.
Robotics at Warehouses
Warehouse needs manpower to manage the huge amount of inventory kept by mainly eCommerce companies to deliver the products to their customers or move from location to another location. Robotics is trained to handle such inventories with the capability to carefully carry from one place to another place reducing the human workforce in performing such repetitive tasks.
Robotics at Supply Chain
Just like inventory handling at warehouses, Robotics at logistics and supply chain plays a crucial role in moving the items transported by the logistic companies. AI model for robotics gets trained through computer vision technology to detect various objects. Such robotics can pick the boxes and kept at the desired place or load and unload the same from the vehicle at faster speed with accuracy.
Training Data for Robotics
As you already know a huge amount of training data is required to develop such robots. And such data contains the images of annotated objects that help machine learning algorithms learn and recognize the similar objects when visible in the real-life.
Also Read: Top 5 Applications of Image Annotation in Machine Learning & AI
And to generate a huge amount of such training data, image annotation techniques are used to annotate the different objects to make them recognizable to machines. And Anolytics provides the one-stop data annotation solution to AI companies to render high-quality training data sets for machine learning-based model development.
Also Read: What Is The Use And Purpose Of Video Annotation In Deep Learning
Artificial Intelligence in High-Quality Embryo Selection for IVF
IVF treatment is becoming a common practice in today's reality, where 12% of the world population struggle to conceive naturally. But thanks to artificial intelligence in IVF, the whole process is going to help the embryologists to select the best quality embryos for in-vitro fertilization improving the success of conception through artificial insemination.
As per the latest study published in eLife, a deep learning system was able to choose the most high-quality embryos for IVF with 90% accuracy. Compared to trained embryologists, the deep learning model performed with an accuracy of approximately 75% while the embryologists performed with an average accuracy of 67%.
As per the research stated, the average success rate of IVF is 30 percent. The treatment is also expensive, costing patients over $10,000 for each IVF cycle with many patients requiring multiple cycles in order to achieve successful pregnancy.
Risk Factors in IVF Treatment
While multiple factors determine the success of IVF cycles, the challenge of non-invasive selection of the highest available quality embryos from a patient remains one of the most important factors in achieving successful IVF outcomes.
Currently, tools available to embryologists are limited and expensive, leaving most embryologists to rely on their observational skills and expertise. As selection of quality embryo increases the pregnancy rates, that is now possible with AI.
Also Read: How Artificial Intelligence Can Predict Health Risk of Pregnancy
Researchers from Brigham and Women's Hospital and Massachusetts General Hospital (MGH) set out to develop an assistive tool that can evaluate images captured using microscopes traditionally available at fertility centers.
There is so much at stake for our patients with each IVF cycle. Embryologists make dozens of critical decisions that impact the success of a patient cycle. With assistance from our AI system, embryologists will be able to select the embryo that will result in a successful pregnancy better than ever before," said co-lead author Charles Bormann, PhD, MGH IVF Laboratory director.
AI in Embryo Selection through Machine Learning
The team trained the deep learning system (sub branch of machine learning) using images of embryos captured at 113 hours post-insemination. Among 742 embryos, the AI system was 90% accurate in choosing the most high-quality embryos.
The investigators further assessed the system's ability to distinguish among high-quality embryos with the normal number of human chromosomes and compared the system's performance to that of trained embryologists help in healthy baby growth in the womb.
Also Read:  What Causes A Baby To Stop Growing In The Womb During Pregnancy
The results showed that the system was able to differentiate and identify embryos with the highest potential for success significantly better than 15 experienced embryologists from five different fertility centers across the US.
However, the deep learning system is meant to act only as an assistive tool for embryologists to make judgments during embryo selection but going to benefit clinical embryologists and patients. Actually, a major challenge in the field is deciding on the embryos that need to be transferred during IVF and such AI models can make right decisions. 
Machine Learning Training Data for AI Model
The research stated that deep learning model has potential to outperform human clinicians, if algorithms are trained with more qualitative healthcare training datasets. Advances in AI have promoted numerous applications that have the potential to improve standard-of-care in the different fields of medicine.
Though, few other groups use to evaluate different use cases for machine learning in assisted reproductive medicine, this approach is novel in how it used a deep learning system trained on a large dataset to make predictions based on static images.
Such findings could help the couples become parents through IVF with higher chances of conceptions with right embryos selections. And further with more improvement in training development of AI systems will be used in aiding embryologists to select the embryo with the highest implantation potential, especially amongst high-quality embryos.
Watch Video:  Future of AI in Embryo Selection for IVF
Source: Health Analytics
How Artificial Intelligence Can Predict Health Risk of Pregnancy?
Artificial Intelligence (AI) in healthcare is going to improve the birth process of humans with better diagnosis method when baby is in mother's womb. Yes, using the machine learning approach, now AI can help predict the pregnancy related risks.
As per the published in the American Journal of Pathology, a machine learning model can analyze placenta slides and inform more women of their health risks in future pregnancies, leading to lower healthcare costs and better outcomes.
Placenta Complications During Pregnancy
Actually, when a baby is born, doctors sometimes examine the placenta for features that might suggest health risks in any future pregnancies. Providers analyze placentas to look for a type of blood vessel lesion called decidual vasculopathy (DV).
These indicate that the mother is at risk for preeclampsia, a complication that can be fatal to both the mother and baby in any future pregnancies. Once detected, preeclampsia can be treated, so there is considerable benefit from identifying at-risk mothers before symptoms appear.
Also Read: What Causes A Baby To Stop Growing In The Womb During Pregnancy
However, although there are hundreds of blood vessels in a single slide, only one diseased vessel is needed to indicate risk. This makes examining the placenta a time-consuming process that must be performed by a specialist, so most placentas go unexamined after birth.
How Machine Learning Predict Pregnancy Risks?
Researchers said, pathologists train for years to be able to find disease in these images, but there are so many pregnancies going through the hospital system that they don't have time to inspect every placenta with full attention and accuracy.
While on the other hand researchers trained a machine learning algorithm to recognize certain features in images of a thin slice of a placenta sample. The team showed the tool various images and indicated whether the placenta was diseased or healthy.
Because it's difficult for a computer to look at a large picture and classify it, the team employed a novel approach through which the computer follows a series of steps to make the task more manageable.
First, the computer detects all blood vessels in an image. Each blood vessel can then be considered individually, creating similar data packets for analysis.
Then, the computer can access each blood vessel and determine if it should be deemed diseased or healthy. At this phase, the algorithm also considers features of the pregnancy, such as gestational age, birth weight, and any conditions the mother might have. If there are any diseased blood vessels, then the picture is marked as diseased.
The tool achieved individual blood vessel classification rates of 94% sensitivity and 96% specificity, and an area under the curve of 0.99. While algorithm helps pathologists know which images they should focus on by scanning an image, locating blood vessels, and finding patterns of the blood vessels that identify.
The team noted that the algorithm is meant to act as a companion tool for physicians, helping them quickly and accurately assess placenta slides for enhanced patient care.
AI Assisted Pregnancy Risk Detection
Though, this algorithm isn't going to replace a pathologist anytime soon. The goal here is that this type of algorithm might be able to help speed up the process by flagging regions of the image where the pathologist should take a closer look.
Such studies demonstrate the importance of partnerships within the healthcare sector between engineering and medicine as each brings expertise to the table that, when combined, creates novel findings that can help so many individuals.
Also Read: Artificial Intelligence in High-Quality Embryo Selection for IVF
Such useful findings have significant implications for the use of artificial intelligence in healthcare. As healthcare increasingly embraces the role of AI, it is important that doctors partner early on with computer scientists and engineers so that we can design and develop the right tools for the job to positively impact patient outcomes.
And with the high-quality healthcare training data for machine learning can further help to improve the risks level associated with pregnancies. AI companies are using the right training datasets to train such model to learn precisely and predict accurately.
Also Read: Why Global Fertility Rates are Dropping; Population Will Fall by 2100
Source: Health Analytics