Top 5 Applications of Image Annotation in Machine Learning & AI
At the time of developing the AI models through machine learning (ML) first and most important thing you need, relevant training data sets, which can only help the algorithms understand the scenario through new data or seeing the objects and predict when used in real-life making various tasks autonomous.
In the visual perception based AI model, you need images, containing the objects that we see in our real life. And to make the object of interest recognizable to such models the images need to be annotated with the right techniques. And image annotation is the process, used to create such annotated images. The applications of image annotation in machine learning and AI is substantial in terms of model success.
What is Image Annotation?
So, right here we will discuss the applications of the image annotation, but before we proceed, we need to review the definition of image annotation and its use in the AI industry. Image annotation is the process of making the object of interest detectable and recognizable to machines.
And to make such objects recognizable in the images, they are annotated with added metadata for the description of the object. And when a huge amount of similar data is feed into the model, it becomes trained enough to recognize the objects when new data is presented in real-life situations.
5 APPLICATIONS OF IMAGE ANNOTATION
Annotated images are mainly used to make the machine learn how to detect the different types of objects. But as per the AI model functions, ML algorithms compatibility and use in the various industries, image annotation applications also differ that all about we will discuss here below with the annotation types.
Detection of Object of Interest
The most important application of image annotation is detecting the objects in the images. In an image, there are multiple things, or you can say objects, but every object would be not required to get noticed by the machines. But the object of interest need to be get detected, and the image annotation technique is applied to annotate and make such objects detectable through computer vision technology.
Also Read: What Is Computer Vision In Machine Learning And AI: How It Works
Recognition of Types of Objects
After detecting the object, it is also important to recognize what types of objects it is, humans, animals or non-living objects like vehicles, street poles and other man-made objects visible in the natural environment. Here again image annotation helps to recognize the objects in the images.
Though, object detection and recognition runs simultaneously, and while annotating the objects in various cases, the notes or metadata is added to describe the attributes and nature of the object, so that machine can easily recognize such things and store the information for the future references.
Classification of Different Objects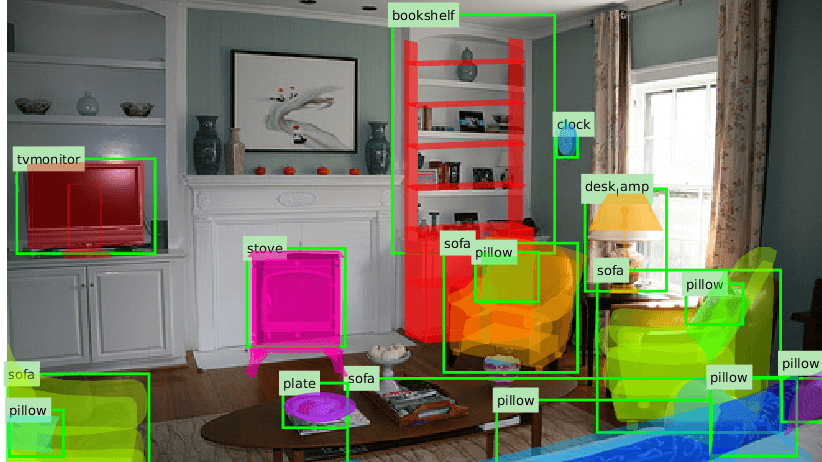 It is not necessary all objects in an image belong to the same category, if a dog is visible with man, it needs to be classified or categorized to differentiate both of them. Classification of the objects in the images is another important application of image annotation used in machine learning training.
Also Read: The Main Purpose Of Image Annotations Is To Develop AI Model
Along with image classification, the localization of objects is also done through image annotation practice. In image annotation, there are multiple techniques, used to annotate the objects and classified into the different categories helping the visual perception based AI model detect and categorize the objects.
Segmentation of Object in the Single Class
Just like object classification, objects in the single class need to be segmented to make it more clear about the object, its category, position and its attributes. Semantic segmentation image annotation is used to annotate the objects with each pixel in the image belongs to a single class.
The main applications of image annotation are to make the AI model or machine learning algorithm learn with more accuracy about objects in the images. For semantic segmentation, image annotation is basically applied for deep learning-based AI models to give precise results in various scenarios.
Recognizing the Humans Faces & Poses
AI cameras in smartphones or security surveillance are now able to recognize the face of humans. And do you how it became possible in AI world? Thanks to image annotation, that makes the humans face recognizable through computer vision with the ability to identify the person from the database and discriminate them among the huge crowd from the security surveillance system perspective.
In image annotation for face recognition algorithms, the faces of humans are annotated from one point to another point measuring the dimension of the face and its various points like chin, ears eyes, nose and mouth. And these facial landmarks are annotated and provided to the image classification system. Hence, image annotation is playing another important role in recognizing the people from their faces.
TYPES OF IMAGE ANNOTATION
I hope you got to know the applications of image annotation in the world of AI and machine learning. Now you should know what are the types of image annotations used to create the machine learning training datasets for deep learning-based AI models? And we will also discuss here the application of different types of image annotation into various industries, fields and sectors with uses cases of AI-based models.
Bounding Box Annotation to Easily Detect the Objects
Bounding box annotation is one of the most popular techniques used to detect the objects in the images. The object of interest are annotated either in a rectangular or square shape to make the object recognizable to machines through computer vision. All types of AI models like self-driving cars, robots, autonomous flying objects and AI security cameras relying on data created by bounding box annotation.
Semantic Segmentation to Localize Objects in Single Class
To recognize, classify and segment the objects in the single class, semantic image segmentation is used to annotate the objects for more accurate detection by machines. It is actually, the process of diving the images into multiple segments of an object having the different semantic definitions. Autonomous vehicles and drones, need such training data to improve the performance of the AI model.
3D Point Cloud Annotation to Detect the Minor Objects
The image annotation applications not only include object detection or recognition, but even can also measure or estimate the types and dimensions of the object. 3D point cloud annotation is the technique that helps to make such objects detectable to machines through computer vision. Self-driving cars are the use case, where training data sets are created through 3D point cloud annotation. This image annotation helps to detect the object with additional attributes including lane and sideways path detection.
Landmark Annotation to Detect Human Faces & Gestures
Landmark annotation is another type of image annotation technique used to detect human faces. AI models like AI cameras in security surveillance, smartphones and other devices can detect the human faces and recognize the gestures and various human possess. Landmarking is also used in sports analytics to analyze the human possess performed while playing outdoor games. Cogito provides the landmark point annotation with the next-level of accuracy for precise detection of human faces or their poses.
3D Cuboid Annotation to Detect the Object with Dimension
Detecting the dimensions of the object is also important for AI models to get a more accurate measurement of various objects. The 2D images are annotated with capturing all the dimensions visible in the image to build a ground truth dataset for 3D perception on the objects of interest. Again autonomous vehicles, AI robots and visual perception models used to detect the indoor objects like carton boxes with the dimension need such annotated images, created through 3D cuboid annotation.
Polygon Annotation to Detect Asymmetrical Shaped Objects
Similarly, polygon annotation is used to annotate the objects that are in irregular shapes. Coarse or asymmetrical objects can be made recognizable through the polygon image annotation technique. Mainly road marking or other objects are annotated for the self-driving cars. And autonomous flying objects like drones, viewing the objects from Ariel view can detect or recognize such things when trained with training data sets created through polygon annotation for precise object detection.
Polyline/Splines/Line Annotation for Lane or Path Detection
Lines, Polylines and Splines are all similar types of image annotations used to create the training data sets allowing computer vision systems to consider the divisions between important regions of an image. The boundaries, annotating lines or splines are useful to detect lanes for self-driving cars. Road surface marking that are indicating the instructions of driving on the road need to also make understandable to autonomous cars. Polyline annotation that divides one region from another region.
The right applications of image annotation are possible when you use the right tools and techniques to create high-quality training data sets for machine learning. And Cogito is the industry leader in human-powered image annotation services with the best level of accuracy for different AI models or use cases. Working with a team of well-trained and experienced annotators, it can produce the machine learning training data sets for healthcare, agriculture, retail, automotive, drones and robotics.
This article was originally written for cogitotech.com
Artificial Intelligence in High-Quality Embryo Selection for IVF
IVF treatment is becoming a common practice in today's reality, where 12% of the world population struggle to conceive naturally. But thanks to artificial intelligence in IVF, the whole process is going to help the embryologists to select the best quality embryos for in-vitro fertilization improving the success of conception through artificial insemination.
As per the latest study published in eLife, a deep learning system was able to choose the most high-quality embryos for IVF with 90% accuracy. Compared to trained embryologists, the deep learning model performed with an accuracy of approximately 75% while the embryologists performed with an average accuracy of 67%.
As per the research stated, the average success rate of IVF is 30 percent. The treatment is also expensive, costing patients over $10,000 for each IVF cycle with many patients requiring multiple cycles in order to achieve successful pregnancy.
Risk Factors in IVF Treatment
While multiple factors determine the success of IVF cycles, the challenge of non-invasive selection of the highest available quality embryos from a patient remains one of the most important factors in achieving successful IVF outcomes.
Currently, tools available to embryologists are limited and expensive, leaving most embryologists to rely on their observational skills and expertise. As selection of quality embryo increases the pregnancy rates, that is now possible with AI.
Also Read: How Artificial Intelligence Can Predict Health Risk of Pregnancy
Researchers from Brigham and Women's Hospital and Massachusetts General Hospital (MGH) set out to develop an assistive tool that can evaluate images captured using microscopes traditionally available at fertility centers.
There is so much at stake for our patients with each IVF cycle. Embryologists make dozens of critical decisions that impact the success of a patient cycle. With assistance from our AI system, embryologists will be able to select the embryo that will result in a successful pregnancy better than ever before," said co-lead author Charles Bormann, PhD, MGH IVF Laboratory director.
AI in Embryo Selection through Machine Learning
The team trained the deep learning system (sub branch of machine learning) using images of embryos captured at 113 hours post-insemination. Among 742 embryos, the AI system was 90% accurate in choosing the most high-quality embryos.
The investigators further assessed the system's ability to distinguish among high-quality embryos with the normal number of human chromosomes and compared the system's performance to that of trained embryologists help in healthy baby growth in the womb.
Also Read:  What Causes A Baby To Stop Growing In The Womb During Pregnancy
The results showed that the system was able to differentiate and identify embryos with the highest potential for success significantly better than 15 experienced embryologists from five different fertility centers across the US.
However, the deep learning system is meant to act only as an assistive tool for embryologists to make judgments during embryo selection but going to benefit clinical embryologists and patients. Actually, a major challenge in the field is deciding on the embryos that need to be transferred during IVF and such AI models can make right decisions. 
Machine Learning Training Data for AI Model
The research stated that deep learning model has potential to outperform human clinicians, if algorithms are trained with more qualitative healthcare training datasets. Advances in AI have promoted numerous applications that have the potential to improve standard-of-care in the different fields of medicine.
Though, few other groups use to evaluate different use cases for machine learning in assisted reproductive medicine, this approach is novel in how it used a deep learning system trained on a large dataset to make predictions based on static images.
Such findings could help the couples become parents through IVF with higher chances of conceptions with right embryos selections. And further with more improvement in training development of AI systems will be used in aiding embryologists to select the embryo with the highest implantation potential, especially amongst high-quality embryos.
Watch Video:  Future of AI in Embryo Selection for IVF
Source: Health Analytics
How Artificial Intelligence Can Predict Health Risk of Pregnancy?
Artificial Intelligence (AI) in healthcare is going to improve the birth process of humans with better diagnosis method when baby is in mother's womb. Yes, using the machine learning approach, now AI can help predict the pregnancy related risks.
As per the published in the American Journal of Pathology, a machine learning model can analyze placenta slides and inform more women of their health risks in future pregnancies, leading to lower healthcare costs and better outcomes.
Placenta Complications During Pregnancy
Actually, when a baby is born, doctors sometimes examine the placenta for features that might suggest health risks in any future pregnancies. Providers analyze placentas to look for a type of blood vessel lesion called decidual vasculopathy (DV).
These indicate that the mother is at risk for preeclampsia, a complication that can be fatal to both the mother and baby in any future pregnancies. Once detected, preeclampsia can be treated, so there is considerable benefit from identifying at-risk mothers before symptoms appear.
Also Read: What Causes A Baby To Stop Growing In The Womb During Pregnancy
However, although there are hundreds of blood vessels in a single slide, only one diseased vessel is needed to indicate risk. This makes examining the placenta a time-consuming process that must be performed by a specialist, so most placentas go unexamined after birth.
How Machine Learning Predict Pregnancy Risks?
Researchers said, pathologists train for years to be able to find disease in these images, but there are so many pregnancies going through the hospital system that they don't have time to inspect every placenta with full attention and accuracy.
While on the other hand researchers trained a machine learning algorithm to recognize certain features in images of a thin slice of a placenta sample. The team showed the tool various images and indicated whether the placenta was diseased or healthy.
Because it's difficult for a computer to look at a large picture and classify it, the team employed a novel approach through which the computer follows a series of steps to make the task more manageable.
First, the computer detects all blood vessels in an image. Each blood vessel can then be considered individually, creating similar data packets for analysis.
Then, the computer can access each blood vessel and determine if it should be deemed diseased or healthy. At this phase, the algorithm also considers features of the pregnancy, such as gestational age, birth weight, and any conditions the mother might have. If there are any diseased blood vessels, then the picture is marked as diseased.
The tool achieved individual blood vessel classification rates of 94% sensitivity and 96% specificity, and an area under the curve of 0.99. While algorithm helps pathologists know which images they should focus on by scanning an image, locating blood vessels, and finding patterns of the blood vessels that identify.
The team noted that the algorithm is meant to act as a companion tool for physicians, helping them quickly and accurately assess placenta slides for enhanced patient care.
AI Assisted Pregnancy Risk Detection
Though, this algorithm isn't going to replace a pathologist anytime soon. The goal here is that this type of algorithm might be able to help speed up the process by flagging regions of the image where the pathologist should take a closer look.
Such studies demonstrate the importance of partnerships within the healthcare sector between engineering and medicine as each brings expertise to the table that, when combined, creates novel findings that can help so many individuals.
Also Read: Artificial Intelligence in High-Quality Embryo Selection for IVF
Such useful findings have significant implications for the use of artificial intelligence in healthcare. As healthcare increasingly embraces the role of AI, it is important that doctors partner early on with computer scientists and engineers so that we can design and develop the right tools for the job to positively impact patient outcomes.
And with the high-quality healthcare training data for machine learning can further help to improve the risks level associated with pregnancies. AI companies are using the right training datasets to train such model to learn precisely and predict accurately.
Also Read: Why Global Fertility Rates are Dropping; Population Will Fall by 2100
Source: Health Analytics
What is Medical Image Annotation: Role in AI Medical Diagnostics
AI in healthcare is becoming more prevalent with more effective computer vision-based machine learning model developments. The more training data is used with the machine learning algorithm the AI model will learn with more variations making it easier to predict the results with more accuracy in various scenarios for the healthcare sector.
And to make the training data useful and productive, the annotated medical images are used to make the disease or body aliments detectable through machines. Medical image annotation is the process used to create such data with an acceptable level of accuracy.
What is Medical Image Annotation?
Medical image annotation is the process of labeling the medical imaging data like Ultrasound, MRI, and CT Scan, etc. for machine learning training. Apart from these radiologist images, other medical records available in the text formats are also annotated to make it understandable to machines through deep learning algorithms for accurate predictions.
Also Read: Types of Medical Diagnostic Imaging Analysis by Deep Learning AI
Medical image annotation is playing an important role in the healthcare sector, so right here we will discuss the importance and role of the medical image annotation. And what is the types of medical images can be annotated to create the training data sets for the different disease.
Role of Medical Image Annotation in AI Medical Diagnostics
Medical image annotation is playing a big role in detecting the various types of diseases through AI-enabled devices, machines and computer systems. Actually, this process provides the real information (data) to the learning algorithms, so that model becomes user to detect such diseases when similar medical images put in front of the system.
From normal bone fracture to deadly disease like cancer, medical image annotation can detect the maladies at microscopic level with accurate predictions. Hence, you can find here the types of diseases or diagnosis performed by AI in medical imaging diagnostics, trained through set of data generated through medical image annotation.
Diagnosis the Brain Disorders
Medical image annotation is used to diagnosis the disease including brain tumors, blood clotting, or other neurological disorders. Using the CT Scan or MRI, machine learning models can detect such diseases if well-trained with precisely annotated images.
AI in neuroimaging can be possible when brain injuries and other ailments are properly annotated and feed into the machine learning algorithm for the right prediction. Once the model, get fully trained to it can be used on the place of radiologist making with the better and more efficient medical imaging diagnosis process saving the time and efforts of the radiologist in taking other decision.
Diagnosis the Liver Problems
Liver related problems and complications diagnosed by the medical professionals using the ultrasound images or other medical imaging formats. Usually, physicians detect, characterize, and monitor diseases by assessing liver medical images visually. And in some cases, he can be biased due to his personal experiences and inaccuracy.
While medical image annotation can train the AI model to perform the quantitative assessment by recognizing imaging information automatically instead of such qualitative reasoning as more accurate and reproductive imaging diagnosis.
Detecting the Kidney Stones
Similarly, Kidney related problems like infection, stone, and other ailment affecting the functioning of the kidney. Though AI applications in kidney disease is currently no significant but right now it is mainly focused on various key aspects like Alerting systems, Diagnostic assistance, Guiding treatment, and Evaluating prognosis.
Also Read: How AI in Medical Imaging Can Help in Diagnosis of Coronavirus
And when the algorithms get the right annotated data sets of such images, the model comes capable enough to even diagnosis the possibilities if kidney failure. Apart from bounding box annotation, there are various other popular medical image annotation techniques used to annotate the images making AI possible in detecting the kidney related to various problems.
Detection of Cancer Cells
Detecting cancers through AI-enabled machines is playing a big role in saving people from such life-threatening diseases. When cancer is not detected at the initial stage, it becomes incurable or takes extraordinary time to cure or recover from such illnesses.
Also Read: How Does AI Detect Cancer in Lung Skin Prostate Breast and Ovary
Breast cancer and prostate cancer are the most common types of cancers found in women and men respectively, globally with high death rates among both genders. But now AI models trained with medical image annotation can help machine learning models to learn from such data and predict with the condition of maladies due to cancer.
Also Read: How Does Google AI Detect Breast Cancer Better Than Radiologists
Teeth Segmentation for Dental Analysis
Teeth or gums related problems can be better diagnosed with AI-enabled devices. Apart from teeth structure, AI in dentistry can easily detect various types of oral problems. Yes, a high-quality training data set, can help the ML algorithm recognize the patterns and store in its virtual memory to use the same patterns in the real-life.
Medical image annotation can provide high-quality training data to make the AI in Dentistry possible with quantitative and qualitative data used to train the model and accuracy will improve in machine learning for dental image analysis.
Eye Cell Analysis
Eyes scanned through retinal images can be used to detect various problems like ocular diseases, cataracts, and other complications. All such symptoms visible in the eyes can be annotated with the right techniques to diagnosis the possible disease.
Microscopic Cell Analysis
It is impossible to see the microscopic cells with normal human eyes, buy using the microscope it can be easily seen. And make such extremely small size cells recognizable to machines, the high-quality image annotation technique is required for right model development.
The images of these microscopic cells are enlarged on the bigger computer screen and annotated with advanced tools and techniques. And while annotating the images, the accuracy is ensured at the highest level to make sure the AI in healthcare can give precise results. Our experts can label microscopic images of cells used in the detection and analysis of diseases.
Diagnostic Imaging Analysis
Diagnostic imaging like X-ray, CT & MRI scan gives the better option to visualize the disease to find out the actual condition and provide the right treatment. Our experts in the image annotation team can generate imaging and label specific disease symptoms using diverse annotation techniques.
Medical image annotation is giving the AI in radiology a new dimension with a huge amount of label data for the right machine learning development. And for supervised machine learning, annotated images are must to train the ML algorithms for the right diagnostic imaging analysis.
Also Read: Types of Medical Diagnostic Imaging Analysis by Deep Learning AI
Medical Record Documentation
Medical image annotation also covers the various documents including texts and other files to make the data recognizable and comprehensible to the machine. Medical records contain the data of patients and their health conditions that can be used to train the machine learning models.
Annotating the medical records with text annotation and precise metadata or additional notes makes such crucial data used for machine learning development. Highly experienced annotators can label such documents with a high level of accuracy while ensuring the privacy and confidentiality of data.
Types of Documents Annotated through Medical Image Annotation:
X-Rays
CT Scan
MRI
Ultrasound
DICOM
NIFTI
Videos
Other Images
To annotate such highly sensitive documents with acceptable levels of accuracy, and AI medical diagnostics companies need a huge amount of such data to train the AI model for the right prediction. Cogito offers the world-class medical image annotation service to annotate the medical image dataset for AI in healthcare. It can annotate the huge amount of radiology images with high-level accuracy.
Cogito offers a great platform to generate a huge amount of training data sets for AI in various industries and sectors. AI companies seeking high-quality training data for machine learning development into wide-ranging fields like healthcare, retail, automotive, agriculture, and autonomous machines can get the best quality training datasets available here at the best pricing.
This article was originally written & published for Cogito Tech