How AI Can Predict Coronavirus like Epidemic Before it Outbreaks?
AI in healthcare is already developed enough to diagnosis various types of critical diseases, but in case of the epidemic it failed and not able to predict timely, that took the life of many people across the world and still spreading further became a health emergency.
I'm talking about "Coronavirus Infection" – that started in mid-December in China and now transmitted to all major countries worldwide. This high contagious infection took the lives of more than tens of thousands of people and infected over 1 million people globally.
Also Read: How Exactly Coronavirus Attacks, Infects & Affects Body to Death
The question arises here, why artificial intelligence has not been used to detect the risk associated with this kind of disease or AI is unable to detect such epidemic with right predictions, so that medical experts can envisage the situation timely.
Artificial Intelligence Coronavirus Prediction
A Canadian based global health monitoring platform – BlueDot, reportedly notified its clients of the outbreak of coronavirus on Dec. 31. But nobody has taken AI prediction seriously and now the situation became out of control in China.
BlueDot is the mastermind of Kamran Khan, who is an infectious disease physician and professor of Medicine and Public Health at the University of Toronto. Keep in mind that he was a frontline healthcare worker during the SARS outbreak.
How BluDot's works in Epidemic Prediction?
BlueDot's algorithm uses machine learning (ML) and natural language processing (NLP) technology to detect signs of potential disease outbreaks from the collected information that becomes a training data while developing such AI models.
Video: How BluseDot AI Predicted Coronavirus?
And such AI's findings are reviewed and verified by human epidemiologists before sending a report to the company's clients in government, industry and public health, as well as other public health officials, airlines and hospitals in the affected regions.
Data Used in AI Coronavirus Prediction
In the case of the coronavirus outbreak, the algorithm reportedly used airline ticketing information and pick news of such outbreaks like murmuring or forums or blogs or indications of some kind of unusual events going on to accurately predict the virus' rapid spread from Wuhan, China, to Bangkok, Seoul, Taipei, Tokyo and other nations.
Here, in coronavirus prediction, BlueDot uses an AI-driven algorithm that scours foreign-language news reports, animal and plant disease networks, and official proclamations to give its clients advance warning to avoid danger zones like Wuhan.
Another AI PredictsCoronavirus Could Kill 53 million and infect 2.5 billion
Yes, as per an article published on Forbes, AI predicts coronavirus could infect 2.5 billionand kill 53 million. But doctorssaid that it is not credible.
Actually, since the coronavirus infection transmission started more than 30,000 people infected and died around 600. But conditions of infection are changing, which in turn changes incredibly important factors that the AI isn't aware of.
To predict this epidemic along with infection and death data, AI neural net using a recurrent neural network (RNN) model and ran the simulation ten million times. That output dictated the forecast for the following day. Once the following day's output was published, added it to the training data, and re-ran ten million times, the results are shocking.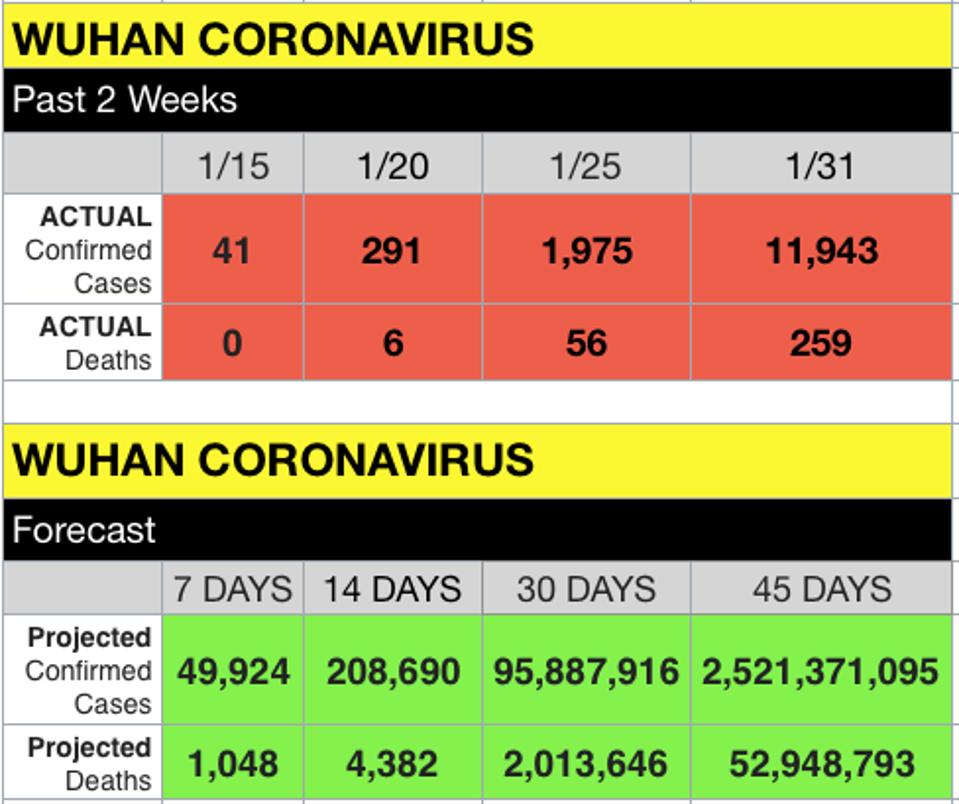 From 50,000 infections and 1,000 deaths after a week to 208,000 infections and almost 4,400 deaths after two weeks, the numbers keep growing as each infected person infects others in turn. And in 30 days, the AI model says, two million could die and in just 15 more days, the death toll skyrockets enough to eliminate humans in millions.
Artificial Intelligence in Medical Epidemiology Prediction
As per the report AI in medical epidemiology predicted dengue with more than 80 percent accuracy in Malaysia. AI in medical epidemiology predicted the outbreaks of dengue in Penang, Malaysia for 37 locations while the actual outbreak was 30, accounting more than 80% accuracy in prediction, making AI reliable in such epidemic prediction.
Though, scientists are developing ways to use AI to predict the spread of such contagious diseases before they happen. Though, the process is extremely complicated, successful implementation of predictive modeling could represent a major leap forward in the fight to rid the world of some of the most insidious infectious diseases.
How AI Can be Improved to Predict Coronavirus Like Epidemic?
However, as per multiple doctors and medical professionals, there is good news, the model doesn't know every factor, as conditions and data fed into the neural network are changing and these conditions change, the results will also change.
However, in coronavirus like epidemic AI could predict the number of potential new cases by area and which types of populations will be at risk the most. This type of technology could be used to warn travelers so that vulnerable populations can wear proper medical masks while traveling or take other precautions to prevent such infections.
Video: How AI Can Help to Control Coronavirus or Other Deadly Diseases?
Earlier researchers have built AI-based models that can predict outbreaks of the Zika virus in real time, which can inform how doctors respond to potential crises. AI could also be used to guide how public health officials distribute resources during a crisis. That will effectively work like AI stands to be a new first line of defense against such diseases.
Also Read: How AI is Used in Healthcare to Control the Coronavirus Disease
AI in healthcare is already playing a vital role in assisting with researching new drugs, tackling rare diseases, and detecting breast cancer. AI was even used to identify insects that spread Chagas, an incurable and potentially deadly disease that has infected an estimated 8 million people in Mexico and Central and South America.
And now AI increasing interest in using non-health data like social media posts helping health policymakers and drug companies understand the breadth of a health crisis. For instance, AI that can mine social media posts to track illegal opioid sales, and keep public health officials informed about these controlled substances spread.
The Uncertainty Factor While Relying on AI
One of the core strengths of AI is while identifying and limiting the effects of virus outbreaks is its incredibly insistent nature. The machine never tire, can sift through enormous amounts of healthcare data, and identify possible correlations and causations that humans can't in a fast manner and if the amount of data is huge or very complex to analyze.
While on the other hand, there are limitations of AI – the ability to both identify virus outbreaks and predict how they will spread. Let's take the best-known example comes from the neighboring field of big data analytics.
At its launch, Google Flu Trends was heralded as a great leap forward in relation to identifying and estimating the spread of the flu — until it underestimated the 2013 flu season by a whopping 140 percent and was quietly put to rest.
Data Quality is Important for AI-based Predictions
Poor data quality was identified as one of the main reasons Google Flu Trends failed. Unreliable or faulty data can create confusion on AI-based prediction. In our increasingly interconnected world, tracking the movements of potentially infected individuals (by car, trains, buses, or planes) is just one vector surrounded by a lot of uncertainty.
But, BlueDot was able to correctly identify the coronavirus, in part dueto its AI technology, illustrates that smart computer systems canbe incredibly useful in helping us navigate these uncertainties.
And most importantly, it is not the same as AI being at a point where it precisely does so on its own – and that is the reason BlueDot employs only human experts to validate the AI's findings.
Nevertheless, to ensure the accuracy of AI-based predictions for such an epidemic, a quality and reliable source of training data is necessary for supervised machine learning.
Also Read: Reasons Why AI and ML Projects Fail Due to Training Data Issues
Hospitals, medical centers and healthcare organizations need to share the labeled medical images of such infected people to AI developers, so that they utilize the same and help the medical science and AI engineers develop a reliable AI model.
So that symptoms could be identified by the doctors and annotated to make it recognizable to computer vision through machine learning algorithms. In this case, the radiologist described Novel Coronavirus (2019-nCoV) Pneumonia through CT Imaging.
And when a huge amount of such CT scan images are manually annotated by experienced radiologists, it is used as a training data for machine learning AI models, that can in future detect such infections if similar symptoms are visible among the people. And as much as data used in the algorithm training, the accuracy of prediction by the model would be high.
Top 5 Applications of Image Annotation in Machine Learning & AI
At the time of developing the AI models through machine learning (ML) first and most important thing you need, relevant training data sets, which can only help the algorithms understand the scenario through new data or seeing the objects and predict when used in real-life making various tasks autonomous.
In the visual perception based AI model, you need images, containing the objects that we see in our real life. And to make the object of interest recognizable to such models the images need to be annotated with the right techniques. And image annotation is the process, used to create such annotated images. The applications of image annotation in machine learning and AI is substantial in terms of model success.
What is Image Annotation?
So, right here we will discuss the applications of the image annotation, but before we proceed, we need to review the definition of image annotation and its use in the AI industry. Image annotation is the process of making the object of interest detectable and recognizable to machines.
And to make such objects recognizable in the images, they are annotated with added metadata for the description of the object. And when a huge amount of similar data is feed into the model, it becomes trained enough to recognize the objects when new data is presented in real-life situations.
5 APPLICATIONS OF IMAGE ANNOTATION
Annotated images are mainly used to make the machine learn how to detect the different types of objects. But as per the AI model functions, ML algorithms compatibility and use in the various industries, image annotation applications also differ that all about we will discuss here below with the annotation types.
Detection of Object of Interest
The most important application of image annotation is detecting the objects in the images. In an image, there are multiple things, or you can say objects, but every object would be not required to get noticed by the machines. But the object of interest need to be get detected, and the image annotation technique is applied to annotate and make such objects detectable through computer vision technology.
Also Read: What Is Computer Vision In Machine Learning And AI: How It Works
Recognition of Types of Objects
After detecting the object, it is also important to recognize what types of objects it is, humans, animals or non-living objects like vehicles, street poles and other man-made objects visible in the natural environment. Here again image annotation helps to recognize the objects in the images.
Though, object detection and recognition runs simultaneously, and while annotating the objects in various cases, the notes or metadata is added to describe the attributes and nature of the object, so that machine can easily recognize such things and store the information for the future references.
Classification of Different Objects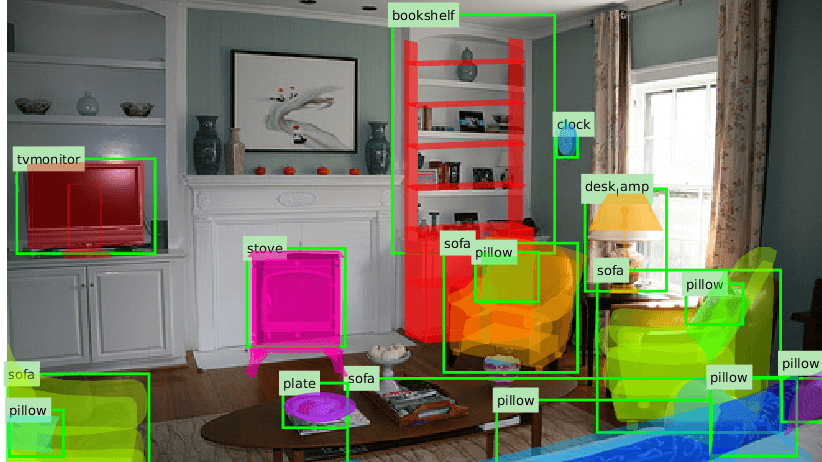 It is not necessary all objects in an image belong to the same category, if a dog is visible with man, it needs to be classified or categorized to differentiate both of them. Classification of the objects in the images is another important application of image annotation used in machine learning training.
Also Read: The Main Purpose Of Image Annotations Is To Develop AI Model
Along with image classification, the localization of objects is also done through image annotation practice. In image annotation, there are multiple techniques, used to annotate the objects and classified into the different categories helping the visual perception based AI model detect and categorize the objects.
Segmentation of Object in the Single Class
Just like object classification, objects in the single class need to be segmented to make it more clear about the object, its category, position and its attributes. Semantic segmentation image annotation is used to annotate the objects with each pixel in the image belongs to a single class.
The main applications of image annotation are to make the AI model or machine learning algorithm learn with more accuracy about objects in the images. For semantic segmentation, image annotation is basically applied for deep learning-based AI models to give precise results in various scenarios.
Recognizing the Humans Faces & Poses
AI cameras in smartphones or security surveillance are now able to recognize the face of humans. And do you how it became possible in AI world? Thanks to image annotation, that makes the humans face recognizable through computer vision with the ability to identify the person from the database and discriminate them among the huge crowd from the security surveillance system perspective.
In image annotation for face recognition algorithms, the faces of humans are annotated from one point to another point measuring the dimension of the face and its various points like chin, ears eyes, nose and mouth. And these facial landmarks are annotated and provided to the image classification system. Hence, image annotation is playing another important role in recognizing the people from their faces.
TYPES OF IMAGE ANNOTATION
I hope you got to know the applications of image annotation in the world of AI and machine learning. Now you should know what are the types of image annotations used to create the machine learning training datasets for deep learning-based AI models? And we will also discuss here the application of different types of image annotation into various industries, fields and sectors with uses cases of AI-based models.
Bounding Box Annotation to Easily Detect the Objects
Bounding box annotation is one of the most popular techniques used to detect the objects in the images. The object of interest are annotated either in a rectangular or square shape to make the object recognizable to machines through computer vision. All types of AI models like self-driving cars, robots, autonomous flying objects and AI security cameras relying on data created by bounding box annotation.
Semantic Segmentation to Localize Objects in Single Class
To recognize, classify and segment the objects in the single class, semantic image segmentation is used to annotate the objects for more accurate detection by machines. It is actually, the process of diving the images into multiple segments of an object having the different semantic definitions. Autonomous vehicles and drones, need such training data to improve the performance of the AI model.
3D Point Cloud Annotation to Detect the Minor Objects
The image annotation applications not only include object detection or recognition, but even can also measure or estimate the types and dimensions of the object. 3D point cloud annotation is the technique that helps to make such objects detectable to machines through computer vision. Self-driving cars are the use case, where training data sets are created through 3D point cloud annotation. This image annotation helps to detect the object with additional attributes including lane and sideways path detection.
Landmark Annotation to Detect Human Faces & Gestures
Landmark annotation is another type of image annotation technique used to detect human faces. AI models like AI cameras in security surveillance, smartphones and other devices can detect the human faces and recognize the gestures and various human possess. Landmarking is also used in sports analytics to analyze the human possess performed while playing outdoor games. Cogito provides the landmark point annotation with the next-level of accuracy for precise detection of human faces or their poses.
3D Cuboid Annotation to Detect the Object with Dimension
Detecting the dimensions of the object is also important for AI models to get a more accurate measurement of various objects. The 2D images are annotated with capturing all the dimensions visible in the image to build a ground truth dataset for 3D perception on the objects of interest. Again autonomous vehicles, AI robots and visual perception models used to detect the indoor objects like carton boxes with the dimension need such annotated images, created through 3D cuboid annotation.
Polygon Annotation to Detect Asymmetrical Shaped Objects
Similarly, polygon annotation is used to annotate the objects that are in irregular shapes. Coarse or asymmetrical objects can be made recognizable through the polygon image annotation technique. Mainly road marking or other objects are annotated for the self-driving cars. And autonomous flying objects like drones, viewing the objects from Ariel view can detect or recognize such things when trained with training data sets created through polygon annotation for precise object detection.
Polyline/Splines/Line Annotation for Lane or Path Detection
Lines, Polylines and Splines are all similar types of image annotations used to create the training data sets allowing computer vision systems to consider the divisions between important regions of an image. The boundaries, annotating lines or splines are useful to detect lanes for self-driving cars. Road surface marking that are indicating the instructions of driving on the road need to also make understandable to autonomous cars. Polyline annotation that divides one region from another region.
The right applications of image annotation are possible when you use the right tools and techniques to create high-quality training data sets for machine learning. And Cogito is the industry leader in human-powered image annotation services with the best level of accuracy for different AI models or use cases. Working with a team of well-trained and experienced annotators, it can produce the machine learning training data sets for healthcare, agriculture, retail, automotive, drones and robotics.
This article was originally written for cogitotech.com
Types of Medical Diagnostic Imaging Analysis by Deep Learning AI
Artificial intelligence (AI) and machine learning have enough potential to make various tasks in the healthcare industry possible with accurate performance. Patient's timely disease diagnosis and the right decision is an important part of hospitals to improve the overall healthcare system.
Medical imaging is playing a vital role in diagnosing the various types of diseases among patients across the healthcare system. MRI, CT Scan, Ultrasound and X-Rays are the key medical images use to diagnosis the disease, which is usually performed manually by the specialist doctors called Radiologists.
But now, Artificial intelligence in medical diagnosis is helping radiologists to use such images and detect the maladies with an acceptable level of accuracy. And now AI is capable enough to detect the different types of critical diseases with more level of accuracy.
To make the AI model, learn and detect, similar medical images are used that are annotated by the experienced radiologist to make the affected areas recognizable to machines through computer vision. So, today we will discuss here types of medical diagnostic imaging used to train the machine learning models and what are the data annotation techniques to create such medical imaging training data for AI.
Types of Diseases Diagnosed with AI in Medical Imaging
Detecting the Neurological Abnormalities
AI in neuroimaging is now detecting brain-related injuries, blood clotting and other neurological disorders with a high level of accuracy. A team of Radiologists annotate and highlight such brain-related disorders and helping the algorithms learn from the same.
Once the machine learning algorithms, get fully trained to diagnose and predict the brain-related problems, it can be used on the place of radiologist making the medical imaging diagnosis process faster and more correct for timely detection of brain diseases.
Also Read: How AI in Medical Imaging Can Help in Diagnosis of Coronavirus
Semantic segmentation and polygon annotation are the leading techniques used to label the medical imaging training data for brain-related abnormalities.
Screening of the Common Cancers
Cancer – one of the most common and deadly diseases, people are fighting to survive globally. Cancer is more life-threatening if diagnosed at last or critical stage of development. At this level, it becomes difficult for the oncologist to save the patients from dying.
Also Read: How Does Google AI Detect Breast Cancer Better Than Radiologists
Breast cancer and prostate cancer are the most common types of cancers found in women and men respectively taking their lives due to lack of timely detection. In breast cancer, microcalcification is the key tissue sometimes difficult to conclusively identify as it could be either malignant or benign.
And if the diagnosis was false positives it could lead to unnecessary invasive testing or treatment, while missed malignancies could result in delayed diagnoses and worse outcomes for the patients. Similarly, AI deep learning" can detect the prostate and other types of cancers with accurate results.
Also Read: How Does AI Detect Cancer in Lung Skin Prostate Breast and Ovary
Diagnosing the Infections in Kidney & Liver
AI is widely used and getting increasingly popular in the medical imaging of the liver, including radiology, ultrasound, and nuclear medicine. In liver medical imaging, physicians usually detect, characterize, and monitor diseases by assessing liver medical images visually.
However, sometimes, such visual assessment, done by experts or experienced radiologist doctors, may be biased due to personal experiences and inaccuracy. While on the other hand, AI can make a quantitative assessment by recognizing imaging information automatically instead of such qualitative reasoning as more accurate and reproductive imaging diagnosis.
Whereas, AI applications in kidney disease are currently no significant, but the potential of AI in the management of kidney disease is well recognized by clinicians, hence the role of AI in kidney disease diagnosis will improve the diagnosis process in the future.
Also Read: How AI Robotics is Used in Healthcare: Types of Medical Robotics
Acute kidney problems like severe infections and stones can be detected with an AI-enabled medical imaging process. Basically, the function of AI in kidney disease mainly focuses on four aspects: Alerting systems, Diagnostic assistance, Guiding treatment and evaluating prognosis.
And with well-organized and annotated training a machine learning models can predict the kidney failure possibilities among the patients suffering from kidney-related problems. To detect the kidney stones, bounding box annotation is used to make such ailments recognizable to machines.
Brain Tumor Detection with High Accuracy
Just like cancers, tumors are also life-threatening disease, especially if it is developed in the brain. And AI in brain tumor detection is also possible with a precise medical imaging technique. As per the various research and studies, in brain tumor detection, the AI-based diagnosis was 94.6% accurate, compared with 93.9% for the pathologist-based interpretation.
Semantic segmentation technique is used to create such medical imaging data used for machine learning for brain tumor diagnosis. And as per the new studies, a novel method of combining advanced optical imaging with an artificial intelligence algorithm produces an accurate, real-time intraoperative diagnosis of brain tumors.
Machine Learning for AI in Dental Imaging Analysis
AI in dentistry for dental image analysis is playing an important role to find out the conditions of teeth helping doctors to recommend the right treatment. Using the dental image analysis, AI models can detect the teeth related problems including damaged teeth, uneven teeth structure or cavities and other maladies inside the roots of the teeth.
Also Read: How Machine Learning In Dentistry Can Improve The Dental Imaging Analysis
In dentistry, the affected or damaged teeth conditions are outlined in the X-Ray images by an experienced radiologist, once such data sets get ready, it is used in ML. The ML algorithm learns from varied types of annotated dental x-rays, and learn from such source data, that is further used to detect when shown such x-rays and predict the teeth condition.
Semantic segmentation is one of them used for detection, classification and segmentation of objects (teeth) in dentistry. Highly experienced dentist cum radiologist, examine the medical images or x-rays and annotate the affected areas with accuracy. Such a practice can create a huge amount of training data sets for machine learning in dentistry.
Detecting the Bone Fractures and Musculoskeletal Injuries
The invisible bone fractures and other hidden musculoskeletal injuries can be fatal if undetected or untreated for a long time. Hip fractures and bone injuries in elderly persons are more critical due to reductions in mobility and associated hospitalizations.
But medical imaging with machine learning, AI in fracture detection can diagnose the bone ruptures with the next-level of accuracy. X-ray imaging provides images of the body's internal structures and when the fractured areas are annotated, it becomes delectable to machines through computer vision algorithm training with the huge amount of similar machine learning training data sets feed into the model.
Summing-up
AI in radiology is going to play a big role in diagnosing the various types of diseases including the critical maladies with a high level of accuracy. And further, with more improved or high-quality medical imaging data the diagnosis process and prediction accuracy will be better making the medical treatment and healthcare procedure more efficient and effective.
And Anolytics is one of the leading data annotation companies, providing the machine learning training data sets for AI developments in different industries like automotive, retail, agriculture and healthcare, etc. It is also offering a medical image dataset to train the AI models for diagnosing the various types of diseases with a high level of accuracy at every stage.
This article was originally written for anolytics.ai
How AI Can be Used in Smart Cities: Applications Role & Challenge
As per the international organization reports, more than fifty percent population globally living in urban areas, and by 2050, more than two-third population will live in cities providing big investment opportunities of tech development companies.
As per the IDC report, by 2021, the spending on smart cities likely to reach more than $130 billion to make the urban areas and cities more livable with advanced infrastructural facilities and society management systems.  
AI in smart cities is going to play a big role in making urbanization smarter aim to be sustainable growth making the cities equipped with advanced features to live, walk, shop and enjoy a safe and more convenient life in such an environment.  
Actually, while developing cities to make smart, several challenges likeadministration, sanitation, traffic congestion, securitysurveillance, parking management and many more that AI can helpto provide a sustainable solution to habitants.
USE OR APPLICATIONS OF AI IN SMART CITIES
The use of artificial intelligence in smart cities can be life-changing if implemented in the right spaces. There are multiple zones in cities or in urban development where AI can be used to improve the performance and efficiency of the system.  
Advance Security Camera & Surveillance System
AI-enabled cameras and sensors can keep an eye on the surroundings to enhance the security level in the city's neighborhoods. Such cameras can recognize the people and their faces or track the unusual activities done by them in restricted areas.
Watch Video: How AI-enabled Security Cameras Helping Police Monitor Illegal Activities in the Cities
The high-resolution AI cameras can track the movement of all registered vehicles and can monitor crowd density and cleanliness of public spaces round-the-clock. And thanks to the historic data available from different departments of the city, police can predict category and intensity of crimes monitoring all such activities in a particular area. 
Vehicle Parking and Traffic Management System
In cities, most of the people have their own cars and also there is a huge movement of commercial vehicles to transport people as well as goods. So, parking of such vehicles and traffic management is another space where AI can help.
Watch Video: How to AI is Solving the Car Parking Problems in the Cities
Using the road surface sensors or CCTV cameras incorporated into parking spots allow cities to create real-time parking and traffic maps, helping drivers to save their time by avoiding waiting to find an empty space to move smoothly or be in traffic.
AI-supported traffic sensor systems can use cameras to collect real-time data of vehicles on road, and send it to a control center, which collates the data fed from other points and adjusts the signal timings to ensure smooth flow of vehicles.
Smart transportation also includes the public sector, and thanks to AI, there are lots of opportunities for improvement of public transit. And now cab services like Uber are also using AI to give a better riding experience to its customers.
Autonomous Flying Objects for Ariel View Monitoring
AI-enabled drones or autonomous flying similar objects can be used to monitor the inner-city and houses or other concerning areas. The in-built cameras in drones help to provide the real-time visuals of the different locations where humans cannot reach easily or quickly helping the administration and security departments to take timely actions.   
Also Read: How AI Based Drone Works: Artificial Intelligence Drone Use Cases
Autonomous flying drones can track humans, monitor traffic movement and provide the 2D aerial view imagery mapping for better urbanization of cities. It can be used for advanced security and surveillance for security departments and crime squad.  
Watch Video: How Autonomous Flying Drones used for Ariel View Monitoring
Face Detection Cameras and Movement for Public Safety
AI in face recognition technology is capable to detect the different people from their faces disclosing their personal identities. AI in security cameras or drones can recognize the human faces and match with the database to trace his identity and authenticate the person entering the cities, societies and other restricted areas.   
Watch Video: How AI Cameras used for Face Detection & Public Movement  
Landmarking annotation is the technique used to train the AI-based model in the face recognition system. And to make cities smart, such high-level of face detection technology is necessary to make the surroundings more safe and private.      
Smart Waste and Disposal Management System
People living in cities produce a huge amount of waste that is another challenge for urban management to find the right way of managing garbage and keep the environment clean to maintain the hygiene level in society. AI-enabled cameras can detect trash thrown on the street and recognize the types of garbage for categorization.     
Watch Video: How AI-enabled Smart Waste Management System Works
But AI-enabled installing sensors on waste bins can make the waste collection more efficient. Authorities can receive notifications when the bins are about to be filled and ensure reducing operational costs by eliminating unnecessary pickups, providing dynamic collection routes, and schedules for optimization of waste management.
Better Governance and Planning Management
While developing the cities or urban townships, AI or machine learning techniques can be used to map land use across time to generate crucial insights using the satellite imagery and aerial view 2D or 3D images of geographical areas.
The algorithms trained through machine learning can analyze satellite images for city planning and development with scope to adjust the formation based on changing data, areas prone to calamities like flooding, earthquake and storms. Such real-time as well as historical data, can continuously be monitored to enable better governance. 
BENEFITS OF SMART CITY DEVELOPMENT
The integration of AI in smart cities has multiple benefits for humans as well as the environment. From an eco-friendly environment to sustainable development, AI in smart cities comes with multiple types of advantages for everyone discussed below.
Also Read: How Can Artificial Intelligence Benefit Humans
Positive Impact on the Environmental
One of the best benefits of smart city development is that there will CO2 emission and it would be the main driver behind the development of smart and sustainable cities. And it would be possible due to energy-efficient and eco-friendly, waste and traffic management, which helps to curb pollution and makes the environment less polluted.     
Optimized Energy & Water Management
Similarly, in smart cities, the power generating grid and smart water management are leading factors that help to produce energy with less pollution. Such an approach also helps to get clean drinking water keep our environment clean.   
More Accessible Transportation System
In smart cities, clean and efficient transportation of goods, services are essential for the people. In the hope of optimizing mobility, many cities are turning to smart technologies to ease traffic congestion and provide users with real-time updates.
Advance Security and Safety in the Public
The safety of the people in the cities is at topmost priority in such cities. The AI-enabled development of smart cities allowing municipalities to better monitor their citizen's thanks to CCTV cameras with facial recognition. Furthermore, AI cameras are also equipped with motion and smoke detectors for better security surveillance.  
AI SMART CITY CHALLENGE
Achieving the AI in smart cities is not a simple task, as there are multiple challenges in making the cities smart. Apart from lack of funds, lack of technological edge and other things discussed below make it difficult to develop such cities.
Infrastructure and Costing
Most of the devices, equipment, systems, and machines installed in smart cities use sensor technology to gather and analyze information such as rush hour stats, gather a huge amount of data from AI cameras or other security systems or air quality or crime rates. The implementation of these sensors requires a sophisticated and costly infrastructure.
Security and Privacy Concerns
Another challenge in developing such metropolises is security and privacy of people living in such cities. As the data of monitoring people or watching their activities gathered can be regarded as a challenge as the use of IoT and sensor technology increases.
Besides, the threat of cyber-attacks is a critical issue for smart cities. Hence, to avoid concerns about data use, smart cities need to involve their citizens. Awareness, education, and transparency on the purpose of data collection are crucial to make the community feel that they are truly taking part in making their city more sustainable.
Risk of Socialization
While developing such cities, inclusive urbanization must be a priority to deal with the increasing vulnerability of poor and slum populations. That is why we need to ensure that no population is excluded from smart city data collection and use. Covering all age, gender, class and income group of people from society is necessary.  
How Do Smart Cities Aim to be Sustainable?
AI in smart cities development can play a crucial role in urban planning, development and management with the an advance security systems, traffic monitoring and disposal management to make the societies more secured and livable with access and control of their home and other activities making their living experience more enjoyable and comfortable. 
And to develop the AI-enabled systems for smart city development, machine learning and AI companies need a huge amount of training data for smart cities to train the models like drones, AI security camera and face recognition system to work with accuracy and provide the correct information making the smart cities really smart for sustainable growth.