How Does Google AI Detect Breast Cancer Better Than Radiologists?
AI in healthcare is becoming more crucial with early detection of various diseases with better accuracy. Cancer is one the widespread deadly disease can be now detected through machine learning and AI-enabled automated machines.
Breast cancer is most common among women worldwide. However, more than 90% of women diagnosed with breast cancer at the earliest stage survive their disease for at least 5 years compared to around 15% for women diagnosed with the most advanced stage of the disease, which is now possible with AI.
Also Read: How Does AI Detect Cancer in Lung Skin Prostate Breast and Ovary?
Though, AI is already diagnosing breast cancer but owing to accuracy, the reliability among the doctors was less. But now Google has developed an AI system that can detect the early signs of breast cancer better than radiologists.
Research of Google Breast Cancer AI
In the research, the Google's AI model called DeepMind AI was trained and tuned on a representative data set comprised of de-identified mammograms from more than 76,000 women in the U.K. and more than 15,000 women in the U.S.
The AI model is trained to see if it could learn to spot signs of breast cancer in the scans. The model was then evaluated on a separate de-identified data set of more than 25,000 women in the U.K. and over 3,000 women in the United States.
In this study, researchers conducted a test where Google's AI system was pitted against six radiologists where the AI managed to outperform all six of them at accurately detecting breast cancer among these women at better accuracy.
Also Read: How Does AI Work in Radiology: Applications and Use Cases
Earlier, when a similar study is conducted in which the team first trained AI to scan X-ray images, then looked for signs of breast cancer by identifying changes in the breasts of the 28,000 women. They then checked the computer's guesses against the women's' actual medical outcomes, reducing the reliability of such applications.
But now, the accuracy level has improved and reduced false negatives by 9.4% and cut down false positives by 5.7% for women in the US. In the UK, where two radiologists typically double-check the results, the model cut down false negatives by 2.7% and reduced false positives by 1.2% make AI more reliable.
How Does AI Detect Breast Cancer?
Breast cancer diagnosis is done by oncologist's human knowledge and intuition of what major risk factors might be, such as age, family history of breast and ovarian cancer, hormonal and reproductive factors, and breast density.
While AI in breast cancer diagnosis, rather than manually identifying the patterns in a mammogram that drives future cancer, the MIT/MGH team trained a deep-learning model to deduce the patterns directly from the medical imaging data.
Video: How AI Model Improves Breast Cancer Detection on Mammograms
And using the information from more than 90,000 mammograms, the model detected patterns too subtle for the human eye to detect the cancer cells. The Google breast cancer AI algorithms are used to learn such patterns and predict.
You can check below an image showing the visualization of tumor growth and metastatic spread in breast cancer with screening to detect breast cancer early, before symptoms develop.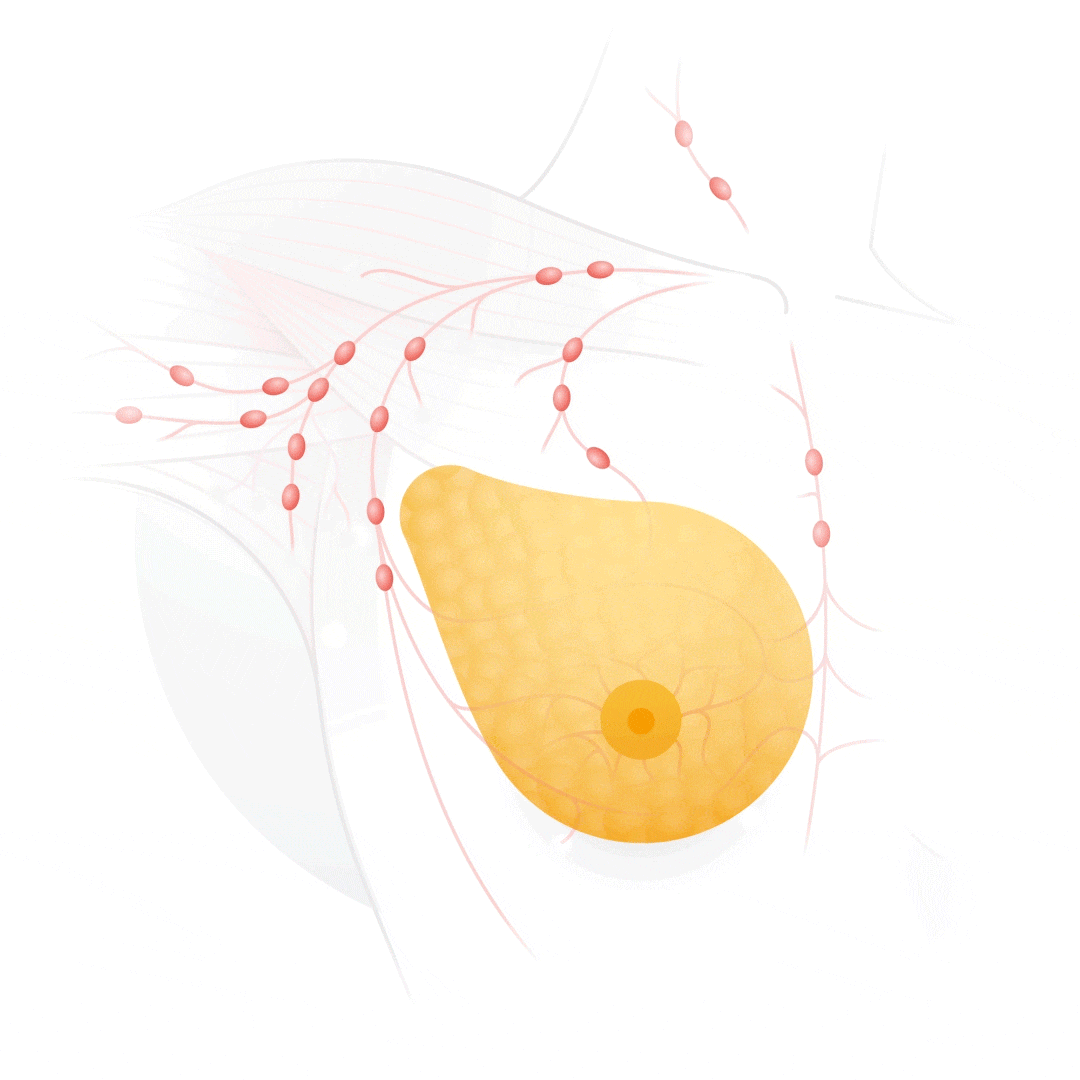 Actually, the demographics of the population studied by the authors are not well defined in the previous AI-based detection. As the performance of AI algorithms can be highly dependent on the population used in the training data sets.
And these training data sets are created by annotating the medical images of breast infected with cancer available in various formats like X-rays, CT Scan and MRI. A huge amount of such labeled data is used to train the AI algorithms.
There are many companies providing healthcare training data with annotated medical imaging to train the AI and ML models with accuracy.
And with the availability of such data, detection of various types of other common cancer through AI will become possible benefiting the humans saving their life from such maladies.
Also Read: How Can Artificial Intelligence Benefit Humans?
How AI is Used in Healthcare to Control the Coronavirus Disease?
Coronavirus or scientific name COVID-19, is one the most deadly virus of the century infected around 10 million people and killed tens of thousands of folks globally. Being declared a pandemic by WHO, this infection is spreading among the people at a very fast speed, bringing down the mass population at the hospital bed affecting the world economy.
As, coronavirus is a highly contagious disease, worldwide Governments have lockdown the cities to stop or minimize the further spread of infection due to community transmission. However, this kind of approach is also affecting the economic activities, impacting the global economy due to halted productions of goods and services.     
Actually, the reason behind lockdown is that, there is no medicine or vaccine specifically developed to treat or cure the coronavirus infected patients. People who are infected with coronavirus infection in critical conditions are killed to death.     
Also Read: How Exactly Coronavirus Attacks, Infects & Affects Body to Death
Though, medical researchers and scientists are endeavoring day-night with their best efforts to develop the medicine, but until such medicine or vaccine get developed to control this infection spreading among more humans is the best option to minimize its post-impact on the whole world in terms of causalities, social changes or economic growth.  
AI in Healthcare
However, meanwhile, countries are using the cutting-edge and most advance technologies into the healthcare system to combat the coronavirus. And AI in healthcare is playing a vital role in fighting with this disease and assist medical staff to minimize their efforts and help patients to recover soon without risk of community transfer. 
Also Read: WhereIs Artificial Intelligence Used: Areas Where AI Can Be Used
Though, Machine Learning (ML) and Artificial Intelligence (AI) based systems, machines and models are being used in hospitals, medical centers and healthcare organizations to track the activities of patients, monitor their health, assist them physically or give the useful information of patients to the doctors to provide the right treatments and care.     
Actually, there are many AI-enabled devices, machines, systems and applications can be used to deal during the treatment and care of patients fighting with such deadly disease. So, right here we will discuss how big data and AI is used in the healthcare system to combat the coronavirus outbreak in the different part of the countries globally.
AI Robots for Food Deliveries & Disinfection
Robotics technology is not new to the world, but AI-enabled robots are playing a crucial role in assisting medical staff or helping patients. It is used to deliver food, spray disinfectants and performed basic diagnostic functions, in order to minimize the risk of cross-infection, which is the most dangerous part of coronavirus transmission. 
In various hospitals, robots are used to diagnose and conduct thermal imaging to check body temperature and other symptoms in humans.  In China, Shenzhen-based Pudu Technology, which usually makes robots for the catering industry, installed its machines in more than 40 hospitals all over the country to help medical staff.
AI Drones for Monitoring & Medical Supplies
Similarly, AI in drones developed with the help of machine learning technology to train such autonomous flying objects to perform various actions at places where humans can't reach easily or need extra time or effort to complete the action.
Actually, AI-enabled drones are equipped with multiple advance features like a high-resolution camera with object and face detection technology or navigate automatically while controlled by the people distantly to deliver goods easily.
Also Read: How AI Based Drone Works: Artificial Intelligence Drone Use Cases
Amid coronavirus control, Drones are also flying with QR code placardsthat can be scanned to register health information. While agriculture dronesthat are used for spraying pesticides are now used to spray disinfectants inthe countryside.
Furthermore, during the lockdown, face recognition enabled Drones are also being used to alert or announce warnings to the citizens to not come out of their homes and also advise them to wear a mask and maintain the social distancing.
In China, drones are used to alert people while creating a kind of automated surveillance in infected areas. The drones are also being used to inform people about the areas that could be potentially infected, thanks to the integration of AI in drones.
Autonomous Vehicles to Transport Goods
Though, self-driving cars are not full-fledge in use, but AI-enabled driverless autonomous vehicles are used to deliver essential products. To avoid human contacts at coronavirus hospitals and healthcare centers, autonomous vehicles are proving to be of great utility in delivering essential goods like medicines supplies and various foodstuffs.   
These driverless vehicles are trained and developed with AI-based technology to detect objects and visualize their surroundings through computer vision and sensor technology to move in the right direction without any collision.
Watch Video: How AI Robots & Drones are used in Coronavirus Control
And some of the autonomous vehicles are also used in China is used to disinfect hospitals. Apollo, a Baidu's autonomous vehicle platform, working jointly with self-driving Car Company to deliver supplies and food to a big hospital. 
Facial Recognition System to Detect Humans
Using computer vision technology, the face recognition system is utilized to detect humans. And AI-enabled security cameras is making security and surveillance system more effective to monitor the human activities around the cities.
Meanwhile, AI companies using big data are also developing a dashboard for face recognition and infrared temperature detection in all the leading cities where mass gathering or movement of people happens every day.
Such AI security camera system also helping healthcare authorities and security agencies to monitor the people quarantined step outside during lockdown. It can detect people wandering in groups or not wearing the facemasks.
Watch Video: In China How Face Recognition is used to Identify People Wearing Mask
Shared Big Data for Analysis & Predictions
The AI and ML-based models are developed with a huge amount of data sets from that particular field. Similarly, in the case of coronavirus outbreak control and treatment, the big data is analyzed to predict the further spread of such a virus.
Social media giant, Facebook is working with researchers at Harvard University's School of Public Health and the National Tsing Hua University, in Taiwan, sharing anonymized data about people's movements and high-resolution population density maps, which help them forecast the spread of the virus in other parts of the different nations.
This social media networking website is also helping partners understand how people are talking about the issue online, via tools to aggregate social media posts talking about such an epidemic. Previously, Google search data has been used to track infectious diseases helping healthcare authorities to take preventive measures timely. 
Similarly, Smartphone apps are also being used to keep a tab on people's movements and ascertain whether or not they have been in contact with an infected person. A leading Chinese telecom company China Mobile using to send text messages to state media agencies, informing them about the people who have been infected in the country.
Helping to Discover the Drugs for COVID-19
AI is not only integrated into machines through machine learning but playing a great role in discovering the right drug for COVID-19 like new diseases. 
Actually, in drug medicine, AI can help in various ways to combat this deadly disease. AI is helping medical researchers and doctors to rapidly develop antibiotics and vaccines for the COVID-19 virus, scan through existing drugs to see if any could be repurposed and design a drug to fight both the current and future coronavirus outbreaks.
Even, an AI-driven platform for drug discovery has identified nine potential drugs that can relief against COVID-19 and six of them are already approved in many countries and used by doctors to cure patients helping them to recover.
It can identify molecules with potential effects on the coronavirus replication. The fact that this time the potential treatments were found among existing drugs marks a significant improvement over previous efforts to use AI against COVID-19.
Meanwhile, Google-owned AI Company, DeepMind, has used its AlphaFold system to release structure predictions of several proteins associated with the virus. AI is also helping to develop the vaccine which could take 18 to 24 months.
Also Read: Why Vaccine Development Process for New Diseases Like Coronavirus Takes 12 to 18 Months
Doctors using the medical images datasets of coronavirus infected person to understand the complexities of infection and analyze the epidemiologic characteristics, clinical manifestations, chest images, and laboratory findings. And the diagnosis of 2019-nCoV pneumonia can be used to train the AI models to detect similar symptoms among patients.   
Summing-up
Overall, AI integrated into the various systems, machines and devices are making the healthcare system more automated with an acceptable level of accuracy. And if machine learning engineers and data scientists use more quality healthcare training data to develop such AI models, it would become easier to predict or combat with such deadly diseases. 
Companies are providing the healthcare training data in the form of annotated images of radiology scans like MRI, CT Scans that are used to train the computer vision-based AI models. They can annotate all medical imaging to provide algorithm training datasets using various popular image annotation techniques like semantic segmentation and polygon image annotation for organ segmentation and disease diagnosis with the best level of accuracy.
Also Read: How Does AI Work in Radiology: Applications and Use Cases
What Is The Use And Purpose Of Video Annotation In Deep Learning?
Just like image annotation, video annotation also helps machines to recognize the objects through computer vision. Basically, the main motive of video annotation is detecting the moving objects in the videos and makes it recognizable with frame-to-frame outlining of objects to train the AI models developed with deep learning.  
Also Read: The Main Objective of Image Annotation in Machine Learning & AI
Use of Video Annotation
Apart from, detecting and recognizing the objects, which are also possible through image annotation, there are various reasons video annotation is used in creating the training data set for visual perception based AI models observe varied objects.
Actually, these models get trained through an algorithm to perceive the various types of objects through video annotation service. So, right here, apart from object detection, we will explain what is the use and purpose of video annotation in deep learning.
Frame-by-Frame Objects Detection
The first and most use and purpose of video annotation is capturing the object of interest frame-by-frame and making it recognizable to machines. The moving objects run on the screen annotated using the special tool for precise detection through machine learning algorithms used to train the visual perception based AI models.    
Object Localization for Computer Vision
Another use of video annotation is localizing the objects in the video. Actually, there are multiple objects visible in a video and localization helps to locate the main object in an image, means the object mostly visible and focused in the frame. Actually, the main task of object localization is to predict the object in an image with its boundaries.
Object Tracking for Autonomous Vehicle
Another important use of video annotation is help visual perception AI model build for autonomous vehicle is after detecting and recognizing the objects track the varied category of objects like pedestrians, street lights, sign boards, traffic lanes, signals, cyclists and vehicles moving on the road while self-driving cars is running on the street.
Tracking the Human Activity and Poses
Another significant purpose of video annotation is again to train the computer vision based AI or machine learning model track the human activities and estimate the poses. This is mainly done in sports fields to track the actions athletes perform during the competitions and sports events helping machines to estimates the human poses.
These are various use of video annotation, and all these are done for the computer vision to train the visual perception based model through machine learning algorithms. In self-driving cars and autonomous flying drones, video annotation is mainly used to train the model for precise detection, recognition and localization of varied objects.
There are many video annotation companies providing the data labeling service for AI and machine learning. If you need a video annotation for deep learning, you can get in touch with Anolytics, that offers a world-class video annotation service to annotate the object of interest with frame-by-frame annotation at best level of accuracy.
How AI Can Predict Coronavirus like Epidemic Before it Outbreaks?
AI in healthcare is already developed enough to diagnosis various types of critical diseases, but in case of the epidemic it failed and not able to predict timely, that took the life of many people across the world and still spreading further became a health emergency.
I'm talking about "Coronavirus Infection" – that started in mid-December in China and now transmitted to all major countries worldwide. This high contagious infection took lives of more than 800 people and infected over 37000 people globally.
Also Read: Coronavirus Infection, Symptoms, Transmission & Treatment: Everything You Need to Know About This Deadly Disease
The question arises here, why artificial intelligence has not been used to detect the risk associated with this kind of disease or AI is unable to detect such epidemic with right predictions, so that medical experts can envisage the situation timely.
Artificial Intelligence Coronavirus Prediction
A Canadian based global health monitoring platform – BlueDot, reportedly notified its clients of the outbreak of coronavirus on Dec. 31. But nobody has taken AI prediction seriously and now the situation became out of control in China.
BlueDot is the mastermind of Kamran Khan, who is an infectious disease physician and professor of Medicine and Public Health at the University of Toronto. Keep in mind that he was a frontline healthcare worker during the SARS outbreak.
How BluDot's works in Epidemic Prediction?
BlueDot's algorithm uses machine learning (ML) and natural language processing (NLP) technology to detect signs of potential disease outbreaks from the collected information that becomes a training data while developing such AI models.
Video: How BluseDot AI Predicted Coronavirus?
And such AI's findings are reviewed and verified by human epidemiologists before sending a report to the company's clients in government, industry and public health, as well as other public health officials, airlines and hospitals in the affected regions.
Data Used in AI Coronavirus Prediction
In the case of the coronavirus outbreak, the algorithm reportedly used airline ticketing information and pick news of such outbreaks like murmuring or forums or blogs or indications of some kind of unusual events going on to accurately predict the virus' rapid spread from Wuhan, China, to Bangkok, Seoul, Taipei, Tokyo and other nations.
Here, in coronavirus prediction, BlueDot uses an AI-driven algorithm that scours foreign-language news reports, animal and plant disease networks, and official proclamations to give its clients advance warning to avoid danger zones like Wuhan.
Another AI PredictsCoronavirus Could Kill 53 million and infect 2.5 billion
Yes, as per an article published on Forbes, AI predicts coronavirus could infect 2.5 billionand kill 53 million. But doctorssaid that it is not credible.
Actually, since the coronavirus infection transmission started more than 30,000 people infected and died around 600. But conditions of infection are changing, which in turn changes incredibly important factors that the AI isn't aware of.
To predict this epidemic along with infection and death data, AI neural net using a recurrent neural network (RNN) model and ran the simulation ten million times. That output dictated the forecast for the following day. Once the following day's output was published, added it to the training data, and re-ran ten million times, the results are shocking.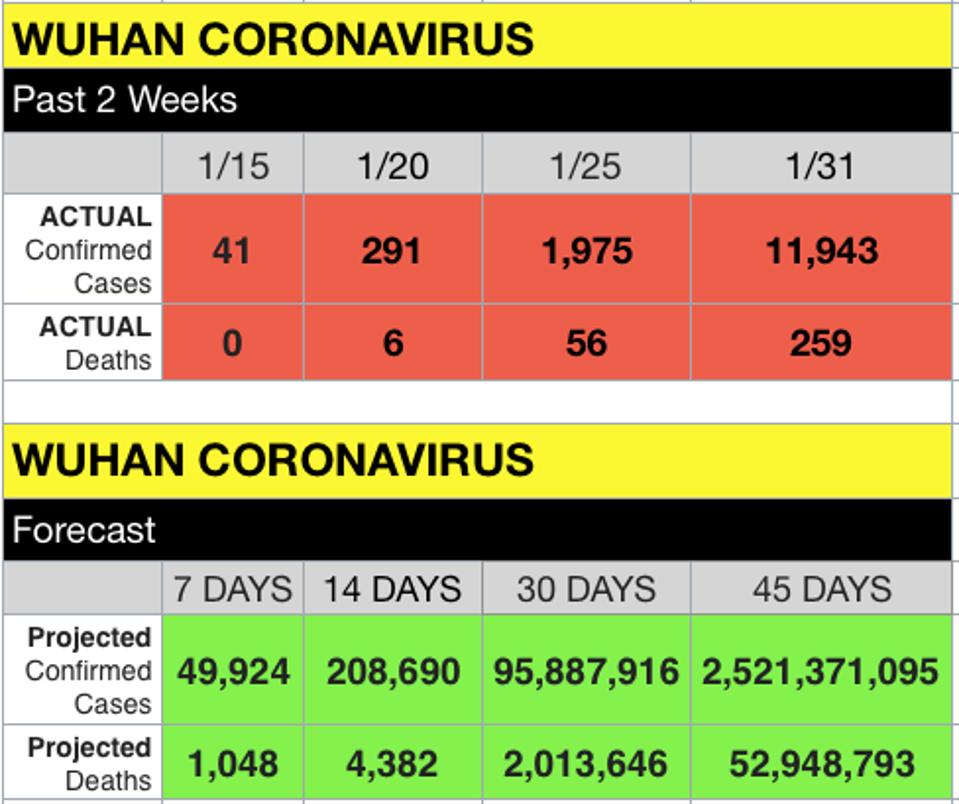 From 50,000 infections and 1,000 deaths after a week to 208,000 infections and almost 4,400 deaths after two weeks, the numbers keep growing as each infected person infects others in turn. And in 30 days, the AI model says, two million could die and in just 15 more days, the death toll skyrockets enough to eliminate humans in millions.
Artificial Intelligence in Medical Epidemiology Prediction
As per the report AI in medical epidemiology predicted dengue with more than 80 percent accuracy in Malaysia. AI in medical epidemiology predicted the outbreaks of dengue in Penang, Malaysia for 37 locations while the actual outbreak was 30, accounting more than 80% accuracy in prediction, making AI reliable in such epidemic prediction.
Though, scientists are developing ways to use AI to predict the spread of such contagious diseases before they happen. Though, the process is extremely complicated, successful implementation of predictive modeling could represent a major leap forward in the fight to rid the world of some of the most insidious infectious diseases.
How AI Can be Improved to Predict Coronavirus Like Epidemic?
However, as per multiple doctors and medical professionals, there is good news, the model doesn't know every factor, as conditions and data fed into the neural network are changing and these conditions change, the results will also change.
However, in coronavirus like epidemic AI could predict the number of potential new cases by area and which types of populations will be at risk the most. This type of technology could be used to warn travelers so that vulnerable populations can wear proper medical masks while traveling or take other precautions to prevent such infections.
Video: How AI Can Help to Control Coronavirus or Other Deadly Diseases?
Earlier researchers have built AI-based models that can predict outbreaks of the Zika virus in real time, which can inform how doctors respond to potential crises. AI could also be used to guide how public health officials distribute resources during a crisis. That will effectively work like AI stands to be a new first line of defense against such diseases.
AI in healthcare is already playing a vital role in assisting with researching new drugs, tackling rare diseases, and detecting breast cancer. AI was even used to identify insects that spread Chagas, an incurable and potentially deadly disease that has infected an estimated 8 million people in Mexico and Central and South America.
And now AI increasing interest in using non-health data like social media posts helping health policymakers and drug companies understand the breadth of a health crisis. For instance, AI that can mine social media posts to track illegal opioid sales, and keep public health officials informed about these controlled substances spread.
The Uncertainty Factor While Relying on AI
One of the core strengths of AI is while identifying and limiting the effects of virus outbreaks is its incredibly insistent nature. The machine never tire, can sift through enormous amounts of healthcare data, and identify possible correlations and causations that humans can't in a fast manner and if the amount of data is huge or very complex to analyze.
While on the other hand, there are limitations of AI – the ability to both identify virus outbreaks and predict how they will spread. Let's take the best-known example comes from the neighboring field of big data analytics.
At its launch, Google Flu Trends was heralded as a great leap forward in relation to identifying and estimating the spread of the flu — until it underestimated the 2013 flu season by a whopping 140 percent and was quietly put to rest.
Data Quality is Important for AI-based Predictions
Poor data quality was identified as one of the main reasons Google Flu Trends failed. Unreliable or faulty data can create confusion on AI-based prediction. In our increasingly interconnected world, tracking the movements of potentially infected individuals (by car, trains, buses, or planes) is just one vector surrounded by a lot of uncertainty.
But, BlueDot was able to correctly identify the coronavirus, in part dueto its AI technology, illustrates that smart computer systems canbe incredibly useful in helping us navigate these uncertainties.
And most importantly, it is not the same as AI being at a point where it precisely does so on its own – and that is the reason BlueDot employs only human experts to validate the AI's findings.
Nevertheless, to ensure the accuracy of AI-based predictions for such an epidemic, a quality and reliable source of training data is necessary for supervised machine learning.
Also Read: Reasons Why AI and ML Projects Fail Due to Training Data Issues
Hospitals, medical centers and healthcare organizations need to share the labeled medical images of such infected people to AI developers, so that they utilize the same and help the medical science and AI engineers develop a reliable AI model.  
So that symptoms could be identified by the doctors and annotated to make it recognizable to computer vision through machine learning algorithms. In this case, the radiologist described Novel Coronavirus (2019-nCoV) Pneumonia through CT Imaging.
And when a huge amount of such CT scan images are manually annotated by experienced radiologists, it is used as a training data for machine learning AI models, that can in future detect such infections if similar symptoms are visible among the people. And as much as data used in the algorithm training, the accuracy of prediction by the model would be high.