5 Levels of Autonomous Vehicles & Challenges of Self-Driving Cars
Autonomous vehicles, especially self-driving passenger cars are like a dream when it will become come true. Yes, I'm talking about the time full-fledged deployment of artificial intelligence into a car that can run automatically on the busy road in various scenarios, without driver's assistance avoiding all the objects making the journey safe and crash-free.
Yes, till now except few commercial vehicles, there are no self-driving cars runs at the fully automotive mode. Though a few years back Google and Tesla have successfully tested autonomous vehicles, even Tesla motors provide a different level of autonomy but were not successful enough, due to few accidents that happened while on testing and at the time of real-life use by the car owners.
Do you know why autonomous vehicles are still not on the road, or what are the reasons it is taking this much time to make such vehicles successfully run on the road? Many small problems are working with such technology. And then there's the challenge of solving all those small problems and putting the whole system together to work ADAS technology.
Also Read: What Is ADAS Technology And How It Works In Car For Safe Driving
There are different levels of autonomy in the self-driving cars allowing the driver to control the key functions or depend on the machine to make its own decision. So, right here before we discuss the challenges of autonomous vehicles we need to know about the different levels of autonomy – a self-driving car use to run on the road.
5 Levels of Autonomous Driving
Level 0: This level, you can say nothing to do with automation, means, all the systems like steering, brake, throttle, and power are controlled by humans.
Level 1: Yes, the level of automation starts from this stage. At this stage of autonomy, most of the functions are still controlled by the driver, but a specific function (like steering or accelerating) can be done automatically by the car.
Level 2: In this stage of automation, at least one driver-assistance system is automated like acceleration and steering, but requires humans for safe operation. Actually, at this level, the driver is disengaged from physically operating the vehicle.
Level 3: At the third level of automation, many functions are automated. Yes at this stage the car can manage all safety-critical functions under certain conditions, but the driver is expected to take over when alerted due to uncertain conditions.
Level 4: This is the stage you can say a car is fully autonomous that can perform all the safety-critical functions in certain areas and under the defined weather conditions. But not all the functions.
Level 5: If a self-driving car is equipped with the 5th level of automation, it is a fully autonomous vehicle, capable of self-driving in every driving scenario just like humans control all the functions.
These are the most common five levels of automation, a self-driving car can be developed. If you want to enjoy a ride on a fully autonomous car, it should have the 4th or 5th level of automation. But there are many challenges in developing and running a fully autonomous car, and below we will discuss these challenges and their implications.
5 Major Problems with Self Driving Cars
Few automotive manufacturers like Tesla are already integrated certain level of automation into the cars, but not level 5 or full automation, as there are certain challenges of autonomous vehicles making difficult for the manufacturers to develop an AI-enabled fully automated car that can run without human intervention with complete safety.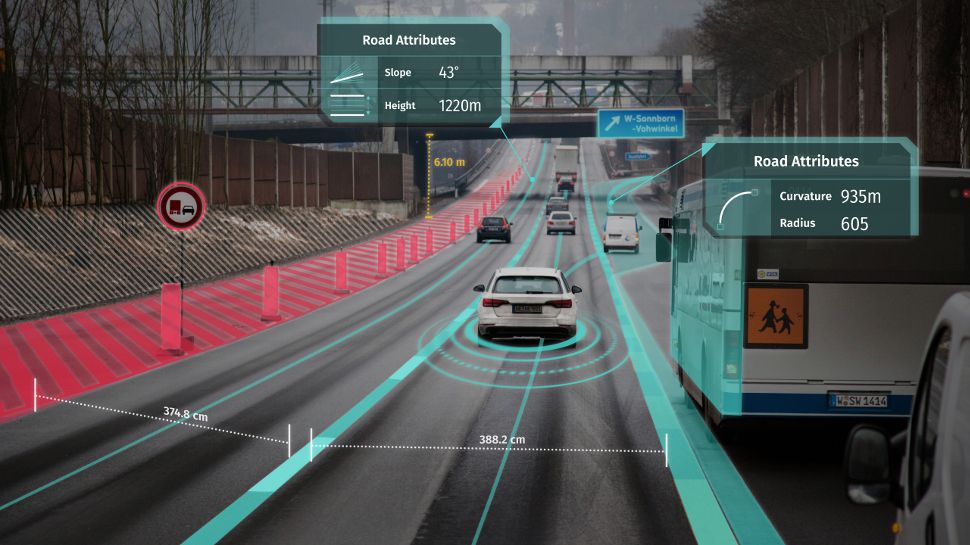 Understanding the issues with self-driving cars is very important for machine learning engineers to develop such an AI-enabled vehicle for successful driving. So, right here we also discuss the most critical problems with self-driving cars.
Training AI Model with Machine Learning
As we know, to develop an autonomous vehicle, a machine learning-based technology used for integrating AI into the model. The data gathered through sensors can be understood by cars only through machine learning algorithms.
These algorithms will help identify objects like a pedestrian, a street light detected by the sensors and classify them, as per the system's training. And then, the car uses this information to help decide whether the car needs to take the right action to move, stop, accelerate, or turn aside to avoid a collision from objects detected by the sensors.
Also Read: Top 5 Applications of Image Annotation in Machine Learning & AI
And with the more precise machine learning training process, in near future machines will be able to do this detection and classification more efficiently than a human driver can. But right now there is no widely accepted and agreed basis for ensuring the machine learning algorithms used in the cars. There are no such agreements across the automotive industry how far machine learning is reliable in developing such automated cars.
Open Road with Unlimited Objects
Autonomous cars run on the road, and once it starts driving, machine learning helps it learn while driving. And while moving on the road, it can detect various objects that have not come across while training and be subject to software updates.
As the road is open, and there could be unlimited or multiple types of new objects visible to cars, that have been not used to train the self-driving car model. And how to ensure that system continues to be just as safe its previous version. Hence, we need to be able to show that any new learning is safe and that the system doesn't forget previously safe behaviors or something like this, the industry yet to reach agreement on.
Lack of Regulations and Standards
Another hurdle for the self-driving car is there are no specific regulations or sufficient standards for the whole autonomous system. Actually, as per the current standards for the safety, for existing vehicles, the human driver has to take over the control in an emergency.
For autonomous vehicles, there are few regulations for functions like automated lane-keeping system. And there are also international standards for autonomous vehicles that include self-driving cars, which sets related requirements but not useful in solving the various other problems like machine learning, operational learning, and sensors.
Social Acceptability Among the People
Over the past year, while testing or in real-life use, self-driving cars were involved in the crash on autopilot mode. And such incidents discourage people from fully relying on autonomous cars due to safety reasons. There is also the possibility that some will reject these cars because they consume 10% more fuel than manual cars. Due to the increased spike in fuel prices, vehicle owners have become more diligent about managing their fuel. For information on how you can improve fuel efficiency and manage it, you can visit sites like https://www.lytx.com/en-us/resources/articles/fleet-fuel-management-systems and similar ones. That said, it is important to remember that social acceptability is not only a concern for car owners, but also for drivers and pedestrians who share the road.
So, people need to accept and adopt the self-driving vehicle's systems with involvement in the introduction of such new-age technology. And unless the acceptability reached social levels, more people will not use to buy self-driving cars, making it difficult for the auto manufacturers to further improve the functions and performance of such cars.
Use & Availability of Data for Sensors
To sense the surroundings of an environment, a self-driving car use a broad set of sensors like Camera, Radar, and LIDAR. These sensors help to detect varied objects like pedestrians, other vehicles, and road signs. The camera helps to view the object while on the other hand, Radar helps to detect objects and track their speed and direction.
Similarly, there is another important sensor called LIDAR that uses lasers to measure the distance between objects and the vehicle. And a fully autonomous car needs such a set of sensors that accurately detect objects, distance, speed, and so on under all conditions and environments, without a human needing to intervene.
Why LIDAR for Autonomous Vehicle?
All these sensors feed all gathered data back to the car's control system or computer to help it make decisions about where to steer or when to brake and turn in the right direction. Uncertain environment conditions like Lousy weather, heavy traffic, road signs with graffiti on them can all negatively impact the accuracy of sensing capability.
Video: Why LiDAR is used for Autonomous Vehicles?
Here, Radar sense is more suitable, as it is less susceptible to adverse weather conditions, but challenges remain in ensuring that the chosen sensors used in a fully autonomous car can detect all objects with the required level of certainty for them to be safe. So, the LIDAR sensor is more important and precise to detect objects with range depth.
Also Read: What is LIDAR: How it Works & Why Important for Self-driving Car
3D Point Cloud Labeling for LIDARs Sensors
To utilize the power of sensing the objects from the distance, LIDAR is no doubt the best suitable sensor for self-driving cars, but making the different types of objects and various scenarios perceivable such images are labeled through 3D Point Cloud Annotation service.
LIDAR point cloud segmentation is the technique used to classify the objects having the additional attribute that a perception model can detect for learning. For self-driving cars, 3D point cloud annotation services help to distinguish different types of lanes in a 3D point cloud map to annotate the roads for safe driving with more precise visibility in 3D orientation.
This article is originally written and submitted in Anolytics.ai
What is the Difference Between AI, Machine Learning & Deep Learning?
Artificial Intelligence (AI), Machine Learning (ML) and Deep Learning (DL) are the most widely used interchangeable words creating confusion among many people globally.
Although, these three terminologies are typically used interchangeably, but they all are different from each other especially in terms of their applications, capabilities, and results.                 
Understanding the difference between AI, ML, and deep learning is important to utilize the precise applications of these jargons and take the right decision while dealing with AI, ML, or DL related projects.
Before we start, I would like to show you few images (see below) that will give an overview, how AI, ML, and DL are different from each other or how these three terminologies are related to each other.
The easiest way to understand their relationship is to visualize them as concentric circles with AI – which is a broader area, then ML – which is the branch or subset of AI, and finally deep learning – which is a part of the subset of ML, fitting inside both or you can say – DL is driving today's AI explosion due to more complex inputs and outputs.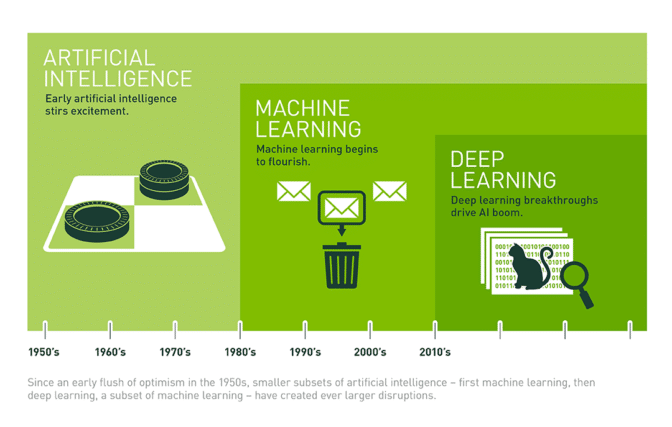 I think these highly illustrative images cleared some doubts and misconceptions about these jargons. But you need to go through more definitions with a few sets of useful examples and use cases that will help you understand these concepts better.
What is Artificial Intelligence?
As the name denotes, AI is a broader concept used to create an intelligent system that can act like human intelligence.  The terms – "Artificial" and "intelligence" means "a human-made thinking power".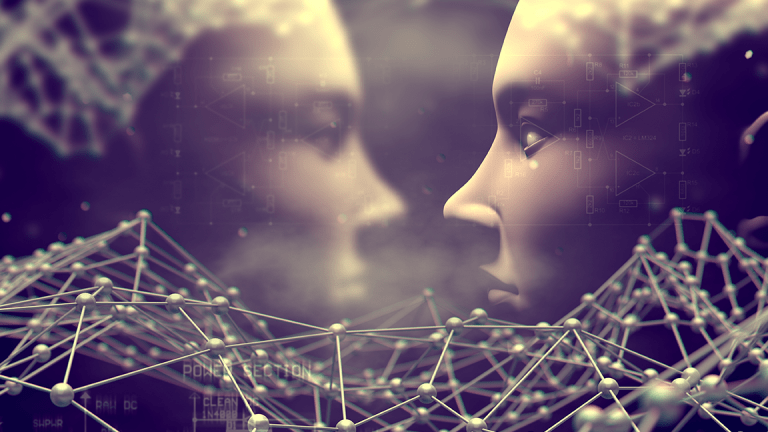 Basically, AI is the field of computer science used to incorporate human intelligence into machines, so that such machines or systems can think (not exactly) and take sensible decisions like humans. 
Also Read: Where Is Artificial Intelligence Used: Areas Where AI Can Be Used
And such AI-enabled machines can perform specific tasks very well and sometimes even better than humans – though they are limited in scope. And to develop such machines AI training data sets are processed through machine learning algorithms. 
To be more precise, AI-enabled systems don't need to be pre-programmed, instead such algorithms are used, that can work with their own intelligence. And machine learning algorithms such as reinforcement learning algorithms and deep learning neural networks are used to create such systems.
Example of AI in Daily Life
Smart Home Devices, automated mail filters in our Gmail, Self-driving cars, Chatbots, AI Robots, Drones and AI Security Cameras are the popular examples where AI in integrated. Though, there are many more other applications, devices, systems and machines works on AI principles helping humans in various areas across the globe.
Also Read: How Can Artificial Intelligence Benefit Humans
What is Machine Learning?
As the name suggests, machine learning empowers the computer system to learn from past experiences earned through training data. As of now, you got to know machine learning is the subset of artificial intelligence, in fact, it is the technique used to develop AI-enabled models.
Machine Learning is used to create various types of AI models that learn by themselves. And as much as it gets more data, it gets better at learning and gives more accurate results.
Let's take an example of how machine learning and algorithms work while making predictions. ML is actually a process of training the algorithms to learn and make the decisions as per the learning.
While training an ML-based model, we need certain machine learning training data sets to feed into the algorithm allowing it to learn more about the processed information.        
Today, machine learning is being utilized in a wide range of sectors including healthcare, agriculture, retail, automotive, finance and so many more.
Machine Learning Examples in Real Life
Recommendation on your Mobile or Desktop based on your web search history, Virtual Assistance, Face & Speech Recognition, Tag or Face Suggestion on Social Media Platforms, Fraud Detection, Spam Email Filtering, are the major examples of machine learning in our daily life. Most of the AI devices are developed through machine learning training.    
Machine learning is most prevalent in the development of fraud detection software. It has made the job of fraud analysts more efficient because it allows them to devote their time to more strategic tasks. If you want to learn more about the companies that offer Fraud detection software in your country, do a quick Google search for 'Internal Fraud Prevention in New York' or whatever geographic region you are in.
What is Deep Learning?
It is the subset of machine learning that allows computers to solve more complex problems to get more accurate results by far out of any type of machine learning. 
Deep learning uses the Neural Network to learn, understand, interpret and solve crucial problems with a higher level of accuracy.
DL algorithm-based neural networks are roughly inspired by the information processing patterns that are mainly found in the human brain. 
While learning, understanding, and predicting just like we use our brains to recognize and understand certain patterns to classify various types of information, deep learning algorithms are mainly used to train machines for performing such crucial tasks easily.
Whenever we try to perceive new information, the brain tries to compare it with the items known to the brain before making sense of it. In deep learning – neural network algorithms employ to perceive new information and give results accordingly.
Actually, the brain usually tries to decode the information it receives and archives this through classification and assigning the items into various categories.
Let's take an example – As we know DL uses a neural network which is a type of algorithms aiming to emulate the way human brains make decisions.
The notable difference between machine learning and deep learning is that the later can help you to understand the subtle differences. Because DL can automatically determine the features to be used for classification, while ML needs to make understandable these features manually. 
Finally, the point is compared to ML, DL requires high-end machines and a substantially huge amount of deep learning training data to give more accurate results.
Deep Learning Examples in Real Life
Automated Translation, Customers Shopping Experience, Language Recognition, Autonomous Vehicles, Sentiment Analysis, Automatic Image Caption Generation & Medical Imaging Analysis are the leading examples of deep learning in our daily life.           
Summing-up 
Machine learning is already being used in various areas, sectors, and systems but deep learning is more indispensable for the healthcare sector where the accuracy of results can save the lives of humans. Though, countless opportunities lie for machine learning and deep learning to make the machines more intelligent and contribute to developing a feasible AI model.
In the healthcare and medical field, AI can diagnosis disease using the medical imaging data that are fed into deep learning algorithms to learn the tumors or other life-threatening diseases. Now deep learning is giving excellent results, even performing better than radiologists. 
Finally, in all types of AI, ML or DL models working on computer vision-based technology needs a huge amount of training data for object detection. These datasets help them to learn the patterns and utilize similar information for predicting the results when used in real-life.
Artificial Intelligence in Robotics: How AI is Used in Robotics?
Robots were the first-known automated type machines people got to know. There was a time when robots were developed for performing specific tasks, yes such machines were earlier developed without any artificial intelligence (AI) to perform only repetitive tasks.
But now the scenarios are different, AI in getting integrated into robots to develop the advanced level of robotics that can perform multiple tasks, and also learn new things with a better perception of the environment. AI in robotics helps robots perform the crucial tasks with a human-like vision to detect or recognize the various objects.
Nowadays, robots are developed through machine learning training. A huge amount of datasets is used to train the computer vision model, so that robotics can recognize the various objects and carry out the actions accordingly with right results.
And, further, day-by-day, with more quality and precise machine learning processes, robotics performance is getting improved. So, right here we are discussing the machine learning in robotics and types of datasets used to train the AI model developed for robots.
How AI is Used in Robotics?
The AI in robotics not only helps to learn the model to perform certain tasks but also makes machines more intelligent to act in different scenarios. There are various functions integrated into robots like computer vision, motion control, grasping the objects, and training data to understand physical and logistical data patterns and act accordingly.
And to understand the scenarios or recognize the various objects, labeled training data is used to train the AI model through machine learning algorithms. Here, image annotation plays a key role in creating a huge amount of datasets helping the robotics to recognize and grasp different types of objects or perform the desired action in the right manner making AI successful in the robotics.
Application of Sensors in Robotics
The sensor helps the robots to sense the surroundings or perceive the visuals of the environment. Just like five key sensors of human beings, combinations of various sensing technologies are used in the robotics. From motion sensors to computer vision for object detection, there are multiple sensors providing a sensing technology into changing and uncontrolled environments making the AI possible in the robotics.
Uses of Types of Sensors in Robotics:
Time-of-flight (ToF) Optical Sensors
Temperature and Humidity Sensors
Ultrasonic Sensors
Vibration Sensors
Millimeter-wave Sensors
Nowadays a wide range of increasingly more sophisticated and accurate similar sensors, combined with systems that can fuse all of this sensor data together is empowering robots to have increasingly good perception and awareness for the right actions in real-life.
Application of Machine Learning in Robotics
Basically, machine learning is the process of training an AI model to make it intelligent enough to perform specific tasks or some varied actions. And to feed the ML algorithms, a set of data is used at a large scale to make sure AI models like robotics can perform precisely. As much as training data will be used to train the model, the accuracy would be at the best level.
In robotics, it is trained to recognize the objects, with the capability to grasp or hold the same object and ability to move from one location to another location. Machine learning mainly helps to recognize the wide-ranging objects visible in different shapes, sizes and various scenarios.
Also Read: Where Is Artificial Intelligence Used: Areas Where AI Can Be Used
And the machine learning process keeping running if robots detect new objects, it can make the new category to detect such objects if visible again in the near future. However, there are different disciplines of teaching a robot through machine learning. And deep learning is also used to train such models with high-quality training data for a more precise machine learning process.
APPLICATION OF AI IN ROBOTICS
AI in robotics makes such machines more efficient with self-learning ability to recognize the new objects. However, currently, robotics are used at the industrial purpose and in various other fields to perform the various actions with the desired accuracy at higher efficiency, and better than humans.
Video: Most Advance AI Robots
From handling the carton boxes at warehouses, robotics is performing the unbelievable actions making certain tasks easier. Right here we will discuss the application of AI robotics in various fields with types of training data used to train such AI models.
Robotics in Healthcare
Robotics in healthcare are now playing a big role in providing an automated solution to medicine and other divisions in the industry. AI companies are now using big data and other useful data from the healthcare industry to train robots for different purposes.
Also Read: How AI Robotics is Used in Healthcare: Types of Medical Robotics
From medical supplies, to sanitization, disinfection and performing the remote surgeries, AI in robotics making such machines become more intelligent learned from the data and performs various crucial tasks without the help of humans.
Robotics in Agriculture
In the agriculture sector, automation is helping farmers to improve crop yield and boost productivity. And robotics is playing a big role in the cultivation and harvesting the crops with precise detection of plants, vegetables, fruits, and other unwanted floras. In agriculture AI robots can perform the fruits or vegetable plucking, spraying the pesticides, and monitor the health conditions of plants.
Also Read: How AI Can Help In Agriculture: Five Applications and Use Cases
Robotics in Automotive
The automobile industry moved to the automation that leads to fully-automated assembly lines to assemble the vehicles. Except for a few important tasks, there are many processes performed by robotics to develop cars reducing the cost of manufacturing. Usually, robotics is specially trained to perform certain actions with better accuracy and efficiency.
Robotics at Warehouses
Warehouse needs manpower to manage the huge amount of inventory kept by mainly eCommerce companies to deliver the products to their customers or move from location to another location. Robotics is trained to handle such inventories with the capability to carefully carry from one place to another place reducing the human workforce in performing such repetitive tasks.
Robotics at Supply Chain
Just like inventory handling at warehouses, Robotics at logistics and supply chain plays a crucial role in moving the items transported by the logistic companies. AI model for robotics gets trained through computer vision technology to detect various objects. Such robotics can pick the boxes and kept at the desired place or load and unload the same from the vehicle at faster speed with accuracy.
Training Data for Robotics
As you already know a huge amount of training data is required to develop such robots. And such data contains the images of annotated objects that help machine learning algorithms learn and recognize the similar objects when visible in the real-life.
Also Read: Top 5 Applications of Image Annotation in Machine Learning & AI
And to generate a huge amount of such training data, image annotation techniques are used to annotate the different objects to make them recognizable to machines. And Anolytics provides the one-stop data annotation solution to AI companies to render high-quality training data sets for machine learning-based model development.
Also Read: What Is The Use And Purpose Of Video Annotation In Deep Learning
Artificial Intelligence in High-Quality Embryo Selection for IVF
IVF treatment is becoming a common practice in today's reality, where 12% of the world population struggle to conceive naturally. But thanks to artificial intelligence in IVF, the whole process is going to help the embryologists to select the best quality embryos for in-vitro fertilization improving the success of conception through artificial insemination.
As per the latest study published in eLife, a deep learning system was able to choose the most high-quality embryos for IVF with 90% accuracy. Compared to trained embryologists, the deep learning model performed with an accuracy of approximately 75% while the embryologists performed with an average accuracy of 67%.
As per the research stated, the average success rate of IVF is 30 percent. The treatment is also expensive, costing patients over $10,000 for each IVF cycle with many patients requiring multiple cycles in order to achieve successful pregnancy.
Risk Factors in IVF Treatment
While multiple factors determine the success of IVF cycles, the challenge of non-invasive selection of the highest available quality embryos from a patient remains one of the most important factors in achieving successful IVF outcomes.
Currently, tools available to embryologists are limited and expensive, leaving most embryologists to rely on their observational skills and expertise. As selection of quality embryo increases the pregnancy rates, that is now possible with AI.
Also Read: How Artificial Intelligence Can Predict Health Risk of Pregnancy
Researchers from Brigham and Women's Hospital and Massachusetts General Hospital (MGH) set out to develop an assistive tool that can evaluate images captured using microscopes traditionally available at fertility centers.
There is so much at stake for our patients with each IVF cycle. Embryologists make dozens of critical decisions that impact the success of a patient cycle. With assistance from our AI system, embryologists will be able to select the embryo that will result in a successful pregnancy better than ever before," said co-lead author Charles Bormann, PhD, MGH IVF Laboratory director.
AI in Embryo Selection through Machine Learning
The team trained the deep learning system (sub branch of machine learning) using images of embryos captured at 113 hours post-insemination. Among 742 embryos, the AI system was 90% accurate in choosing the most high-quality embryos.
The investigators further assessed the system's ability to distinguish among high-quality embryos with the normal number of human chromosomes and compared the system's performance to that of trained embryologists help in healthy baby growth in the womb.
Also Read:  What Causes A Baby To Stop Growing In The Womb During Pregnancy
The results showed that the system was able to differentiate and identify embryos with the highest potential for success significantly better than 15 experienced embryologists from five different fertility centers across the US.
However, the deep learning system is meant to act only as an assistive tool for embryologists to make judgments during embryo selection but going to benefit clinical embryologists and patients. Actually, a major challenge in the field is deciding on the embryos that need to be transferred during IVF and such AI models can make right decisions. 
Machine Learning Training Data for AI Model
The research stated that deep learning model has potential to outperform human clinicians, if algorithms are trained with more qualitative healthcare training datasets. Advances in AI have promoted numerous applications that have the potential to improve standard-of-care in the different fields of medicine.
Though, few other groups use to evaluate different use cases for machine learning in assisted reproductive medicine, this approach is novel in how it used a deep learning system trained on a large dataset to make predictions based on static images.
Such findings could help the couples become parents through IVF with higher chances of conceptions with right embryos selections. And further with more improvement in training development of AI systems will be used in aiding embryologists to select the embryo with the highest implantation potential, especially amongst high-quality embryos.
Watch Video:  Future of AI in Embryo Selection for IVF
Source: Health Analytics