The Main Purpose Of Image Annotations Is To Develop AI Model
The main purpose of image annotations is to highlight or capture the targeted object in a picture to make it recognizable for machines. Actually, image annotation is done for machine learning and AI to use the annotated images as a training data set while feeding with a deep learning algorithm and develop a fully functional AI model.
Objective Of Image Annotation
The machine learning is the processes to develop the AI-based models that can work itself without human intervention. And to train such machines a huge amount of training data is required for computer vision to identify the objects in images from the particular industry helping machines to recognize the similar images when used in real-life.
Read here: The Main Objective of Image Annotation in Machine Learning & AI
Types of Image Annotations
There are different types of image annotation techniques used to annotate such picture. And there are different types of free tools and software are available in the market to annotate the images as per the object dimension and requirement of the project. Actually, image annotation is important for machine learning and manual image annotation service is also available in the market you can choose as per your needs.
Also Read: Why Human Annotated Datasets is Important for Machine Learning?
Bounding boxes, Semantic Segmentation, 2D or 3D Cuboid, Polygons, Polylines or Splines, Point and Landmark annotations are popular types of image annotation techniques used in this field to make the machine learning and AI model development possible.
Anolytics.ai is one of the companies, providing the best quality image annotation service with human-powered data labeling and image recognition service at best quality.
Applications of Image Annotation
The main purpose of image annotations is to make the object recognizable for machines or computer vision. And there are many industries adopting AI and integrating the related technology into their sub-fields for automation to work faster with more efficiency.
A self-driving car is one of the best examples where annotated images have been used to train the model working into the auto functioning of such vehicles. The autonomous vehicles recognize the object on the street and move accordingly to avoid any crash.
It is like making a child learn about new things with varied data sets so that it can be recognized easily when used in autonomous vehicles to drive on the road into real-world.
Healthcare is another important filed where annotated medical imaging used to develop such machines that can detect various types of maladies including life-threatening diseases like cancer at the initial stage of developments with better accuracy.
Also Read: How Does AI Detect Cancer in Lung Skin Prostate Breast and Ovary?
Medical images like X-ray, MRI and CT Scan reports are annotated manually by humans that are used to train the machine learning to detect such diseases without the help of humans.
Also Read: How Does Google AI Detect Breast Cancer Better Than Radiologists?
Apart from autonomous vehicle driving, there are many other fields, like healthcare, retail, agriculture, security surveillance and sports analytics are other areas image annotation is playing an important role to make the images easily recognizable for machines allowing machine learning developers to build a right model at affordable pricing.
The main purpose and objective of image annotation are well-described here with a various set of examples showing the use and purpose of image annotation in machine learning and AI. The right applications of image annotation are only possible when annotations are accurate so that models can get accurate data sets to learn and give the right predictions.
AI in Fashion: Applications with Use Cases & Role in the Industry
Wearing clothes is not only a necessity of humans, instead, they get the chance to show-off their style, beauty, personality and lavish lifestyle. The fashion industry is one of the biggest in the world with a market size of US$ 3 trillion as of 2018.
Artificial Intelligence (AI) in fashion is changing this industry by playing a crucial role in the various key divisions. From design to manufacturing, logistic supply chain and marketing, AI in fashion is playing a big role in transforming this industry.
Actually, in the age of digitalization, AI and machine learning based technologies in the fashion industry are providing an automated solution to manufacturers helping them to leverage the intelligence of AI into fashion and exhaust the best possibilities into their field.
So, right here we brought a great discussion, how artificial intelligence is changing fashion with use cases, role and impact of AI on this industry.
How AI is Changing Fashion: Role & Impact on the Industry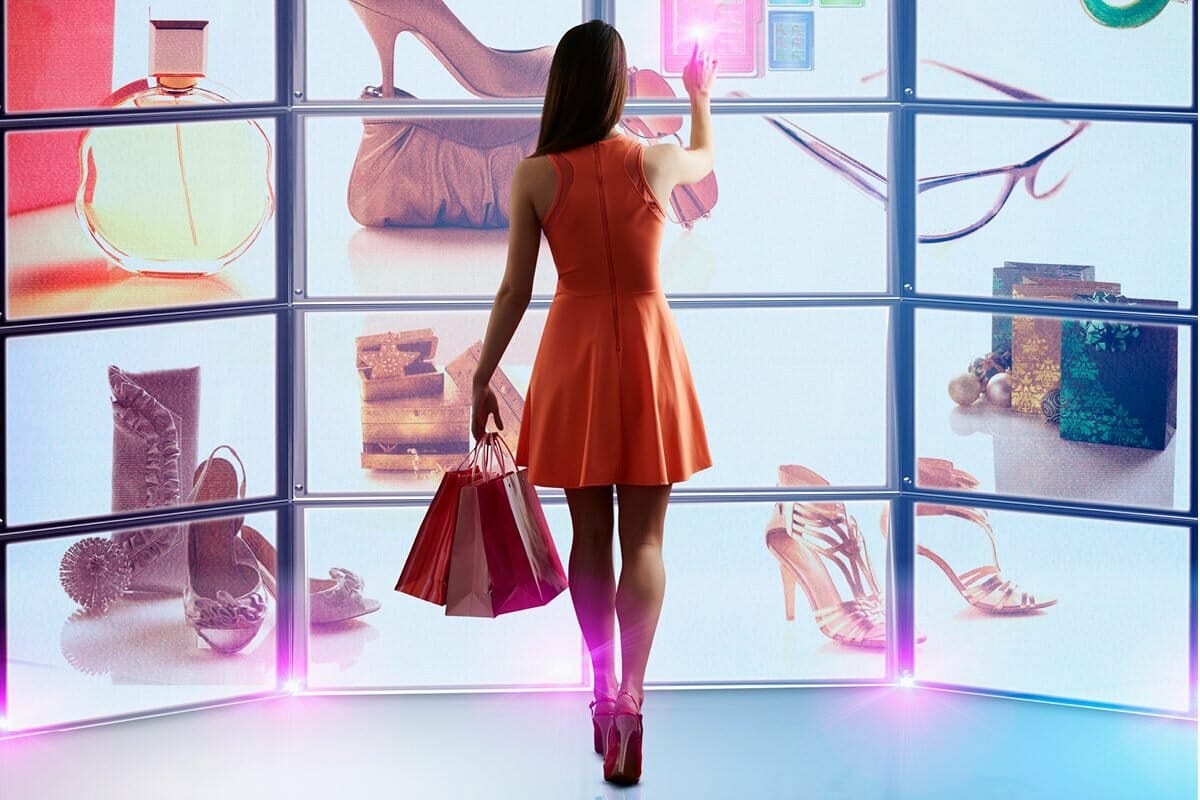 AI in Fashion Design – A Clothing Designer
The design and patterns with the right color combination are the key point to design a costume to make it attractive for the customers. AI can detect the new trends with demand in projecting the new trend reducing the forecasting error.
Trends in the fashion industry change very fast with new designs or patterns come every day in the market. Designers need to keep pacing with new styles. And AI algorithms can analyze designs through images to copying popular styles.
And after analyzing the data set of designer clothes and AI uses such data to see what does and does not sell well in the markets and create or recommend designers to build and launch a completely new design in the market.
Retailers giants like Amazon and Walmart now have their own clothing brands and are using the machine learning systems that can identify the spot and, in the not-too-distant future, design fashion trends that customers also prefer to buy.
AI in Fashion Manufacturing, Supply Chain & Fashion Store
In fashion, apparel manufacturing is the labor-intensive industry. From sewing to sorting or dresses, there are mundane tasks now AI can perform with a better level of accuracy at faster speed reducing the extra cost spent on workers.
AI robots and computer-enabled machines can easily stitch the fabrics with perfection while at the same time it can also detect faults in fabric and offer quality assurance to ensure that the actual design shades will suit the new colors.
Video: AI Robots in Fashion & Sewing
Also Read: How AI Is Creating New Job Opportunities For Low-Skilled Workers?
AI in inventory and supply chain management is facilitating to speed-up by improving routes, cutting the logistic supply and shipping cost.
Using the AI companies automate logistics and supply chain processes for faster delivery or find alternate routes for vehicles derailed by unforeseen circumstances such as bad weather or road construction.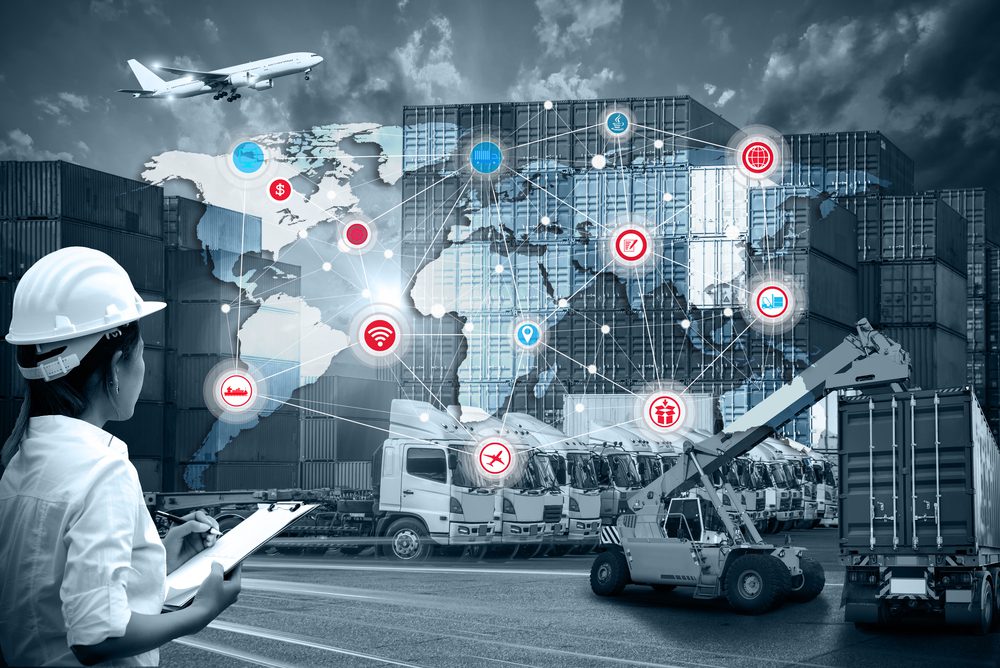 While, AI in fashion store also uses algorithms with humans-in-the-loop as virtual personal stylists. This AI-based system recommends the best items for them a human stylist picks the final suggested products as per the body types.
AI in Fashion Retail
AI and machine learning in retail are also providing an automated solution to monitor the customer's activities while shopping and visualize their sentiments to know what kind of products they prefer to buy and what they ignore.
AI can also track footfalls in retail shops or record the shopping experience of the customers with option to get feedbacks on how was their experience while shopping at the retail shops with opportunity to improve their services.
And visual perception based AI models also help store owners to keep the records of the inventory in their store and also categorize items in-store helping store owners to manage their inventory with AI-backed automated solution.
AI Fashion Stylist – Styling the Fashion Accessories
Moreover, the use of AI in fashion is also allowing each one of us to find those elusive perfect outfits that suit our body type and fashion preferences.
Such AI-enabled clothes and outfits are not only tailored for different occasions and weather, but also to the user's style, body type, colours, and the latest fashion trends.
iLUK is an AI-based personal stylist, using the Computer Vision based and 3D Reconstruction technology at its heart to make personal styling based on technology possible. It is designed as a pod that will be placed at a retail outlet.
In AI fashion stylist computer vision and 3D reconstruction based technology are used to develop a 3D avatar of the customers.
The measurement data are then fed into the AI software to analyze your body-shape, with an identical body mass, shape, size and colour, while suing your face to show the outfits.
Van Heusen created a retail environment complete with a "Virtual Trial" mirror which lets users see how outfits would look on them by simply scanning the item's barcode and standing in front of the mirror as virtual garments are projected onto their reflection.
Video: Van Heusen Style Studio for AI Fashion Stylist
The fitting rooms house interactive mirrors as well, letting shoppers try and compare different outfits by snapping pictures of them in each outfit for them to then compare them side by side to help them make a decision quickly without wearing it.
AI in Fast Fashion with Smart Mirror
Similarly, AI powered smart mirror is used by the retailer store simplifying the shopping experience of the customers with virtual visualization of clothes how they look on you even without putting the clothes actually on your body.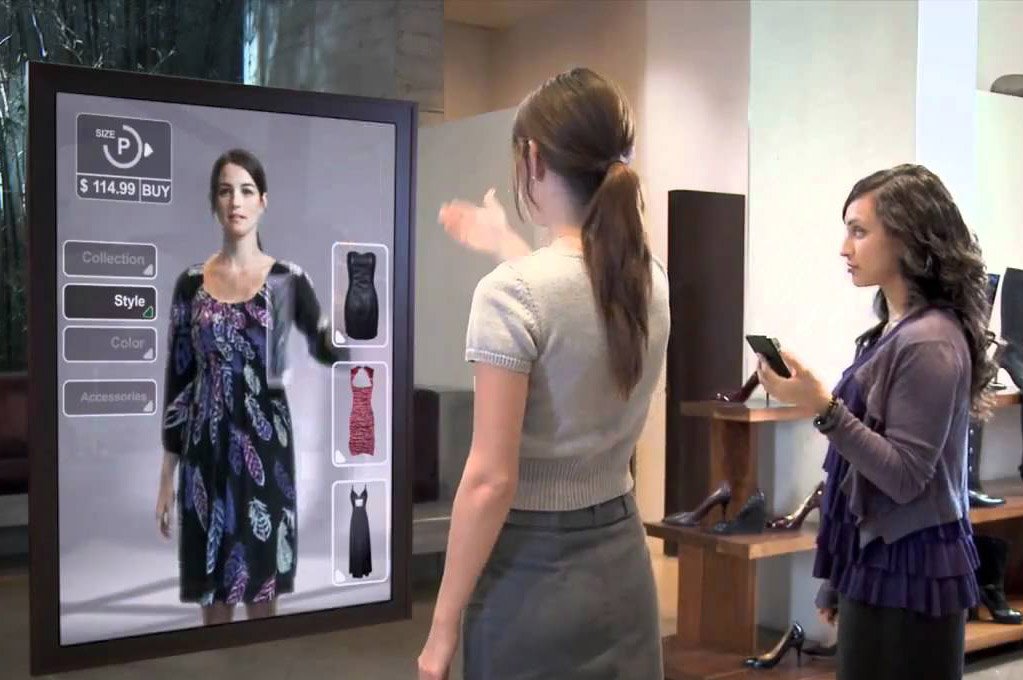 The AI smart mirror is installed in the changing room of retail stores with touch screen glasses that relay information on whether or not a person is inside, they will also help to get information about the item the customer has brought into the store.
For such smart mirrors, clothing racks are RFID enabled and use gyro-sensors and Bluetooth low-energy chips allowing the articles selected by shoppers automatically show up in the Smart Mirror.
And using this mirror customer can look at different sizes and colour options and also receive personalized mix-and-match options to complete the look.
Rebecca Minkoff's flagship New York City connected store features a large, interactive mirror that shows off the latest Rebecca Minkoff brand content. The shopper can use the mirror to browse various looks and add them to their fitting room to try on.
Video: AI Interactive Smart Mirrors
The interactive mirrors in each fitting room give the user the option to contact a stylist, change the lighting, and attach the items she has tried on during the visit to a personal profile so they can be accessed during future visits to the store.
And be able to receive intelligent recommendations based on the clothing saved. Items can be sent directly from the fitting room to checkout to finish the shopping.
AI in Online Fashion with Recommendation in Ecommerce
Similarly, just like retail fashion stores, AI is playing a game-changer role in online shopping and Ecommerce business. While browsing or searching the fashion items on e-commerce sites, AI recommends the other similar items, as per your color preference, budget and other attributes.
Actually, machine learning technology is used here to analyze your filtering behavior and what kind of products you are looking for. Analyzing your search history data it recommends the other suitable items probably you should check.
AI in Visual Search – To Find the Products Using Camera
Nowadays E-commerce stores AI-based visual search technology used to understand the content and context of these images and return a list of related results. You can use your camera to capture an object and search the same online.
AI-based visual search technology allows retailers to suggest thematically or stylistically related items to shoppers in a way they would struggle to do using a text query alone.
Actually, the AI visual search model is trained with huge amount of data sets that contain the annotated images making the clothing items recognizable to machines.
And with the help of ML algorithms machines can recognize separate objects within a picture. This enables additional shop-the-look use cases that create cross-sell opportunities for the sellers.
While on the other hand, for media companies visual search is an opportunity to transform fashion sites into a personalize shopping experience.
Role of Artificial Intelligence and its Impacton the Fashion Industry
Nowadays, AI is playing a crucial in the fashion industry with huge potential to make this AI integrated into various other subfields. It is powering the manufacturers to redefine how fashion businesses engage and interact with their customers.
AI-enabled applications and system are enhancing the customer's experience that goes beyond personalized ads, notification alerts on price drops, or chatbot assistance.
With this kind of technology, fashion brands strive to put customization at the forefront for customers during their buying journey.
Moreover, AI will not only help designers to predict the upcoming trends, visualized by the current fast-changing-environment, but also examine and minimize the impacts on the environment while producing the fashion garments and accessories.
Further, 3D printing technology is also going to be used with the help of AI. 3D printing will enable professionals to transcend any boundaries of design, as it gives them a chance to turn the most improbable projects into reality.
Artificial Intelligence Impact on Fashion
Customers now becoming aware to use the AI-enabled features while searching or buying clothing or fashion accessories online. Customers can take a photo and match the accessories and clothes over brands to get the same design.
Apart from that, it is also reducing the errors and making the product delivery process fast through automated warehousing management.
Companies or brands can now ask for feedback and suggestions through AI featured applications.
Artificial intelligence impact on fashion will make this industry more smart and intelligent in understanding the sentiments and fashion taste of customers.
In the long-term, it will have a constructive impact on the entire industry empowering the manufacturers to introduce the most demanding clothing lines timely with more precision.
Whereas, at the customer end, it will facilitate them to explore more products as per their choice, personality and affordability with the personalized shopping experience.
Customers will easily find the right costumes and fashion accessories with the option to visualize wearing the same accessories virtually to get the best one at one click.
How AI Can Detect Low Sugar Level in Humans Without Blood Sample?
AI in healthcare is strengthening its presence with new capabilities to diagnosis the health conditions of people with an acceptable level of accuracy. Recently we have shared post explains how does Google AI detect breast cancer better than radiologists.
And now, a new study came out in which researchers developed a new AI-based technique that can detect the low sugar levels from raw ECG signals using the wearable sensors without any fingerpicking test or taking the blood samples.
Currently, apart from giving the blood samples at diagnosis centers, diabetic people use to measure glucose using the needles at their home with repeated fingerpicks over the day. This is a painful process deterring patient compliance.
But now a new technique developed by researchers at the University of Warwick works with an 82% accuracy, could be the best option for invasive finger-prick testing with a needle, especially for kids who are afraid of needles fingerpicking.
How AI Detect Low Sugar Levels or Hypoglycemia?
The University of Warwick researchers examined how ECG readings changed during a hypoglycaemic event, when blood sugar levels fall below four millimoles per litre. And they then used the AI system to recognize low levels compared to normal readings.
As per Dr Leandro Pecchia, from Warwick's School of Engineering, the AI model has been trained to detect such hypoglycaemia via few ECG beats. This is possible as ECG can be detected in any circumstance, even while sleeping.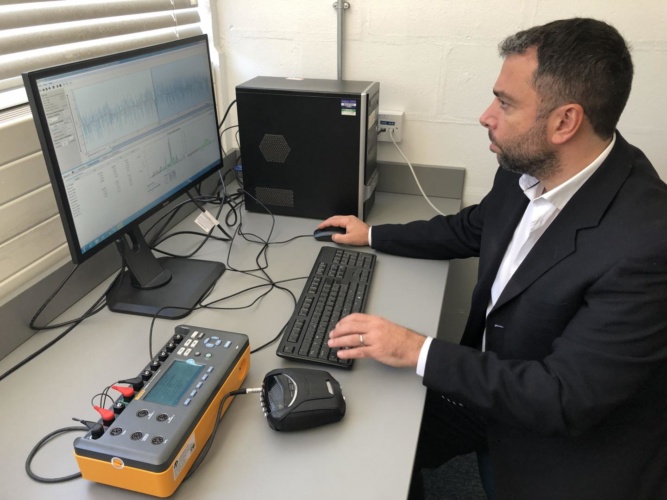 How AI is Trained to Detect Sugar Level in Humans?
The study is also explained how the AI was trained on the specific patterns of individual patients rather than on cohort data. This is because the ECG signals that correspond to hypoglycaemic events are different for each patient.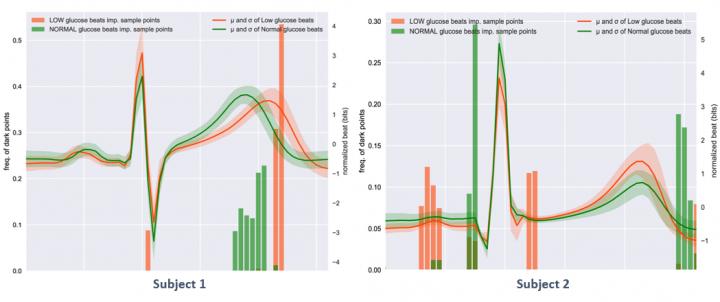 The figure shows the output of the algorithms over time – the green line represents normal glucose levels, while the red line represents the low glucose levels.
However, this makes difficult, or almost impossible to develop a single AI algorithm that could be rolled out for all patients. However, this may restrict the technology to some degree but allow more tailored treatment of individual patients based on their personal ECG data.
This result is possible because the Warwick AI model is trained with each subject's own data. Intersubjective differences are so significant, that training the system using cohort data would not give the same results. Likewise, personalized therapy based on our system could be more effective than current approaches.
However, more precise and magnitude of training data will help the AI model learn to detect with more variations while diagnosing such diseases. Getting healthcare training data is crucial for AI engineers to develop such models that can detect the various types of diseases among humans.
To avoid diabetes and keep your body fit, make sure to do some workouts and regular exercise and control your sugar intake. A high or low sugar levels both are dangerous for health and if not cured with precautions, it can become life-threatening diseases.
Also Read: How To Check Your Fitness Level And Health At Home?
Why it is important for diabetes patients to check their glucose levels regularly?
Diabetes is a serious life-long condition that occurs when the amount of sugar in the blood is too high because the body can't use it properly. Patients have to regularly monitor their glucose levels to prevent them from developing any potentially fatal complications.
Type 1 diabetes patients are often recommended to test their blood sugar at least four times a day. For type 2 patients, doctors advise testing twice a day. Blood glucose levels should be between the ranges of 3.5–5.5 mmol/L before meals and less than 8 mmol/L, two hours after meals.
What is Hypoglycemia and How it is Dangerous for you?
Hypoglycemia (when blood sugar drops below 4 mmol/L) can occasionally lead to patients falling into comas in severe cases. However, it most often can be treated through eating or drinking 15-20g of fast-acting carbohydrate, such 200 ml of Lucozade Energy Original.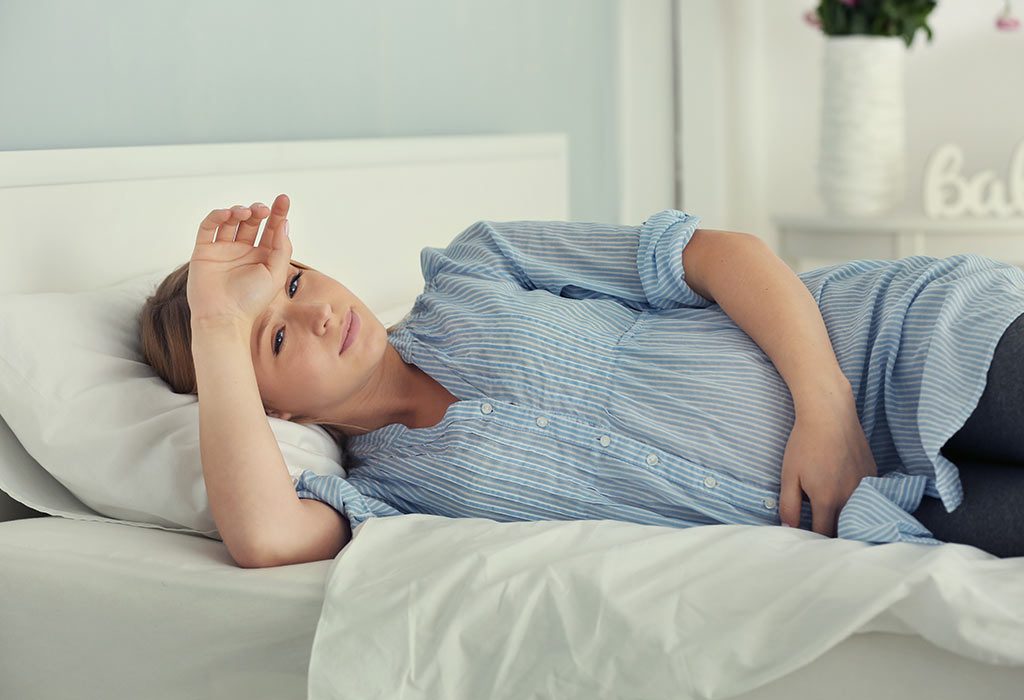 Sufferers can tell they are experiencing a hypo when they suddenly feel tired, have difficulty concentrating or feel dizzy. Type 1 diabetes patients are more likely to experience a hypo, because of the medications they take, including insulin.
Hyperglycemia (when blood sugar is above 11.0 mmol/L two hours after a meal) can also have life-threatening complications. It happens when the body either has too little insulin, seen in type 1,or it can't use its supply properly, most often in type 2.
In the short-term, it can lead to conditions including ketoacidosis – which causes ketones to be released into the body. If left untreated, hyperglycemia can lead to long-term complications, such as impotence and amputations of limbs.
Regular exercise can help to lower blood sugar levels over time, and following a healthy diet and proper meal planning can also avoid dangerous spikes.
Sources: Warwick.ac.uk, Dailymail.uk
How Does Google AI Detect Breast Cancer Better Than Radiologists?
AI in healthcare is becoming more crucial with early detection of various diseases with better accuracy. Cancer is one the widespread deadly disease can be now detected through machine learning and AI-enabled automated machines.
Breast cancer is most common among women worldwide. However, more than 90% of women diagnosed with breast cancer at the earliest stage survive their disease for at least 5 years compared to around 15% for women diagnosed with the most advanced stage of the disease, which is now possible with AI.
Also Read: How Does AI Detect Cancer in Lung Skin Prostate Breast and Ovary?
Though, AI is already diagnosing breast cancer but owing to accuracy, the reliability among the doctors was less. But now Google has developed an AI system that can detect the early signs of breast cancer better than radiologists.
Research of Google Breast Cancer AI
In the research, the Google's AI model called DeepMind AI was trained and tuned on a representative data set comprised of de-identified mammograms from more than 76,000 women in the U.K. and more than 15,000 women in the U.S.
The AI model is trained to see if it could learn to spot signs of breast cancer in the scans. The model was then evaluated on a separate de-identified data set of more than 25,000 women in the U.K. and over 3,000 women in the United States.
In this study, researchers conducted a test where Google's AI system was pitted against six radiologists where the AI managed to outperform all six of them at accurately detecting breast cancer among these women at better accuracy.
Also Read: How Does AI Work in Radiology: Applications and Use Cases
Earlier, when a similar study is conducted in which the team first trained AI to scan X-ray images, then looked for signs of breast cancer by identifying changes in the breasts of the 28,000 women. They then checked the computer's guesses against the women's' actual medical outcomes, reducing the reliability of such applications.
But now, the accuracy level has improved and reduced false negatives by 9.4% and cut down false positives by 5.7% for women in the US. In the UK, where two radiologists typically double-check the results, the model cut down false negatives by 2.7% and reduced false positives by 1.2% make AI more reliable.
How Does AI Detect Breast Cancer?
Breast cancer diagnosis is done by oncologist's human knowledge and intuition of what major risk factors might be, such as age, family history of breast and ovarian cancer, hormonal and reproductive factors, and breast density.
While AI in breast cancer diagnosis, rather than manually identifying the patterns in a mammogram that drives future cancer, the MIT/MGH team trained a deep-learning model to deduce the patterns directly from the medical imaging data.
Video: How AI Model Improves Breast Cancer Detection on Mammograms
And using the information from more than 90,000 mammograms, the model detected patterns too subtle for the human eye to detect the cancer cells. The Google breast cancer AI algorithms are used to learn such patterns and predict.
You can check below an image showing the visualization of tumor growth and metastatic spread in breast cancer with screening to detect breast cancer early, before symptoms develop.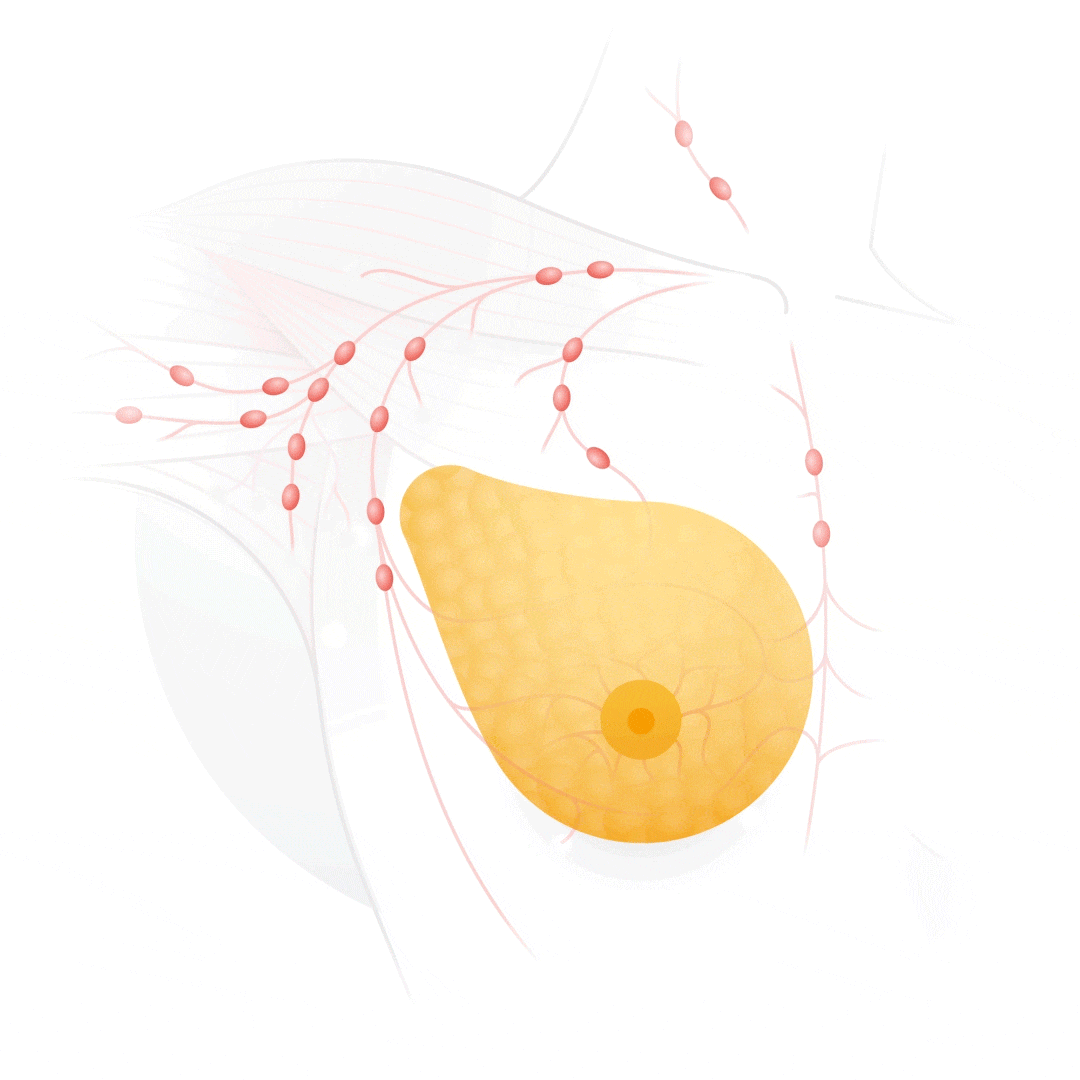 Actually, the demographics of the population studied by the authors are not well defined in the previous AI-based detection. As the performance of AI algorithms can be highly dependent on the population used in the training data sets.
And these training data sets are created by annotating the medical images of breast infected with cancer available in various formats like X-rays, CT Scan and MRI. A huge amount of such labeled data is used to train the AI algorithms.
There are many companies providing healthcare training data with annotated medical imaging to train the AI and ML models with accuracy.
And with the availability of such data, detection of various types of other common cancer through AI will become possible benefiting the humans saving their life from such maladies.
Also Read: How Can Artificial Intelligence Benefit Humans?