High Security Number Plates: Benefits & How to Apply HSRP Online
Vehicle owners now need to have the high security registration plate (HSRP) and vehicles without an HSRP or colour-coded fuel sticker could attract a fine of up to Rs 10,000, compoundable to Rs 5,000 under the amended MV Act.
Yes, if you have a two-wheeler or four-wheeler or any other vehicle registered in your name you must read this article. As per the transport department, all the all vehicles sold on or after 1st April, 2019 to be pre-fitted with High Security Registration Plates.
What are High Security Number Plates?
The High Security Number Plates (HSNP) plate basically contains the chromium-based 20 mm X 20 mm hologram of Ashoka Chakra. The hologram is in blue on the top left corner. The plate also carries a 10-digit PIN, just see the image below.
The PIN is printed at the bottom left corner. It has been made mandatory by the government for all new and existing vehicles. In case of a theft, the plate can help track vehicles. The hot-stamped film on the numerals and letters bear the inscription INDIA.
What is the Benefit of High Security Number Plates?
The high-security registration plate comes with many benefits. Conventional and old number plates are easy to tamper while HSRP comes with non-removable snap-on locks. These plates are difficult to replace. In case of a theft, the HSRP can help in tracking the vehicle.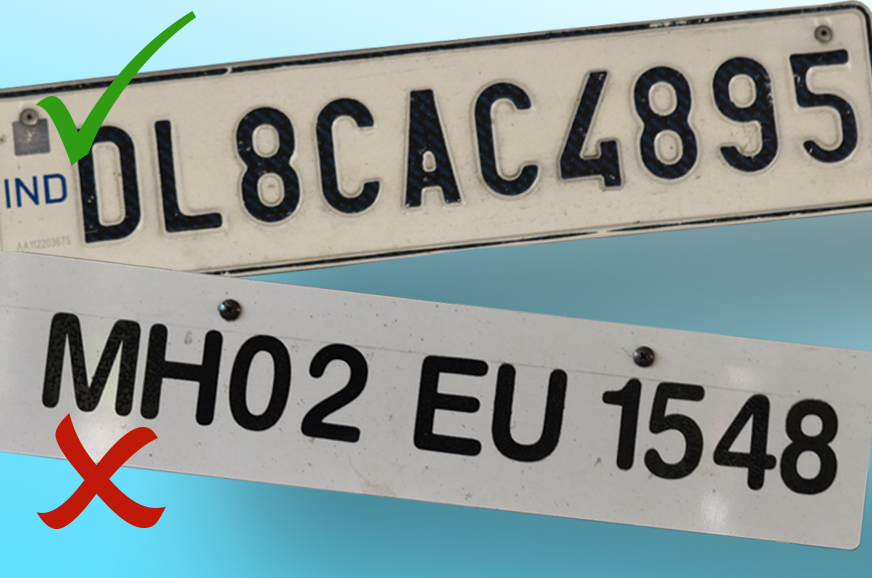 Apart from that, some of us customise our vehicle's number plate very artistically, which makes it difficult for anyone, including the police, to read. Consequently, the police fail to track down such a vehicle in case it is lost or stolen.
The uniquely styled HSRPs are a one-stop solution to all these problems as these plates are tamper-proof and act as a deterrent to thieves. In India, currently, the data related to all the cars, bikes and trucks is handled manually which results in discrepancies. HSRPs will aid in creating a national database of all motor vehicles in the country.
Is High Security Number Plate Mandatory for Old Vehicles?
Yes, all the vehicles in the country manufactured and sold before 1 April 2019 must have a high security registration plate and colour coded stickers. Though, most of the vehicles sold after this date already comes with HSRP fitted with vehicle.
You will be required to surrender your old registration number and destroy the number plate. After the process of registration is over and the HSRP is affixed to your vehicle, the new registration number will be electronically linked to your vehicle.
High Security Number Plate Charges
The cost of a high-security number plate for a two-wheeler has been fixed at Rs 300 to Rs 400 and for four-wheelers, it ranges from Rs 600 to Rs 1,100 (depending upon vehicle category). While colour-coded stickers, are likely to costs around Rs 100.
How To Get High Security Number Plate?
For all vehicles registered in the State transport department, the automobile dealer assists the customer in getting HSRP fitted. The customer post purchase of vehicle and submission of all documents pays for the HSRP fees at the dealer premises.
The dealer ensures that all the documents and the HSRP fees are duly processed at the Regional Transport Office (RTO). The HSRP fee receipt is provided to the customer who can apply online and proceed for HSRP fitment at the RTO premises as per the appointment date and time.
How To Apply For High Security Number Plate?
You can apply online to get to get high security number plate. Yes, for HSRP registration you have to follow the steps given below and fill all the details but make sure you will be required to provide details like the vehicle's registration number, chassis number, and engine number to book appointment. So, kindly keep these things handy.
High Security Number Plates Online Registration Steps:
Step1: Visit www.bookmyhsrp.com
Step2: Select Affixation Location (Home/Dealer)
Step3: Select Booking Option (HSRP with Sticker or Only Sticke)
Step4: Select Vehicle Class (Private Vehicle / Commercial Vehicle
Step5: Select Fuel Type (Petrol, Diesel, EV, CNG, CNG + Petrol)
Step6: Select Vehicle Type (2W/3W/4W, Heavy/ Other Vehicle)
Step7: Select Vehicle Make
Step8: Choose Your State
Step9: Now select Dealer/Home Affixation (Dealer location where you want to affix your HSRP or Home address where you want to get HSRP installed)
Step10: Fill information – Ensure correct
Step11: Confirm the OTP received on your mobile number
Step12: Select Date & Time slot
Step13: Enter your GST number if registered with GST.
Step14: Finally, applicants can make payment through online mode. People can enter GST number if GST is registered. Your order will be confirmed through SMS and E-Mail.
Why Bookmyhsrp.com?
Motorists with vehicles registered in Uttar Pradesh and Delhi can use bookmyhsrp.com to purchase HSRP and/or colour-coded stickers. The vendor has been officially authorized by the governments to provide these to vehicle owners.
Which States of India are offering the HSRP online?
Currently, the HSRP is being offered through the online channel in Delhi and Uttar Pradesh only while we can expect it to launch pan-India soon.
How To Check HSRP Status?
After applying for HSRP, before your scheduled appointment, you can check the HSRP number plate status online to make sure whether it is ready to install or not. However, most of the time your HSRP is ready before the scheduled date, but you can check the status online. To check online click here and fill the required details here.
HSRP Home Delivery
Owing to increase in demand for more registration, states governments has started delivering the HSRP at home with additional charge of Rs 100-to 200. Currently, in Delhi home delivery of HSRP has been launched but sooner or later other states can follow the same procedure to avoid overcrowding and facilitate the vehicle owners.
Earlier the deadline to get installed the HSRP was 30 October but now has been extended by the state governments. But sooner or later you have to upgrade your number plat, so why become the victim of last moment crowd get it now. And by the next deadline if you don't have HSRP on your vehicle you will face the fine of heavy challan.
Also Read: How To Avoid Traffic Challan & How To Pay Traffic Challan Online
Other Useful Links for HSRP:
Download PDF Copies of HSRP Issued by Govt & FAQ:
PDF by Ministry of Road Transport Highways
PDF by Book-My-HSRP
Visit here for HSRP Frequently Asked Questions (FAQ)
Apply HSRP Online for Other States:
Apply High Security Number Plate UP & Delhi
Apply High Security Number Plate Punjab
Apply High Security Number Plate Haryana
Apply High Security Number Plate Bihar
Apply High Security Number Plate Uttarakhand
5 Levels of Autonomous Vehicles & Challenges of Self-Driving Cars
Autonomous vehicles, especially self-driving passenger cars are like a dream when it will become come true. Yes, I'm talking about the time full-fledged deployment of artificial intelligence into a car that can run automatically on the busy road in various scenarios, without driver's assistance avoiding all the objects making the journey safe and crash-free.
Yes, till now except few commercial vehicles, there are no self-driving cars runs at the fully automotive mode. Though a few years back Google and Tesla have successfully tested autonomous vehicles, even Tesla motors provide a different level of autonomy but were not successful enough, due to few accidents that happened while on testing and at the time of real-life use by the car owners.
Do you know why autonomous vehicles are still not on the road, or what are the reasons it is taking this much time to make such vehicles successfully run on the road? Many small problems are working with such technology. And then there's the challenge of solving all those small problems and putting the whole system together to work ADAS technology.
Also Read: What Is ADAS Technology And How It Works In Car For Safe Driving
There are different levels of autonomy in the self-driving cars allowing the driver to control the key functions or depend on the machine to make its own decision. So, right here before we discuss the challenges of autonomous vehicles we need to know about the different levels of autonomy – a self-driving car use to run on the road.
5 Levels of Autonomous Driving
Level 0: This level, you can say nothing to do with automation, means, all the systems like steering, brake, throttle, and power are controlled by humans.
Level 1: Yes, the level of automation starts from this stage. At this stage of autonomy, most of the functions are still controlled by the driver, but a specific function (like steering or accelerating) can be done automatically by the car.
Level 2: In this stage of automation, at least one driver-assistance system is automated like acceleration and steering, but requires humans for safe operation. Actually, at this level, the driver is disengaged from physically operating the vehicle.
Level 3: At the third level of automation, many functions are automated. Yes at this stage the car can manage all safety-critical functions under certain conditions, but the driver is expected to take over when alerted due to uncertain conditions.
Level 4: This is the stage you can say a car is fully autonomous that can perform all the safety-critical functions in certain areas and under the defined weather conditions. But not all the functions.
Level 5: If a self-driving car is equipped with the 5th level of automation, it is a fully autonomous vehicle, capable of self-driving in every driving scenario just like humans control all the functions.
These are the most common five levels of automation, a self-driving car can be developed. If you want to enjoy a ride on a fully autonomous car, it should have the 4th or 5th level of automation. But there are many challenges in developing and running a fully autonomous car, and below we will discuss these challenges and their implications.
5 Major Problems with Self Driving Cars
Few automotive manufacturers like Tesla are already integrated certain level of automation into the cars, but not level 5 or full automation, as there are certain challenges of autonomous vehicles making difficult for the manufacturers to develop an AI-enabled fully automated car that can run without human intervention with complete safety.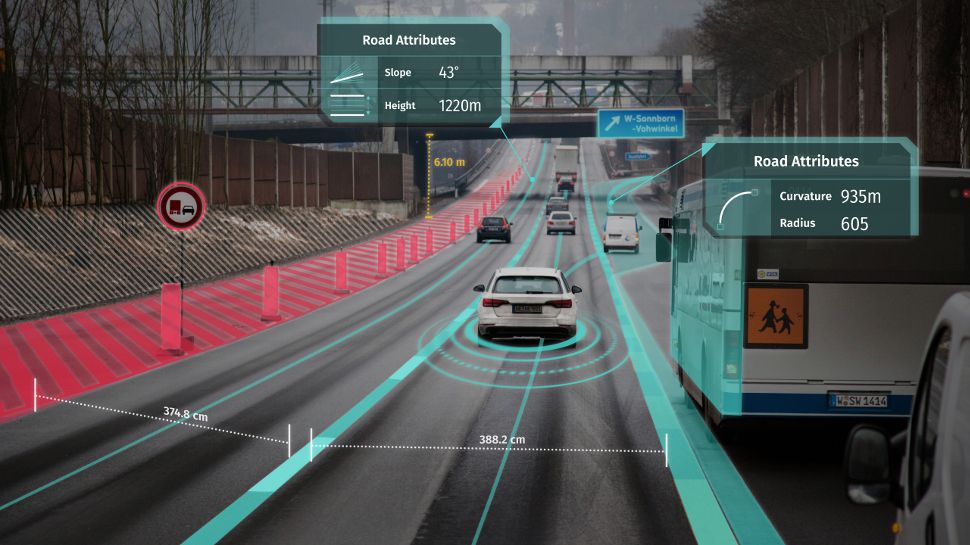 Understanding the issues with self-driving cars is very important for machine learning engineers to develop such an AI-enabled vehicle for successful driving. So, right here we also discuss the most critical problems with self-driving cars.
Training AI Model with Machine Learning
As we know, to develop an autonomous vehicle, a machine learning-based technology used for integrating AI into the model. The data gathered through sensors can be understood by cars only through machine learning algorithms.
These algorithms will help identify objects like a pedestrian, a street light detected by the sensors and classify them, as per the system's training. And then, the car uses this information to help decide whether the car needs to take the right action to move, stop, accelerate, or turn aside to avoid a collision from objects detected by the sensors.
Also Read: Top 5 Applications of Image Annotation in Machine Learning & AI
And with the more precise machine learning training process, in near future machines will be able to do this detection and classification more efficiently than a human driver can. But right now there is no widely accepted and agreed basis for ensuring the machine learning algorithms used in the cars. There are no such agreements across the automotive industry how far machine learning is reliable in developing such automated cars.
Open Road with Unlimited Objects
Autonomous cars run on the road, and once it starts driving, machine learning helps it learn while driving. And while moving on the road, it can detect various objects that have not come across while training and be subject to software updates.
As the road is open, and there could be unlimited or multiple types of new objects visible to cars, that have been not used to train the self-driving car model. And how to ensure that system continues to be just as safe its previous version. Hence, we need to be able to show that any new learning is safe and that the system doesn't forget previously safe behaviors or something like this, the industry yet to reach agreement on.
Lack of Regulations and Standards
Another hurdle for the self-driving car is there are no specific regulations or sufficient standards for the whole autonomous system. Actually, as per the current standards for the safety, for existing vehicles, the human driver has to take over the control in an emergency.
For autonomous vehicles, there are few regulations for functions like automated lane-keeping system. And there are also international standards for autonomous vehicles that include self-driving cars, which sets related requirements but not useful in solving the various other problems like machine learning, operational learning, and sensors.
Social Acceptability Among the People
Over the past year, while testing or in real-life use, self-driving cars were involved in the crash on autopilot mode. And such incidents discourage people from fully relying on autonomous cars due to safety reasons. There is also the possibility that some will reject these cars because they consume 10% more fuel than manual cars. Due to the increased spike in fuel prices, vehicle owners have become more diligent about managing their fuel. For information on how you can improve fuel efficiency and manage it, you can visit sites like https://www.lytx.com/en-us/resources/articles/fleet-fuel-management-systems and similar ones. That said, it is important to remember that social acceptability is not only a concern for car owners, but also for drivers and pedestrians who share the road.
So, people need to accept and adopt the self-driving vehicle's systems with involvement in the introduction of such new-age technology. And unless the acceptability reached social levels, more people will not use to buy self-driving cars, making it difficult for the auto manufacturers to further improve the functions and performance of such cars.
Use & Availability of Data for Sensors
To sense the surroundings of an environment, a self-driving car use a broad set of sensors like Camera, Radar, and LIDAR. These sensors help to detect varied objects like pedestrians, other vehicles, and road signs. The camera helps to view the object while on the other hand, Radar helps to detect objects and track their speed and direction.
Similarly, there is another important sensor called LIDAR that uses lasers to measure the distance between objects and the vehicle. And a fully autonomous car needs such a set of sensors that accurately detect objects, distance, speed, and so on under all conditions and environments, without a human needing to intervene.
Why LIDAR for Autonomous Vehicle?
All these sensors feed all gathered data back to the car's control system or computer to help it make decisions about where to steer or when to brake and turn in the right direction. Uncertain environment conditions like Lousy weather, heavy traffic, road signs with graffiti on them can all negatively impact the accuracy of sensing capability.
Video: Why LiDAR is used for Autonomous Vehicles?
Here, Radar sense is more suitable, as it is less susceptible to adverse weather conditions, but challenges remain in ensuring that the chosen sensors used in a fully autonomous car can detect all objects with the required level of certainty for them to be safe. So, the LIDAR sensor is more important and precise to detect objects with range depth.
Also Read: What is LIDAR: How it Works & Why Important for Self-driving Car
3D Point Cloud Labeling for LIDARs Sensors
To utilize the power of sensing the objects from the distance, LIDAR is no doubt the best suitable sensor for self-driving cars, but making the different types of objects and various scenarios perceivable such images are labeled through 3D Point Cloud Annotation service.
LIDAR point cloud segmentation is the technique used to classify the objects having the additional attribute that a perception model can detect for learning. For self-driving cars, 3D point cloud annotation services help to distinguish different types of lanes in a 3D point cloud map to annotate the roads for safe driving with more precise visibility in 3D orientation.
This article is originally written and submitted in Anolytics.ai
What Is ADAS Technology And How It Works In Car For Safe Driving?
Autonomous vehicles or self-driving cars are not successfully used anywhere, except in few countries as a taxi which is also not in full-fledged use. But similar technology like ADAS is better options for drivers to drive carefully with an automated system that will help to detect the various unfavorable scenario and inform the driver timely.
This technology is kind of additional feature trained on the basis of AI and machine learning principles to make the driving experience safe and trouble-free. Hence, in this article we will discuss about ADAS and how it works for safe car driving.
What is an Advanced Driver Assistance System?
Advanced Driver Assistance System (ADAS) is a kind of advanced technology implemented into vehicles to understand the surroundings and become aware of potential situations in a better way semi-autonomously for safe driving.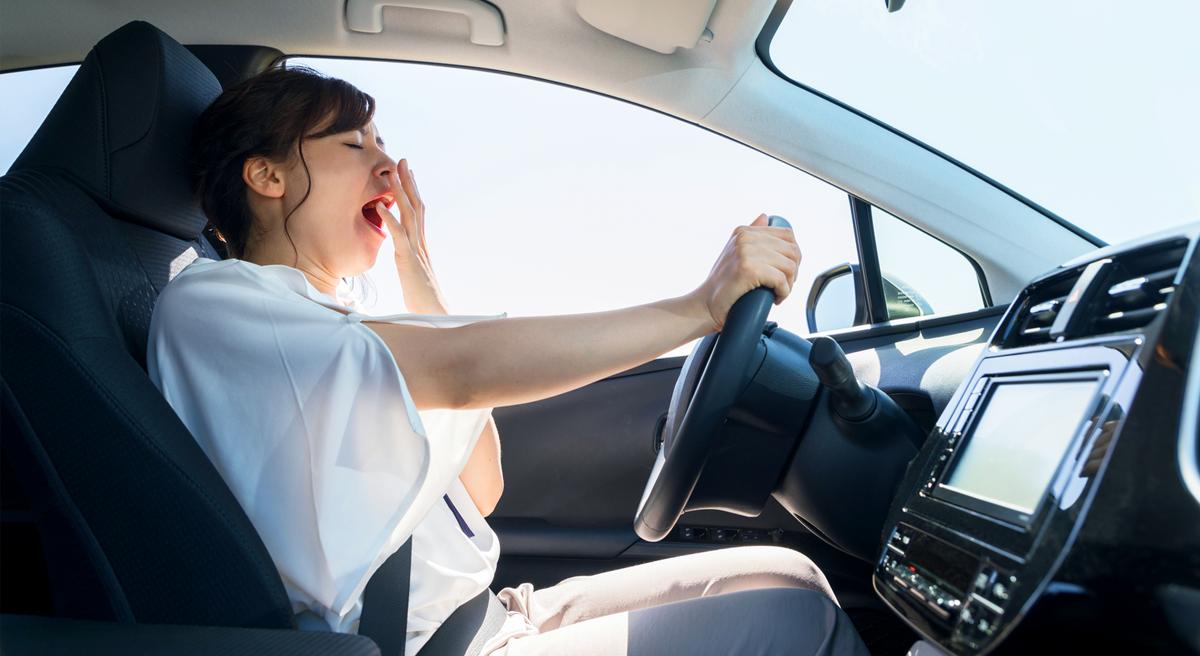 ADAS allows equipping the cars and other vehicles with autonomous driving engineering like Lidar-based sensors, high-resolution backup-camera and automatic emergency braking systems or the forward-collision warning systems.
ADAS Technologies for Cars:
Adaptive Cruise Control
Forward Collision Warning
Parking Assistance System
Blind-Spot Detection
Autonomous Emergency Braking
Lane-Departure Warnings
Lane-Keeping Assistance
Tyre-Pressure Monitoring
Adaptive Headlights
Head-Up Display
Surround View System
How ADAS is Different from Self-Driving Cars?
In autonomous vehicles the control is fully granted to machine from self-driving to handling or steering and braking. The driver does not control anything, it can drive itself in the right direction following the right path and traffic rules without colliding any object.
Whereas, in ADAS, systems are installed to assist the drivers when they unable to recognize the situation. In ADAS, systems work semi-autonomously to take quick action when a driver does not pay attention to make the driving safe and trouble-free.
How does ADAS work in Automotive?
ADAS uses camera-based sensors that allow the car to and helps the driver to be better aware of the driving environment. Cameras are installed outside the vehicle, mainly at the top, front, back, sides to capture the images of various objects and traffic sign-language like street, road signs, vehicles, pedestrians and other objects.
How Do ADAS Systems Work: Video
In automobile, images are captured by the cameras and analyzed by the specially designed software and the information then used to improve safe driving. And in case of any emergent action, it will initiate emergency braking, alerting the driver if they drift out of the lane and helping them to park the car accurately.
ADAS in Mercedes vs Audi vs BMW: Video
How ADAS helps in safe and accident-free driving?
Lack of attention for a while or sudden object appearance are the leading causes of accidents in cars taking many lives across the world. And ADAS has been designed to reduce the workload and attention level of the driver while driving the car.
How ADAS Helps in Safe Driving?
Night Vision View
Driver Monitoring
Adaptive Cruise Control
Surround View Park Assist
Blindspot Detection/Monitoring
Lane Departure Warning System
ADAS comes into the play, it can control the over speeding, change the trajectory or relative-vehicle position or by communicating with other drivers on the road with indicator lights helping the driver to get the situation under control.
Summing-up
ADAS annotation services help vision systems surround the car, perceiving to a vehicle within a protective bubble against driver error, road obstacles, other vehicles and pedestrians. And using these visual processing capabilities.
ADAS provides recognition and tracking information to onboard safety systems to detect driver drowsiness, lane departure warning, collision avoidance and protective features to avoid accidents and enhance the driving experience.
How To Avoid Traffic Challan & How To Pay Traffic Challan Online?
New traffic rules under the Motor Vehicles Act 2019 allows traffic police to penalize you with a hefty amount of fees if found violating traffic rules. Actually, Govt. has tightened traffic rules to ensure the safety of people, reduce the pollution and control the unnecessary vehicles that are running on the road without following the rules.
As per the new rules, the fines are revised minimum 10 times to multiple times with extended jail impressment upto six months. Few people are deliberately violating the traffic rules or having designer number plates etc, so they must be fined but some innocent people also face problematic situations due to such strict rules and norms by Govt.
Also Read: High Security Number Plates: Benefits & How to Apply HSRP Online
However, if you have complete documents of your vehicle and riding without violating any traffic rule you don't need to worry, as Govt. has also eased for people to verify their documents in a handy format and also avoid being stopped by traffic police unnecessarily.
To minimize the risk of hefty fined by traffic police, here we brought some useful tips for you and if found guilty how to check and pay traffic challan online with copy of Motor Vehicle Act 2019 Challan List attached in the last paragraph.
What to Do If You Don't Carry Original Documents?
If you forgot to carry your original documents and do not violate any traffic rules while driving your vehicle like not crossing traffic light, not overspending, wearing helmet or seat belts etc. Don't worry, as per the new rules – traffic police are not allowed to use brigade for unnecessary checking documents of people driving obediently.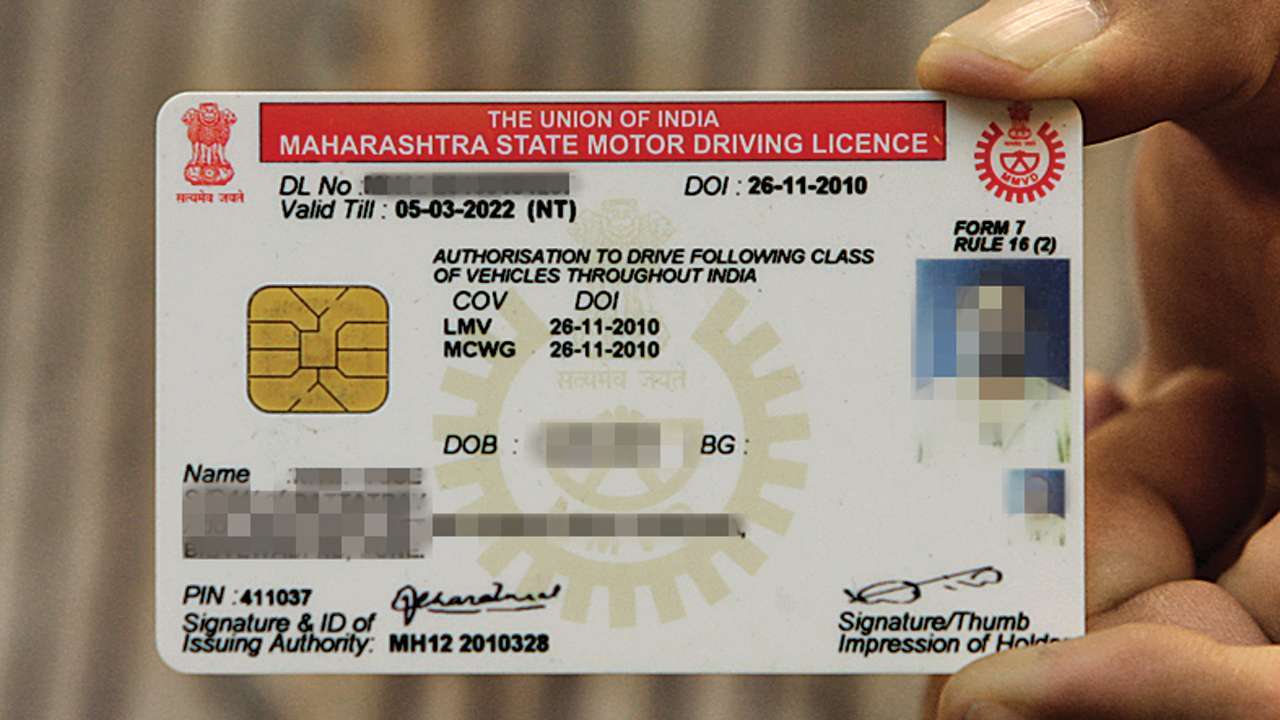 However, if you are being checked by traffic police on road, just park your vehicle near them or at the nearest police station and go home to bring all the required documents and show that directly to the RTO office avoid paying any charges.
Use Mobile Apps to Show Vehicle Document Digitally
Govt. emphasis the use of digital services, and before making such rules and norms strict also brought convenient ways for people to avoid any legal penalty or charges.
Similarly, before amending the motor vehicle act, Govt. has also promoted the mobile apps like mParivahan or Digilocker in which you can save your all documents, that you can show to traffic police anywhere carrying your smartphone or tablet.
How To Register Digilocker Account?
Digilocker is the one-stop online document portal where you can view various types of documents issued by central and state Govt. like educational certificates, Adhaar/PAN Card, driving license, motor vehicle registration certificates and other documents to view or show them digitally anywhere on your smartphone.
Steps to Register Digilocker Account:
Step1: Visit at https://digilocker.gov.in/ or download the app.
Step2: Now click on the "Sign Up" button.
Step3: Here, enter your mobile number and select the continue button.
Step3: Now you will receive an OTP code on your mobile.
Step4: Enter a received OTP and click on Verify.
Step5: Now "Set your Username and password".
Step6: Now sign in with your username and password.
How To Get or Upload Documents in Digilocker App?
Once you register successfully on Digilocker just check the documents issued by various organizations in your name linked to your Adhaar, PAN or mobile number. Most probably you be able to fetch your Adhaar and PAN details there with downloadable PDF files, but if you don't find your other documents like DL and RC etc. you can upload the documents and save there to view anytime using your smartphone.
Steps to Upload Documents To Digilocker Account:
Step1: Sign into your Digilocker account using your username and password.
Step2: Now navigate to "upload document" option.
Step3: Click here to locate the file into your system/phone and click on upload.
Step4: To assign a document type to your uploaded file, click 'select doc type'.
Step5: You will show a pop up with a drop down selection of various document types.
Step6: Make sure to choose the appropriate document type and click 'save'.

Step7: You can also edit the name of the file using the edit icon next to the filename.
Note: Documents size should not exceed 1 MB and formats are allowed only in Pdf, jpeg, jpg, png, gif and bmp to upload.
How To Pay Traffic Challan Online?
If you have found violating the traffic rules and fined with traffic challan you can choose multiple options to pay. Either you can visit at echallan.parivahan.gov.in to directly pay the fine online. And you can also use PayTM to pay traffic challan online using your PayTM wallet, connected bank account or credit card and UPI account.
Steps to Pay Traffic Challan Through Paytm:
Step1: Open your PayTM app and select "Pay Traffic Challan" option.
Step2: Now, here you need to enter your city name.
Step3: Enter the details like traffic challan and vehicle number etc.
Step4: Now select your payment method.
Step5: Once you select the payment option, you will be redirected to a safe and secure page where you can process the payment.
Step6: When payment is successfully completed you will receive an email and SMS on your registered email ID and phone number instantly.
Note: You can make the payment using your Debit Card, Credit Card, Net Banking, Paytm Wallet, Or UPI.
If you have a vehicle you must follow the above suggestions, I'm sure you will drive safely and avoid any kind of penalty under new traffic challan rules. To avoid such situations always drive without violating any traffic rule, keep all your vehicle driving related necessary documents with you either in hard copy or digitally on your mobile phone.
This kind of strict rules will not only encourage people in our country drive carefully but also minimize the risk of accidents and other mishappenings occur due to motor vehicle driving violation. And download here Motor Vehicle Act 2019 Challan List to view the revised rates under new rules to make sure you are paying the right charges.