Sentiment Analysis: How it Works & Everything You Need to Know
Understanding the sentiments of the people is not easy unless they express their feelings, opinions and perspective anything. But if you have such platforms where people are freely speaking up about their thoughts and concerns, you can easily find out their sentiments. Here where Cogito comes in the facility of sentiment analysis.
What is Sentiment Analysis?
Sentiment Analysis is the process of determining the conceptions, judgments, feelings, opinions, viewpoints, conclusions, and other notions towards anything. It is a technique to analyze texts, images, emojis and various other actions to know what other people think about a product, service, company, brand name, or a reaction to a specific event, social movement, etc.
The Usefulness of Sentiment Analysis
Sentiment analysis is playing an enormous role in understanding people belonging to different groups and their sentiments. On political grounds, it helps to know how much of the majority is in favor of the Govt. or how many stands opposing to their services and measures undertaken.
While on the other hand, in the business world, it is helping companies to know their customers in a better way. Such a resource becomes useful for the business enterprises to offer products and services as per the expectations of their potential customers and get appropriate results.
Social Media is one the best and biggest platforms where the theory of sentiment analysis is and must be applied, to interpret the feelings of various people. Hence, we need to understand it as a process, how it works, its applications and why it is important for business organizations and other aspects.
What is Sentiment Analysis in NLP?
Natural Language Processing (NLP) is a way to understand the actual meanings of the text words, sentences, or entire written documents. NLP is used to train the machines thereby, helping them understand the language and communication process among humans while discussing a topic.
The main motive of sentiment analysis is to find out expressions of people that are eventually classified as positive, negative, or neutral. It can be used in diverse areas such as company products, market research, marketing analysis, customer targeting, product reviews, customer feedback, reputation management, etc.
How Does Sentiment Analysis Work?
As mentioned above, sentiment analysis is used in NLP-based machine learning algorithms to develop such AI applications that can understand the ways of linguistic context showing the sentiments of different people.
But the question here is, how does sentiment analysis work? The developers begin by creating a text Machine Learning-based algorithm that can detect the contents showing any specific sentiment indicator.
Afterwards, they train the ML classifier by feeding it a huge quantity of training datasets containing reactions based on positive, negative, and neutral sentiments. Every piece of content is scattered and divided into basic components such as text words, phrases, sentences, and other entities.
Once this process is completed, the relationship between the topics and the identification process commences. Then, AI model assigns a sentiment score to that particular post. The post can range from 1 representing negative and +4 representing 4 positive comments. If a sentiment is neutral, the score is usually given 0.
As we already know, understanding the different human languages is a very complex task due to their cultural and social diversity. Hence, it is important to train the programs in such a way that they are able to detect and analyse grammatical nuances.
TYPES OF SENTIMENT ANALYSIS
To understand the sentiments of people, there are different types of sentiment analysis used in the market. Apart from normal opinions – positive, negative, or neutral, other types of sentiment analysis help in understanding people's inner feelings, their actual intentions, and emotions.
Fine-grained Sentiment
This is one of the most simple and common ways of understanding your customers' sentiments. Yes, fine-grained sentiment analysis helps in studying the ratings and reviews given by the customers.
While analyzing the sentiments, you can use the readily available categories like very positive, positive, neutral, negative, or very negative. Providing a rating option from 1 to 5 is yet another way to scale the feedback given by your customers. Most e-commerce sites use this technique to know the sentiments of their customers.
Aspect-based Analysis
This type of sentiment analysis is more focused on the aspects of a particular product or service. To make it easier to understand, let's take an example – if you are talking about a soundbar or a wireless speaker system.
Here you can analyze your customer's sentiments by asking them for feedback about the sound quality, connectivity, and other features, making such devices more useful and productive for the users. It helps in determining specific attributes of the product.
Intent-based Sentiment Analysis
To know the intent of the customers; whether they are looking to buy the product or just browsing around, is achievable through intent analysis. It not only helps to identify the intent of the customers but also to track and target them through advertisements or other ways of online promotions.
With intent analysis, companies can save their time, efforts, and cost while targeting the potential customers as per their intentions. This helps in getting a more vivid understanding of the intentions of the customers.
Emotion Detection Sentiment Analysis
As the name symbolizes, this type of sentiment analysis helps to detect and understand the emotions of the people. Emotions like anger, sadness, happiness, frustration, fear, panic, worry, or anxiety, may all be included.
Understanding the sentiments of people using emotion detection is even more difficult as people use a collection of words having a different sense of meaning. Hence, inaccurate emotion detection can lead to an inaccurate decision while analyzing the true sentiments of the people.
How Can Sentiment Analysis be Used?
The main motive of using sentiment analysis is to find out the true feelings of the varied people living in our society. It can be used for analyzing the customer's feedback of a particular company, normal users on social media towards a product, services, social issues, or political agendas.
Also Read: How Sentiment Analysis in Stock Market Used for Right Prediction
Companies also use it for brand analysis, reputation crises, campaigns performances, competitor analysis, and improve the service offered to the customers. While on the other hand customer sentiment analysis helps the customer support team to prioritize their work for offering better service to end-users.
Why Sentiment Analysis is Difficult?
Sentiment analysis is a very difficult task due to sarcasm. The words or text data implied in a sarcastic sentence come with a different sense of meaning depending on the senders or situations.
Sarcasm is remarking someone opposite of what you want to say. It is expressed to hurt someone's feelings or humorously criticize something. On social media, sarcasm is one of the most common behavior you can see nowadays interfering with the results.
Sarcastic words or texts show the unique behaviour of people. It is usually used to convey a negative sentiment using the positive intention of words. This kind of caustic remark can easily mislead the sentiment analysis decisions.
The presence of sarcastic words makes it difficult for sentiment analysis processing in turn making it difficult to develop NLP-based AI models. Hence, a deeper analysis of such words is required to understand the true sentiments of people with accuracy.
In such a case, we can use the psychographic-based analysis to understand such people and their exact intention of what they are trying to say. Using the psychographic segmentationin sentiment analysis can give more comprehensive perception of different kinds of people interacting with each other.
Sentiment Analysis using Psychographic Segmentation
Sentiment analysis can be a big game-changer in forming a more focused marketing strategy for the companies. But these establishments need to understand their customers by segmenting them into their characteristics like their cultural values, beliefs, desires, goals, interests, and lifestyle choices.
Psychographic Segmentation becomes helpful here in analyzing the customers' sentiments by segmenting them based on their activities, lifestyle, and interests. It is a more qualitative approach to study consumers according to their psychological characteristics.
Psychographic segmentation not only helps in improving the customer experience but also authorizes companies to offer more tailored products or services to the right customers at the right time improving the return on investment.
Psychographics allows you to learn about the deeper motivations and emotions that influence potential customers. Hence, in the next article, we will learn more about psychographic segmentation, and how it is helpful in sentiment analysis.
Latest Best 5G Smartphones: Specifications & Price Availability
5G Network not yet developed in most of the countries, but 5G-enabled smartphones are being launched aggressively by the top mobile manufacturers. Yes, mobile companies are now highlighting the 5G feature into their phone to attract the customers.
But do you know, now many mobile chips or processors, especially for mid-range and high-end segment flagship phones, comes with in-built technology to support the 5G network. Anyway, in upcoming years top countries likely have the 5G network.
Also Read: Top Five Reasons You Need to Change Your Smartphone
India is also working in this technology to bringing it into existence allowing people to enjoy high-speed internet and wireless connectivity. So, if you are planning to buy a smartphone, you should go with 5G phone, so that whenever the network will be available, you can get it first without changing your phone.
Best 5G Smartphone Under Rs 30000
---
Best 5G Smartphone Under Rs 25000
---
If you are not ready to spend not more than 25K on a 5G smartphone, you can find various options below 20K with various interesting features. So, we brought here below the top 3 best 5G phones that you can buy in less than 20K.
Best 5G Smartphone Under Rs 20000
And if your budget is below 15K, you can find the various interesting phones under this price segment. Check out below the latest 5G mobile under 15000 with specifications, features, price and availability.
Best 5G Smartphone Under Rs 15000
---
Most probably you would be thinking about that, there are various other 5G smartphones available in the market. So, let me clear to you that these three phones come with the highest configurations and the best features at this price range in the market.
Apart from this, OnePlus Nord, Xiaomi Mi 11X 5G, Oppo Reno 5G, Vivo owned iQOO 7 5G & Samsung A72 series phones are the next best 5G supported phones in the premium segment available in the market. Anyway, if you are not willing to pay this much money, you can get 4G phones with the same configurations at a cheaper price. If you are looking for a 4G phone, currently Redmi Note 10, Realme 8 Pro & the Samsung M series are the best mid-range smartphones you can buy online with bank discount offers.
Also Read: Top Best Selling Smartwatch in India Under Rs 5000, 10000 & 15000
How to Use WhatsApp View Once Feature to Send Pictures & Videos?
The world's most widely used personalize messing mobile application WhatsApp has recently launched a new feature called View Once using that you can send secret pictures and videos that will automatically delete after the recipient has opened it.
This feature will not only gives users more control over their privacy but also allowing them to share confidential data like OTP, Debit or Credit Card Pin and Net Banking Login password or other similar one-time transaction codes etc.
Also Read: WhatsApp OTP Scam: Know About This Online Fraud & How to Stay Safe
If you use the Whatsapp view once mode the picture, video or text message it will automatically remove from the chatbox the moment you open it. The best thing, neither it is saved in your media gallery, nor do you have the option of forwarding it to anyone else in your WhatsApp phone contact.
How To Use WhatsApp View Once Feature?
For example, if you have visited an ATM to withdraw money using your friend's or family member's card and you forget your pin. You can always ask your friend or family member to write the pin on a paper and send it to you as view once media.
Also Read: How to Stop Whatsapp Media Auto Download to Gallery
And ATM pin is not something you would want to keep in your chat box forever, you would not read and destroy it as soon as you can. Because what if your phone gets snatched that very moment, you would not want the thief to read your ATM pin. So, let's find out how to use the WhatsApp view once feature on your android and apple phone.
Steps to Send View Once Pictures and Videos on WhatsApp:
As you know it this feature has been recently rollout by the company, and if you have not recently updated your WhatsApp, just open the Google Play Store and update it with the latest version (2.21.16.20).
Step1: After updating the app, you can open any chat window and select an image or video to send to that person.
Step2: Now select a media, you will see a small circle on the dialogue box with 1 written inside it.
Step3: Here you need to tap on the 1 circle to enable the View Once media.
Step4: When you tap on it, the media will be sent as I circle Photo or Video.
Step5: After you have sent the view once media, select the message and swipe right.
Step6: Here when you swipe right, a new window will show you whether that message has been opened or seen by the recipient.
You can use this feature to send the message to individuals as well as groups. And to check which of the group members have seen or opened the media you can select the message and swipe right. And anytime you can disable the feature by tapping on the 1 circle.
Also Read: How To Stop Someone From Adding You To A Group In Whatsapp
However, if you do not open the message for 14 days, the media remains on the Chatbox for those many days. And, after the completion of 14 days, the media will expire automatically.
Though, WhatsApp has said that the view once media is protected by end-to-end encryption so even WhatsApp cannot see them as is the case with the personal messages, but at the same time it also warned users about sending view once media to only trusted contacts.
As the view, once media feature is not supported by a screen detection feature. This means, you will never get to know whether the recipient has taken a screenshot of your media or not. Not only screenshots but the media can also be recorded using a screen recorder and the person can also use any other device to capture or record your media and share it with an unauthorized person.
Also Read: How to Enable Two Factor Authentication on Your WhatsApp Account
Top Five Reasons You Need to Change Your Smartphone
Technology is one of the fastest things that change at a rapid speed in every field. The smartphone is one of the highly used gadgets that you will notice comes with new engineering almost every quarter month. Over the past few years, the dynamics of smartphones have been changed with various innovations that you had never imagined in your life.
Anyway, technology will keep changing and no one can stop this as it helps us to perform various tasks easily. However, if you are still using a sophisticated phone or having an outdated smartphone you need to change your phone with the latest smartphone that will give you a totally different experience while using its functions in various situations. You can find here the five best reasons to change your smartphone to the new one.
5 Reasons Why Buy A New Smartphone
#1 Bigger Screen with Breezeless Display
The days are gone, when up to 5 inches screen was bigger enough to meet your mobile viewing experience, now 6 plus inches screen is the normal screen size of most of the phones that now comes with a breezeless display.
Even a few mobile manufacturers are now making the phones up to 6.4-6.7 inches with screen-to-body ratio gone up to 94% that provides better viewing especially when you play games, watch videos or movies and read news articles regularly.
#2 Better Processor with High Capacity RAM
RAM and mobile processors are important components in your mobile that allows you to operate your phone speedily without facing hanging or slow running issue. As of now, most of the top mobile brands are offering better performance processors with high capacity RAM allowing hassle-free multitasking with less battery consumption.
And not only flagships but medium range smartphones are also now available with high-end processors. If you buy smartphone having at least Snapdragon 730 or Snapdragon 845 or 855 with 6 or 8GB RAM you can operate smoothly without facing any issue.
#3 Bigger Battery Life with Fast Charging
In earlier times owing to a smaller screen and fewer apps or mobile functions use the battery size was not a big concern for the users, but now the scenario is different. You would be using the various apps like Whatsapp or FB multiple times in a day or reading news or articles increasing your screen-on time that mainly consumes the mobile battery.
Now you can find more than 4000mAh battery that can give you one of more days backup even in heavy use conditions. Actually, bigger screen size is also another reason for high battery capacity so never buy 6 plus inches screen smartphone having less than 4000mAh battery otherwise you need to charge your phone very often.
And don't worry about charging times, as most of the phone now comes with fast charging like Vooch charging or Dash charging that can charge a higher percentage of your phone's battery within few minutes powering your phone with quick backup.
Video: Xiaomi 100W Fast Charging Test
#4 AI-Enabled High-Resolution Multiple Cameras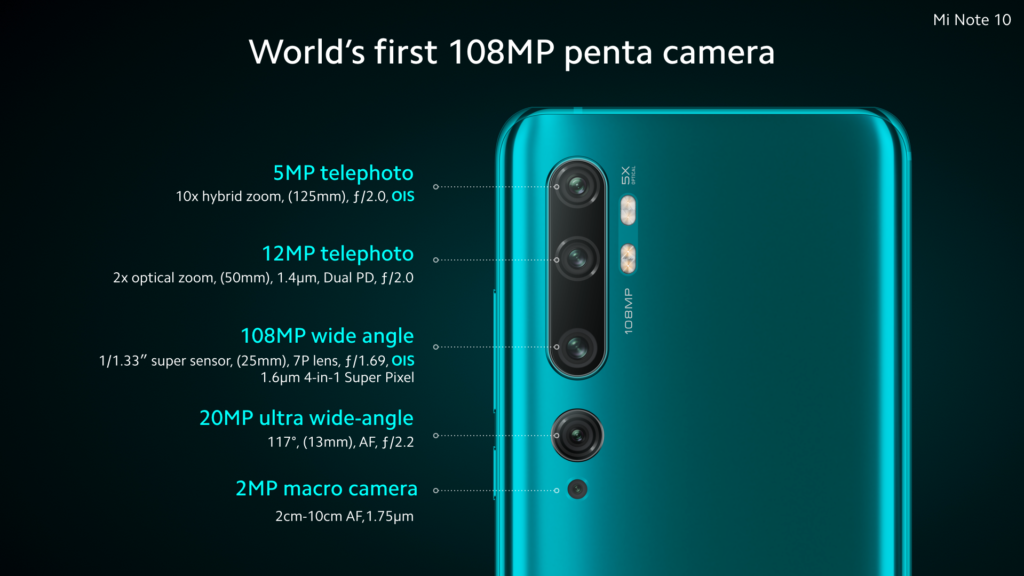 The Camera is another segment in mobile phones that has got major improvements in the past few years. People now not buy cameras for photography instead they use phones with quick sharing or image editing options to make the photo look better. Moreover, artificial intelligence is the new technology now integrated into high-end smartphones.
Mobile companies have already integrated AI into the camera to take the photo as per the background scenes giving a natural look to photos. And high-resolution like 108MP multiple cameras can capture the photos supported with a telephoto lens and wide-angle view.
You can also find the phones having triple or more cameras for better photography even in low lighting conditions or during nights allowing you to capture anything anytime.
Also Read: 48 Megapixel Camera Phone: A New Trend Set for Smartphones to Attract Customers
Even a few flagship brand's phones like One Plus, Xiaomi Mi Series, Oppo Reno Series and Samsung Galaxy Series Digital Hybrid Zoom comes with optical zoom to capture the pictures from a far distance or zoom the image without compromising the picture quality.
Below you can check few image samples and videos taken from Samsung Galaxy S21 Ultra 100x Zoom and Mi 11 Ultra 120X Zoom with the comparison of the photos zoomed multiple times.
Video: Mi 11 Ultra 120X Zoom Camera Test
Video: Samsung Galaxy S21 Ultra Camera 100X Zoom Test
#5 New Technologies – Hidden Camera and 5G Network
Apart from triple or quad cameras, companies are now in a race to make selfie cameras to be hidden inside the phone. Though, pop-up cameras are already in trend but they can also easily break down or might damage badly if dropped. So the under-display camera is the solution to keep the camera hidden as well as safe with a notch-less full-view screen.
How Under Display Camera Technology Works?
Companies like Xiaomi and Oppo working on an under-display camera that will work on a custom display that featuring a small transparent area made of a special low-reflective glass with high transmittance. When the selfie camera is activated, the display area over the camera lens becomes transparent in an instant, allowing light to enter.
Video: Under Display Camera Testing
And when the camera is not in use, the transparent display works like a normal one, allowing content to be a full-screen display. This display embedded camera technology combo allows more light into the lens, resulting in clearer and crisper selfies than the punch-hole camera that is also in trend among mobile manufacturers.
Similarly, 5G-enabled smartphones launch would be the new trend in the mobile market, as most of the top nations have started rolling out the 5G network bandwidth spectrum to telecoms companies that will also encourage mobile makers to manufacture 5G-supported phones that can give you an unbelievable internet speed on such gadgets.
Also Read: Latest Best 5G Smartphones: Specifications & Price Availability
Video: 5G Speed Test on Galaxy S10 5G
Using 5G you can download movies or high-end games within a few minutes or can do video calling without call-drop in a high-resolution without any trouble. Though initially, the 5G-enabled devices and data network would be not affordable, but within the next few years, it will become cheaper and accessible to mass people across the world.
Also Read: Latest Best 5G Smartphones: Specifications & Price Availability
Video: 5G vs 4G Network Upload & Download Speed Test