Coronavirus Infection, Symptoms, Transmission & Treatment: Everything You Need to Know About This Deadly Disease
An international outbreak of a new respiratory disease called "Coronavirus" started in China killed more than sixty thousands of people and infected more than 1 million worldwide. The outbreak started in city Wuhan, China, from the market selling live poultry, seafood and wild animals now speedily spreading among more people and reported globally. 
Now the coronavirus has extended in more than 200 countries, including Japan, Hong King, South Korea, France, Australia, and the United States. Investigators in still other nations, and in several American states, are evaluating possible cases.
What is the Coronavirus in Humans?
Described by WHO – Coronaviruses named for the spikes that poke out from their crusts, which resemble the sun's corona. It is a large family of viruses that cause illness ranging from the common cold to more severe diseases.
Coronaviruses are transmitted between animals and people, and there are several known coronaviruses currently circulating in animals, that have not yet infected humans. But now it is confirmed it is easily spreading among people.
What is Coronavirus Symptoms?
Common signs of infection include respiratory symptoms, fever, cough, shortness of breath and breathing difficulties. In more severe cases, the infection can cause pneumonia, severe acute respiratory syndrome, kidney failure and even death.
How Coronavirus Started in China?
As per the research, Coronaviruses was originated in the animals — like camels, civets and bats — and are usually not transmissible to humans. But sometimes a coronavirus mutates and can pass from animals to humans and spread further.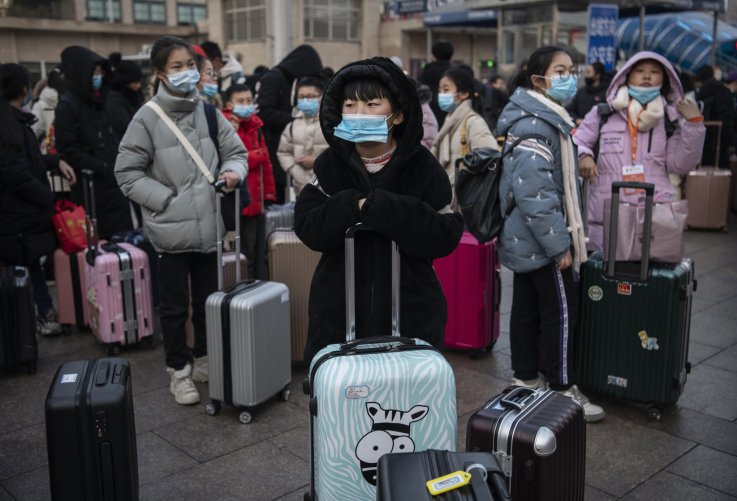 It is just like the case with the SARS (severe acute respiratory syndrome) epidemic in the early 2000s. However, most, but not all, of the first known cases in December 2019 were traced to an animal market in the Chinese city of Wuhan.
It is believed to have come from contact with live infected animals like fish and birds. The market has since been closed but Wuhan, lies about 500 miles west of Shanghai is a major logistics and transportation hub with the home of more than 11 million people.
Also Read: Coronavirus Economic Impact on India-China Export-Import Trade
How Coronavirus Spread Or Transmitted?
As per the doctors, coronavirus is transmitted through coughing and sneezing, as is the case with influenza and other respiratory viruses. It can transmit among the humans through close contact even form the range of about 3 to 6 feet.
Though, scientists are trying to discover how easily the virus is transmitted. Till now as per the research published in a medical journal suggested that the virus was passed from one ill relative to six others; only two had contact with the initial patient.
The Chinese Center for Disease Control and Prevention analyzed 198 confirmed cases in Wuhan. Researchers found that 22% had direct exposure to the meat market, and 32% had contact with people who had a fever or respiratory disease.
Coronavirus – How long it takes to spread?
Till now as per the scientific research and studies the new coronavirus's incubation period that means, the time it takes from a person being infected with the virus to when they start showing symptoms is still unknown among medical experts.
Also Read: New Coronavirus Myths And Facts: 16 Myth Buster Graphics by WHO
However, public health experts are working under the assumption that the incubation period is about 14 days. It's unclear whether a person is contagious during the incubation period, so it very difficult to define how long it lasts.
But, as per the latest studies by doctors, infection is much more contagious and spreading the disease for days or weeks before they even realized among the patients. Five confirmed cases in the United States have been confirmed even if they had no symptoms at the time that might have been infectious while traveling from Wuhan to Arizona.
How Dangerous is Coronavirus?
Though, health officials around the world are alarmed, but it is hard to accurately assess the lethality of a new virus. Meanwhile, the World Health Organization has declared the Coronavirus outbreak in China a global health emergency.
The timing and life threat after getting infected with this virus is not yet defined, but if someone gets infected, and not getting the right or timely treatment, there is a higher probability of getting died due to acute respiratory problems in the lungs.
Also Read: Coronavirus Microscope Pictures Released: See how these Deadly Pathogen look
What is The Treatment for Coronavirus?
Though, till now no specific treatments for coronavirus infections have been recommended by WHO or any other health organization in the world. And there aren't any vaccines developed yet to prevent human coronavirus infections. But to reduce your risk of getting or spreading you can take several precautions given below.
How To Prevent Coronavirus Infection?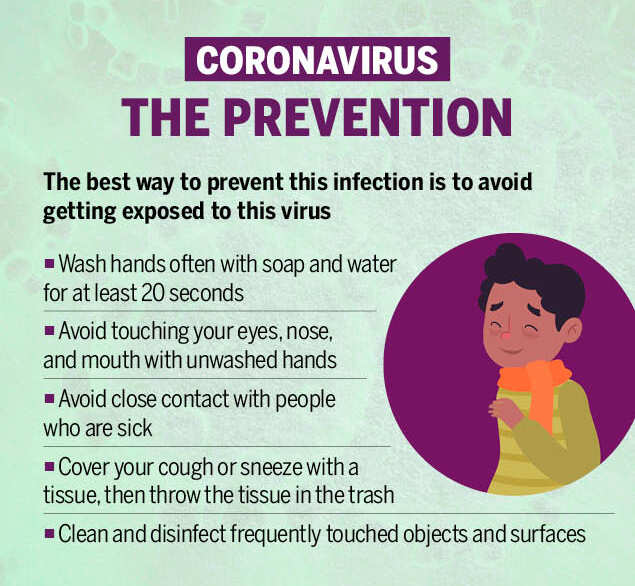 Also Read: How to Get Prepared for Coronavirus: What You Should Do and Don't
Is there a Vaccine for Coronavirus?
There is currently no vaccine to immune against this newly discovered coronavirus, although researchers in the US and China have already begun working on one, thanks to China's prompt sharing of the virus's genetic code.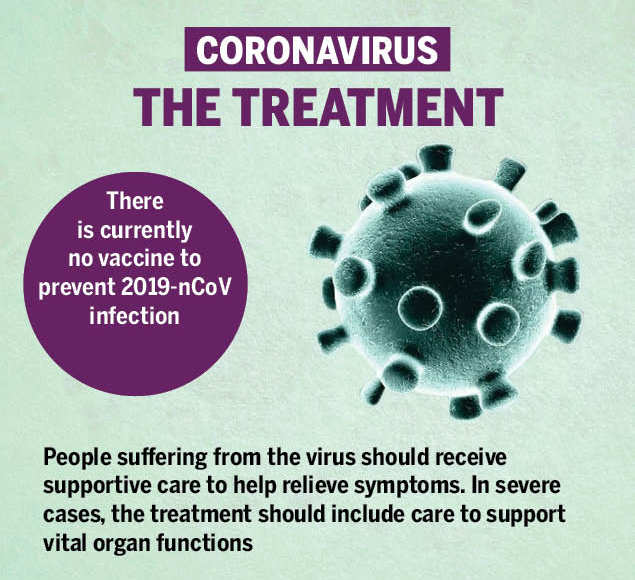 However, any vaccine will not be available for up to a year and would most likely be given to health workers most at risk of contracting the virus. Hence, China has started building a 1,000-bed hospital in six days to treat patients within the city Wuhan.
Also Read: Why Vaccine Development Process for New Diseases Like Coronavirus Takes 12 to 18 Months
How China Built a hospital in six days to treat this virus in Wuhan?
To prevent this virus further infection, China has constructed a 1000-bed hospital on the area of 25,000 square meters (269,000 square feet) to treat and cure coronavirus infected people within the Wuhan city, home to around 11 million people.
Video: How China is Taking Actions to Treat & Control the Coronavirus?
Earlier in 2003, when similar virus SARS spread, China has built Xiaotangshan Hospital in Beijing, in seven days, first world record for the fastest construction of a hospital.
Also Read: Why and How Coronavirus Fatality Rate is Lower Than MERS & SARS
Video: How China Building 1000-beds Hospital in Few Days in Wuhan City
To achieve this construction, about 4,000 people worked to build the hospital, working throughout the day and night in order to meet the deadline. And inside, it had an X-ray room, CT room, ICU, laboratory and each ward equipped with its own bathrooms.
Coronavirus Treatment Cost?
Though, any specific medicine or treatment to cure coronavirus has been not been discovered, but if anyone got infected, depending on the medical facilities, equipment or hospital facilities, charges may differ. As per livemint news in China, an Indian lady is infected and it would cost her around Rs 1 Crore, which is around 10 lakh in Chinese currency Yuan.
The treatment process includes providing patients an external respiratory support, ventilators, dialysis and blood purification process. In developed countries, such advance medical equipment available at a more affordable cost while in undeveloped or developing nations, either it might be not available or can be obtainable at an expensive cost.
Coronavirus in India
Till now, 2700 confirmed cases of coronavirus infected humans has been reported in India, but there no death reported yet. Actually, due to low educational and studies cost of medical in China, around 1200 students from India are studying there.
Amid, Chinese New Year holiday started from 25 Jan 2020, and many Indian students would come to the home to spend their holidays with their family. So, to avoid incoming coronavirus from China, the Indian health ministry has asked travelers from China to report to the nearest health facility in case they do not feel well.
The ministry has asked authorities at seven airports of Delhi, Mumbai, Kolkata, Chennai, Bengaluru, Hyderabad and Cochin to screen those travelling from China.
Till now in India, four infected person has been treated and recovered from coronavirus infection. Further numbers likely to rise as many people from outbreak nations are coming and get in touch with others without proper check by health authorities.
Meanwhile the Union Health Ministry in India also urged people to refrain from travelling to China, Italy, Iran, Republic of Korea, Japan, France, Spain and Germany. The citizens were also advised to avoid non-essential travel abroad.
In the wake of coronavirus outbreak, the government also issued an advisory for those with travel history to China, Hong Kong, Republic of Korea, Japan, Italy, Thailand, Singapore, Iran, Malaysia, France, Spain and Germany.
They are requested to undergo 'self-imposed quarantine' for a period of 14 days from the date of their arrival. The government also asked companies to arrange 'work from home' facility for those employees who had a history of traveling to the mentioned places.
Sources: Telegraph UK, New York Times, BBC, CNN, UN News, NBC News , Los Angles Times, Bloomberg, Fox News & Worldometers
What is Computer Vision Syndrome: Symptoms and 10 Prevention Tips
As per the latest research, more than 60 million people are suffering from computer vision syndrome which is a kind of digital eye strain does not only affects your eyesight but also creates a vision problem in the long-term.
What Causes Computer Vision Syndrome?
Computer vision syndrome (CVS) is a kind of strain on your eyes that happens due to prolonged exposure of eyes while reading content or watching videos in digital devices like computers, laptops, tablets, TV and smartphones.
When due to long hours viewing on such devices your eyes feel discomfort and vision problems, which means you have CVS. Actually, Poor lighting, screen glare, improper viewing distance, poor posture, and uncorrected vision problems are the leading factors the causes CVS among the people and owing to digitalization this disease further likely to increase.
Also Read: How Much Screen Time is Too Much for Adults or Bad for Your Eyes?
According to the latest reports by NCBI, globally more than 60 million people are suffering from computer vision syndrome. As with the new age of population becoming adoptive using such devices at a young age for longer hours are becoming victims of CVS at the later stage of their life and now young people are also facing such problems.
Actually, all such digital devices emit blue light which causes the eyes to refract, resulting in surrounding objects going in and out of focus.
And compared to printed text, images on a screen are comprised of thousands of tiny spots, which puts additional stress on the eyes causing CVS like health problems. So, let's find out more about this disease and how to prevent or cure computer vision syndrome.
Computer Vision Syndrome Symptoms
Though, if you visit specialist doctors, he can diagnose computer vision syndrome through an eye exam, with special attention paid to how the eye works and responds at computer distance. But if you have any of the given below indications you can have the CVS problem, you can visit the doctor to get confirmed with few medical tests.
CVS Disease Symptoms:
Eyestrain
Eye fatigue
Headaches
Tearing
Blurry vision
Backache
Irritated or red eyes
Dry eyes (gritty or burning)
Neck and/or shoulder stiffness and pain
What Causes Computer Vision Syndrome (CVS)?
Though, there are a number of factors that determine the amount of strain your body feels as you work on a computer or other digital device, like lighting condition in your room, glaring style on the screen, distance from the screen, angle of your head and seating posture, etc. all these factors in combined cause strain on your eyes resulting CVS.
How To Prevent Computer Vision Syndrome?
It is obvious that reduce your screen time on such digital devices to avoid CVS, otherwise, excessive use of digital devices can permanently damage your eyes. But owing to studying needs, bounded working hours and gadgets addiction it becomes difficult to reduce the screen viewing time, so you can follow few rules to prevent CVS syndrome.
#1 Reduce the Screen Glare Level
You can change the lighting around you to reduce the effect on your computer screen. If light from a nearby window casts a glare, move your monitor and close the shades. You can also have a dimmer switch for the overhead fixtures if they're too bright, or buy a desk lamp with a moveable shade that casts light evenly over your desk.
#2 Avoid Using Digital Devices in Dark
Many people use a smartphone at the time of sleeping switching off their bedroom light that badly affects their eyes and creates CVS problems.
Also Read: How to Improve Eye Vision Naturally: 6 Ways to Increase Eyesight
Actually, blue light on such a screen has more effects in a dark environment, so you can enable the reading mode, or reduce the brightness level in your device or wear protective glasses.
#3 Reorganize Your Desk & PC
To avoid stress on eyes adjust your monitor slightly below eye level, with the distance of around 20 to 28 inches away from your face. You can also put a stand next to your monitor and place any printed materials you're working from on it.
#4 Exercise with the 20-20 Rule
This is called 20-20-20 rule which means – on every 20 minutes, take a 20-second break and look at something 20 feet away. Meanwhile, also make sure while blinking keep your eyes moist and if you feel dry use natural eye drops to lubricate.
#5 Tune the Device Screen Settings
Do you know you can adjust your computer, laptop, TV or smartphone's screen to minimize the impact of screen light on your eyes? On computer devices, adjust the brightness, contrast, tint level and font size that is best for you. While on a smartphone, you can enable reading mode or set the screen at a warm color tone to minimize the impact.
#6 Eat More Green Fruits & Vegetables
If your work or personal life doesn't allow minimizing the digital screen exposure on your eyes, you need to give extra nutrition to your body to keep your eyes healthy. So, eat more green vegetables and fruits that are rich with vitamins A.
All the green vegetables have antioxidant and anti-inflammatory properties, which protect our eyes, like carrot, especially leafy vegetables spinach that also contains high calcium and also has multiple other benefits to your health.
Also Read: 5 Health Benefits of Eating Spinach Leaves or Palak
#8 Sit Comfortably and Take Breaks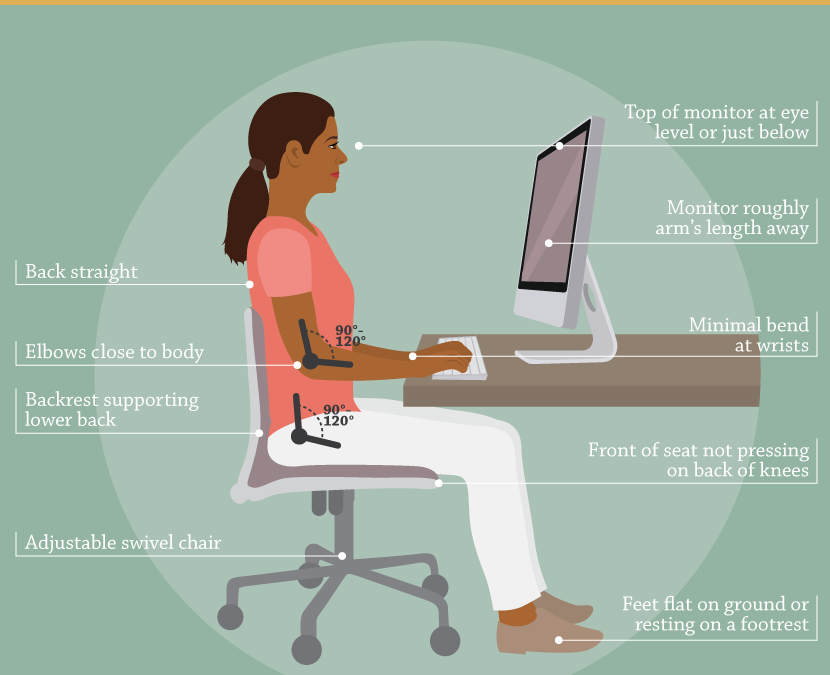 While sitting in front of computer make sure your sit in a comfortable position. A comfortable chair with support for your neck and back will help you avoid neck and shoulder strain commonly associated with computer vision syndrome.
And also keep taking breaks at regular intervals to avoid strain on eyes. A few minutes away from the computer can go a long way when it comes to your eyes. It is just like the way you take stretch breaks for your arms and back.
#9 Blink Eyes More Frequently
Apart from that you also need to make an extra effort to blink more frequently to ensure the front surface of your eyes stays moist. This will help minimize the risk of developing dry eye while watching on digital devices for long hours.
#10 Visit at Eye Specialist Doctor
However, if you have a serious CVS problem, visit your nearest eye specialist doctor now. And let him check your eyes medically and recommend glasses or contact lenses or pair of other special types of glasses for such devices. He can also prescribe a single or bifocal lens, or tinted lens material to boost contrast and filter out glare.
What is Meant by Dental Caries How are they Caused & Prevented?
Teeth caries is the results of erosion in your teeth's surface that are basically caused due to bacteria attack causing acid and plaque. Dental caries is common in all genders as well as all age groups of people. Though, at the initial stage, it is not painful but when its effect reaches the nerves or roots of your tooth you will face the actual problem.
Dental caries is also well-known as dental cavities and with the time being becomes more painful with serious teeth condition, especially if not treated timely or completely ignored. In dental caries, the tooth starts to breakdown due to acids made by bacteria. And the reason behind this caries is acid from bacteria dissolving the hard tissues of the teeth like enamel, dentin and cementum making it painful for you.
Dental Caries Symptoms
Dental caries, you can say is the process of deteriorating your teeth and you notice the symptoms when can see a hole in your teeth, feeling pain while chewing the food, often toothache and feel teeth sensitivity while consuming cold or hot food or beverages.
Also Read: Top Six Foods Need to Avoid Bad for the Health of Teeth and Gums
In various situations, dental caries can be worse, where you need immediate medical assistance to cure the dental problem. If you are living in New Work, you can visit the dental clinic in New York for the right treatment to cure dental cries and prevent the teeth from permanent damage.
These are kind of initial indications, which means your tooth is under the attack of dental caries. And you need to take the right action now to control its further spread and prevent your teeth from permanent damage. Before you get to know the prevention of dental caries, you should know the causes or what are the reasons causing the dental cavities.
Dental Caries Causes
Dental caries are mainly caused by the bacteria and damaging substances released by these bacteria like acid that erode your teeth. When you eat food, normal bacteria in your mouth combine with food leftovers and when acid comes into contact with these remnants, it creates a sticky film which also known as plaque.
But you can control plaque, and to remove the plaque you need to use the flossing and keep brushing regularly two times (in the morning and at the night before sleeping). When such plaque accumulates for a long time it becomes a harder substance called tartar.
And the accumulation of plaque and tartar with bacteria and acid attack can damage the enamel on your tooth that causes holes in the enamel that is known as dental caries or cavities. Dental caries usually starts with small and narrow holes, if ignored it comes deeper and reaches the roots of your teeth which leads to permanent damage of the teeth.
How Can Dental Caries be Prevented?
To prevent dental caries, you need to maintain oral hygiene and avoid the activities causing the cavities. To prevent, you can avoid eating food or drinking various beverages in your daily life. And you need to be careful after eating such foods or drinking the beverages. Below you can also read a few tips to keep cavities under control.
Tips To Reduce Dental Caries:
Limit Consuming Sugary or Starchy Items.
Brush Your Twice (In the morning & night).
Rinse Your Mouth after Consuming Foods.
Flossing of Teeth & Use Fluoride to Rinse.
Use Fluoride Toothpaste for Brushing.
Avoid Chewing Tobacco and Smoking.
Visit Regularly at Dentist for Check-ups & Cleanings.
Also Read: How to Stop a Cavity from Getting Worse Naturally: 5 Simple Ways
Dental Caries Treatment
Depending on the cavities level and teeth condition, dentist in Jamaica performs the right treatment to cure dental caries. Dentists here usually perform dental procedures like fillings and crowns to cure the teeth affected due to caries.
Also Read: How Long Do Composite Fillings Last on Teeth & How to Take Care
Fluoride/Dental Fillings & Crowns
At the initial stage, the dentist recommends fluoride treatmentsthat contain more fluoride than the amount found in tap water, toothpaste and mouth rinses.Fillings and crowns are performed when decay has progressed beyond the earliest stage and weakened your tooth that helps to fill the holed area and cover your tooth with a natural crown.
Root Canals & Tooth Extractions
While in extreme conditions, the best dentists in New York used to perform root canal treatments (RCT) or extract the teeth from your mouth. RCT is usually recommended for patients who want to keep their natural teeth and can afford this treatment, as root canal treatment is quite expensive and having other disadvantages.
Also Read: What Are The Side Effects Of Root Canal Treatment: Disadvantages
Extracting the tooth is the last resort you can opt for if your tooth is permanently damaged. Dentists remove the tooth from the roots and also recommend dental implants to install the artificial teeth at the same place that you can use for chewing food. Removing teeth is very much less expensive but implanting new teeth is also a pricey and time taking process that you can choose as your wish.
When Root Canal is Required: Advantages of Root Canal Treatment
Teeth damaged badly due to long years of cavity, need to save with critical dental procedures. If your teeth is seriously damaged, and if you are at middle or old age you will prefer to extract it and get rid of acute pain and discomfort in your mouth making your life difficult.
But there is another alternative option you can opt to save your teeth, called root canal treatment that is used to save the teeth in the critical conditions. But it is not necessary every teeth root canal can save all types of damaged or deteriorated teeth, including molars and other teeth.
Also Read: How To Get Dental Treatment During COVID 19: Dental Procedures in Coronavirus
However, sometimes you don't get to know when you need root canal treatment to save your teeth as well as health. Actually, it is very difficult for you to find what your teeth's exact condition is and when you need root canal or other dental procedures would be enough to save your teeth from permanent damage. So right here, we will talk why or when you need root canal and the benefits of the root canal treatment.
What is Root Canal Treatment?
It is actually, the process of extracting infected pulp from inside of the tooth and filling the suitable material and sealed. In this process nerve is also disconnected from tooth roots that stops you feel the sensation in your teeth. Actually, root canal treatment is especially designed to eliminate bacteria from the infected root canal, prevent reinfection of the tooth and save the natural tooth.
Also Read: What are the Causes of Sensitive Teeth: 5 Reasons of Sensitivity
When Root Canal is Needed?
However, a dentist can easily diagnosis the condition of your teeth and tell if you really need the root canal treatment. But if you can't visit at dentist you need to prepare yourself by taking the specific characteristics into account that indicates you really need to go through this treatment procedure.
Though, a root canal is performed when the soft inner part of a tooth, known as the pulp, is injured or becomes inflamed or infected. And you will get to know the main symptoms and other indications that specify you really need the root canal treatment.
Also Read: How to Make Teeth Stronger Naturally: 8 Tips for Healthy Teeth
Symptoms to Get Root Canal Treatment
A dentist in Jamaica or at any other place can easily determine the necessity of root canal, but if you want to know, then there are few very common symptoms like severe pain in your infected teeth, swelling, gum tenderness and general feeling or illness like mild fever and discomfort.
PAIN: The pain is not as a normal like other common dental pain but it is something like the pain intensity changing when you change your posture. Or the pain you can't sleep and such pains can be triggered specific stimuli like tapping, pressure, or a thermal insult like extreme cold or hot liquid.
SWELLING: Similarly, swelling in gums not always means you need to go through the root canal surgery. Actually, swelling can come in various forms and types. Whether it looks normal with some kind of tenderness, or is an obvious swelling that can be easily seen or felt, it often means that root canal surgery is required. In some cases, the swelling can even expand to the patient's face or neck.
Also Read: How To Treat Swollen Gums Near Wisdom Tooth Naturally At Home
ILLNESS: Apart from pain and swelling, fever and general feeling of uneasiness can all be indicators that endodontic surgery is needed, especially when these symptoms are accompanied by other signs. If you feel ill and realize any of the above-mentioned symptoms, you can visit at the dental clinic in Jamaica queens and get the proper checkup of your affected teeth for right treatment.
If you have such symptoms, you can visit at the nearest dentist to get more professional diagnosis and find out if your teeth really need the root canal treatment. The dentist will examine the painful tooth and take X-rays to confirm the diagnosis. Root canal treatment is not helpful in saving your saving your teeth but also beneficial to prevent your teeth from permanent damage.
Also Read: The 5 Most Typical Dental Problems and How to Prevent Them
Benefits of Root Canal Treatment
Many people have myths root canal treatment is not good for them, as it expansive, time taking and causes lots of pain and discomfort during the treatment procedure. Let me tell you it is expansive and little time taking than other dental procedures but have various advantages you also need to know.
Advantages of Root Canal:
Get Rid of Severe Pain
Save Your Valuable Time
Durable and Long-lasting
Retain Your Original Tooth
Protect Neighboring Teeth
Get the Teeth with Natural Chewing abilities
Save Money Spend on Frequent Visits at Dental Clinic
Also Read: What Are The Side Effects Of Root Canal Treatment: Disadvantages
Consult The Dentist for Right Root Canal Treatment
I think now you got to know why and when you need root canal treatment. If you are residing in New York and looking for the effective and affordable root canal treatment you can visit at Radiant Star Dental clinic to consult the senior dentist Dr. Sumit Sehgal to get the complete diagnosis of your mouth and affected teeth.
Here you will get the best the dental procedure for root canal treatment within your budget with least pain and agony for longer teeth performance for different age group of people. Or you can also visit at your nearest dentist to get right treatment.