Coronavirus Latest Update: Outbreak in Italy & Spreading in Europe
After spreading in mainland China and neighboring countries like Japan and South Korea, coronavirus disease (COVID-19) now outbreaks in Europe with more than 300 cases and 11 deaths in Italy alone, the worst hit area in the Eurozone.
Till now the epicenter China now reported more than 80,000 people infected and killed over 2700. While on the other hand, more than 1,000 people have been infected in South Korea and 10 people have died.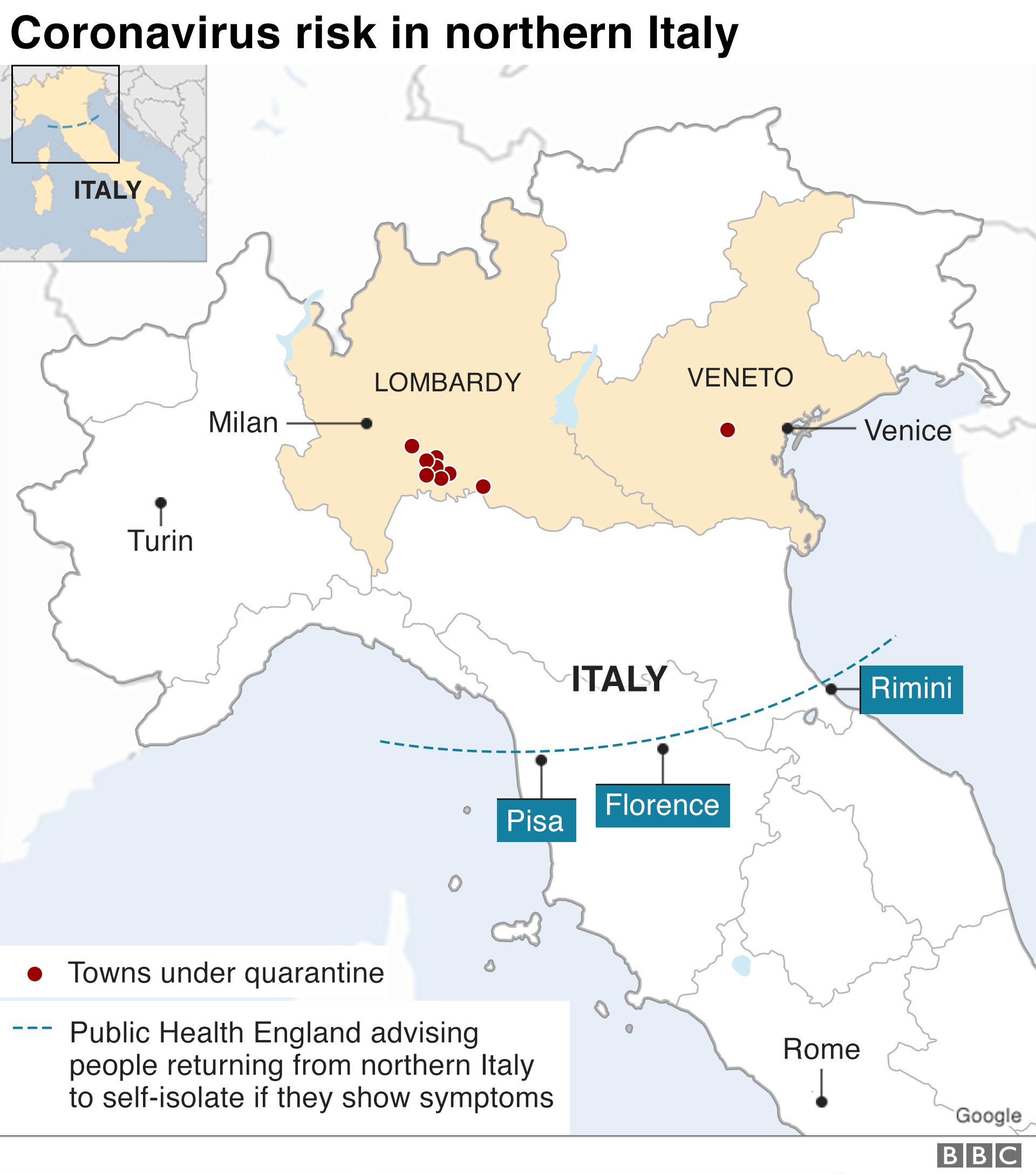 Now it spreading in Europe at rapid speed with new cases reported in Austria, Croatia and Switzerland which was due to the infected people visited Italy came into the contact of diseased people there and reached at least 44 countries.
See here: Coronavirus Microscope Pictures Released: See how these Deadly Pathogen look
Coronavirus Europe Update:
In Austria, a young Italian couple who live in Innsbruck in the Tyrol were confirmed to have the virus. One of the pair worked at a hotel, which has been put in lockdown. The couple's home is also sealed off.
Switzerland said a man in his seventies living in Ticino, bordering Italy, had been infected in the city of Milan on 15 February and was now in isolation.
A man in Croatia who recently returned from Italy became the first confirmed patient in the Balkans.
In Spain's Tenerife, up to 1,000 guests were locked down in a hotel after an Italian doctor and his wife tested positive for the virus.
Spain reported its first case on the mainland, involving a woman in Barcelona who had been to northern Italy.
France and Germany also reported new cases involving people who had recently been to northern Italy.
New Cases Other Than Europe
Italy with at least 322 cases and 11 deaths is one of three global hot-spots outside China. While in Iran, least 139 cases, 19 deaths reported. The infection of the country's deputy health minister has deepened fears that the virus has already spread widely.
Also Read: New Coronavirus Myths And Facts: 15 Myth Buster Graphics by WHO
While, South Korea with 12 deaths reported 115 new cases, bringing the total to 1,261, according to Korea's Centers for Disease Control and Prevention (KCDC). KCDC said the 169 coronavirus cases announced earlier included a US soldier.
In Japan at least 164 cases, 1 death reported. And like Korea, the number of cases spiked over the weekend and now are more than twice as high as they were a week ago. 
In Brazil, local media reported on Tuesday that an initial test on a 61-year-old man who had recently been to northern Italy had come out positive.
In Singapore at least 91 cases, 0 deaths Singapore reported its first coronavirus case a month ago, and the rise in reported cases has been steady since, averaging almost 3 new cases a day.
While on the other hand, Diamond Princess cruise ship had the highest number of confirmed cases outside of China.  The Cruise ship parked in Yokohama, Japan confirmed  at least 691 cases, 3 deaths. 
Owing to avoid the uncontrollable outbreaks, many countries have closed its borders, stopped aviation and travel outgoing and incoming from China and other highly infected nations.
Such activities are affecting the trade globally, especially China which is one of the largest exporter in the world getting affected due slowdown of trade.
Also Read: CoronavirusEconomic Impact on India-China Export-Import Trade
Why Young People are also Dying Because of Coronavirus: 4 Reasons
Coronavirus or COVID-19 has infected all the age groups of people globally, and its true old age people are mainly and easily getting infected and die due to this infection. But do you know many young people are also dying because of this disease?
And recently researchers have identified reasons why young who are fit and healthy could be dying of the new coronavirus COVID-19. Though, mostly aged people are dying, but it also a true, number of younger people – with no known health problems – have died in the UK or other nations after testing positive for the disease.
Dr. Sanjay Gupta, a neurosurgeon and chief medical correspondent for CNN, wrote in his article, all about the reasons behind the death of young people due to coronavirus. So let's find out what Dr. Gupta wrote and find out the reasons.  
4 Reasons Young People Dying Due to COVID-19
#1 Variations in the Genetic Factors
Dr. Gupta said, "One possibility is a gene variation in the ACE2 gene. ACE2 is an enzyme that attaches to the outer surface of cells in the lungs, as well as the heart." Coronavirus uses such enzymes to enter airway cells and finally into the lungs.
Scientists studying are analyzing the DNA of patients who had serious cases of COVID-19 and no underlying health issues such as diabetes or heart or lung disease, and comparing it with the DNA of those with mild or no pre-existing disease at all.
#2 Depletion of Vital Fluid in the Lungs
As per Dr. Gupta – Another possible factor is that pulmonary surfactant – a fluid secreted by the cells of the tiny air sacs in the lungs – becomes depleted in COVID-19 patients.
This fluid helps the lungs to expand and contract normally, but when the supply is depleted that function is disrupted, the air sacs can collapse and it becomes much harder to breathe for the patients who then supported with ventilators.   
Also Read: How Exactly Coronavirus Attacks, Infects & Affects Body to Death
Moreover, Dr. Gupta also wrote, if you think of your lungs as a sponge, surfactant would be the detergent which would make them soft and pliable. Without surfactant, however, your lung becomes stiff and hard to squeeze making difficult for patents to struggle to breathe even when they are put on the ventilator.  
#3 Highly Sensitive Immune System
In the study, researchers are also looking into the human immune system and how it responds to viruses and bacteria. As it is very much possible that a healthy immune system could lead to severe problems among young people.
Also Read: How To Make Immune System Stronger: 5 Ways To Boost Your Immunity
The third reason Dr. Gupta wrote: "In some young, healthy people, a very reactive immune system could lead to a massive inflammatory storm that could overwhelm the lungs and other organs. In those cases, it is not an aged or weakened immune system that is the problem – it is one that works too well."
#4 Negligence in Taking the Precautions
The fourth and last reason, there is a possibility some young people thinking they are healthy and invincible, and therefore taking fewer precautions or ignoring social distancing rules to prevent themselves from catching coronavirus.
Those people "have been exposed to much larger viral loads from the environment or suffering from flu, Dr. Gupta added. In the UK, the most seriously affected patients have been the elderly and vulnerable, according to Government statistics.
Also Read: Difference Between Coronavirus vs Cold vs Flu vs Allergy: Graphic
In its most recent update, on March 31, the Office for National Statistics wrote: "The vast majority of deaths involving COVID-19 have been among people aged 65 years and over (100 out of 108), with almost half (45) of these occurring in the over-85 age group."
In US 29% Patients are 20–44 years
In the US, as of March 16, a total of 4,226 COVID-19 cases had been reported, with reports increasing to 500 or more cases per day beginning March 14.
Among 2,449 patients with known age, 6% were aged ≥85, 25% were aged 65–84 years, 18% each were aged 55–64 years and 45–54 years, and 29% were aged 20–44 years. Only 5% of cases occurred in persons aged 0–19 years.
Watch Video: Why Young People Are Vulnerable to COVID-19?
Difference Between Coronavirus vs Cold vs Flu vs Allergy: Graphic
Most probably, you would be confused between the symptoms and health complications that arise due to new coronavirus (COVID-19), common cold, flu and allergies that are very common disease attacks, different age groups of people, globally.
In respect of the same, to make this doubt clear, we brought for you a graphical comparison showing the actual difference, so that you can get to know how coronavirus is different from cold, flu, allergies and other similar seasonal infections.  
Difference Between COVID-19 vs Cold vs Flu vs Allergy: Infographics
Flu or common cold are infections arise with seasonal changes or week immune system due to the human body usually not resists can easily get infected unless the average of high-low temperature of the environment becomes normal.
Also Read: How To Make Immune System Stronger: 5 Ways To Boost Your Immunity
For allergies and common cold you can try home or natural remedies with precautions but for flu and COVID-19 like infections take proper medication under the supervision of doctors or certified medical practitioners at the medical centers.     
Also Read: 5 Natural Home Remedies for Common Cold and Cough
List of Lockdown Cities & Districts In India Due To Coronavirus
Amid coronavirus outbreak worldwide, including India, the Govt and regularity authorities have ordered complete lockdown in all major cities and districts in India following the steps taken by other nations to control this deadly disease.
This is one of the most effective preventive measures to stop the COVID19 virus spread further due to community transfer, as there is no medicine or vaccine has been developed yet and it is infecting people at very fast speed.
Initially, the government has taken this decision for cities and districts having a larger population where there is high chances of COVID-19 transmission. And the government has also suspended all the passenger transportation systems, including international & domestic flights, railways & locomotive, and other public transports movements in country.
Further, depending on the situation Indian Govt can lockdown more cities or impose curfew in states. Right now you can check the list of cities & districts locked in India and the list will be further updated as soon as more cities will be locked.
Lockdown Cities & Districts in India List
Read Here More Useful Articles on Coronavirus:
Source: Forbes India