Mirzapur 2 Official Trailer 2020 Released by Amazon Prime: Video
Finally, Amazon Prime has released the official trailer of Mirzapur Season 2 with the storyline follows druglord Kaleen Bhaiya and his antics in the Mirzapur, a small town of eastern UP.
Thrown into the mix are elements of romance, action and copious amounts of profanity, this web series has become the one of the most awaited web series of the year 2020 on the OTT platforms.
Season 1 ended on an emotional high with two prominent characters' deaths (Bablu Pandit and Sweety Gupta). Season 2 will be all about revenge and politics as the deceased persons' partners Golu and Guddu will take up arms against Kaleen Bhaiya, Munna and their gang.
Video: Best Scenes & Recap of Mirzapur First Season
The success of the first season has set a benchmark and encouraged the web series makers to take the new season several notches higher. Viewers will be in for an immersive experience through the plot twists, character developments and captivating storyline in Season 2.
As shown in trailer and announced earlier the full episode of Mirzapur 2 is going to be released on 23rd Oct 2020 on Amazon Prime Video.
Also Read: Upcoming Movies & Web Series To Be Released on OTT Platforms
The second season is packed with full of interesting actors like Pankaj Tripathi, Ali Fazal, Divyenndu Sharmaa, Shweta Tripathi Sharma.
With other supporting actors – Rasika Dugal, Harshita Shekhar Gaur, Kulbhushan Kharbanda, Anjum Sharma, Rajesh Tailang, Sheeba Chadha, Amit Sial, Vijay Varma, Isha Talwar and Priyanshu Painyuli.
How to Make Simple Rangoli Designs for Diwali: Videos
Diwali, or auspiciously said Deepavali is one the highly notable festivals in India celebrated with full of happiness and entertainment by all levels of people in society across India.
After cleaning their houses people usually light up their houses with bulbs, diyas electric lightings, fresh flowers, and attractive decorative items to make their house look more good-looking and sacred.
Why we make Rangoli on Diwali?
Rangoli is popular folk art and one of the parts of decoration that is traditionally made by women or ladies of the house with Diwali rangoli designs on the day of Diwali to welcome goddess Lakshmi who visits every house on that data and at the same time make their house's entrance gate look more beautiful and colourful.
As per the different culture and lifestyle, it is known with different names in a different part of our country. In the south, it is known as Kolam, while in West Bengal it is famous as Alpona.
How to Make Rangoli Designs?
Rangoli is made with rice powder, colours, candles, diyas other decorative materials to make it look more beautiful and colourful. If you are looking for the latest rangoli design for Diwali 2021 that can be simply made without too much time and effort you can find below videos of such beautiful simple rangoli design for Diwali and create the same with a few simple steps.
15 Best Rangoli Designs for Diwali 2021: Videos
#1 Simple Rangoli Designs for Diwali
#2 Easy Rangoli Designs for Diwali: Making Peacock  
#3 New Rangoli Designs for Diwali
#4 Small Design of Rangoli for Diwali
#5 Beautiful Rangoli Designs for Diwali: Diya Design  
#6 Latest Rangoli Designs for Diwali
#7 Rangoli Designs Tricks for Diwali
#8 Best Rangoli Designs for Diwali
#9 Big Rangoli Designs for Diwali
#10 Small and Quick Rangoli for Beginners
#11 Beautiful & Unique Rangoli Design for Diwali
#12 Innovative and Creative Rangoli Designs
#13 Attractive Deepawali Rangoli for Diwali
#14 Diwali Beautiful Rangoli Designs
#15 Unique Rangoli Design Using Chalni
India China Border Fight Video of 15 June Goes Viral First Time
A video showing the deadly clash between Chinese and Indian troops on 15 June with fists and sticks, apparently in a disputed border region, has gone viral on Chinese social media that left at least 20 Indian soldiers dead.
The footage, which is first of its kind ever to appear online, shows soldiers clashing close to a river. On June 15, a violent brawl broke out  in the Galwan Valley in India's Ladakh region. which left at least 20 Indian soldiers dead.
Beijing declined to say at the time how many casualties it suffered in the incident. A Chinese military source said the video, which first appeared online on Tuesday night, was genuine and that it was taken "a few months ago".
The person, who spoke on condition of anonymity, said the footage showed that the soldiers – by not using their firearms – had exercised restraint.
Watch Video Again with details what exactly happened there
The footage showed the Chinese soldiers armed with sticks and riot shields. Some of the Indian soldiers had their rifles on their backs but did not fire them.
Since the fight occurred, no such photage came out showing what exactly happened on that day that took many soldiers' lives.  A watermark on the video, which has been viewed millions of times, suggests it was recorded on a Chinese phone.
A military analyst, who also asked not to be named, said he thought the clash seen in the video footage was probably not the one that happened on June 15, but rather an earlier one that happened along the Galwan River in May.
"Judging from their weapons, this video is an earlier clash, as we know the two sides only began to send in their better-equipped units after May," the person said.
China and India have been engaged in a bitter border dispute since May, and since then have held a series of diplomatic and military talks to ease tensions.
However, the situation intensified for the second time in a week on 7th Sep 2020, when shots were fired during a stand-off at Pangong Tso, a high mountain lake in the Galwan Valley. But on 11th Sept 2020, both the nations have pledged to enhance mutual trust to ensure peace along their disputed borders in their first formal agreement since June.
The pledge came as Chinese Foreign Minister Wang Yi and his Indian counterpart Subrahmanyam Jaishankar met for the first time since their border stand-off turned deadly in June, leaving 20 Indian soldiers dead and an unknown number of casualties on the Chinese side.
India-China border clash explained here
Source: South China Morning Post
World's Largest Nuclear Bomb Test Ever Video with Fact & Figures
Russia has released the video of largest nuclear explosion the world has ever seen. A 40-minute video of previously classified material was released this month by the country's state-run nuclear division ROSATOM in connection with the celebration of 75 years of nuclear industry.
It is the biggest ever nuclear bomb explosion testing people can view from their eyes. The name for the devastating device was the Tsar Bomba or the Tsar Bomb, and it was detonated on 30 October 1961 off the coast of Severny Island near the Arctic Ocean. Let's find out few facts and figures or how much it was powerful compare to other known nuclear blasts.
Facts & Figures of Biggest Russian Nuclear Bomb Test
A hydrogen bomb with 50 megatons – or 50 million tons – of conventional explosive, it was 3,333 times more powerful than the bomb that was dropped on Hiroshima, Japan.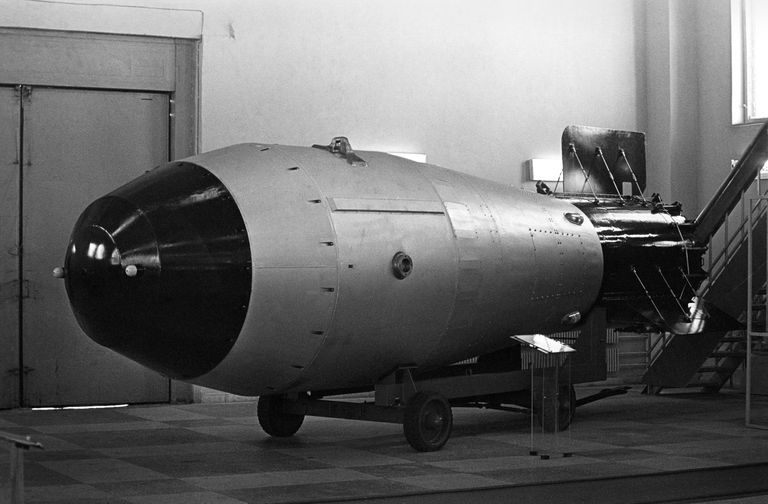 It was also far more destructive than the largest hydrogen bomb the United States had ever set off back in 1954 when it detonated a 15 megaton device.
The weapon itself was huge, weighing a massive 27 tonnes and about eight metres in length. In order for it to be dropped, some of the fuel tanks had to be removed from the Tu-95V Soviet bomber in order to accommodate it.
It was detonated at around 4,000 meters above the ground.
The explosion was so powerful the bomber was hit by the shockwave, despite being 120 km away at the point of detonation, with the blast itself visible from an incredible 1000 km away.
After 40 seconds, the dome of the fire reached 30 km and thereafter developed into a mushroom cloud which soared to a height of 60-65 kilometers with a diameter of 90 km making it about seven times higher than Mount Everest, and reports claim it destroyed buildings within 55 km of it.
It was also later found that the Tsar Bomb could, potentially, have been even more powerful than it was as it was originally designed to deliver a colossal 100-megaton blast but was scaled down in order to protect the wider population from the explosion. It is very likely that a portable geiger counter was used to detect radiation levels at and around the area of explosion, as it is very important to measure environmental radiation levels when carrying out high-level nuclear tests.
Although being detonated four kilometers above the ground, the seismic shock wave equivalent to an earthquake of over 5.0 on the Richter scale was measured around the world.
The Tu-95 plane carrying the bomb was far away at the time of detonation. However, the explosion's shock wave caused the aircraft to instantly lose 1,000 meters of altitude, but it later landed safely.
Watch Full Video of Tsar Hydrogen Bomb Explosion Testing
Reaction of People and other Nations on this Explosion  
This also wasn't the only powerful detonation Russia carried out during this time. Throughout the early 1960s the Soviet Union completed several other tests with forces ranging between 20 and 24 megatons.
The Tsar Bomb, however, was one of the last above ground nuclear tests ever carried out as the US, UK, and the Soviet Union signed the Partial Test Ban Treaty in 1963, which stated that all future tests had to be carried out beneath ground.
Radiation fallout was measured all over Scandinavia, and international condemnation followed. Hence, Domestic protests were also voiced inside the USSR, among them from Andrei Sakharov who began speaking out against nuclear weapons.
In his book, Memoirs, Sakharov wrote in detail against the Soviet leadership's policies. In 1975, Sakharov was awarded the Nobel Peace Prize, but Moscow denied him permission to go to Oslo for the ceremony.
After the Tsar Bomba and other thermonuclear tests on Novaya Zemlya and by the United States in the Pacific, the two superpowers realized the craziness of conducting atmospheric tests with huge radioactive fallouts.
In 1963, the United States and the Soviet Union signed the Partial Nuclear Test Ban Treaty banning tests in the atmosphere, outer space and underwater harming the environment of the earth. Consequently, nuclear weapons tests were conducted underground. The last two such tests took place at Novaya Zemlya on October 24, 1990.
In 1996, the UN adopted the Comprehensive Nuclear Test Ban Treaty, prohibiting any nuclear weapon test explosion or any other nuclear explosions.
Also Read: Can You Imagine How Big is Russia Actually: 5 Facts
Source: Rosatom